As a dietitian, one of the main questions I get asked is, "what daily supplements should I be taking?" Generally, my philosophy has always been to focus on the nutrients you consume through food and try to avoid counting calories or 'macros.' By eating an assortment of colors, or the rainbow rather, you should be obtaining the necessary vitamins, minerals and antioxidants your body needs to function at its optimal capacity. Obviously, we can get more technical with individualized needs, but generally speaking, eating a variety of plants is a step in the right direction of learning to eat foods for their nutrients instead of their calorie content.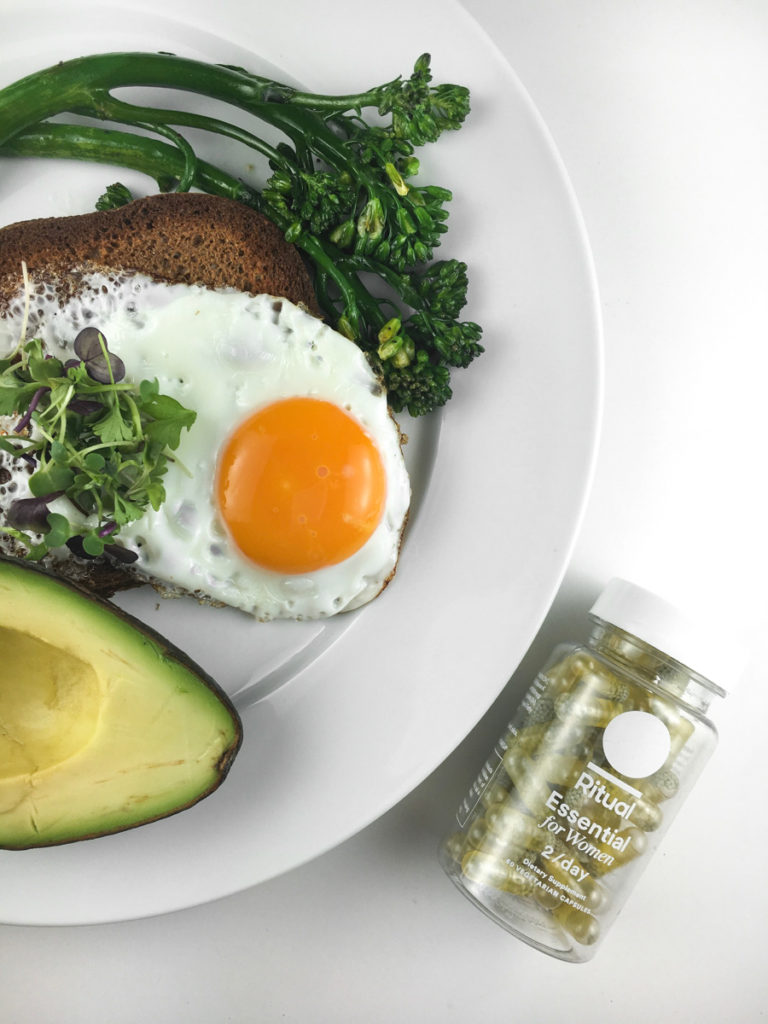 My key message is to eat intuitively. Don't pay much attention to the numbers. Eat for nourishment and to fuel your body. Eat when you're hungry, stop when you're full.
What happens if you eat a diverse diet, but are still lacking ingredients? That's when I'd recommend taking a daily multivitamin. A high-quality multivitamin is a great insurance program for your health. If, let's say you happen to neglect any one nutrient, taking a multivitamin should help replace those missing nutrients from your diet.
However, I've seen so many multivitamin supplements on the market with added sugars, synthetic fillers and just unnecessary and poor quality ingredients. No multivitamin should have added sugar—and if it's in capsule form, why would there be added sugar in the first place???
Ritual
Finally, I've found a women's multivitamin I'm willing to share and recommend with my family, friends and clients. It's called Ritual and it contains the nine essential ingredients most women don't get enough of from their diets alone. Those nutrients include vitamin B12, folate, vitamin D3, vitamin K2, vitamin E, omega-3 fatty acids, boron, iron and magnesium. This supplement is vegan (capsule is made from cellulose—plant fiber), non-GMO, gluten & soy free and resists stomach acid, meaning it's able to travel down to the most absorptive areas of the gut without being killed. Most supplement capsules start to break down in the stomach (due to low pH) even before getting to the intestines where it needs to be absorbed.
Ritual takes into consideration the nutrients we get sufficient amounts of in our current SAD diets (Standard American Diets) and chooses to leave them out of their capsules (most supplement companies add these vitamins in as fillers for their vitamins). Instead, the vitamin includes the nine essential nutrients women need the most. The look of the actual capsule may seem a little unique—that's because the beadlet-in-oil encapsulation keeps the oil nutrients like omega-3s, vitamin D3, E, and K2 MK7 in their most absorbable forms.
Another reason why Ritual has become part of my daily routine is because I trust the sourcing of the ingredients, in addition to the vast amount of information and research Ritual shares on their page. For instance, you can learn information on why each ingredient is beneficial for the body, where it is sourced in the world and by whom, how it's produced, the studies backing it up, and even interviews with the suppliers.
In the past, I have never recommended any certain brand of multivitamin simply because I couldn't find one that aligned with my own nutrition standards. Ritual has changed that! And for obvious reasons.
For only $1 a day ($30/month), you're able to receive a high-quality multivitamin that is completely junk-free, backed by science, and full of essential nutrients. Go visit their website to learn more about why Ritual is my favorite daily women's multivitamin! Click here!
---