We all know life can get a little crazy, and that's why I wrote down my top tips for busy lifestyles and on-the-go eats. I'll be sharing some tips on how to stay healthy during the week—
Easiest foods to keep in the refrigerator during workweeks
If there's one thing I learned during my two and a half month long clinical portion of my dietetic internship at Harborview Medical Center in Seattle, it was that I needed to make sure simple ingredients were stocked in the refrigerator for those "let me sink my teeth into whatever is in the fridge" kind of nights. Keep in mind my exhausting commute each day (a good 2 hrs and 45 minutes round trip). Now, I know some of you have a similar chaotic schedule each day, so I'm here to assure you that it IS possible to stay healthy and on track! All you need are some tools to help you feel more at ease when coming home exhausted after a long day and easily persuaded by the first thing you see in your kitchen.
Foods You Should Have Stocked In the Refrigerator:
Baked Spaghetti Squash:
Throw already baked squash into a skillet with fresh veggies, make a lasagna, create a mouthwatering meat sauce to top with, add tomato and fresh basil, so many recipes can be made from this vegetable. Plus, it's packed with vitamin A, B and C.
Recipe – Slice squash in half length wise, spoon out strings & seeds, rub with olive oil and place face-up on a baking sheet. Bake at 400 degrees F for 50 minutes. Remove from oven and fork down sides of the squash to create "noodles". This will keep in an airtight container for at least 5-6 days and heats up great! Chilled tastes just as good.
Organic lean ground turkey:
When getting ready to cook the turkey, you can either divide up and make a few patties, a few meatballs, plain ground turkey or make the whole batch as ground meat to save for a variety of meals. This is a great way to mix it up for the week to prevent eating the same leftovers each day.
Recipe for turkey patties/meatballs – Mix diced onion, diced bell pepper, sundried tomato, feta cheese, fennel seed, basil, oregano, pepper, sea salt, minced garlic, and chopped spinach to form into patties. You can cook these patties all at once and store in Tupperware (will keep for about 4-5 days) or save in the fridge raw to be cooked at your disposal during the week (store in Tupperware separated by wax paper. This only keeps for 1-2 days)
Recipe for plain lean ground turkey – Sauté together minced garlic, fennel seed, Italian seasoning, diced onion, diced bell pepper, ground pepper, red pepper flakes (simple so it can be added to any dish).
Chopped veggies in Tupperware:
Always have fresh vegetables cut and stored in the refrigerator– It's perfect to have for those "I'm bored so I'll look in the fridge for something to stuff my face" episodes.
Steamed broccoli/green beans/roasted veggies:
This method is so great because once they're steamed or roasted, the cooking time is cut in half for when you want to sauté with other meat/veggies, broil in the oven or just reheat in the microwave. Lately, I've been obsessed with scrambled eggs and steamed broccoli… the combination is amazing.
Egg Muffins:
These little guys definitely come in handy for those mornings you're running late, lunches you don't have time to pack, or even dinners when you're feeling like brinner (breakfast & dinner). I prepped these several times during my internship. They allowed me to sleep in and prevent having to dirty more dishes in the morning.
Recipe – dice steamed broccoli, mushroom, bell pepper, onion, squash/zucchini, feta cheese, chicken sausage (or any veggies you have in the fridge) and add to large bowl. Whisk enough eggs to full cover the mixture (about 8 to make a dozen muffins), then add 1/4 cup unsweetened almond milk. Add seasonings for more flavor– turmeric, nutritional yeast, chili powder, ground pepper, red pepper flakes. Spray muffin tins with a generous amount of coconut or olive oil to prevent from sticking and bake in the oven at 350 degrees F for about 25 minutes. To reheat, either stick in the microwave or pop back in the oven for a several minutes.
Fall Fruit Salad:
This recipe is easy for a snack or a side to any meal. Fall may be over, but these flavors will remain delicious all year round!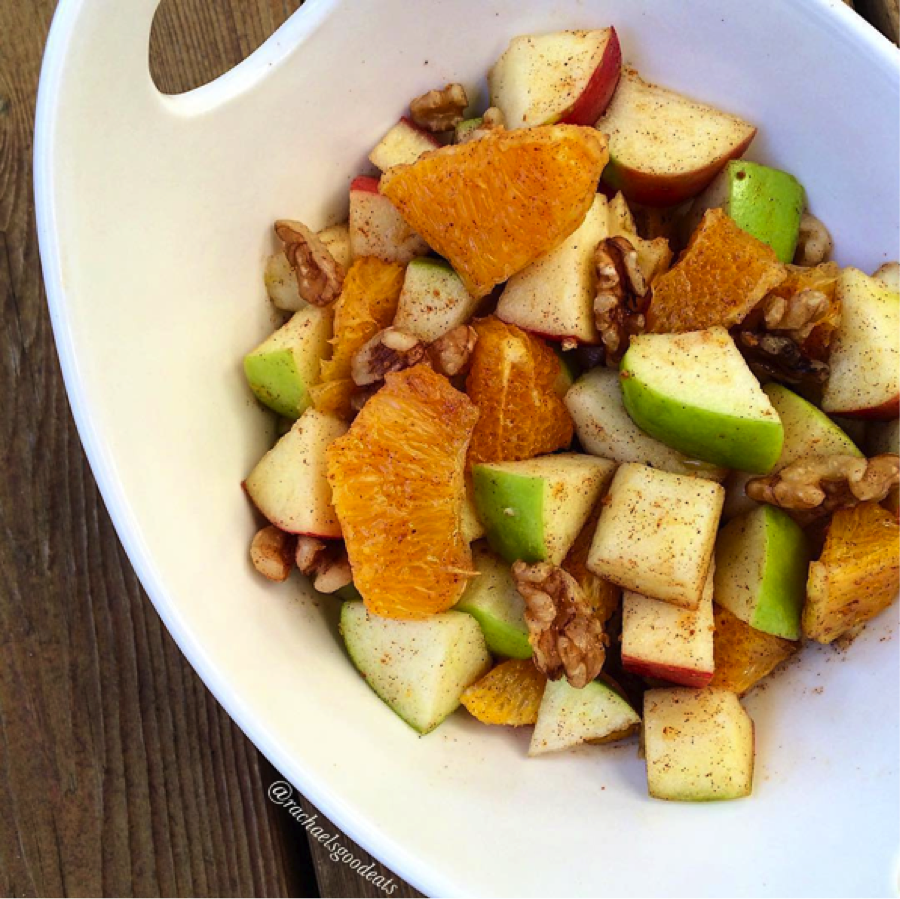 Recipe (for 2-3 servings) – 1 honey crisp apple, 1 granny smith apple, 2 oranges, 1-2 tbsp. maple syrup, ½ tsp cinnamon, ¼ tsp pumpkin spice, 1-2 tbsp. lemon juice, raw walnuts. Directions: dice the fruit and then mix in other ingredients. Best when chilled!