We all know MDW should look a little different this weekend… fun in the sun, traveling, hanging with friends & fam at the lake, but thanks to quarantine, I shall spend my time inside taking advantage of all the deals online right now. What else are we going to do, right? Tons of my favorite things are on sale (and then some) so thought I'd share all the links you guys usually ask via Instagram DMs.
FITNESS / WORKOUT
Ok, so obviously a big part of my #selfiso has included fitness. All the IG Live workouts I've been posting has given me an excuse to stay on top of my activewear 😉 So, I'm linking a lot of my staple items & some things I'd love to add my closet as well.
This Happiness Runs crop is my new favorite. They sold out of the neon orange one I have, but have quite a few other colors. There's no padding, but it's very supportive (coming from a smaller chested girl). Paired with these high-rise 7/8 leggings, I might actually say this is my new go-to outfit. Super soft material, very stretchy & I have two pairs so far. I wear an XS/S in both top & bottom, but if you're worried about the leggings being too shear, I'd go up a size. I could easily wear either.
You know I love these everyday/workout bras, I have them in like 4 colors. They're not on sale, but an essential for sure. Along with this cropped pullover. I have a tan one right now that I always get questions about, but it's sold out so I found an almost identical one here.
Linking this nike set— looks perfect for the nicer weather!
p.s. this is the workout mat I have and love it! Doesn't slip and slide on the floor like most other do. Very heavy duty (not on sale, but worth it).

KITCHEN / ENTERTAINING
Finally, I'm feeling like we have our home situation under control in terms of organization. I think I've mastered our kitch situation and just looked– most of the organizers I have are on sale right now!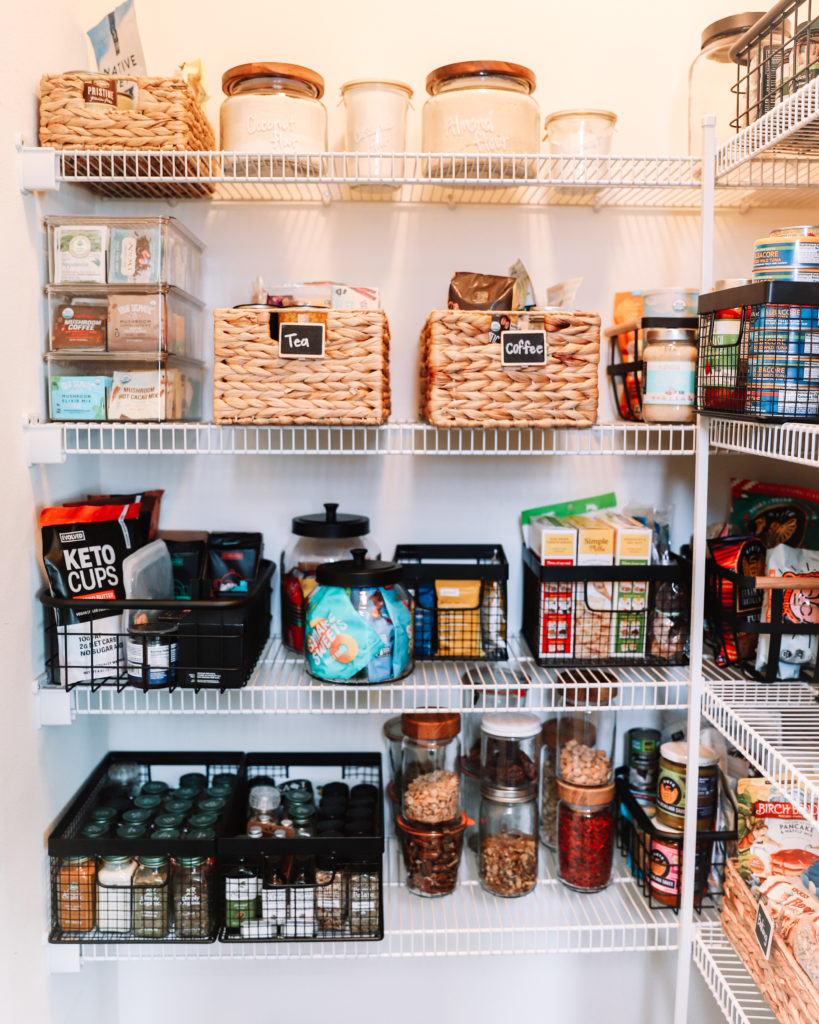 Click here for my full detailed post on kitchen organization.
I really enjoy entertaining & feel like that's where I feed my soul. Being in the kitchen is so therapeutic to me! Sharing a few of my favorite things like this knife set that's on major sale. $150 off my favorite Vitamix blender!! And the food processor I have is also on sale.
Check out these cocktail glasses, serving bowl, cheese board and one of my favorite cast iron skillets here!

BATH
Quick bath links: I use this acrylic tray between both of our sinks for skincare essentials we use most often. We have a very similar laundry hamper to this and love it. Also, I'm sure everyone could benefit from some sort of organization underneath their sinks… click here for a starter kit. I need to grab this stainless steel squeegee for our shower and we could all use these poo-pourri sprayers in each bathroom.
20% off this set of luscious bath towels we use & the robe I just got & never want to take off!

BEDROOM
Hands down, this bedding is our favorite and 20% off this weekend. This is also the only place I could find a sale on our air purifier in the bedroom. In addition to the air purifier, an essential oil diffuser really sets the mood– I recommend this one. I linked a few essential oils below.

HOME / DECOR
It's a big investment, yes, but I honestly use this Dyson vacuum every single day (multiple times!). I found it on sale here— $100 off.
These woven candle holders are such a vibe and I love this one too. I bought some indoor/outdoor flameless candles very similar to these and we've been using them every night next to the TV. Click here.
Both our bar stools and kitchen table chairs are on sale– couldn't love them more and the chairs have held up great for 3+ years since we moved into our old apartment.

Check my latest post, "everything you need for an outdoor patio vibe" for more links outside.
Hope this was helpful!! Enjoy your MDW 🙂
xx Rachael