Back to the east coast I went for the second time in just over a month! This time for the Food and Nutrition Conference and Expo, which is the annual meeting of the Academy of Nutrition and Dietetics that offers the latest scientific information in the field- a playground for dietitians and dietitians to-be if you will. And since I just got my RD in July I thought it was the perfect reason to fly across the country and attend.
Not only was this going to be my first FNCE with the chance to meet tons of new big wigs in the field, but I was also going to meet and stay with Katie from @twist_of_lemons who I've known from Instagram the past year or so.
Yes, I know what you're thinking. Another awkward online friendship meet-up… But it's so insane how well I've been getting along with these foodie friends I've made solely through Instagram. I mean we already have so much in common, i.e. respecting the other's quick snap-sesh before a meal, appreciating good packaging, welcoming interesting nutrition facts and food puns, etc. It's only fitting that we become great friends off the bat.
Day 1
I flew into Logan Int. Airport in Boston Thursday night and Katie (and Lisa, who I stayed with in NY one month prior) was sweet enough to pick me up and take us to our first foodie stop—Whole Heart Provisions and Fomu—before taking us to our hotel downtown. Dinner was amazing. It was café style eating and offered kombucha on tap, already a winner in my book. We walked a few stores down to Fomu, an alternative ice cream shop that's 100% plant-based and allergy-friendly. (I 100% recommend!)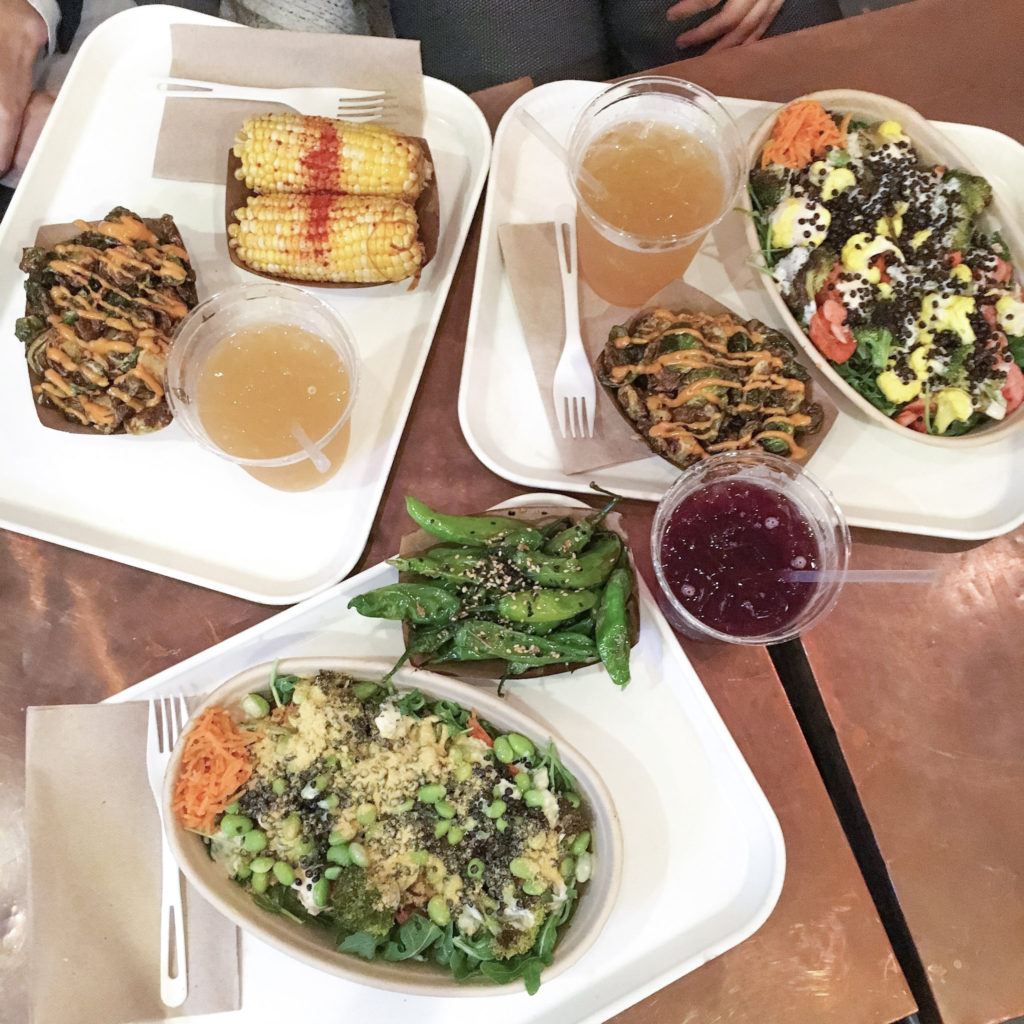 Day 2
We woke up in our cozy hotel room, walked to the nearest Starbucks for Katie and Lis to caffeine-up before we hit our hotel gym. We got a great workout in and went to Tatte Bakery & Café for breakfast.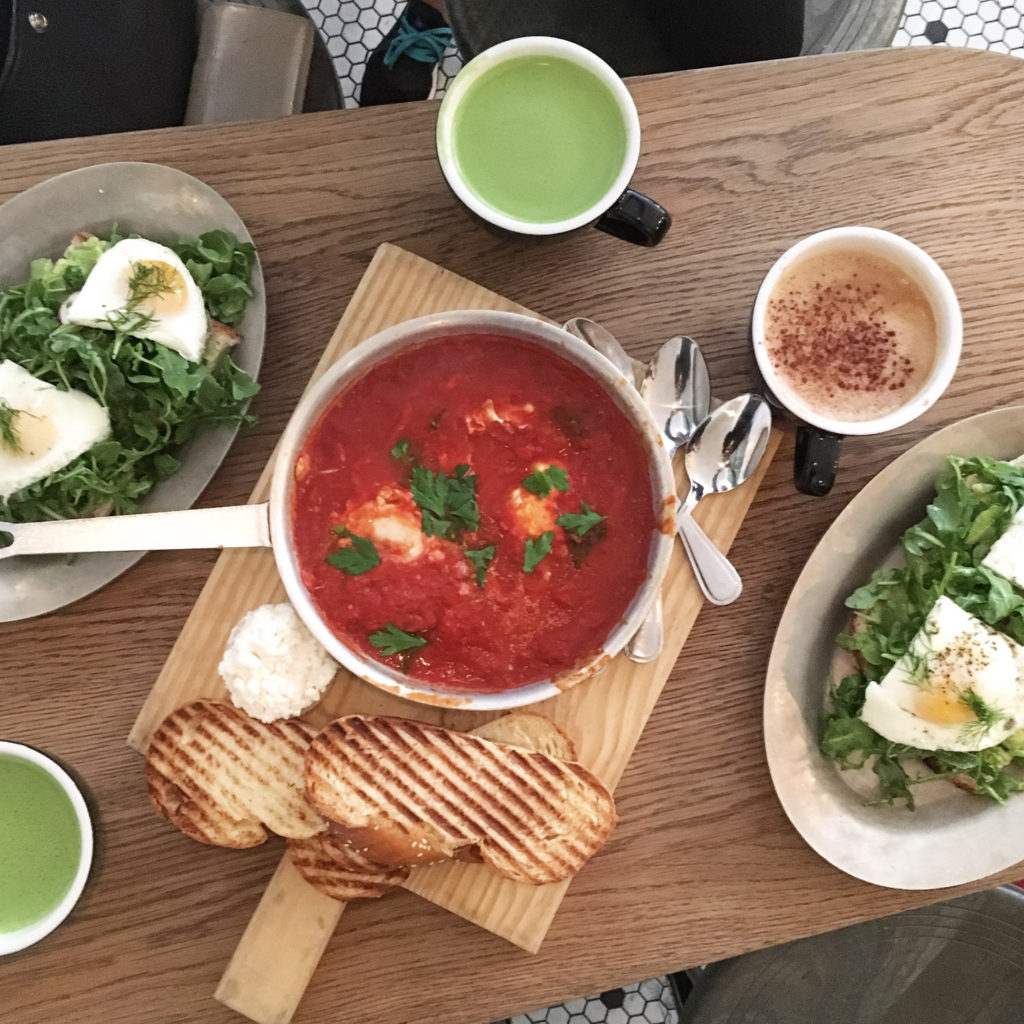 Wow. First of all, this bakery was something out of a magazine. Tile floors, croissants bigger than your face, and lines running out the door. The Shakshuka and Avocado Tartine were our meals of choice and filled our bellies to the BRIM with such incredible flavors. My eyes were definitely bigger than my stomach and the fresh sourdough bread took control of myself.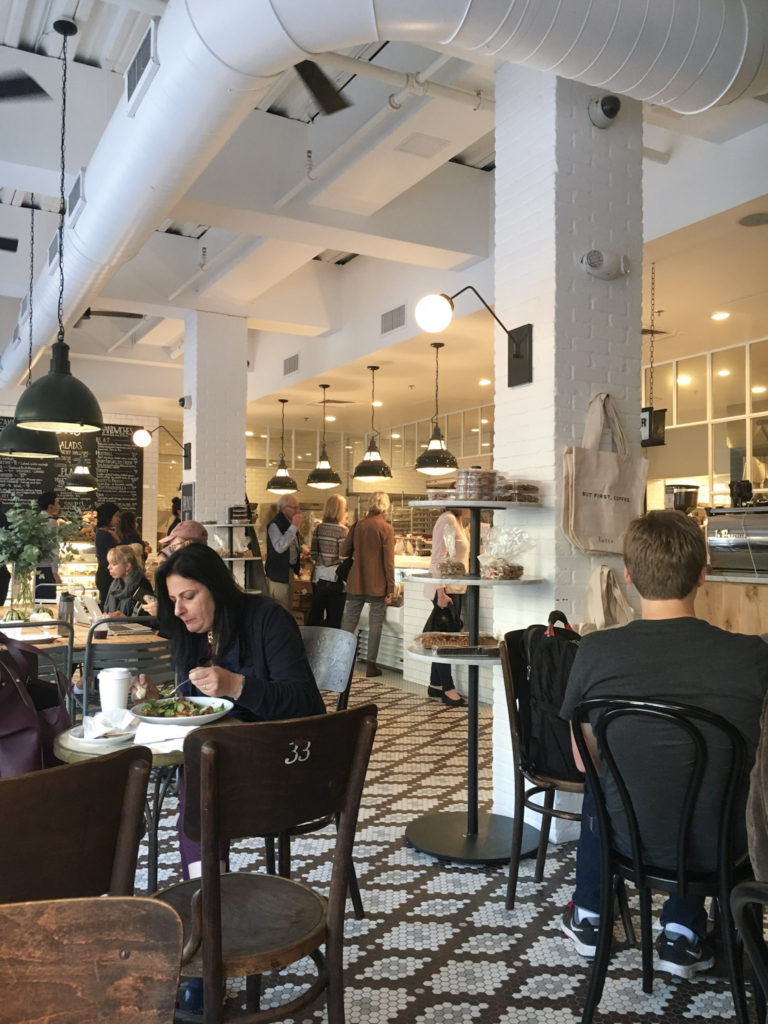 We left Tatte's, shopped & walked around for several hours until we showed up at Pure Cocobeet, an amazing organic juice bar & café we've been longing to visit for a while now. The owner happened to be there and showered us with all the juice, tonic shots, and snacks while visited.
Next stop was Core Power Yoga where we took our first yoga class of the trip. I'm no yogi master by any means, but feel I'm pretty experienced with the variety of yoga, pilates and hot yoga classes I've taken throughout my life.
After yoga, we checked into our new hotel, Element Boston Seaport and dropped our bags to rush to the Infrared Sauna appointment at The Cabral Wellness Center Katie had set up for us. Infrared saunas help to detoxify the body, stimulate collagen, improve circulation, increase muscle recovery, boost immunity, etc. And if there's one place 3 people can instantly become better friends, it's sitting in a close-quartered sauna together for 30 minutes. We sat dripping sweat next to each other for a half hour and by minute 27 we almost had to abandon ship. Nonetheless, we lived through it and felt like a million bucks afterward.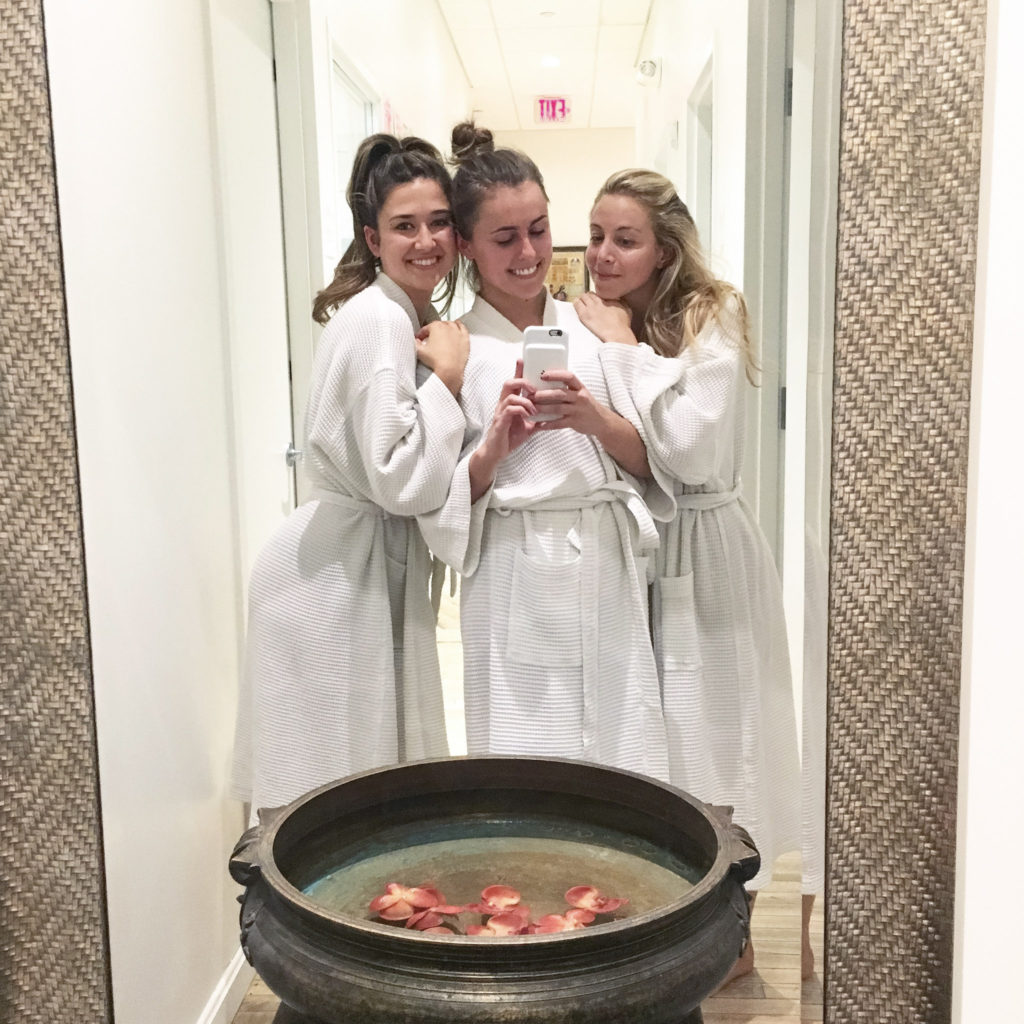 [Photo taken at the Cabral Wellness Center after infrared treatment]
On our way home we stopped at Boston Public Market to gather some ingredients, or rather some veggies, a fresh loaf of sorghum bread and several premade fresh salads and soups… Traffic was heavier than we thought post-Market, which led Katie and I to noticeably polish off half the loaf of bread in the Uber. We made the rest of the dinner in our full kitchen in the hotel and had a relaxing night.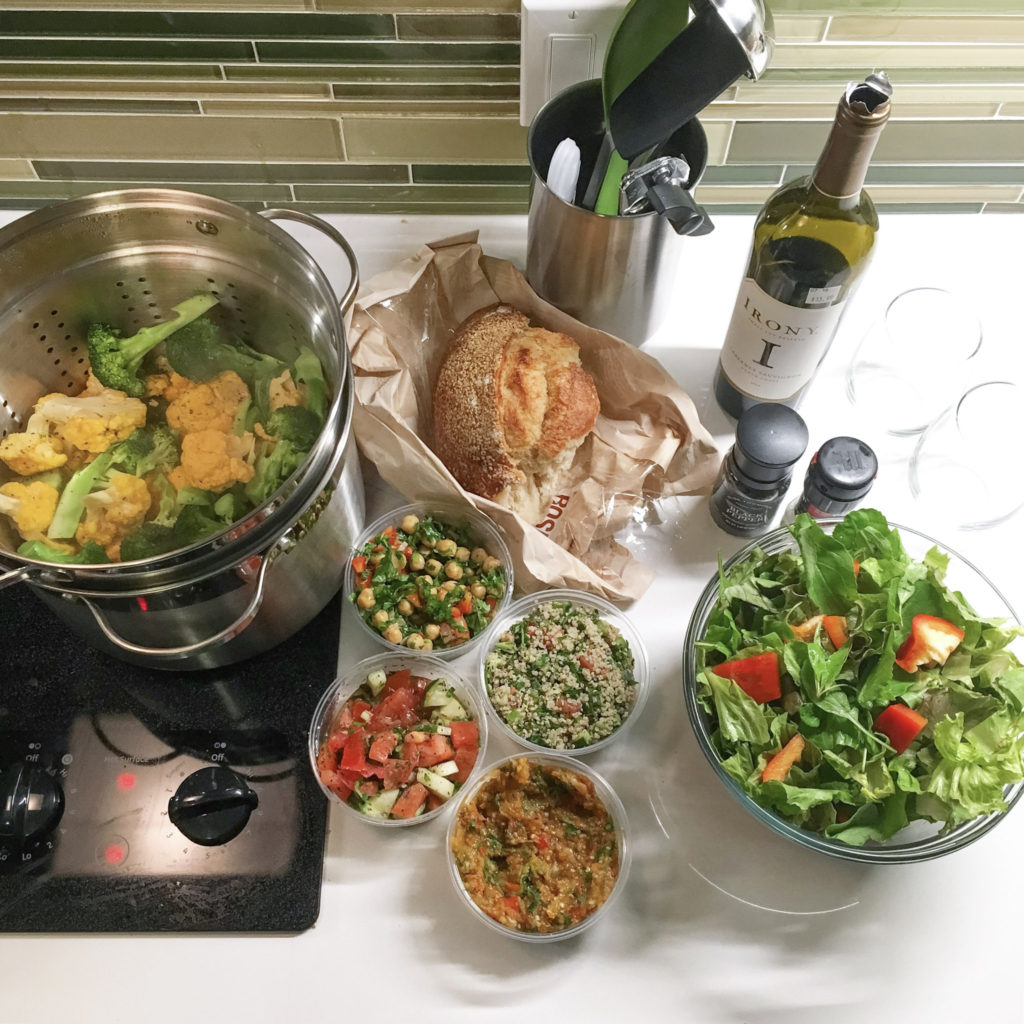 Day 3
Lisa headed back to NY for the day for an event, so Katie and I hit Core Power Yoga in the morning for a sculpt class. It was much more difficult than we were expecting, although that's never a bad thing.
For lunch, we had the opportunity to pick up Alexis of Hummusapien from the airport (she was in town doing PR at FNCE), and take her to one of Katie's favorite cafés in Cambridge, Life Alive. First of all, Alexis has been my favorite girl boss/foodie idol ever since I started my Instagram account. What she has accomplished so far in her life is SO inspiring to me. It was such a great experience getting to hangout with her for a bit.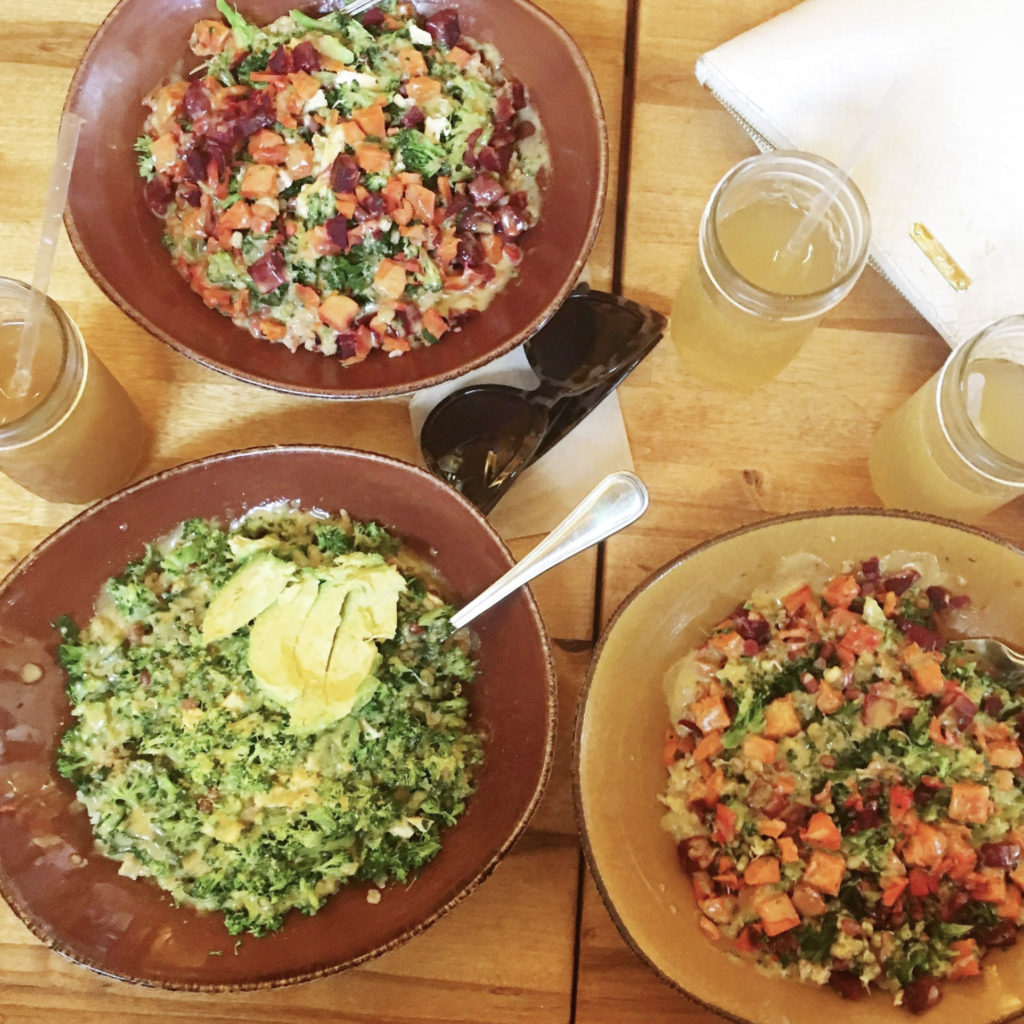 [Photo taken at Life Alive with Alexis and Katie]
That night we went out to dinner to Crudo with yet ANOTHER one of my IG BFFs, Katy from @savoringtheflavoring. We were laughing our arses off the entire night I kid you not. Pairing Katie and Katy together was both hilarious and extremely, extremely inappropriate. I'm laughing while I type this because I can't get over the amount of food puns/jokes/one-liners that came out of these girls' mouths. #foreveramused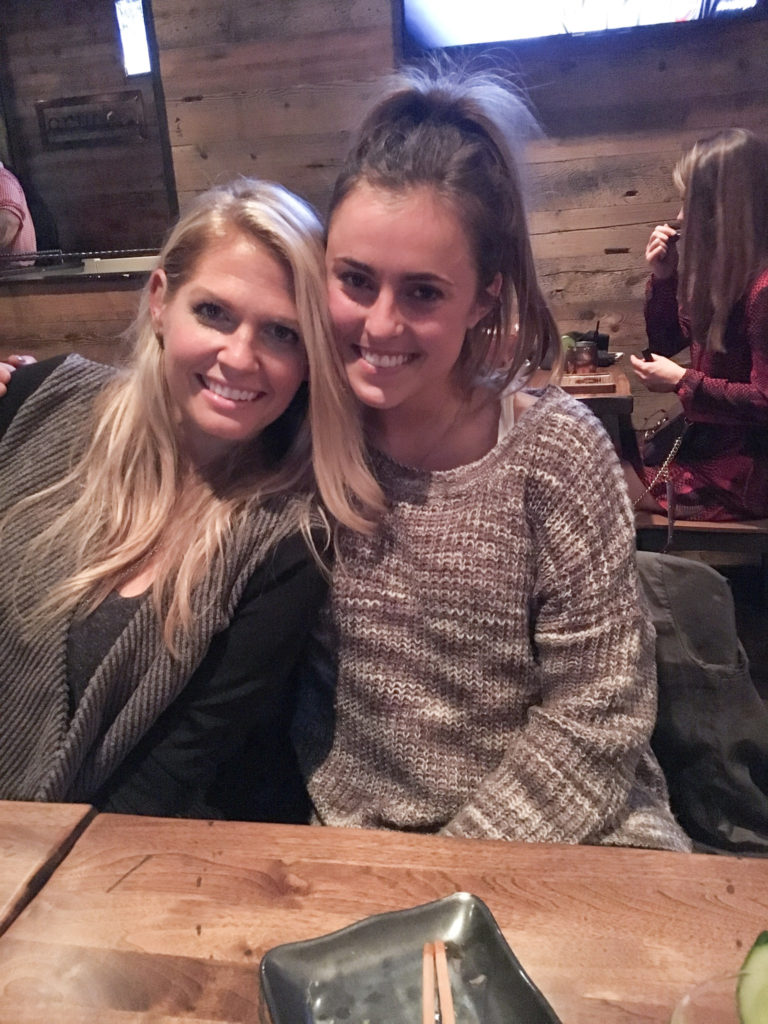 [Photo taken with Katy Allen, @savoringtheflavoring]
Day 4
Sunday was an early morning for me since I was scheduled to be at my first FNCE event– a Breakfast with siggis Yogurt: Lessons on Entrepeneurship at 6:30am. Obviously the best skyr (yogurt) was offered while we listened to Siggi, Hummusapien and two other food bloggers speak about their experience becoming successful nutrition entrepreneurs. I thought it was very beneficial listening to these health moguls and the paths they've taken in their lives.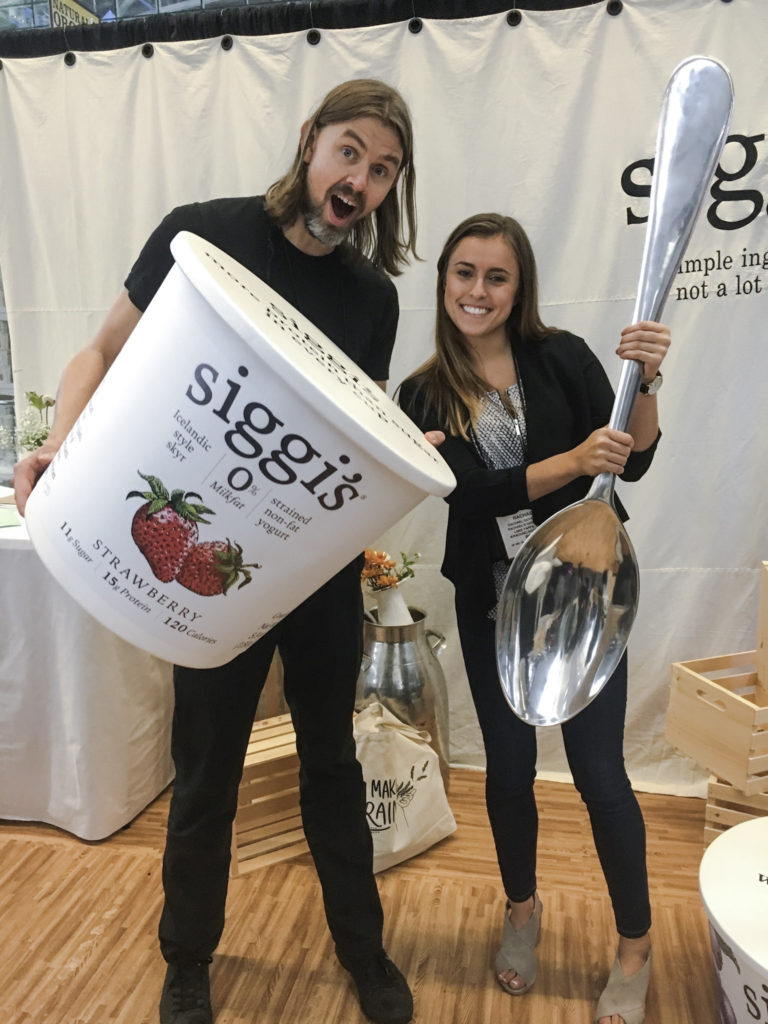 [Photo taken with Siggi]
From there, I went to several informational sessions offered at the convention center and realized it was a great refresher. I also got to visit the Expo in the center of the convention where all kinds of companies in the food world were showcasing specialized food products, cooking products, food management, nutrition assessment tools and more. It was such a pleasure meeting a number of the brands I've been in contact with through my Instagram. I will say I was a little disappointed with the selection at the FNCE Expo and this is ONLY because I've been teased with seeing so many of my Instagram friends at the Natural Products Expo and how they offer such incredible health foods. It wasn't so much that way here at the convention center. Fortunately, I will be attending my first Natural Products Expo in Anaheim, CA this coming March 2017, I cannot wait!!!
Us girls went to Core Power for the 3rd day in a row. I think at that point I never wanted to hear the word, 'Chaturanga' again in my entire life.
That night I had the chance to attend the Food & Nutrition Magazine Event on the pier, all thanks to my friend, Abi, the siggis dietitian. It was a huge deal to be in the same room with so many people who contribute to the magazine I get each and every month.
Following the event, I met back up with Katie, Lisa and two other foodies– @alaynaflan and @fitnessfoodandfaith where we enjoyed the most amazing dinner at Outlook Kitchen & Bar at the Envoy Hotel. We were able to walk back to the chef's serving table to see their new seasonal menu, which was DELICIOUS.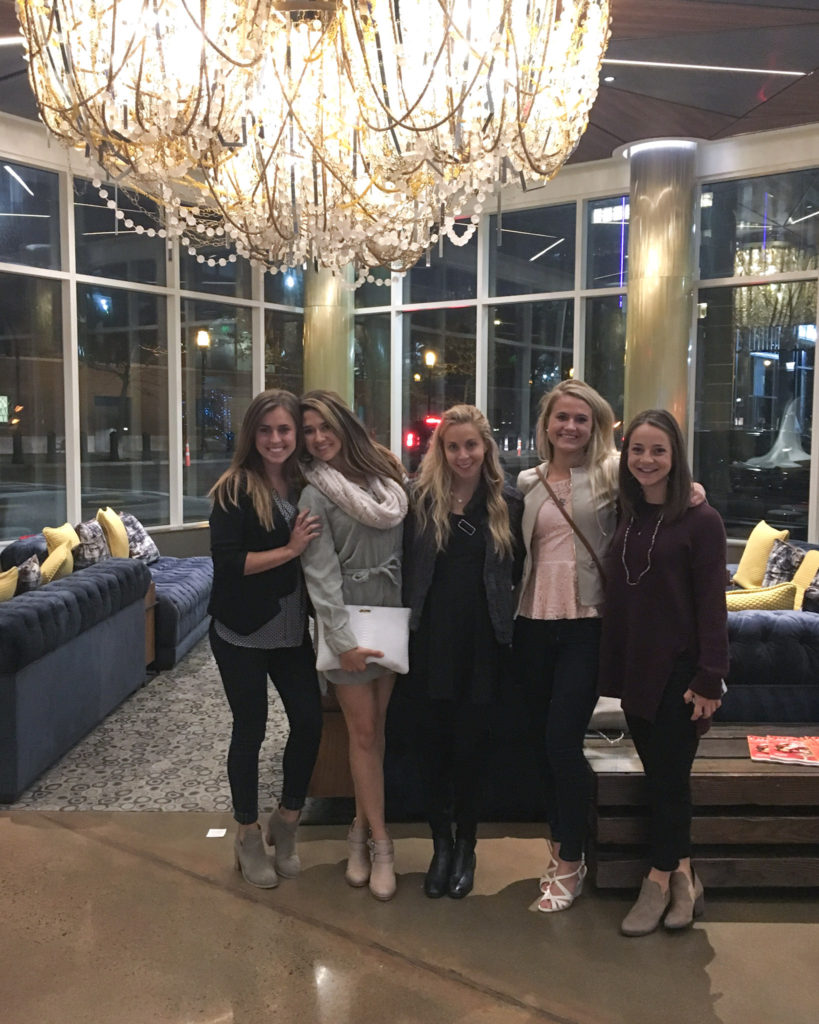 [Photo from left to right: Me, Katie @twist_of_lemons, Lisa @thewellnecessities, Alayna @alaynaflan, Clara @foodfitnessandfaith]
Day 5
Twist (Katie) and I hit the hotel gym straight out of bed, exactly how I like to start my mornings. We did several weight training circuits and refueled with a refreshing acai/pitaya bowl at Jugos downtown.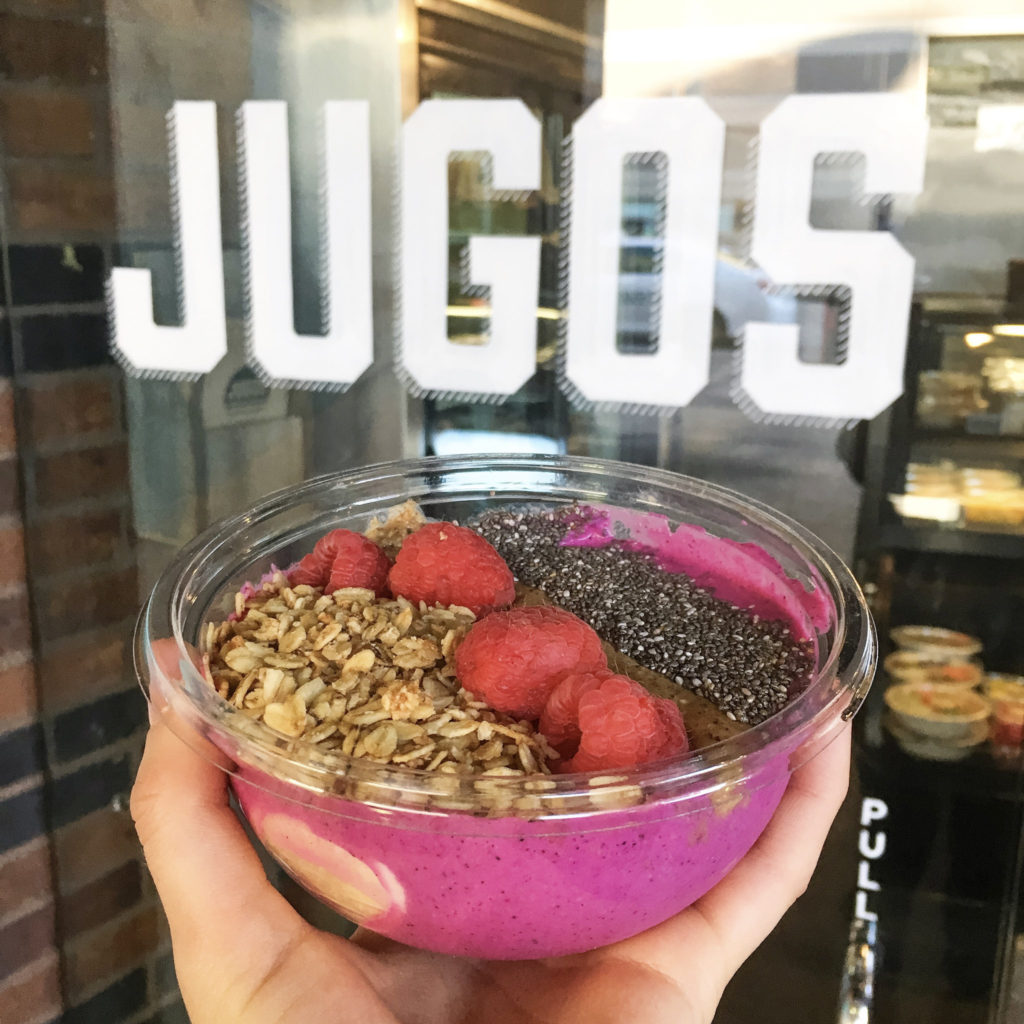 I hit FNCE, day 2 for more sessions and to connect with more companies on the Expo floor for several hours.
We ate at sweetgreen for my first time and I was in love. So many fresh ingredients from local farms—and the falafel, oh my goodness, best one I've ever had. Envoy Boston was the second hotel we checked into with an unbelievable view of the whole city and water. Another great dinner that night at Banyan Bar + Refuge.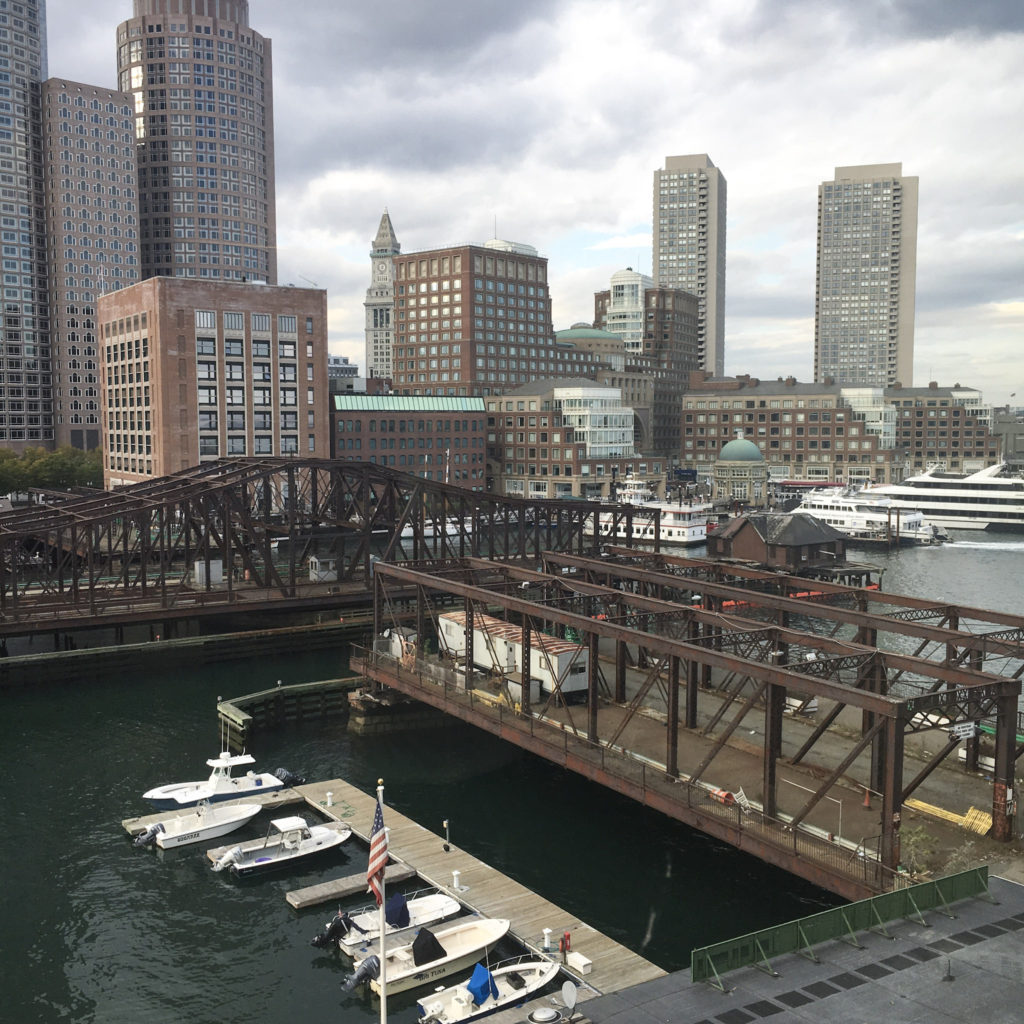 [View from hotel room at Envoy Boston]
Day 6
I think this was the day Twist got to see the hangry side of me when she decided we walk a little over a mile to grab some avo toast and almond milk lattes to bring back to the hotel to eat in our robes in bed. I mean I'm all about more exercise even after our morning workout at the hotel, but when you make me wait to eat breakfast … that's another story. The smashed avocado toast with egg totally made up for it though, it was the THICKEST piece of decadent seeded bread I've ever had and was gone in about 7 seconds.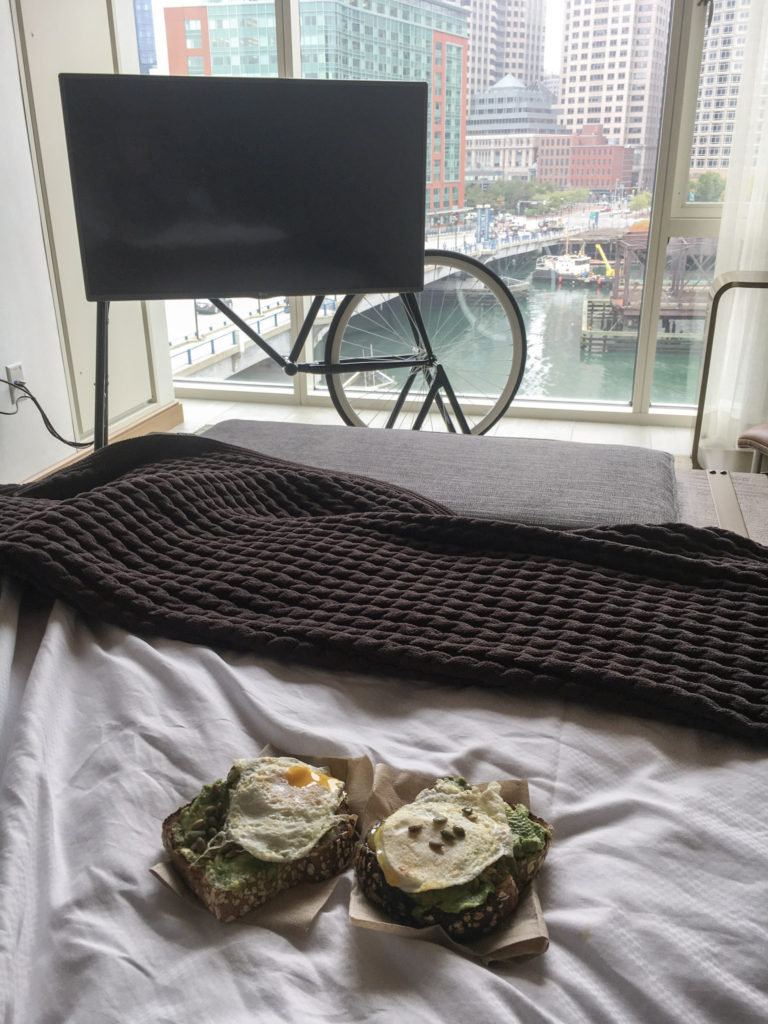 More exploring the city and again in Cambridge around Harvard's campus. Coincidentally, there was a farmer's market going on that offered a huge selection of fresh produce, juice, soups, breads, honeys, and more. We stopped at Tatte's Bakery for a tea and almond milk latte before Katie took me to the cutest little store called Follow The Honey. Who would have thought an entire store could be filled up with everything bees. Honey galore. Get this, they had a honey sampling station and honey ON TAP. Was it wrong I wanted to stick my mouth under the spout and just bathe in it? I didn't think so. We sampled honey from Mexico, Washington state (hey!), Boston and several others. It was amazing to notice the difference in taste of honeys due to region and it was great knowing there weren't any other additives. Sampling wasn't enough for me. I had to purchase a mason jar full to bring back home with me.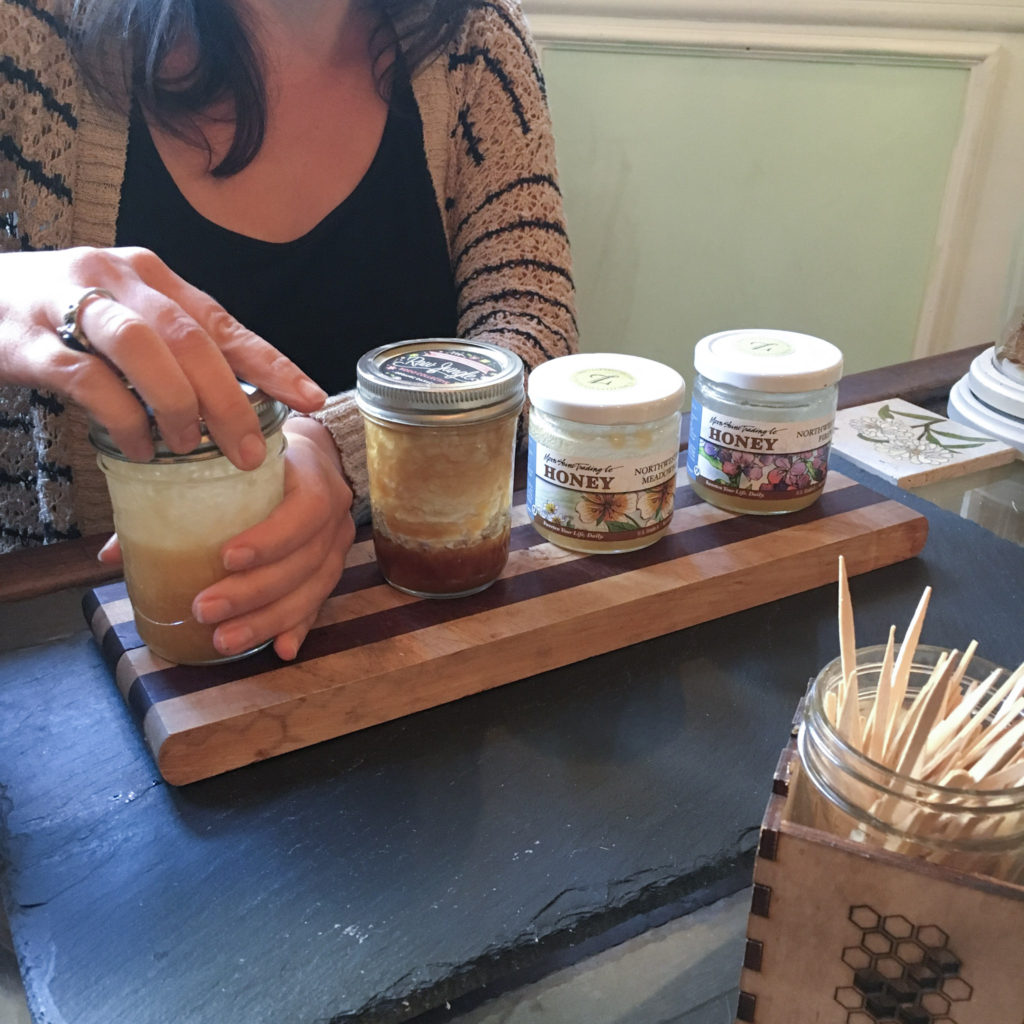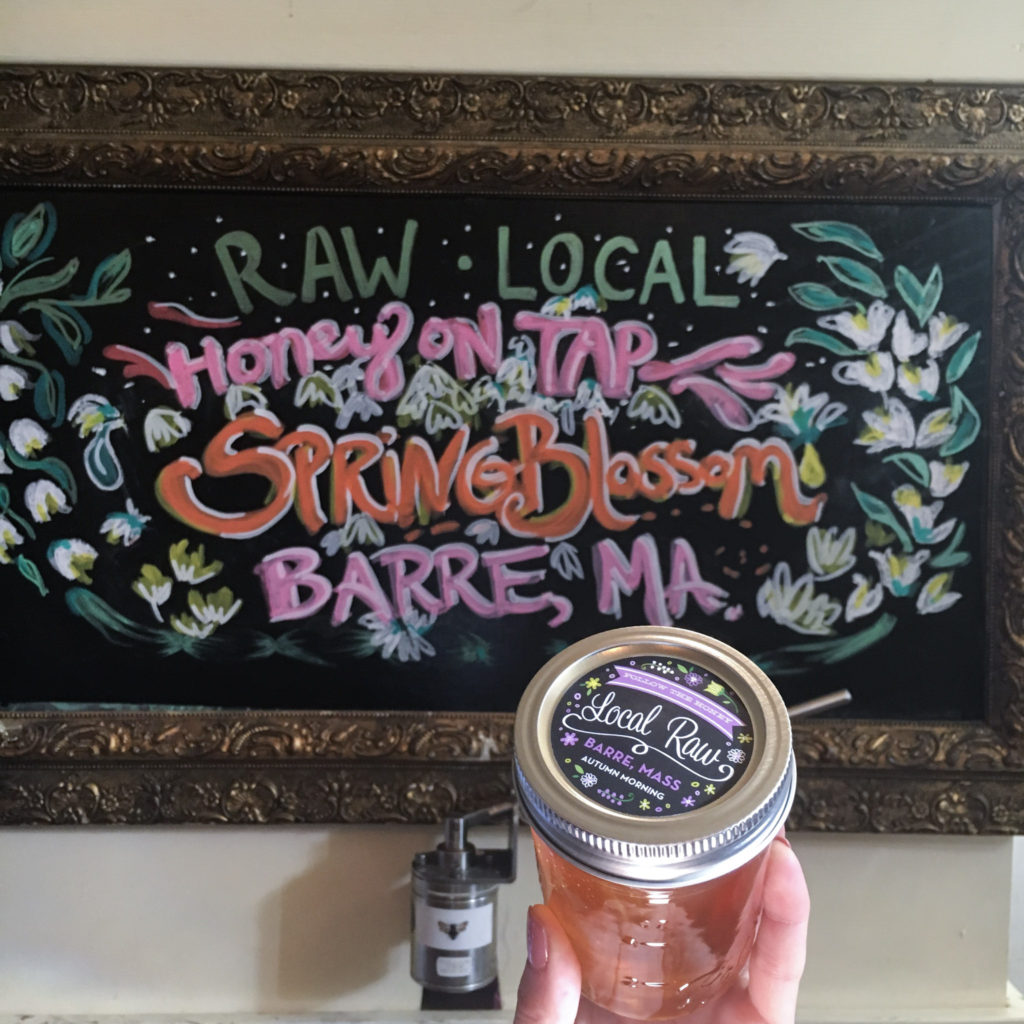 Katie and I met up with Blair from @balancewithb at Soul Cycle to take a class and grab some grub afterward. My second Soul class was a hit and I can really see why people love it so much! Blair, Twist and I ate at Dig Inn and I know I sound like a broken record, but it was unrealllll. I swear I live in the most health food depleted city in the country after visiting NY, LA and Boston! Blair was the sweetest in person and we all got along great!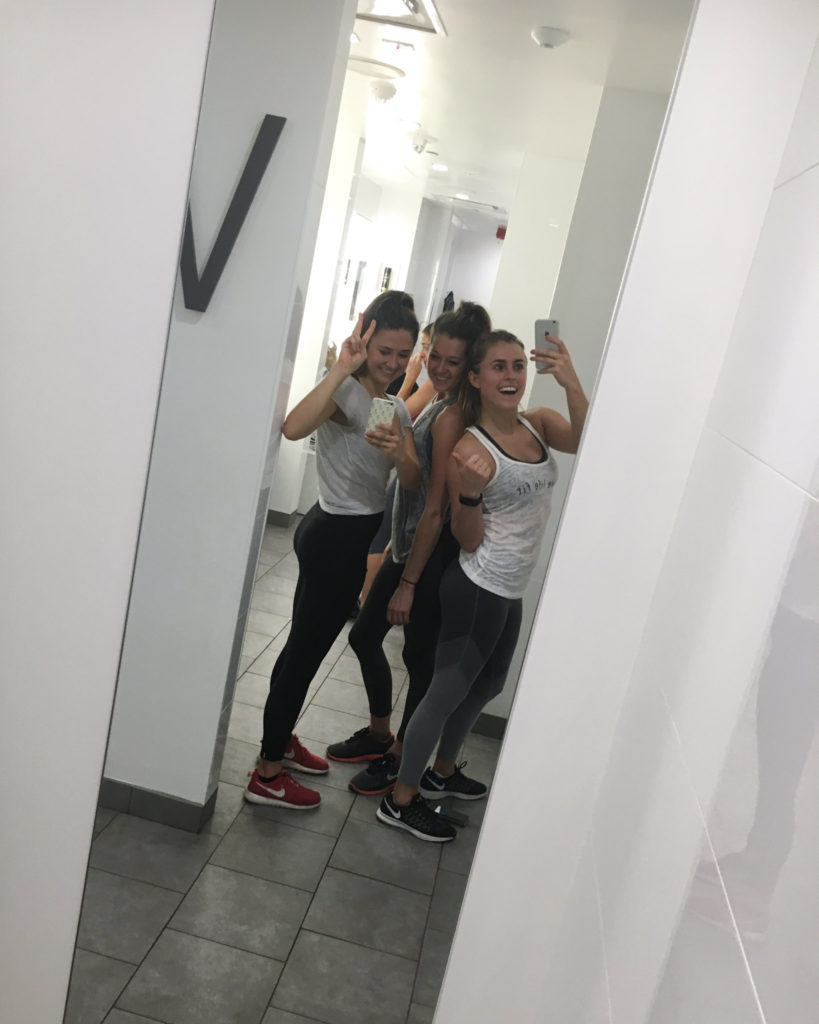 [Photo taken post-soul cycle with Katie and Blair]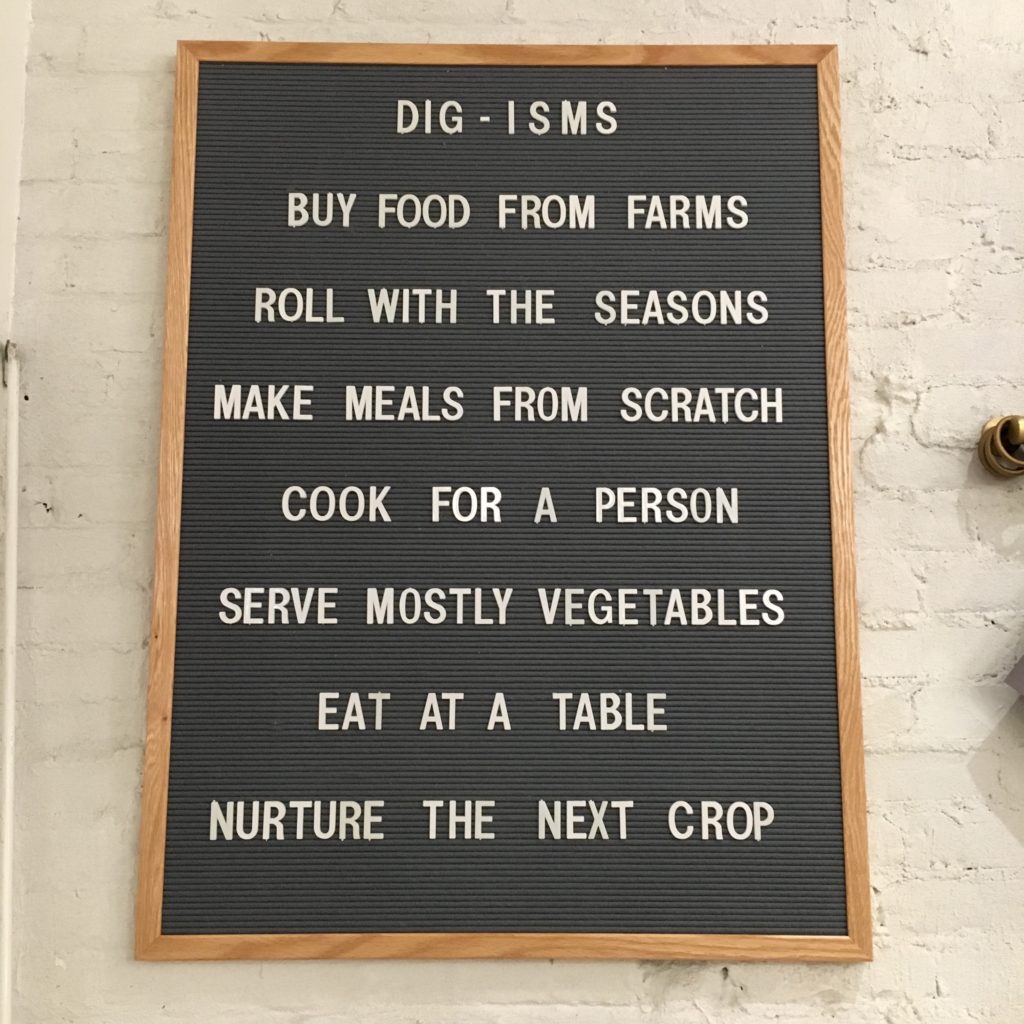 [Photo taken at Dig Inn]
Day 7
I stayed at Katie's house about 45 minutes outside of Boston where we woke up to make my famous omelettatas in the morning 😉 Then we thought it was necessary to finally take a day off from exercise and go to Bella Santé Spa to get a massage (muah) and facial (Katie). I've only had one other legit massage in my life, well two if you count one in Mexico, and they were both very short. However, this massage was 90 minutes and these lady's hands were EASILY god's gift to earth. I don't even have words for how relaxing and beneficial it was to my "branchy" muscles, as the masseuse declared my upper back.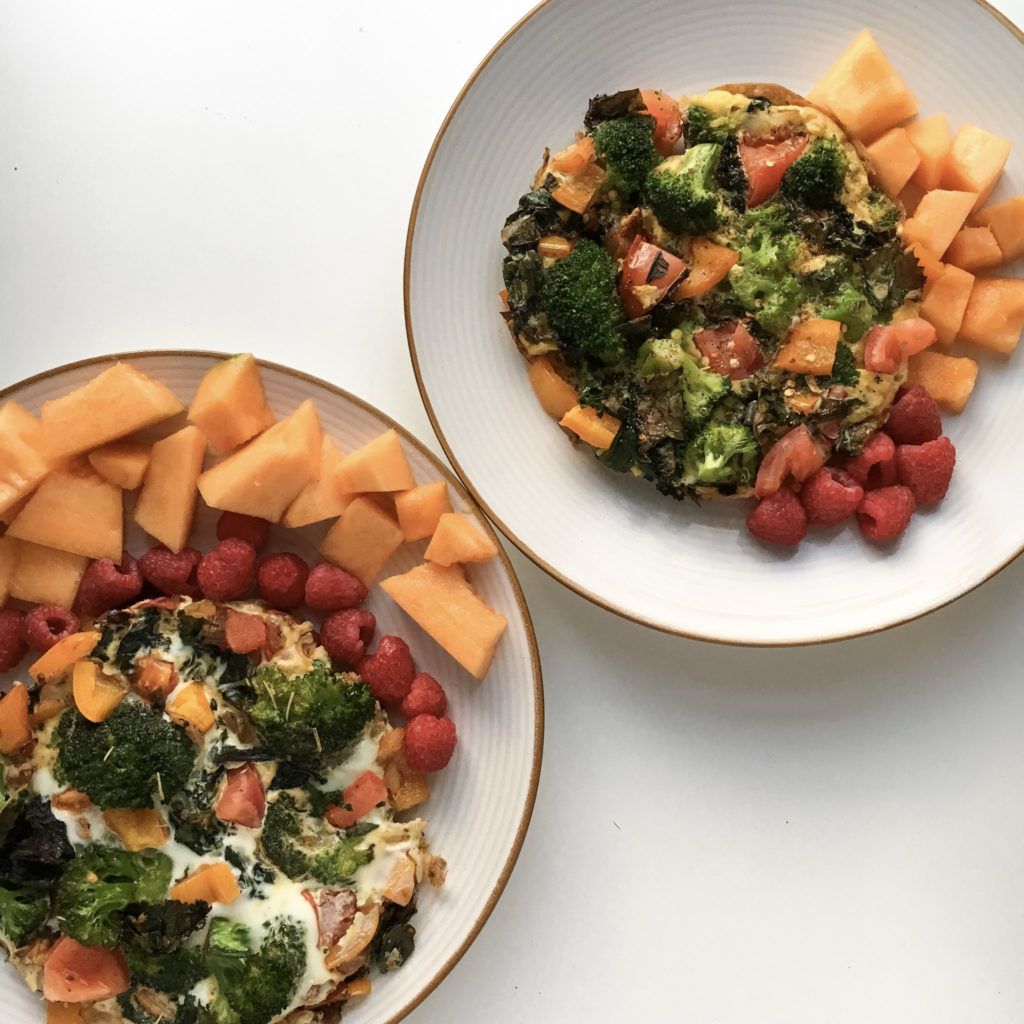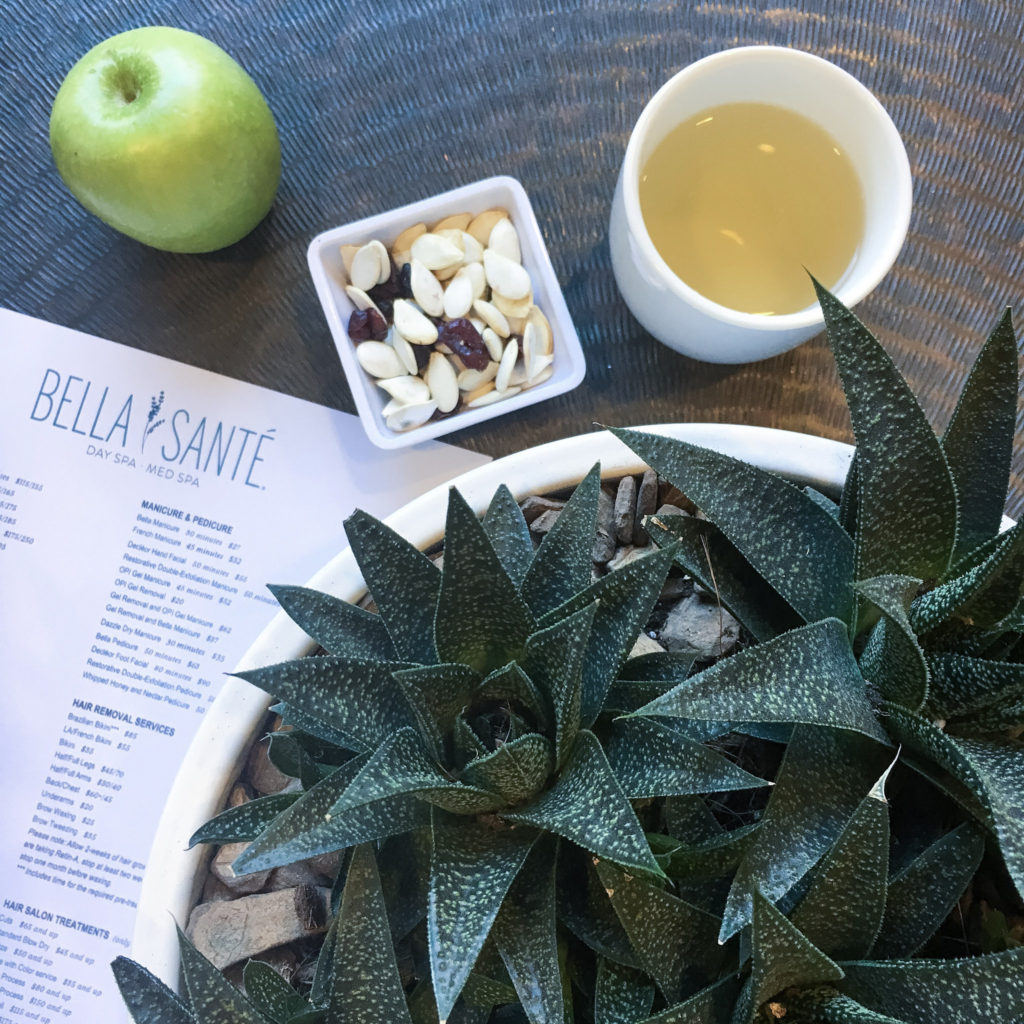 I only had a few hours before needing to head to the airport so we went to sweetgreen once again for lunch, shopped around and stopped at Cocobeet on the way to stock up on airplane snacks.
I can't rave enough about my first trip to Boston. It was so beautiful, clean, homey, chock-full of healthy food spots, the list goes on. Big thanks to Katie for literally taking a week off work/school to have a staycation with me and show me the ins and outs of her city! <3 Ill be waiting to do the same when you come to visit Seattle, my friend!