I've been wanting to make Buffalo Cauliflower Bites for months now and finally I came across a healthy buffalo sauce, Tessemae's! I'm such a fan of their products, especially after pairing both the Buffalo and the Ranch dressing together for this recipe.
I honestly can't remember the last time I had buffalo wings, if I ever really have …? So that just goes to show how excited I was for this recipe using one of the most versatile vegetables, cauliflower.
The recipe for these Buffalo Bites is ridiculously simple and doesn't take long at all. So ideal for a last minute football appetizer on gamedays! The finished product is a sizzlin' healthy version of your favorite buffalo wing. Don't expect too much of a crunch either, it should have a light coating on the outside, easy to bite into and pack tons of flavor.
I also saved half the batch in the refrigerator for leftovers the next day– threw them on a baking sheet and broiled in the oven for 15 minutes to reheat. They tasted the same as the day before! Option to coat in extra Buffalo Sauce is recommended.
This Ranch is unbelievably good and something I 100% recommend! Free of junk, with even more flavor than most other brands. It has a big dill kick, which I'm such a fan of and blends perfectly with these Buffalo Bites.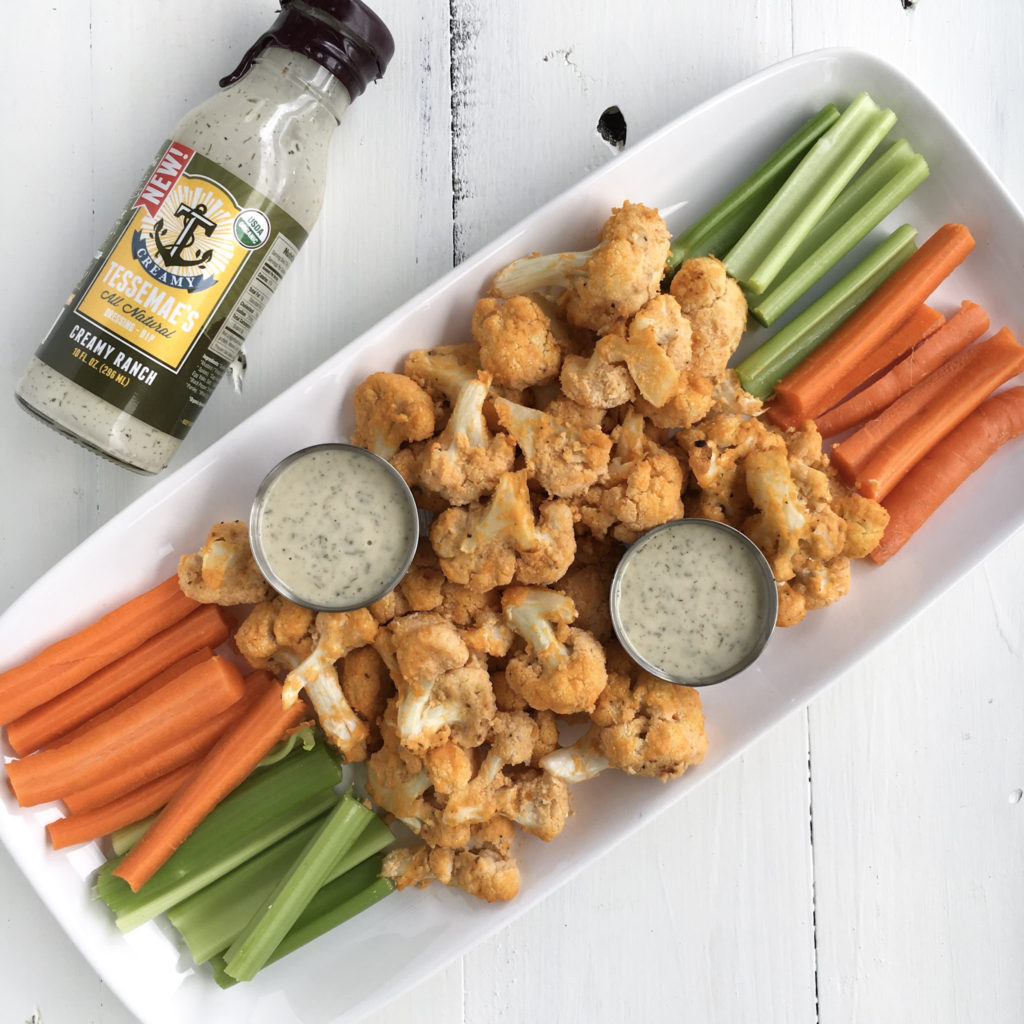 This Tessemae's Creamy Ranch dressing can be found in many retailers nationwide, like Whole Foods, Safeway, Walmart and Target and will soon be added to their online store!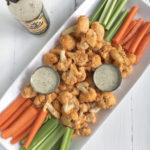 Buffalo Cauliflower Bites With Creamy Ranch
Ingredients
1

medium head cauliflower

3/4

cup

unsweetened almond milk

1/2

cup

almond flour

I used AlmondPro

1

tsp

garlic powder

1

tsp

apple cider vinegar

1

tbsp

olive or avocado oil

1/2

tsp

ground pepper

3/4

cup

Tessemae's Buffalo Sauce

1/3

cup

Tessemae's Creamy Ranch
Instructions
Preheat oven to 425 degrees F.

Cut cauliflower into florets

Add almond milk, almond flour, garlic, apple cider vinegar, oil and ground pepper to a deep, large bowl and whisk together.

Place wax paper on baking sheet and set aside.

Add several cauliflower florets at a time to mixture and evenly coat before placing on the wax paper. Bake in the oven for 15 minutes before removing.

Add Tessemae's Buffalo Sauce to a large bowl then add several of the cooked florets to coat evenly in the sauce. Repeat until all florets are coated in Buffalo Sauce, and bake again for 10-12 minutes. Feel free to drizzle more sauce over the top once they're out of the oven.

Serve with veggies and ranch. Enjoy!