Although the recipe below may seem like too many ingredients & steps, feel free to leave out certain ingredients or get creative and add your own! Since bowls are what I eat about 90% of the time– the easiest thing to throw fresh ingredients from your fridge into a bowl– I thought I'd share my usual go-to bowl I have for most lunches and dinners.
Again, I use whatever is in my fridge, but always make sure to start with a base of mixed greens. Then I'll go on to add colorful veggies, a quality source of protein, some yummy healthy fats and it's good to go! Butternut squash and sweet potatoes are the perfect seasonal "feel good" food and the best addition to this salad during fall.
I suggest keeping all ingredients in separate containers in the fridge if you make extras. This way, you'll be able to still customize your bowl each time you make it, avoiding getting bored from the same thing for the next few meals. In my opinion, it's one of the easiest meals to prep for the week ahead or even just for 2 or 3 days. This is also a great "create your own" meal to take with you for work or school lunches!
Most of my nuts and seeds live in Weck jars in my fridge. It helps them from go rancid too quickly and keeps them fresh. I'll switch it up and sprinkle different nuts/seeds over my lunches and dinners for not only a boost of healthy fats, vitamins and micronutrients, but for extra flavor too!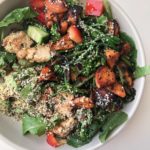 Fall Harvest Bowl
Ingredients
Roasted Butternut Squash
3

cups

cubed butternut squash

1-2

tbsp

avocado oil

salt and pepper, to taste
Roasted Sweet Potatoes
2

medium sweet potatoes, skinned and sliced 1/2-inch thick

2

tbsp

avocado oil

salt and pepper, to taste
Salad
4

cups

mixed greens

2

persian cucumbers, chopped

1

red bell pepper, diced

2

organic chicken breasts

(or protein of your choice)
Sauteed Broccolini
1

bunch

broccolini

1

tbsp

ghee

1

tbsp

olive or avocado oil

1/4

tsp

pink salt
Dressing
1

lemon, squeezed

3

tbsp

extra virgin olive oil
Toppings
pumpkin seeds

hazelnuts

unsweetened cranberries

pecans

hemp seeds

avocado
Instructions
Preheat oven to 425 degrees F.

Toss cubed butternut squash in oil and spices and place on parchment paper covered baking sheet. Spread out evenly. Bake for 25 minutes, or until starting to brown and becomes tender.

Once done, turn oven on broil, high heat.

Toss sweet potatoes in oil and spices and lay out evenly. Broil on center rack for about 10-12 minutes, or until starting to brown and bubble.

Slice broccolini in thin strips lengthwise. Sauté on medium heat in skillet with oil, ghee and pink salt. Toss occasionally and cook until crispy.

Sauté sliced chicken breast in a skillet with oil and seasonings of choice until browned and cooked through. Set to the side.

Prepare salad bowls by starting with mixed greens at the base, then adding roasted butternut squash, sweet potato, bell pepper, cucumber, broccolini and chicken. Add toppings of choice and dressings of choice and enjoy!

**Great for making extras and taking with you for work/school lunches.
*Shop my favorites below