Bridger and I planned our San Francisco vacation around the Seahawks/49ers game and it just so happened to fall on New Years. We wanted the "downtown" feel and to be located near several of our pre-planned destinations.
Galleria Park is a boutique hotel with a gorgeous interior and right near Union Square located in the Financial District. We learned that San Francisco isn't all that big, which made it easy to walk or Uber all over the city in quick time. We even took a 5-minute Uber ride to the train station and made our way down to Santa Clara to Levi Stadium for the football game on New Years Day.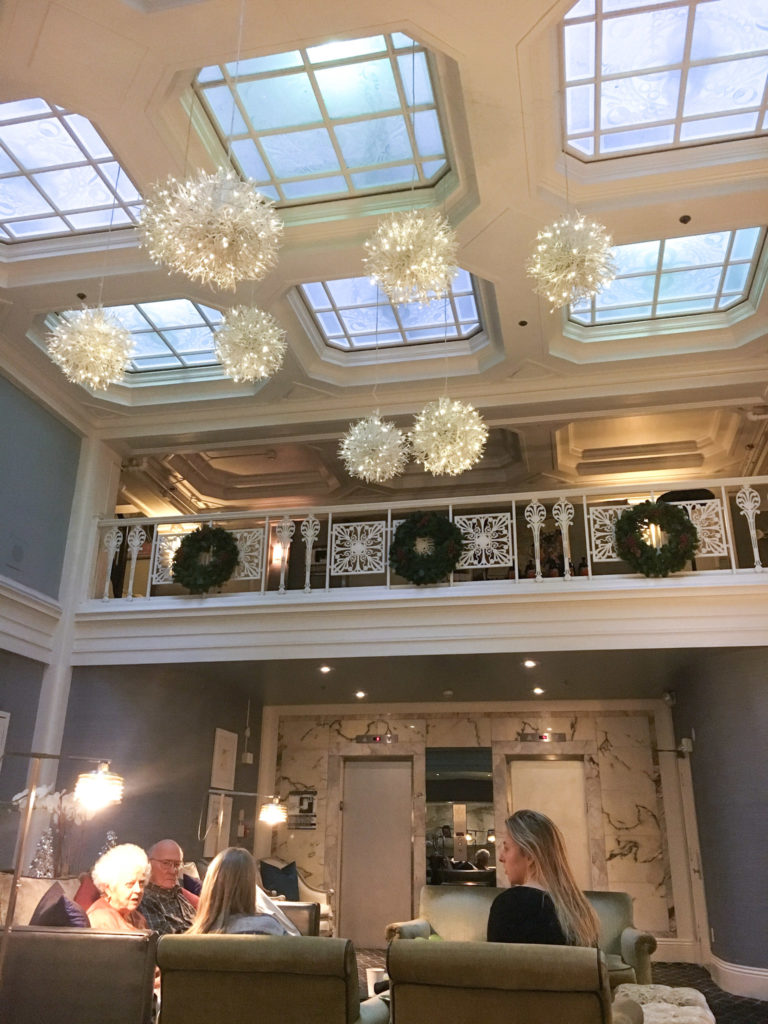 Right when we first arrived to the hotel at 9am we were thinking we would drop our bags at the front desk to go out to breakfast and start exploring SF for the day. Little did we know, our room was READY. When does that ever happen?? We decided it was a good idea to catch up on an hour's sleep since we woke up at 3:30am that morning.
The room was beautiful. We had a huge bed with perhaps the largest head board I've ever seen, a mini fridge, flat screen TV, closet and bathroom including a good-size shower. It really had everything we were looking for and more.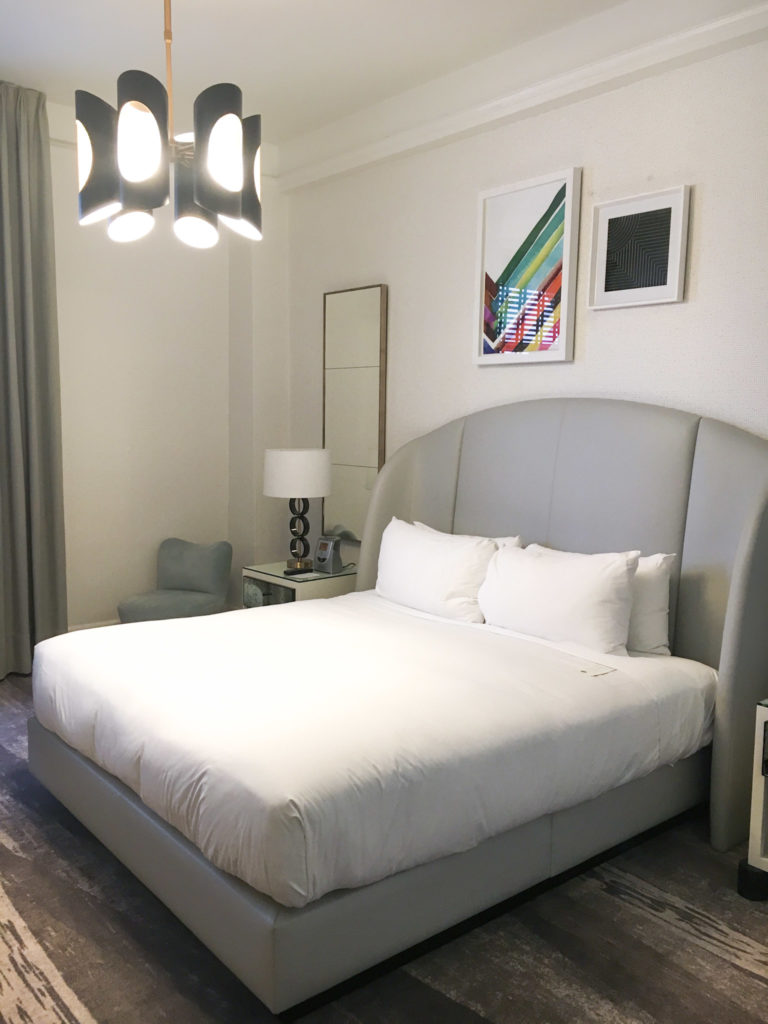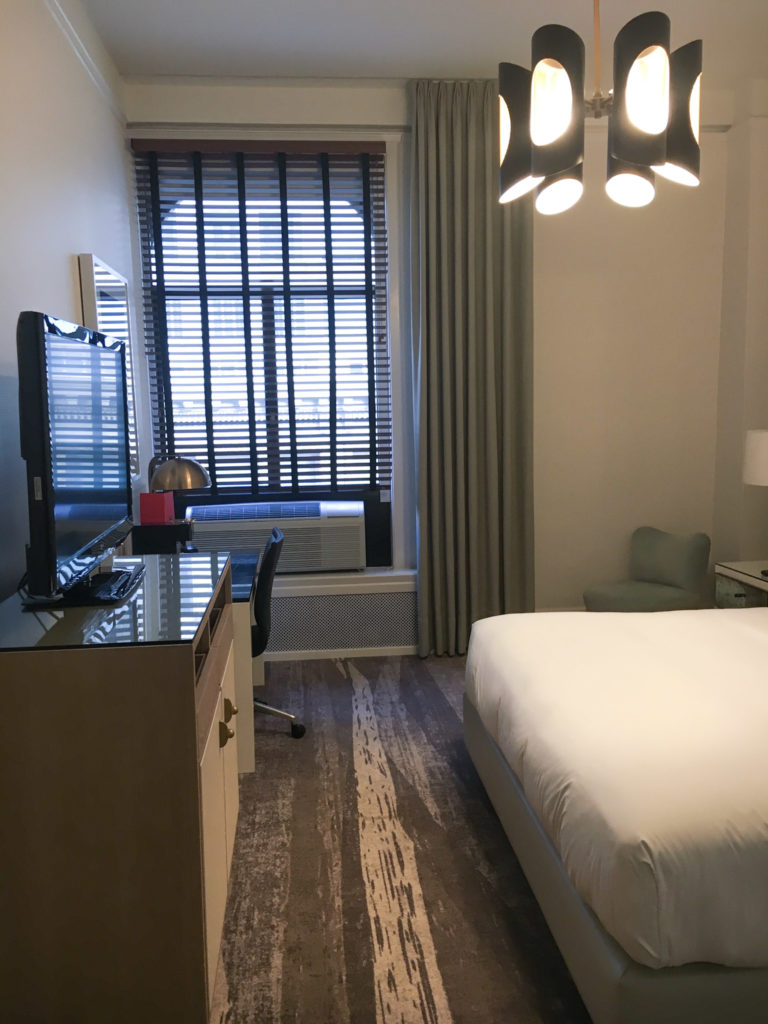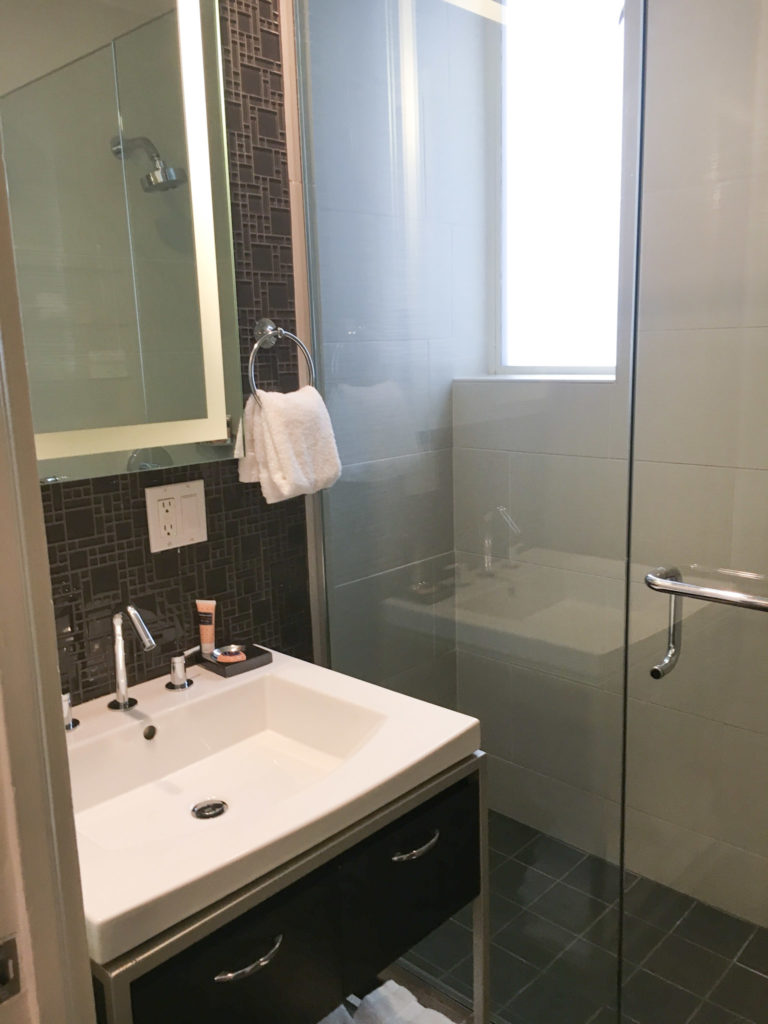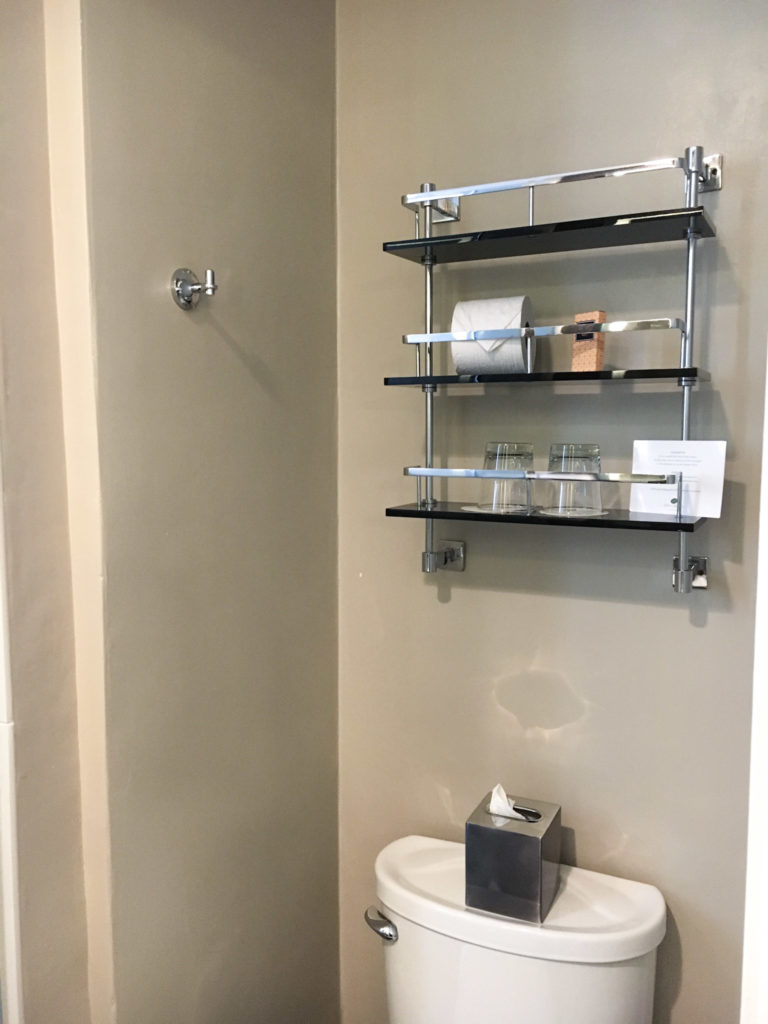 The hotel has 8 floors and we were located on the 7th floor with an awesome view of the city.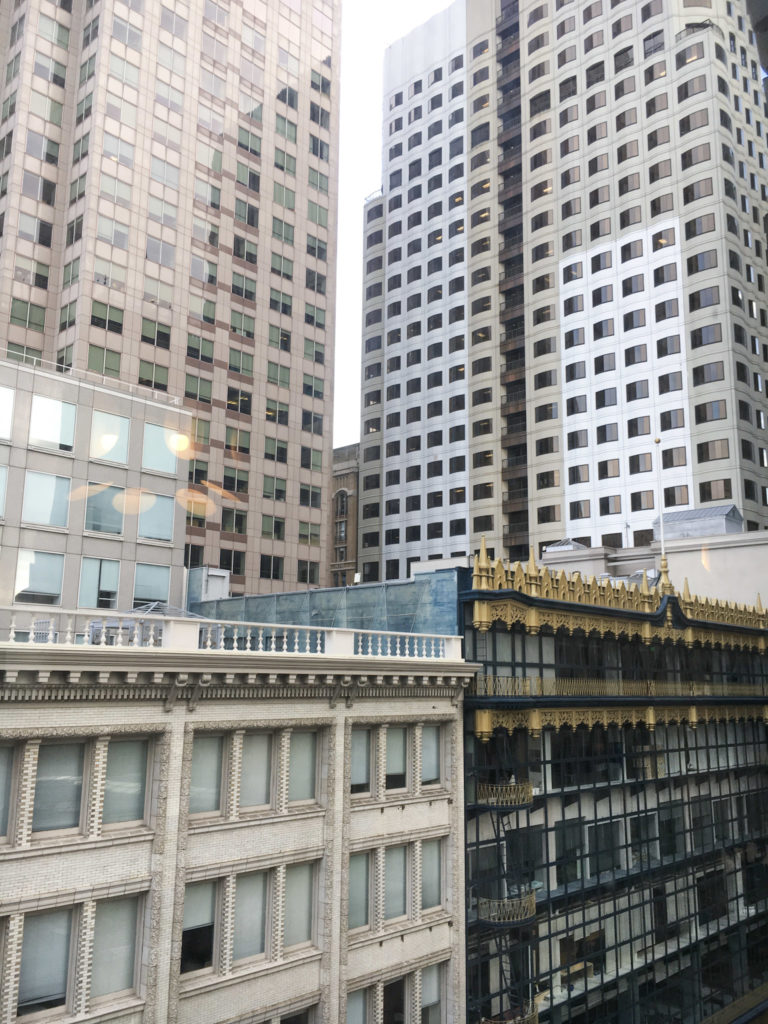 The staff was very accommodating when we requested a second robe for the room, in addition to room service.
Even the stairs were beautiful! They were marble and ran all the way up and down the hotel. Galleria Park also offers a complimentary wine hour every night from 6-7pm.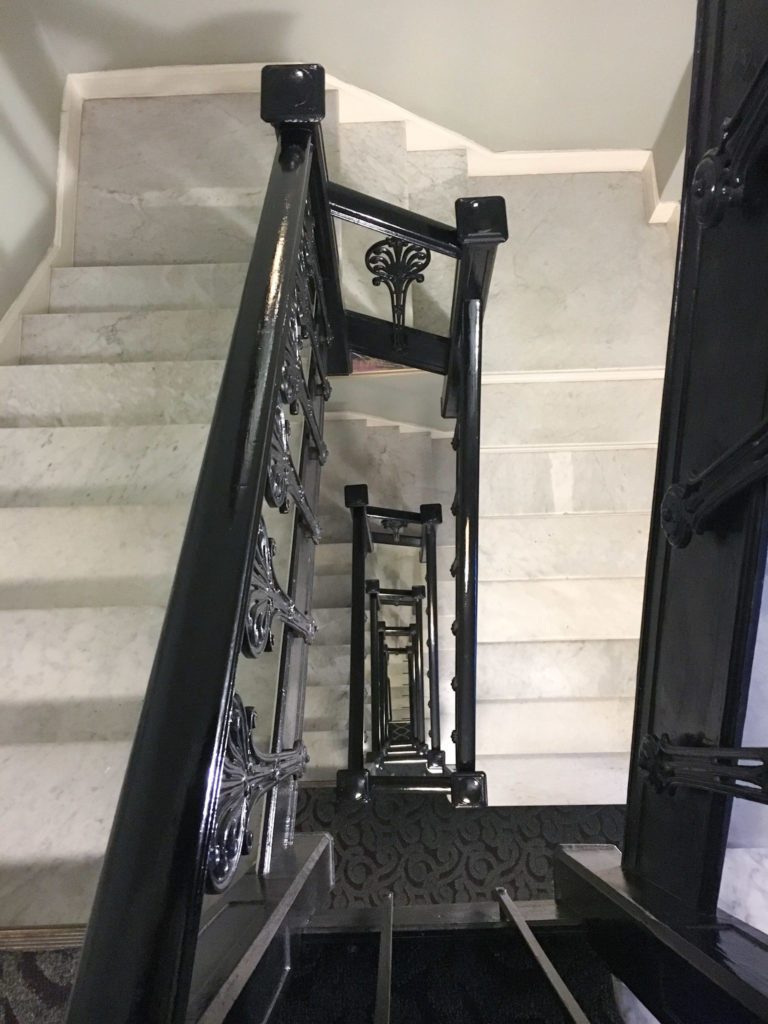 The gym was quaint, but had everything needed for a simple hotel workout. 1 treadmill, a bike and an elliptical for cardio, a full cable machine, a bench, yoga mats, and dumbbells that went all the way up to 50lbs I believe. I'm a firm believer in working out on vacation so this gym was great to have. I took advantage of it once during our stay and thankfully it was empty because it's rather small to do any HIIT or circuit weight training. Nonetheless, it got the job done! Another advantage of this hotel is that they offer a fitness package that can be delivered to your room. It includes 2 resistance bands, a jump rope, yoga mat, a yoga block and 10lb dumbbells to be used in the comfort of your own room. I think this was a great idea, especially if the fitness room is being used and you'd rather exercise in your own room for additional space.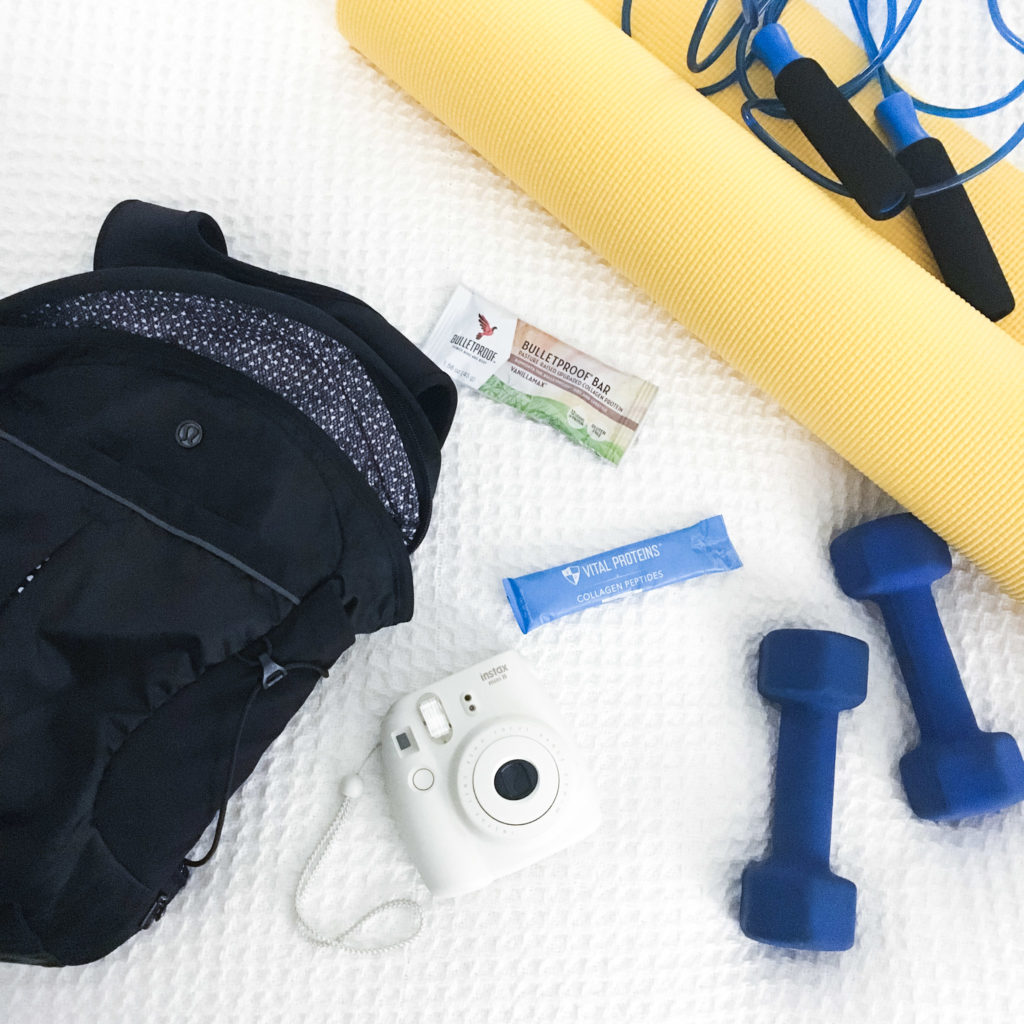 One thing we didn't have time to experience was the restaurant connected to the hotel. It is called Gaspar Brasserie. With the French cuisine I was a little hesitant with how I would order and how many modifications I would make… LOL. Next time we come back to SF, we will have to try it out!
Overall, I would confidently go back to Galleria Park Hotel the next time I visit San Francisco. I think the hotel absolutely helped make our trip one to never forget!