If you've been following along, you know I'm in the kitchen all the time and I've found and tested a lot of kitchen staples I use everyday. One of the most asked questions is what kind of pots & pans I use, so I'll get to that a little later. Today I'm diving in on two things – a few small and easy things you can do to live a healthier life and an insane paleo banana chocolate chip pancake recipe made using my Always Pan from Our Place! These cakes have been on repeat this summer and I don't see them going anywhere as the seasons change. Making food fun and simple to make is one of my absolute favorite parts of my job as well as providing easy-to-follow tips that can help this community be healthy and strong. So, first I have a few healthy living tips, then I'll dive into the recipe! If you want to learn more about which produce items you should be purchasing organic, click here for the Dirty Dozen.
CARE ABOUT THE INGREDIENTS OF YOUR MEALS
This is something even I had to learn to do over time. I didn't grow up eating organic or tons of whole foods, but after really getting into nutrition in college, I realized it was an easy thing I could do for myself, especially after I noticed how much better I felt after consuming and thinking about nutrients as fuel for my body. I'm not saying you need to completely overhaul your diet overnight, but the next time you're in the kitchen putting a meal together, take a look at the ingredients and take note of what you're putting in your body. Then, start to slowly incorporate whole foods like more leafy greens (I literally start with this as a base for mostly all lunches and dinners), organic/pasture-raised/grass-fed/wild-caught lean proteins like chicken, turkey, fatty fish like salmon, etc., sweet potatoes, and other complex carbohydrates and healthy fats into your meals!
USE HEALTHY/SAFE POTS AND PANS
It's taken me years to learn how to swap out toxic products for clean, safe and chemical-free things in the house and by no means do I have it all figured out, but I feel like I'm definitely more aware of everything we use now. In regards to cooking everyday, I learned all about the harmful chemicals that go into making traditional pots and pans. We're talking lead, toxic metals and cadmium (among others) that can lead to serious health issues when consumed over time.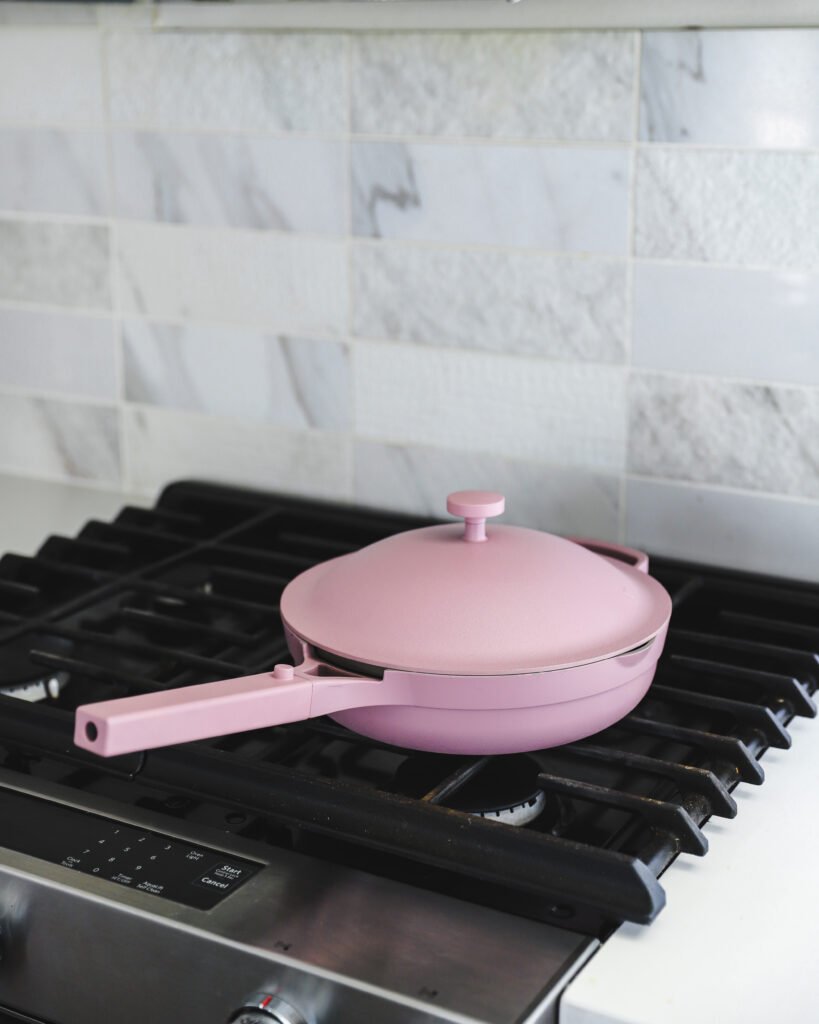 Enter: Our Place and the Always Pan. The Always pan has become a staple in my kitchen since I got my first one months ago. It's safely made without teflon, PFAS, PFOAS, PTFEs, lead, cadmium, toxic metals or any other potentially harmful materials. I mean, think about how often you use a pan to cook – I use mine sometimes 3x per day (both quarantine and homebody problems)! This is why it's important to be sure the one you're using is safe. It's literally the perfect one pan to buy because it can be used for everything in the kitchen! And it doesn't hurt they have the best colors too. Our Place came out with this lavender color to celebrate their one year anniversary and I'm 100% here for it– they're non-stick, contain a steamer basket, is deep enough for 'one-pan meals,' has a spatula and spoon rest and doubles as a saute and saucepan.
It's super easy to clean, which Bridger is a major fan of. Here are a few tips for making it last for YEARS:
Cook on low to medium heat as to not degrade the quality of the non-stick surface
Use wood spatulas and utensils – metal can scratch the non-stick surface
Use 1-2 tbsp of a high smoke point oil/fat like avocado oil or ghee to coat the surface of the pan
Clean with warm water and a gentle sponge once it has completely cooled (it comes with its own sponge, too)
MAKE YOUR OWN FOOD
This goes hand in hand with tips one and two! If you care about the ingredients in your meals, you're using safe kitchen equipment to cook and you're making meals yourself, you're well on your way to living a healthier life! If you struggle with finding the motivation to cook for yourself, try to find recipes that get you excited so it's something you look forward to. Like this chocolate chip pancake recipe! I mean, I don't know about you, but I love an easy box mix that I can spice up a bit and that takes like 10 min max to make. Cut up some fresh fruit, get a good buffet spread going, fry some eggs, add a side of avo (obviously), and you have a perfect weekend brunch 😉
GF, DF PALEO BANANA CHOCOLATE CHIP PANCAKES
Alright, let's get into the simple recipe!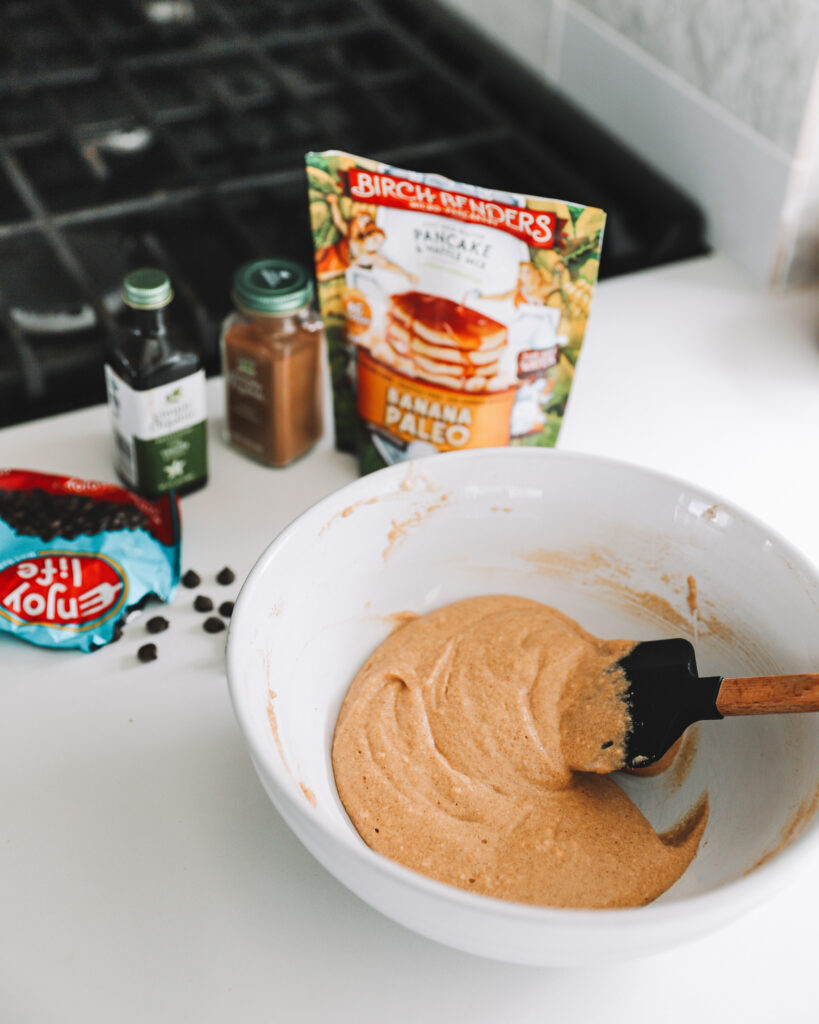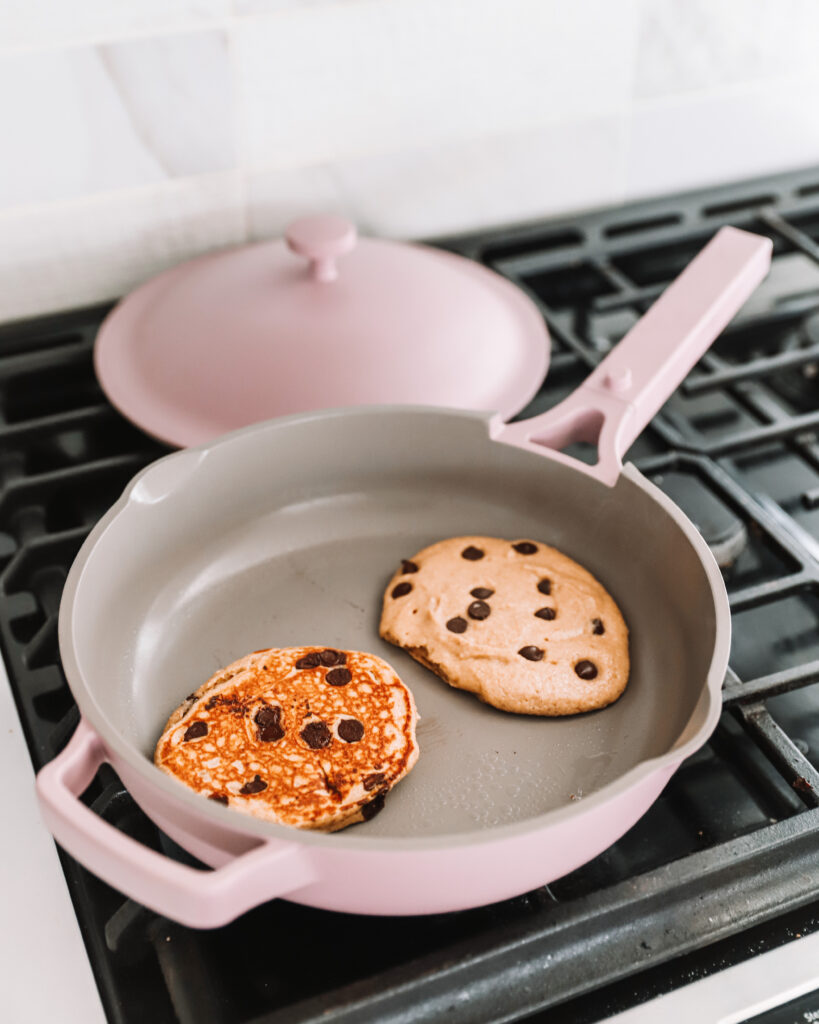 5ish Pancakes:
3/4 bag Birch Benders Paleo Banana Pancake Mix (it's added sugar-free!)
liquid according to package, except just a tiny bit less than it calls for (I usually do half water, half unsweetened almond milk)
1/4 tsp cinnamon
1/2 tsp vanilla extract
1/4 cup dairy-free chocolate chips
Directions: Mix all ingredients minus the chocolate chips together, then eyeball the pancake batter. It should be somewhat thick to stir, and make sure all clumps are thoroughly mixed in. Heat your Always Pan on medium. Either spray or add 1/2 tbsp coconut oil to melt, then add batter with a 1/3 measuring cup. Sprinkle the chocolate chips onto the batter in the pan and let cook for about 2 minutes before flipping. Once golden brown, transfer to plate and repeat until batter is gone. I love a good pancake topping station, so I tend to get out maple syrup an/dor manuka honey, sliced almonds, pecans, coconut flakes, fresh fruit, etc.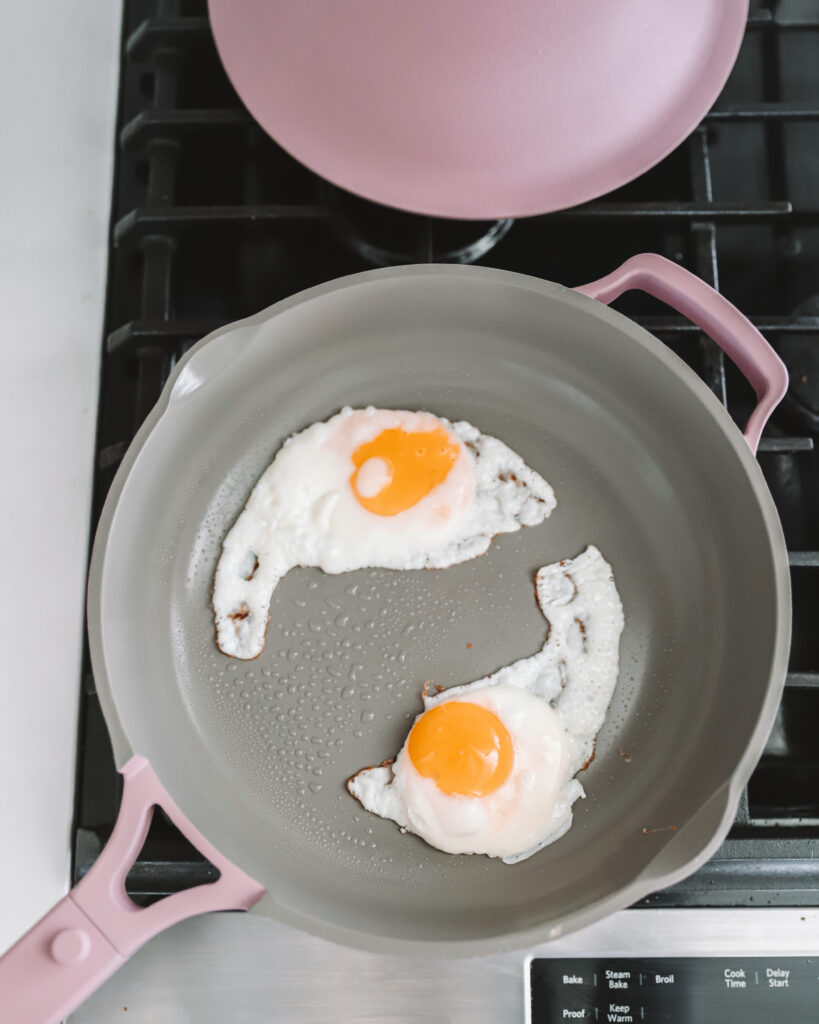 As for other side's for a perfect brunch situation, you always need some eggs– I went for fried eggs this time, but scrambled eggs slide right off this pan as well! Also sliced avocado, Applegate organics bacon with extra pepper, mixed greens, the basics. I also made the bacon in my Spice-colored Always Pan (I didn't need to add any oil at all), and it came out like a dream! Extra crispy, my favorite.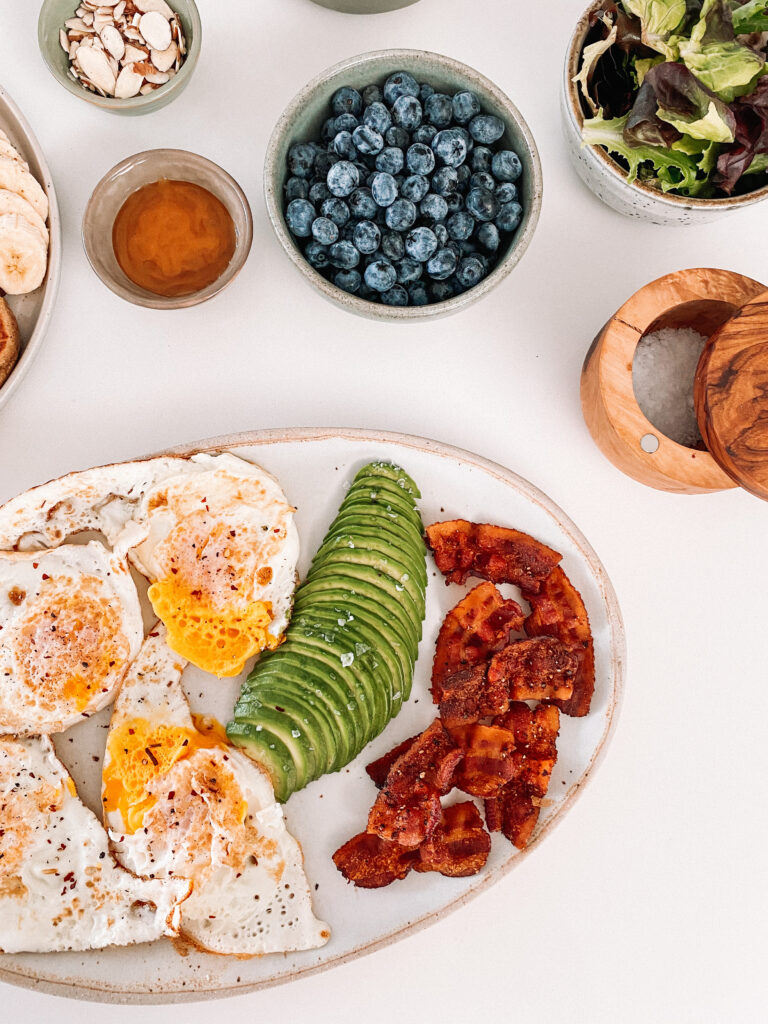 Anyways, if you ever feel like you need to spice things up on the weekend, I got you covered! This is super easy to make, especially when you don't have to worry about food sticking to your pots and pans. You guys can use my discount code RACHAEL10 for $10 off your order through Always Pan. You will love it!
xx Rachael
SHOP MY FAVORITES

This post was sponsored by Our Place, but as always, the opinions expressed are always my own 🙂