If you want to make a statement dish for dinner, here's your recipe. Seriously, take this with you to your next dinner party or make it to spice up family night because these hasselback purple sweet potatoes are NEXT LEVEL!!! You can dress it up however you want with all the colorful toppings or even stick to a classic loaded baked potato-style spread.
I chose organic purple sweet potato not only for their gorgeous color, but because they're rich in the phytochemical anthocyanin, a powerful antioxidant shown to reduce the risk of developing chronic diseases, they're high in vitamin C and manganese and is a great source of fiber, iron and calcium.
You can easily swap the ghee used in the recipe for olive, avocado or coconut oil. I thought I would branch out and choose the ingredient most commonly associated with baked potatoes 😉 And ghee happens to be lactose-free for all my fellow lactose-intolerant friends! It's a great addition to any meal, supplying a rich buttery flavor and healthy dose of fats– just make sure to choose grass-fed organic ghee.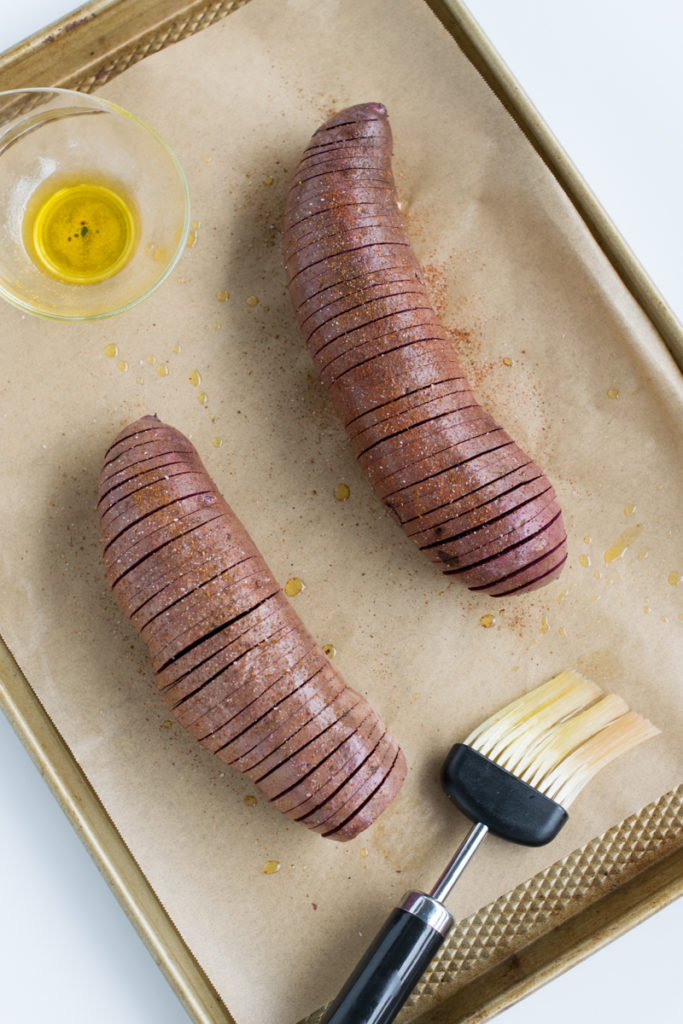 These potatoes didn't take long at all either. It's an awesome stress-free side you can let bake while making your other dishes. It only took me about 10 minutes to prep and 10 minutes to decorate once done… super easy!
I kept it pretty simple with the spices– chili powder, smoked paprika, oregano, pink himalayan salt and ground pepper. Those spices cooked alongside the ghee….. oh my goodness. The ultimate savory roasted potato. As with any baked tater, the toppings are what complete the entire meal. A light dusting of fresh cilantro, chopped green onion, feta cheese and roasted tamari pumpkin seeds seemed fitting to finish the dish the right way.
And let me tell you, the flavor was absolutely DELICIOUS. The first bite I tried tasted like bacon and I really wasn't too mad about it. Okay mouth is currently watering talking about this recipe, I will leave you with this photo and the recipe below.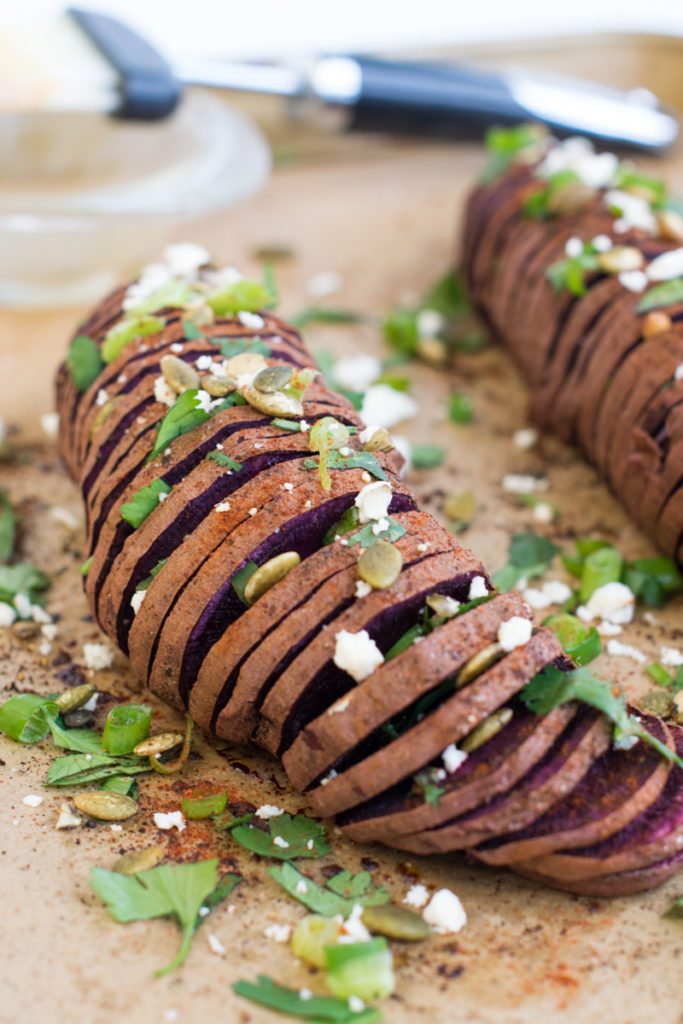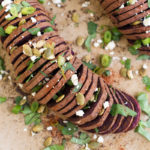 Hasselback Purple Sweet Potatoes
Ingredients
2

large

organic purple sweet potatoes

2

tbsp

grass-fed ghee

1

tsp

smoked paprika

1

tsp

chili powder

Himalayan pink salt

Ground pepper
Toppings
1/4

cup

green onion

3

tbsp

fresh cilantro, roughly chopped

2

tbsp

roasted pumpkin seeds

2

tbsp

feta or goat cheese
Instructions
Preheat the oven to 400 degrees F.

Wash and dry sweet potato. Lay on it's flattest side (if you need to cut off a small section on one side to make potato sit flat, do so with a knife). Lay potato in between two wooden spoons and make slits going down the sweet potato, leaving 1/4 inch at the bottom unsliced; the wooden spoons will prevent you from going too far down the potato.

Place sweet potatoes on a parchment paper-lined baking sheet. Melt ghee, then brush it over the top of each sweet potato, leaving 1-2 tsp in the bowl. Try to brush ghee in between each slice as much as you can. Season potatoes with paprika, chili powder, salt and pepper, again, getting between each slice as much as possible.

Bake for 35 minutes at 400 degrees F before removing potatoes to brush with the remaining ghee. Bake for another 5-7 minutes.

Remove from the oven and top with chopped green onion, cilantro, feta or goat cheese and pumpkin seeds.