MATCHA. Have you tried it yet?? I started drinking matcha just after college when I realized coffee was no longer for me. Trust me, I loved coffee more than the next person– an iced americano with 2 pumps caramel and I was golden. But, by the time I graduated, the horrible stomach aches I got from drinking coffee weren't worth it to me anymore. That's when I decided to make the switch to matcha.
What is matcha?  Matcha is a type of green tea that's made by taking tea leaves and grinding them into a bright green powder. It's different from green tea in that you're utilizing the entire leaf as opposed to letting the leaves infuse in water, then remove. Using the entire leaf allows you to get the bulk of the benefits! Matcha (and green tea) contain a class of antioxidants called catechins, which are shown to be anti-inflammatory and antimicrobial to the body, in addition to playing a protective role in developing cardiovascular disease.
Where does matcha come from?  Matcha traces way back to the 10-12th century as a meditation and ritual practice. Tea leaves for matcha are grown primarily in two Japanese regions: Uji and Nishio. They grow in the shade which contributes to its bright color and when blocked from direct sunlight, the plant overproduces chlorophyll and the amino acid theanine–both add important benefits, color and flavor to the matcha powder.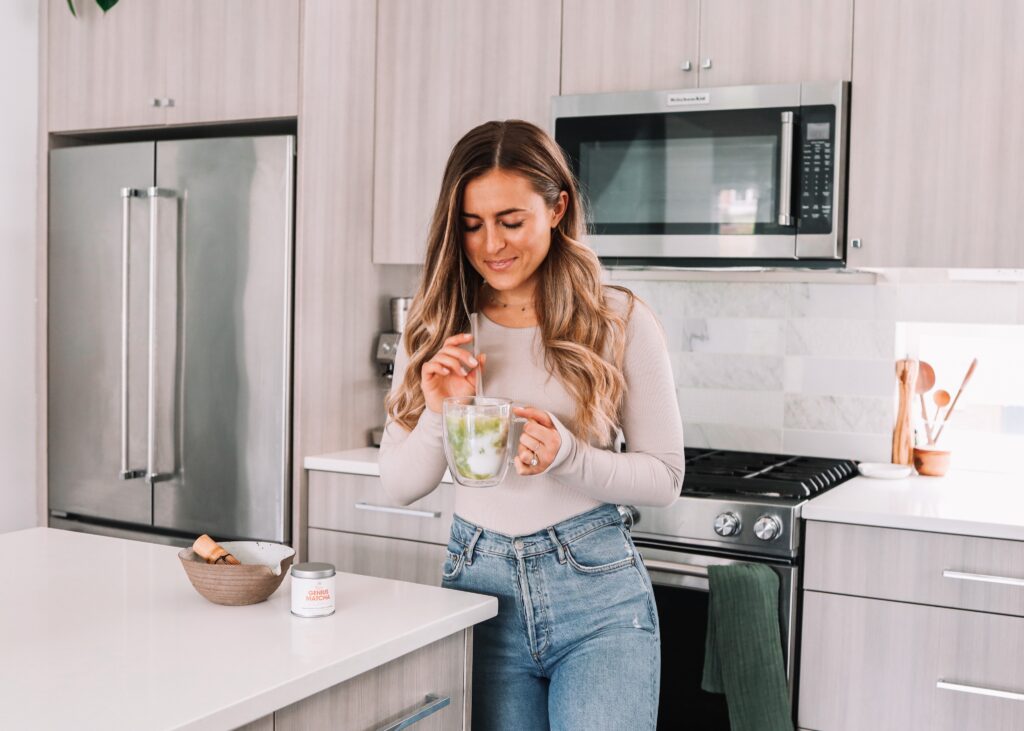 What are the benefits of matcha?  Since there is such a high concentration of antioxidants present in matcha, drinking it often may help prevent cell damage and potentially lower risk of chronic disease. A compound called L-theanine found in matcha actually alters the effect of the caffeine in the tea, which is why you may feel more alert and avoid that mid-afternoon crash like you might get from coffee. The chlorophyll found in matcha powder is also a great source of vitamins and antioxidants itself! The part that I love most about this green powder is that it has an adaptogenic quality– it's able to provide energy without the jitters and offer a sense of calm when you're overwhelmed or stressed.
How does it taste?  There's a wide range of quality when it comes to Matcha. First off, what you want to look for when purchasing high-quality matcha is that it is Ceremonial-grade from Japan, from where it originates. Typically, the color will be brighter green and you do have to pay a little bit extra for better quality matcha. It's easy to find poor quality matcha that is much cheaper, yellow or green/brown in color and grittier. The good ones will taste smooth & sometimes buttery. If you've only been a coffee/latte person your entire life and experiencing the taste of matcha for the first time, it's kind of like an amplified flavor of green tea, a little earthier, slightly bitter– so I recommend trying it first iced, with unsweetened coconut or almond milk (or your fave) and with a splash of honey and cinnamon! That's my ideal way to drink it 🙂 Make sure to start out small, with maybe 1/2 tsp matcha first to get used to the flavor before adding more.
Let me also preface that the majority of the matcha latte's you order from any typical coffee chain, i.e. Starbucks or The Coffee Bean and Tea Leaf, will be heavily sweetened and usually not taste like matcha at all. This is why I prefer to make mine at home, or only order from places I trust when traveling, like Cha Cha Matcha in LA or NYC, Chalait in NYC, or Atulea in Seattle.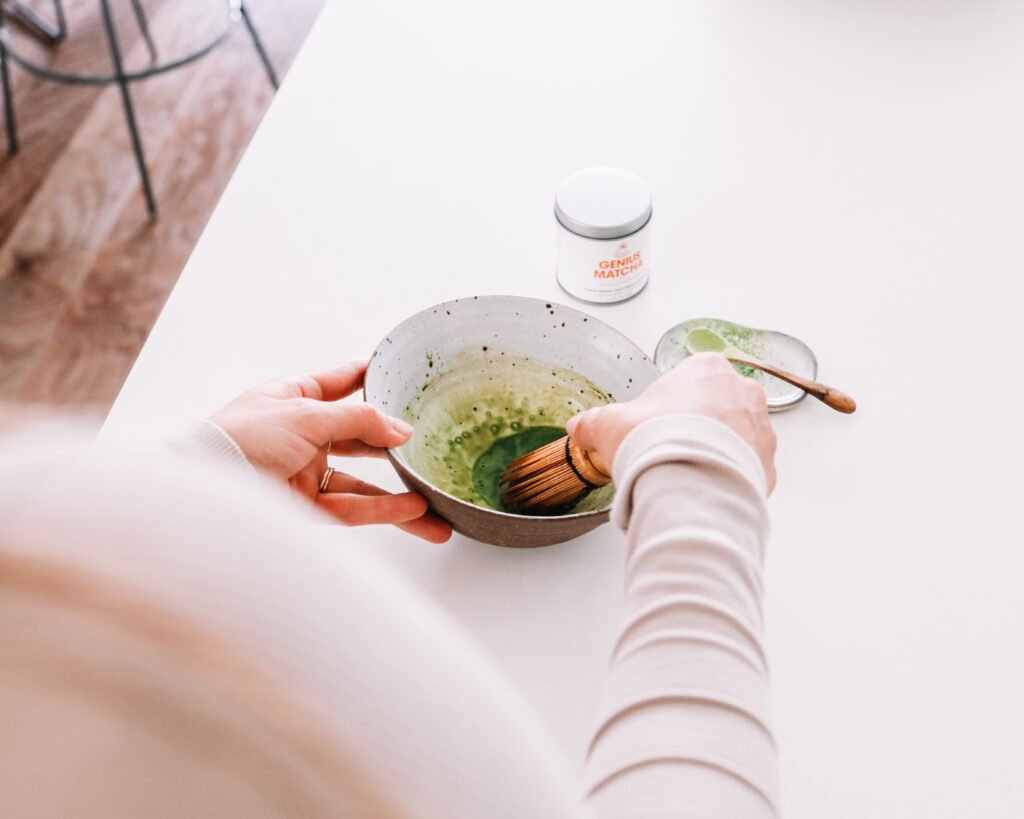 How to prepare matcha?  There are several different ways to prepare matcha, but I prefer the traditional way using a matcha bowl and whisk. There are typically more steps in the process like sifting your powder first, but this is how I do it: heat up water (I use this kettle and love that you can program it to a specific temp — I keep it at 174 degrees F), then pour about 2 oz hot water in a matcha bowl with 1 tsp matcha powder. *Be careful not to overheat your water as that can burn the matcha. Next, you'll want to whisk in an "M" motion back and forth very quickly until it starts to foam, removing all the clumps of the powder. I'll add a few more ounces of hot water over the top along with some cinnamon, give it a good whisk again, then prepare my drink. 9 times out of 10 I take an iced matcha, even in the winter. I'll fill my glass with ice, fill it halfway with unsweetened almond or coconut milk, then pour the matcha over the top. That's it! Sometimes I'll do more or less milk, then replace with filtered water, but depends on the day.
Check my matcha highlights on my Instagram feed for the full video!
So in short, I highly recommend to whisk the powder to enjoy without the clumps. You can also blend or use an electric frother!
SHOP MY FAVORITE MATCHA ESSENTIALS BELOW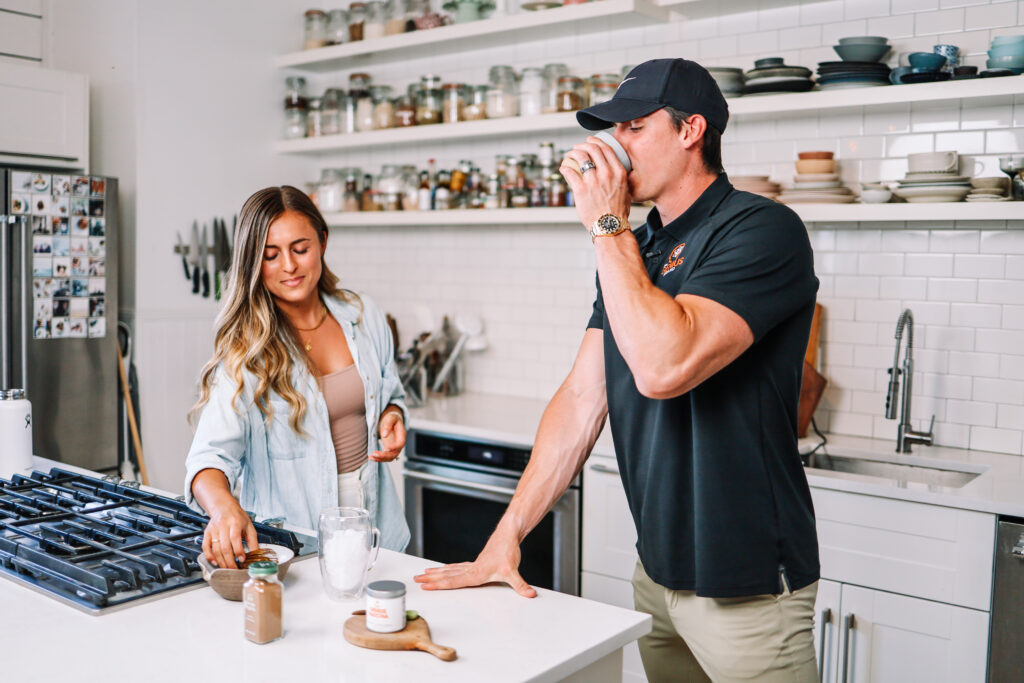 MY VERY OWN MATCHA:  Hiiiiii ok, peep this brand new product!! I've been working on this product for the past 10 months in collaboration with The Genius Brand to create my dream matcha powder and it's FINALLY here!! It's organic, ceremonial-grade from Japan, unsweetened and is supercharged with lion's mane and cordyceps mushrooms (no, you can't taste them!). This is so exciting because it always took me the longest time (and money) to find the perfect high-quality matcha, and now I have my very own. So surreal!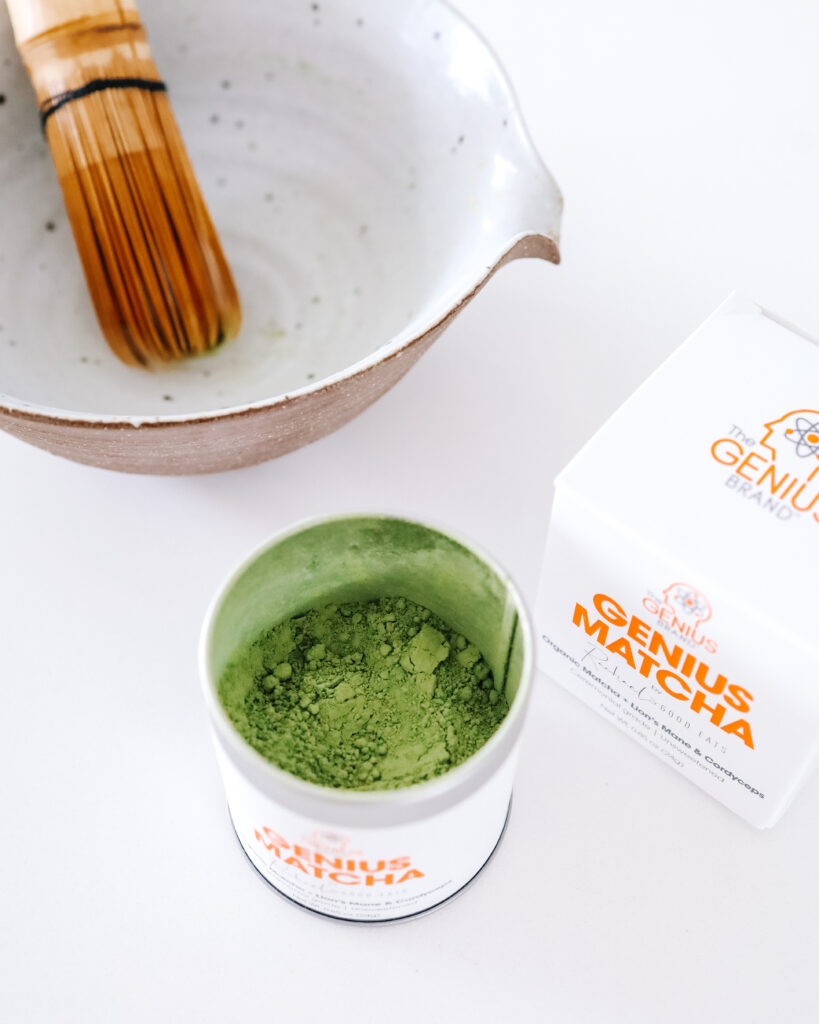 I know you guys will love this– we tested so many different samples and finally came to the perfect ratio of matcha to functional mushrooms. If you're unfamiliar, both of these additions are adaptogenic, meaning they better help the body deal with internal daily stressors. Lion's mane is added for additional brain and body wellness support and can help provide memory, mood, and cognitive support while cordyceps can improve natural energy levels by increasing ATP production and improving oxygen utilization. We've sourced the matcha from Japan and the adaptogens from the U.S. It's vegan, gluten-free and I've been hooked ever since I got the final product!
I decided to partner with The Genius Brand on this product after becoming good friends with their founder and being able to relate on a deep level when it comes to using only high-quality ingredients our bodies can utilize & thrive off of — you guys know I'm a stickler with the products I choose to share on my page. Being a dietitian, it's so important that I test and love something before ever sharing it with you! Same goes with this matcha 🙂 Plus, Bridger uses The Genius Brand supplements every day, he loves them!
Appreciate all your excitement and support these past few weeks! Can't wait to hear what you think — cheers! 🙂
xx Rachael
---