Immunity– we all want a strong one, right? Did you know that around 80% of our immune system lies within our gut? Crazy, right?! That's why it's so so important to fuel our bodies with nourishing foods on a daily basis so that we can constantly fight away pathogens on a daily basis. Our gut health is KEY to a healthy & functioning immune system.
This smoothie is one of my go-to's whenever I'm feeling a little run down, have a cold or want a little reboot. It's super refreshing and includes hydrating ingredients (coconut water, oranges), quality protein–I love Nutraorganics Clean protein (protein powder, hemp seeds), healthy fats (hemp seeds– I also recommend tossing in 1/4 frozen avocado for an extra creamy texture) and anti-inflammatory ingredients like turmeric and ginger.
It's the easiest to make and pretty popular amongst my friends and family… we even had it as a seasonal item on the menu at Toast Society, my cafe in Las Vegas. It's a keeper, let me just tell ya that! I make it most during winter time for that extra boost of immunity / healthy benefits. p.s. don't mind the color! It's delish 🙂 Sharing some of the benefits below:
🌟ginger: anti-inflammatory, supports digestion, helps reduce feelings of nausea
🌟organic strawberries and orange: rich in antioxidants, including vitamin C (something our bodies cannot produce, which means we need to get from our diet!! antioxidants help boost our immune system by protecting our cells from free radicals in the body💪)
🌟turmeric: the active compound, curcumin in turmeric has potent anti-inflammatory and antioxidant properties. I like to incorporate 1/4-1/2 tsp into my diet each day whenever I need an extra boost via the spice or capsule form
🌟coconut water: rich in electrolytes like potassium, sodium, magnesium and phosphorus — which all support tons of functions in the body. it's very hydrating. make sure to choose no added sugar coconut waters
🌟camu camu powder: supports healthy immune function (very rich in vitamin C!! 30-60x more than an orange), energizes the body & a great mood booster, supports respiratory health.
🌟mixed greens: provides yummy dose of vitamins A, C, K, and folate
🌟hemp seeds: source of fiber, omega-3s and plant protein (10g per 3 tbsp!)
then i'll add a protein powder for satiety
what I used to make this recipe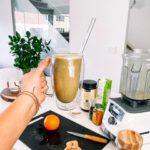 Immunity Boosting Smoothie
This is one of my favorite smoothies to make whenever I'm feeling a little run down or sick. Super refreshing, too!
Ingredients
1-2

cups

coconut water

1/2

cup

ice

big handful

(1 packed cup)

frozen or fresh greens

small chunk

fresh ginger, peeled

1/4

tsp

turmeric spice

few shakes

black pepper

1/2

cup

frozen strawberries

1/2

orange, peeled

1/2

tsp

camu camu powder

1

serving

vanilla protein or collagen peptides

1

tbsp

hemp seeds
Instructions
Blend together and serve! 🙂