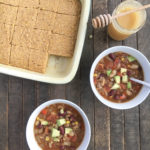 Lentil Chili With Vegan Cornbread
Ingredients
Lentil Chili
1

cup

diced white onion

2

tbsp

minced garlic

1

red bell pepper, diced

1

tbsp

olive oil

4

cups

low sodium chicken broth

1.5

cup

cooked lentils

1

can

diced tomatoes, no salt added

1

can

white beans, drained and rinsed

1

can

kidney beans, drained and rinsed

1

cup

corn

2

tsp

chili powder (less if you don't prefer spicy)

2

tsp

cumin

1

tsp

oregano

1/2

tsp

salt
Vegan Cornbread
3/4

cup

unsweetened almond milk

1/2

tbsp

1/2 tbsp Apple cider vinegar

1.5

cup

cornmeal

3/4

cup

whole wheat flour

1/4

cup

maple syrup

1/4

cup

coconut oil

1/2

tsp

sea salt
Instructions
Chili: In a large pot, sauté onion, bell pepper and minced garlic in olive oil for 5-7 min. Add in chicken broth and the rest of the ingredients and bring to a boil. Reduce heat and let simmer for 30 minutes to allow flavors to combine.

Top lentil chili with diced avocado and chopped green onion.

Cornbread: Whisk together Apple cider vinegar and milk, then add maple syrup and melted coconut oil to whisk another 2 minutes. In a large bowl, sift together dry ingredients, then slowly mix in to wet ingredients, stirring thoroughly

Bake cornbread at 350 degrees F for 30-35 min.