If there's one thing I've gotten better at this year, it's how to make a downright delicious matcha. I made the switch over from coffee several years ago when I realized coffee was just too acidic, constantly leaving me with horrible stomach aches. Since then, I've been happiest with a matcha in hand 😉
New to the trend? Matcha is finely ground powder made up of green tea leaves that happens to be loaded with antioxidants (nearly 3 times more than other high-quality green tea), which are known to help stabilize harmful free radicals in the body.
Other benefits include improved mental clarity and alertness, boosted energy and effectiveness in fighting off various microbial infections. Basically, you get a lot of bang for your buck with high quality matcha. It's important when purchasing matcha powder that you look at origin (make sure it comes from Japan and is ceremonial grade), price (unfortunately, high-quality matcha isn't cheap. It typically sells for around $26 to $35 for a 30g tin), and color (the vibrant greener the better!!). After visiting New York and making my way around all the hot foodie spots, I came across Chalait Matcha and haven't turned back! I buy it off amazon (link here) for $29.95.
After trying several different combinations of ingredients over the past year, I've come up with my own matcha combo you'll be sure to love.
The secret ingredient is homemade* nut milk! It truly makes all the difference!
Feel free to make almond or cashew milk. I made cashew for this recipe and loved it. All you have to do is soak about 1-2 cups raw cashews in filtered water for 4+ hours, drain, then add to high-powered blender (preferably a Vitamix) with 6-8 cups fresh filtered water and blend until smooth. Now is when you can add flavors of your choice like cinnamon, sea salt, vanilla bean, dates, etc. and blend once more. Pour into a large bottle and it keeps for about 5-6 days in the fridge.
Sharing the full matcha recipe below with the homemade nut milk! Enjoy 🙂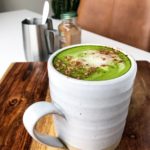 Matcha With Homemade Cashew Milk
Ingredients
8

oz

boiling water

1

tsp

matcha

1

tbsp

cacao butter

(gives it a nice white chocolatey flavor-- my favorite is from Bulletproof)

1/2

tsp

madagascar vanilla bean ghee

(or unflavored ghee)

1

serving

collagen peptides
Instructions
Pour boiling water and remaining ingredients into high-powered blender and blend for about 1-2 minutes on high, until smooth and frothy.

Steam 4 ounces of homemade nut milk (cashew recipe in above post).

Pour matcha mixture from blender into mug, followed by steamed nut milk + froth. Add cinnamon & enjoy!