One of the best parts of Valentine's Day (in my eyes) is the fact that it's all about showering your loved one, or yourself TBH, with delicious treats! I personally always prefer homemade rather than store bought. More meaningful that way, you know? Over the past few years I've really found my passion in recreating my favorite childhood classic desserts/candy into much healthier, nutritious and never short of decadent, TREATS! 😉 I've rounded up some of my favs for this week. All are gluten-free, dairy-free, and refined-sugar free. Check them out below!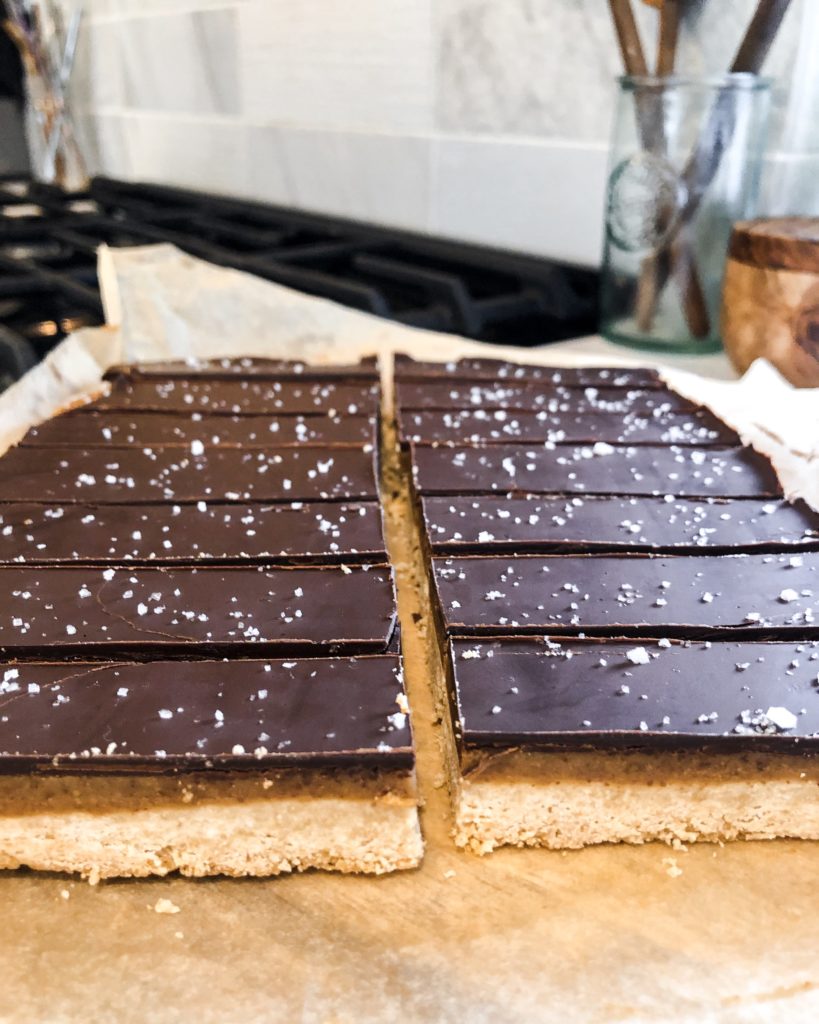 1. Twix Bars: I hate to pick favorites, but honestly, these are such a crowd pleaser! 3 layers of decadent flavor, melt-in-your-mouth, even better than the real thing, ugh. They're just… BEYOND. They're not hard to make either and you'll be wanting to eat the caramel layer by itself! Oh, and pro tip to prevent the chocolate layee from cracking: don't let it sit in the freezer too long for the top layer to harden, typically 30-45 min should be great! Remove from the freezer then use a sharp knife to cut into bars. Click here for the recipe.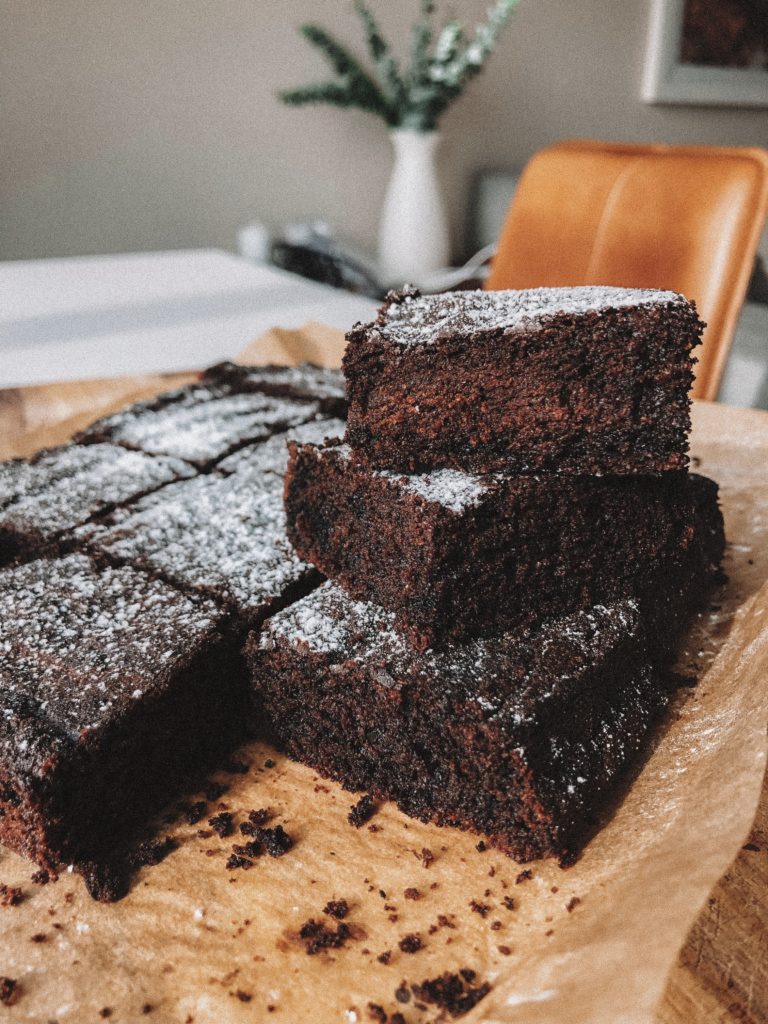 2. Fudgey Chocolate Brownies (Nut Free!): I get so many requests for nut-free recipes, so I thought I'd try my hand at gluten-free, refined sugar-free and *nut-free* BROWNIES and let's just say they're absolutely perfect. Gooey, v rich in chocolate, and topped with a dusting of monk fruit powder 🙂 Try them out here!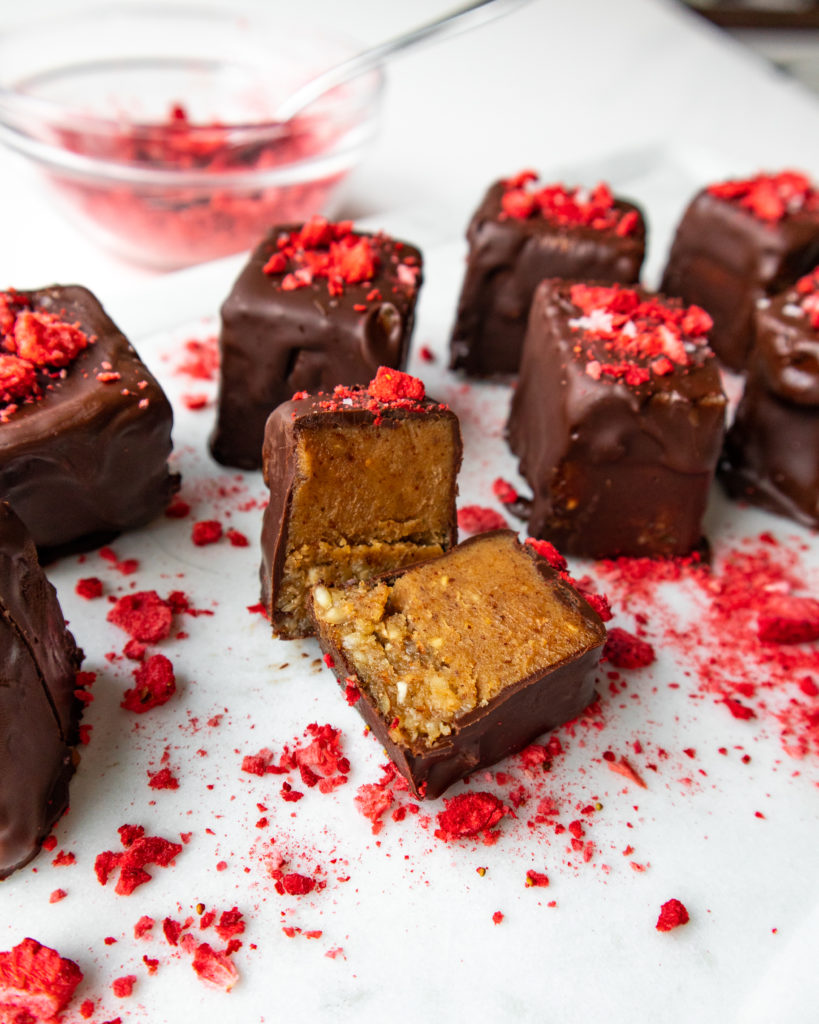 3. Raw Mars Bars: Inspired by one of our favorite café's while visiting Melbourne, Australia (Serotonin Dealer), we became obsessed with every dessert they served. Seriously, it was my dessert heaven. I had to recreate these at home with the same ingredients and you will LOVE them. Promise! Dipped in dark chocolate and topped with freeze-dried raspberries or strawberries for a V-Day touch. I picked up the freeze-dried fruit from Trader Joe's! Click here for the full recipe.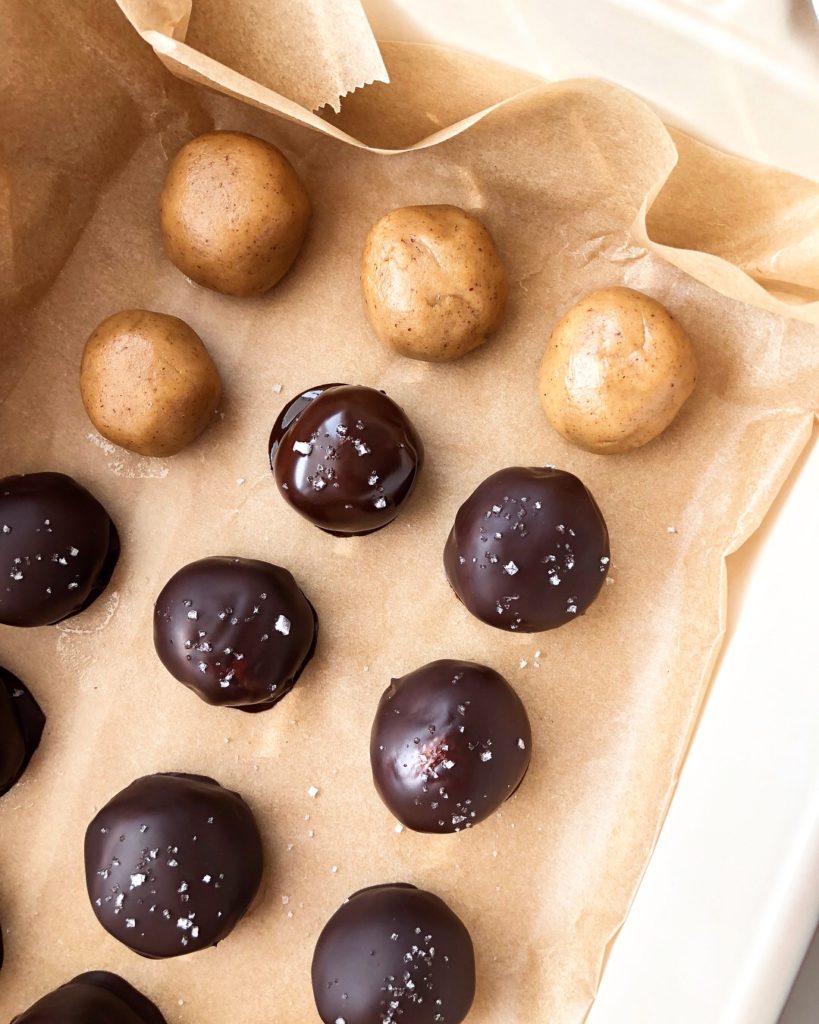 4. Copycat Reese's Peanut Butter Cups (Healthy version!): This is definitely the simplest and quickest dessert of mine and it takes only a handful of ingredients to make. Plus, who doesn't love a good peanut butter chocolate combo? It's my weakness, I swear. You will NOT regret making these for your S/O, or yourself 🙂 You'll typically find a stash of these in my freezer for an easy grab & go. I also like adding a serving of collagen peptides to the recipe for added protein– totally optional! Snag the full recipe here.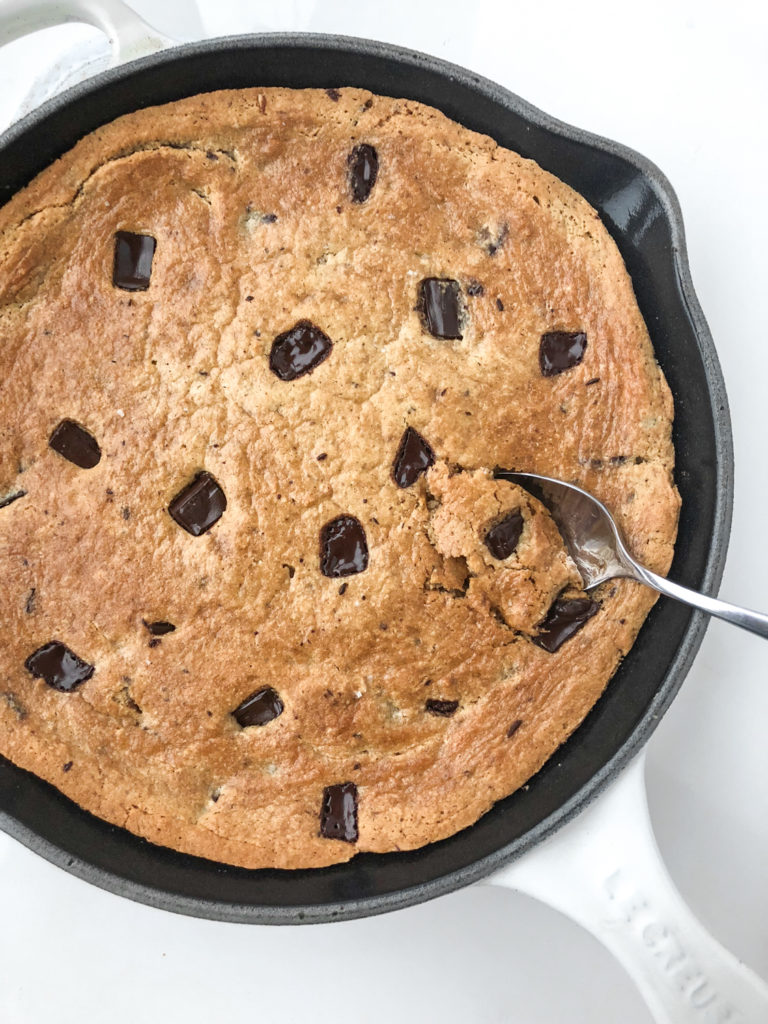 5. The OG Cookie Skillet: I created this recipe years ago after wanting so badly to indulge in an ooey gooey, soft and chocolatey cookie, but without the dairy and gluten since I'm intolerant. I also fully believe you shouldn't have to feel crummy after eating a decadent dessert! That's why I made this gluten-free, dairy-free, grain-free and refined sugar free cookie that's made in a skillet (you can also make it any oven-safe dish, loaf or cake tin, or cupcake tin!). With more than 3,000 shares on the original recipe, you have to try it out! Click here for the recipe 🙂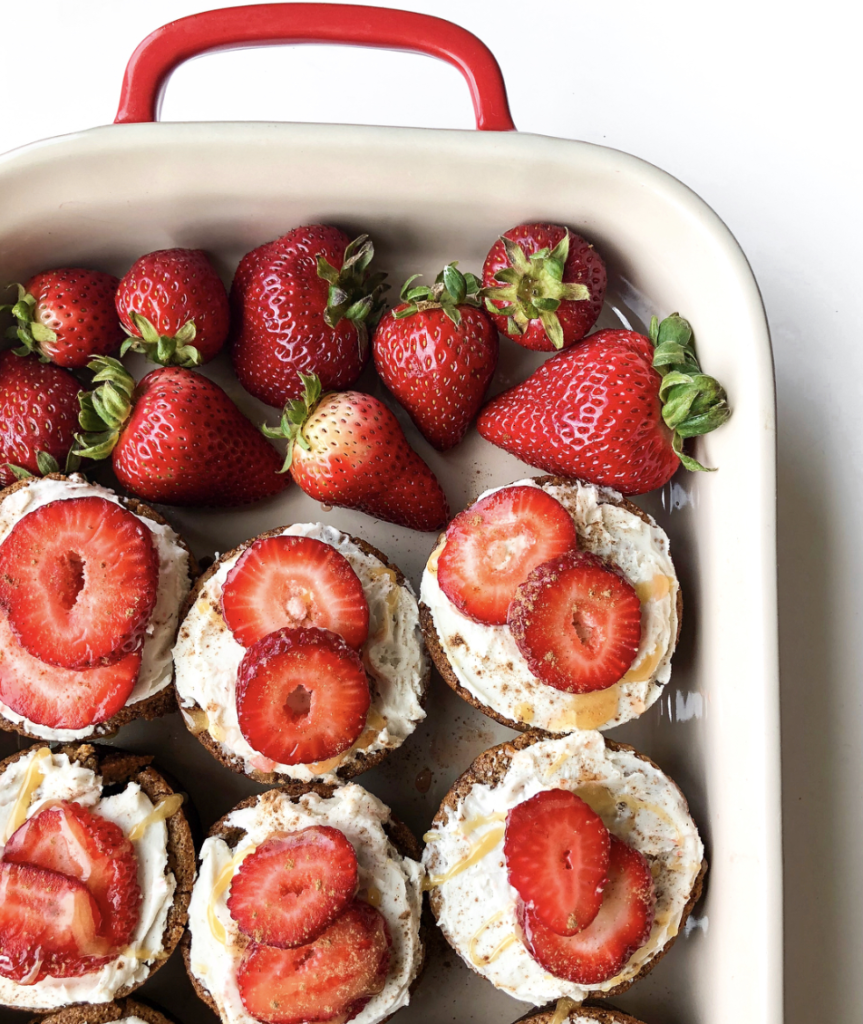 6. Strawberry Vanilla Superfood Cupcakes: OK, OK, I didn't *completely* come up with this insanely good cupcake recipe– I left that to Simple Mills box mix–BUT I did add some yummy superfoods to it like ground flaxseed, coconut oil, maca and Sun Potion adaptogen powder. All of which are completely optional. Topped with their organic vanilla frosting, fresh organic strawberries, manuka honey and a sprinkle of cinnamon 🙂 So fresh! Great for those who need a break from chocolate for the holiday. Click here for the recipe.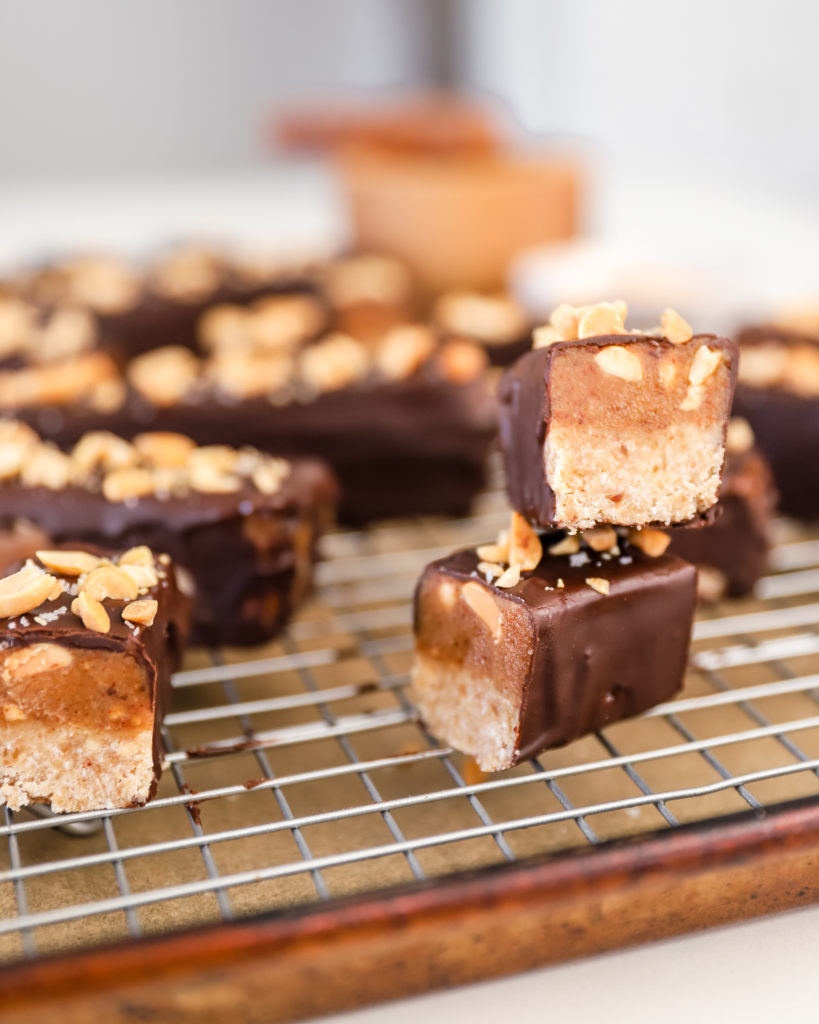 7. Raw Snickers Bars (vegan and gluten-free!): Alright, these are out of control you NEED to add this into your dessert rotation. Just like most of these desserts, these can be stored in the freezer for up to several months, which makes it easier on self control. I kid you not, this one of my best recreations!! Cut them into bite-size pieces and bring them to your next friends/fam gathering. People will be raving about them! They stay best chilled 🙂 Click here for the recipe.
HAPPY VALENTINE'S DAY!