Let's talk pantry organization for a sec! After sharing our pantry revamp earlier this week and getting lots of questions about all the baskets and jars we used to organize everything, I thought it'd be helpful to link the products we used for you guys in one place! You can't go wrong with any of this stuff, I swear– it'll have your pantry looking good and more importantly, you feeling overall more put together in life. Scroll down to see the before + after, plus all the links for what we used!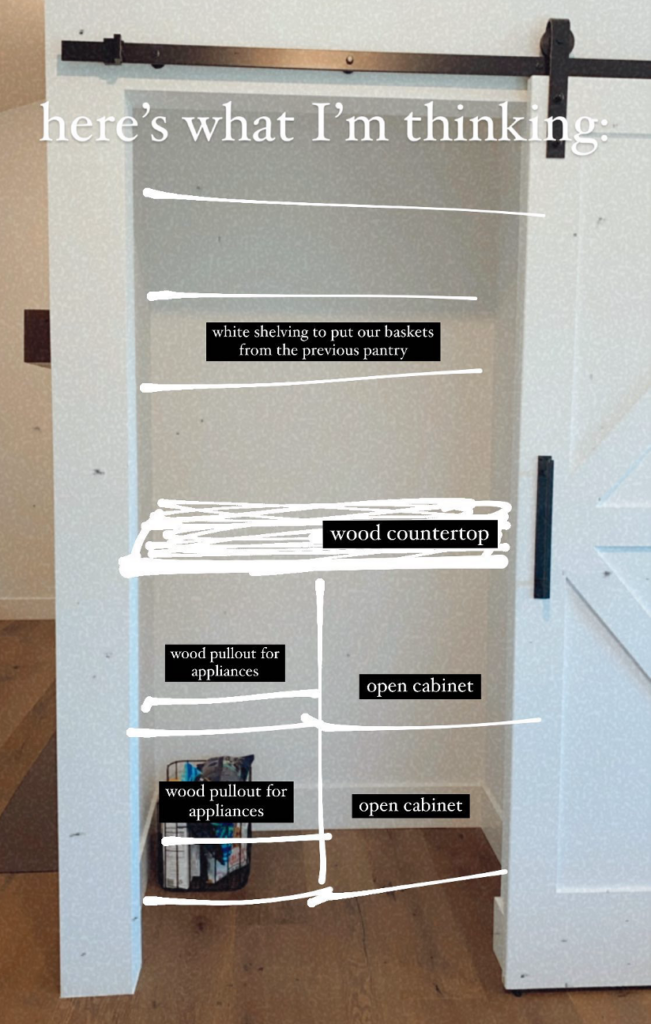 (Insta story thoughts)
The couple who remodeled this house a few years back sold it before they were all the way finished, so we moved in and the pantry was completely empty. Which, to be honest, works in our favor because we got to design exactly what we wanted! I made a sketch after weeks and weeks of pinteresting, then worked with our contractor to create the plans. I knew I wanted a few pull out drawers for smaller kitchen appliances, a couple storage cubes for miscellaneous pieces (due to the shape on the layout, drawers wouldn't work), and then some shelving for our pantry baskets we brought over from our previous kitchen.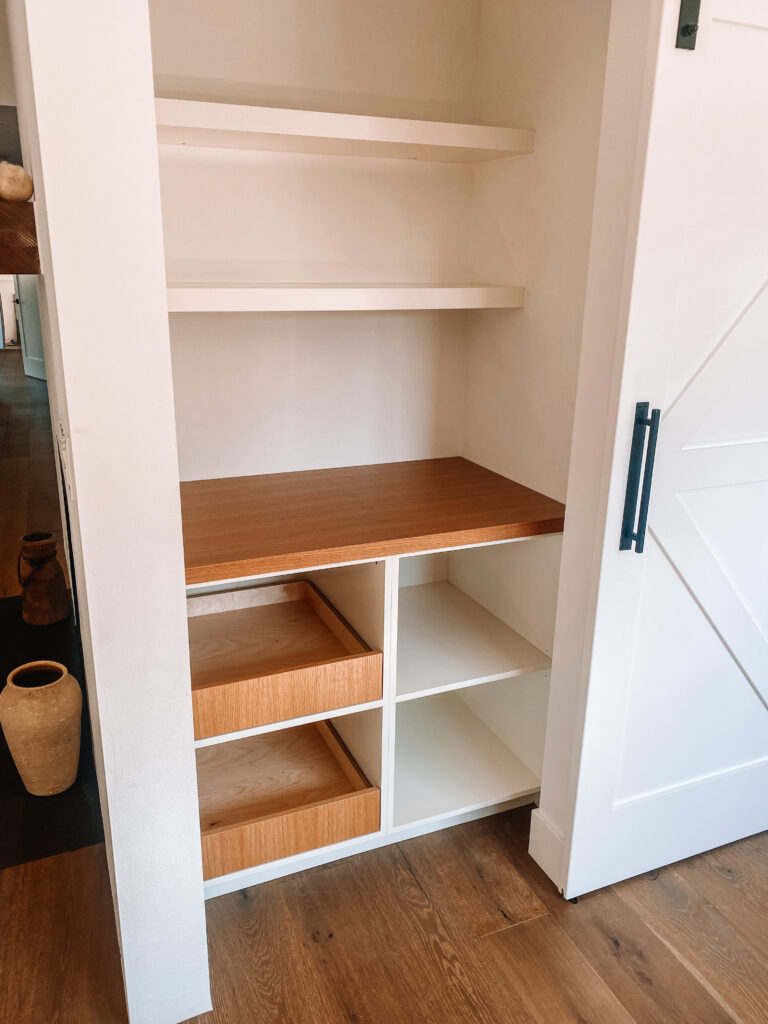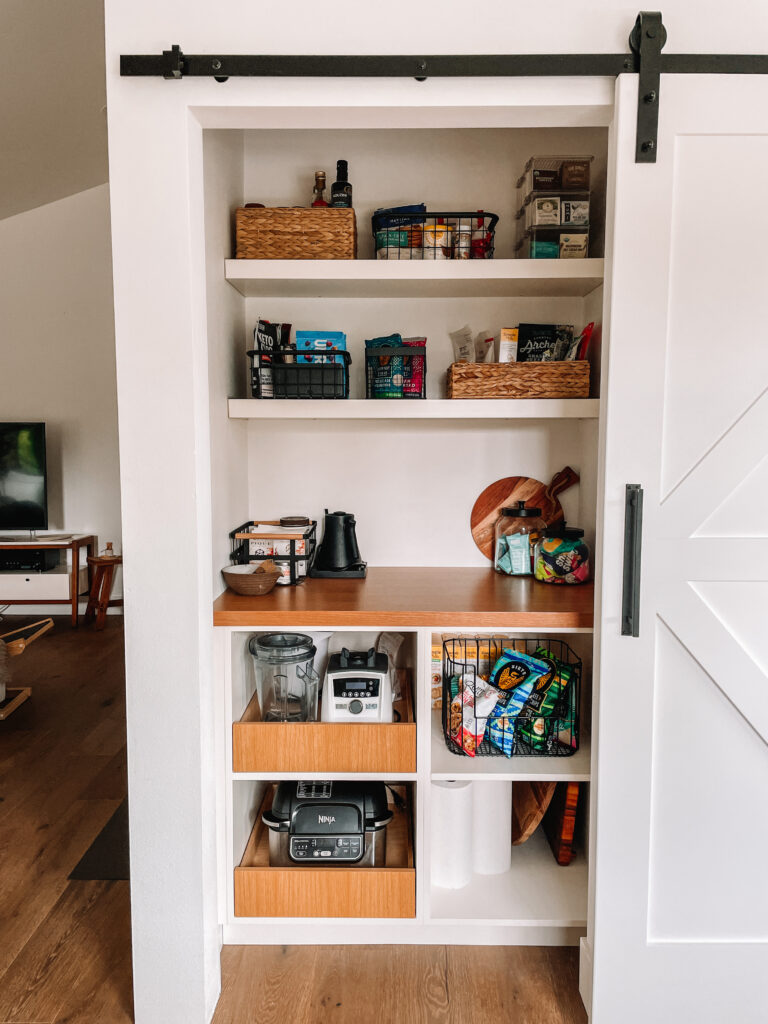 But, I mean !!!!
I'll do a full kitchen blog post soon, but we got so lucky with tons of storage in this kitchen. A lot of our typical pantry and back stock items like cans, baking ingredients, nut butters, etc. are stored in our lower cabinets, so this is more of appliances, snacks, tea, boards & paper towels.
We tried to match the wooden countertop with our floating shelves, then kept the two upper shelves white so that the black and wicker baskets could stand out. I am fully obsessed with this situation and all I'm waiting for is an outlet in here to make all the matcha + tea with my go-to kettle I use everyday. From the top left we start with the extra oils, pancake/cake/baking, ingredients, tea in the best tea organizer, snacks like Simple Mills crackers, beef jerky, and Barnana bites, Siete grain-free cookies, chocolate bin, tea basket filled with all the Pique tea and my Genius Matcha (click here for more info), and RXBARS I love for my preworkout snacks along with Smart Sweets for sugar cravings.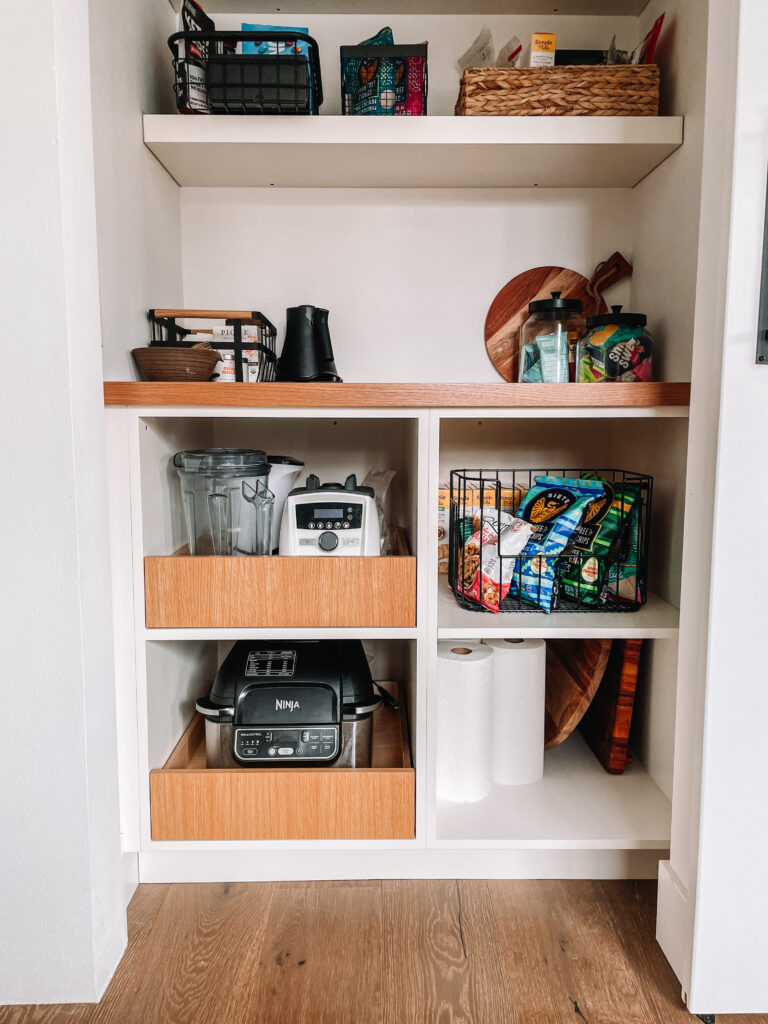 Then we drop down to the two pullout drawers on the left with our popcorn maker, Vitamix and indoor grill. On the right is our cracker back stock and chip bin…. we're big chip people. Extra storage for paper towels and boards down below.
Here's all the links for everything I used 🙂