Dessert bars, snack bars, breakfast bars, call them what you will. Either way you need to make these! They're the perfect refined sugar-free, superfood-packed treats to have on hand for any time of day and will surely curb any sweet cravings you may have. When making these, I actually thought back to those milk and cheerio cereal bars that were popular when I was a kid as a "healthy" on-the-go breakfast. These are 1 million times better than those and especially without all the junk.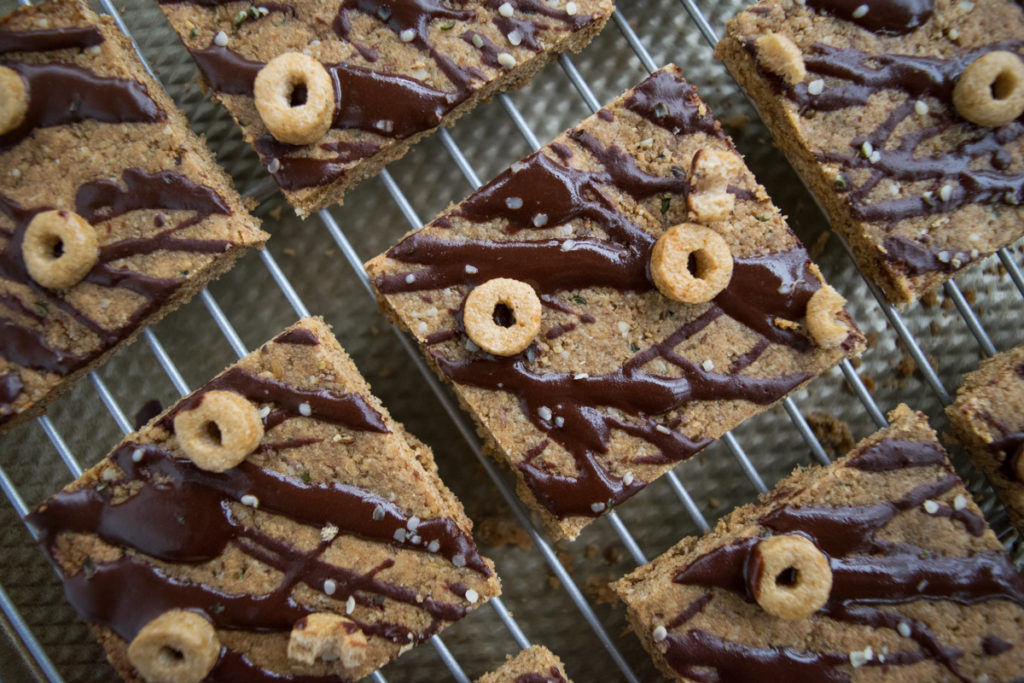 Hemp seeds are considered a"perfect protein" because they include all 9 essential amino acids and contain 10g per 3 tbsp! They have a great omega-3 to omega-6 ratio (3:1), are rich in fiber, calcium, magnesium, phosphorous, potassium, and vitamin A.
Flaxseeds are a rich source of omega-3 (heart-healthy fatty acids) and lignans- antioxidants that contain fiber and are excellent at helping to balance hormones, they have shown to help fight certain cancers, are gluten-free, help to promote weight loss, reduce cholesterol, and are great for digestive health.
Peanut butter is high in mono-unsaturated fats (the good kind!), high in vitamin E, vitamin B6, and completely sugar free, that is when you buy the naturally good stuff.
Cacao powder is one of the highest sources of plant-based magnesium, a nutrient many Americans are deficient in. Magnesium helps to neutralize toxins, lower blood pressure, protect against osteoporosis, and is involved in blood sugar control and protein synthesis. Cacao contains nearly 4x the amount of antioxidants than regular processed dark chocolate, is extremely high in iron and calcium and can elevate your mood.
Honey is considered a "functional food," which means it's a natural food with health benefits and is a wonderful substitute for sugar because honey is a natural sweetener with a great nutrient profile. Make sure to buy "raw honey" as it is pure, unpasteurized, unfiltered and unprocessed. You'll receive the most nutrients from raw honey– boosts immunity, relieves allergies, is a source of antioxidants, contains antibacterial properties and is delicious!
Have I convinced you that these decadent bars are healthy yet? Go make!!!! They're the best when topped with extra sprouted Honey-O's 😉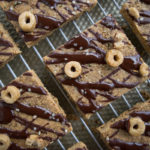 Peanut Butter Honey-O Bars
Ingredients
Base
3

tbsp

honey, melted

2

cup

Sprouted honey O's

1/3

cup

hemp seeds

1/4

cup

ground flaxseed

1

tsp

cinnamon

1/4

cup

creamy peanut butter
Chocolate drizzle
2

tbsp

coconut oil

3

tbsp

cacao powder

1

tsp

vanilla extract
Instructions
Add Honey-O's, hemp seeds, flaxseed and cinnamon to high-powered blender to create a fine-texture. Add mixture to large bowl and stir in melted honey and peanut butter until thoroughly combined.

Prepare a 8x8 baking pan with parchment paper and press mixture into the bottom using a flat spatula. Bake at 350 degrees F for 10 minutes.

Remove from the oven and let cool for 20 minutes while preparing the chocolate drizzle. Microwave coconut oil or heat over the stove in a small pot. Once liquid, stir in cacao powder and vanilla extract. Using a spoon or ¼ cup scoop, drizzle the chocolate over the bars, and then sprinkle with several whole Honey-O's and hemp seeds.

Place in the freezer for about 5 minutes, then cut evenly into 9 squares.