It's November and OFFICIALLY the holiday season! This, of course, means all the holiday recipes & more importantly, treats shared to the blog.
So many people go into the holidays prepared for the worst— lots of cocktails, treats and desserts. Aka hibernation season. Well my friends, it doesn't always have to be this way! One of the biggest topics I try to promote through my page is that you can enjoy your favorite meals, snacks & treats, while still being "healthy." It's not one or the other. The trick is to simply choose better alternatives and more wholesome ingredients.
Yes, it may take a bit more time since you'll be making/cooking more foods from the comfort of your own home instead of going out and buying pre-made treats, but it's important to know that it's so worth it in the end.
This peppermint chocolate holiday bark is hands down one of my favorite childhood classics healthified! I find that the peppermint tends to hide the fact that there is no added sugar to the recipe. Although it would also taste amazing if you were to add a splash of maple syrup or raw honey to the recipe 😉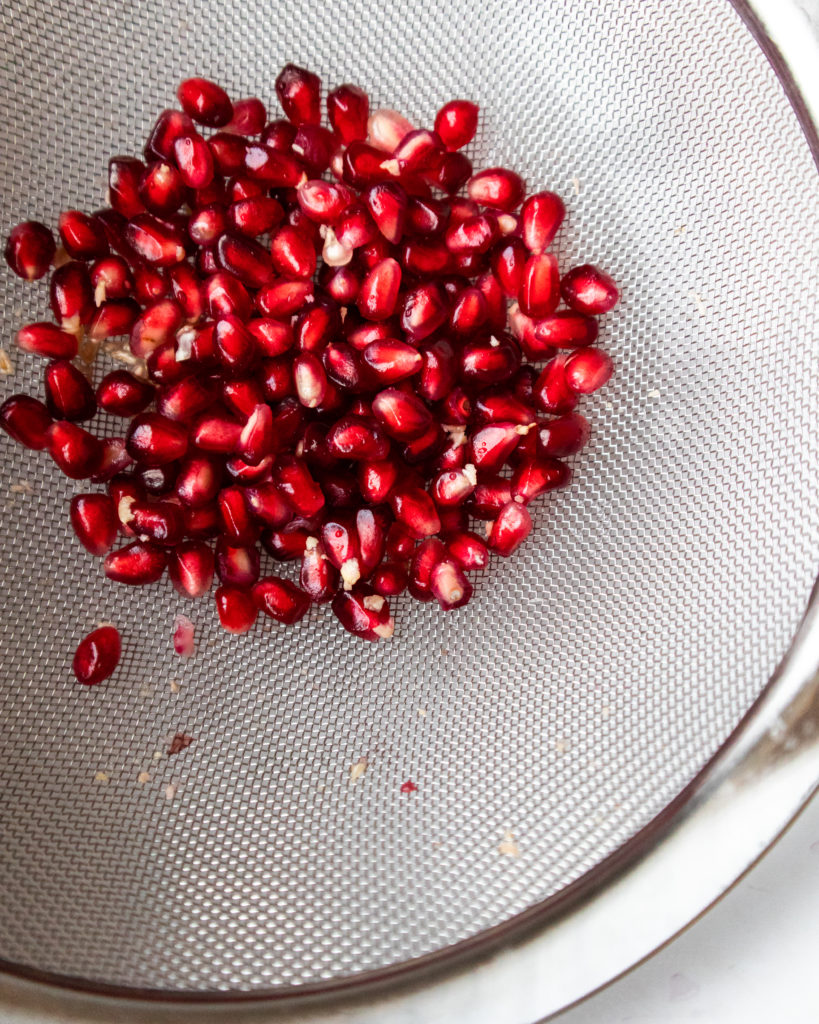 I've partnered with POM Wonderful to showcase how their POM POMS (the arils, or seeds, inside fresh pomegranates) provide a unique burst of flavor, not to mention a pop of ruby red color to this holiday bark recipe. These yummy POM POMS are available nationwide from October-December in the fresh cut fruit section and/or the berry cooler in the produce section of most grocery stores.
I love them because they're a good source of fiber and known for their antioxidant goodness!! The flavor is so delish alongside other toppings like pecans, pumpkin seeds, cacao nibs and flakey sea salt.
The best part about this minimal-ingredient recipe is that you can customize however you'd like based on your preferences… get creative!
All it takes is a quick melt of coconut oil, then add cacao powder, vanilla extract, cinnamon (optional) and peppermint extract. Whisk together and stick in the freezer to just slightly harden. This will allow the toppings to stick to the top of the bark, without sinking to the bottom.
Check out the rest of the recipe below & enjoy!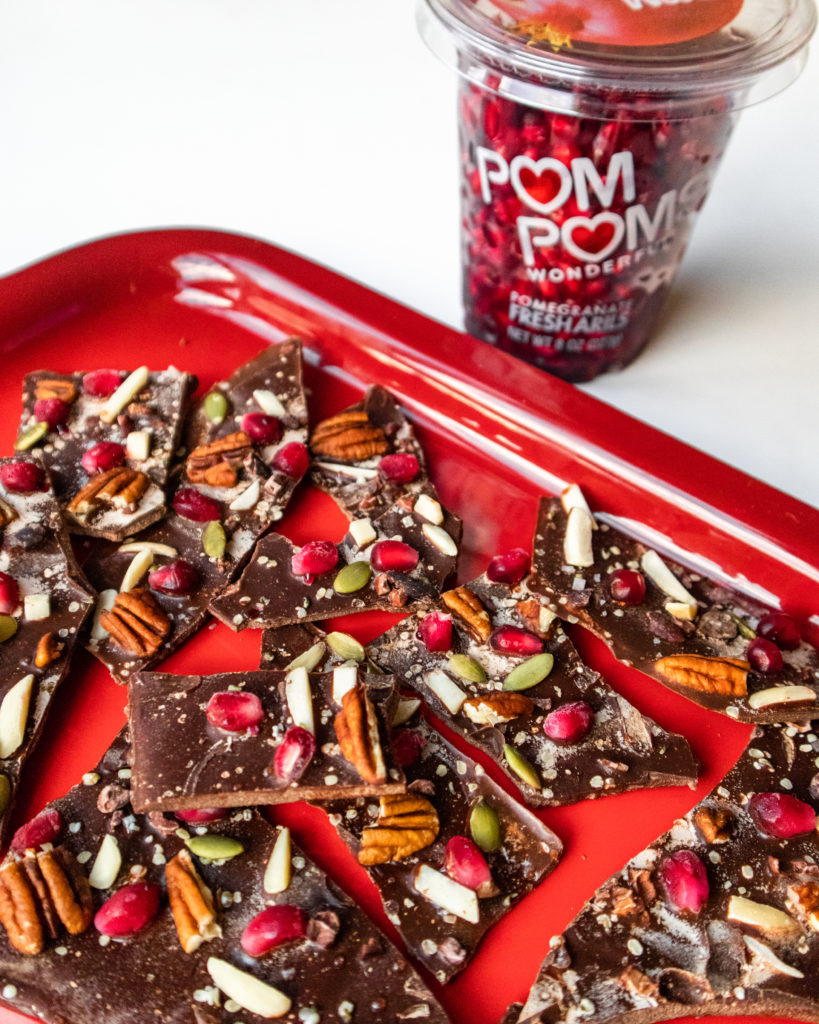 Peppermint Chocolate Holiday Bark (Sugar-Free!)
Ingredients
Peppermint Chocolate Mixture
1/2

cup

coconut oil, melted

1/3

cup

cacao powder

1

tsp

vanilla extract

few

shakes

cinnamon

1/2

tsp

peppermint extract
Toppings
1/4

cup

POM POMS Fresh Arils

2

tbsp

pumpkin seeds

3

tbsp

chopped pecans

1

tbsp

hemp seeds

1/4

tsp

flakey sea salt
Instructions
Pour melted coconut oil into medium-sized bowl. Add remaining ingredients to mixture and whisk together.

Place parchment paper over a flat deep dish or plate.

Pour chocolate mixture over the top of the parchment paper and place in freezer for about 5 minutes, until just about to harden.

Remove from freezer, add toppings, and return to freezer to completely harden, another 15 minutes.

Remove from freezer and break up peppermint chocolate bark into pieces. Enjoy!

*store in airtight container in freezer for up to several months.