I recently got my results back from the Pinnertest food intolerance test I took a few weeks back, and I have to say I'm a little surprised I wasn't intolerant to more foods because of how often I have to deal with symptoms of indigestion.
This is something I've wanted to do for a long while now, ever since I started experiencing random and terrible bloating/stomach aches over the past 5 years or so. And when I say terrible, I mean TERRIBLE. Sometimes even to the point of being so uncomfortable I would start crying. I could never pinpoint the culprit of these aches, which made it so hard.
I never chose to go see a doctor since I chalked it up to the fact that the digestive system is so vastly intricate they would never find the real root cause. Plus, many doctors simply prescribe unnecessary meds or advise the elimination diet. Honestly, I've been so stubborn to even try the elimination diet just from the thought of having to remove familiar foods from my diet.
This exact reason is why the human body is so fascinating to me. SO many components go into breaking down the food you ingest and, if your body isn't fully equipped with a healthy functioning gut, problems will almost certainly arise.
I can't stress gut health enough! Up to 70% of the immune system lies within the gastrointestinal tract, revealing how vital it is to keep the gut healthy.
Enzymes
Digestive enzymes are what facilitate the digestive processes. They basically break down food (molecules) to smaller particles that your body can actually absorb. Digestive enzymes start in the mouth as salivary amylase during mastication or chewing to help breakdown food, continue in the stomach and intestines and are released from the pancreas as well. Lacking certain digestive enzymes may in fact lead to food intolerances—which can produce symptoms of bloating, gas, brain fog, headaches, nausea, skin rashes/acne, constipation, acid reflux, inflammation/weight gain, joint pain, cramping, and more.
For instance, it's true that as we age our bodies produce less and less lactase, which is an enzyme responsible for breaking down lactose, a disaccharide present in milk and other dairy products. This is why it's common for people to actually become lactose intolerant as they get older, because they are lacking enough of the enzyme needed to fully digest lactose.
The Pinnertest tests for IgG antibodies, which are those associated with food intolerances, as apposed to IgE antibodies that are associated with food allergies. It's important not to confuse the symptoms of food allergies with food intolerances, as they are considerably different. A food allergy is an abnormal response triggered by the immune system and it typically happens rapidly following ingestion of a certain food. It can be severe and even life threatening. Symptoms include hives, swollen airways, anaphylactic shock, etc.
Food Intolerance vs. Food Allergy
Food intolerances are much more common than food allergies. With ingestion of a trigger food, your system becomes flooded with immune fighting chemicals, causing inflammation. This is what causes some of the distressing symptoms associated with certain foods. Food intolerances may also be slower to come about than allergies and can even take up to several days for your body to experience symptoms. This is why it can be difficult to pinpoint the exact foods causing these problems [symptoms listed 3 paragraphs above].
I can't tell you how frustrating it is to me that I have these digestive problems given the wholesome diet I eat on a daily basis. It just goes to show that even the healthiest of foods may cause an intolerance or inflammation in the gut. To me, I think the somewhat costly price of the Pinnertest is worth it if you may be experiencing similar symptoms as mentioned above. Identifying the foods that are causing your body problems can help to improve your overall well-being by removing those foods from your diet, leaving you symptom-free and feeling much better!
How Do I Take The Pinnertest?
The Pinnertest is super simple—you receive your blood collection kit in the mail just a few days after purchasing, prick your finger to retrieve a blood sample, and send back in a free return envelope. Less than 10 days later the results will be emailed straight to your inbox! It tests for 200 foods and can detect foods that have been in your system the past 6 months.
Of course, there is always chance for misdiagnosis with food insensitivity tests. This may be the case with people suffering from intestinal permeability. This is when food particles make their way through the lining of the gut wall into the bloodstream and falsely show up as a sensitivity on the test. Reaction to certain foods is common with intestinal permeability and can present systemic inflammation, fatigue, poor digestion, bloating and depression.
Once you receive your results and are made aware of your food insensitivities, it's best to remove those foods from your diet for about 3 weeks to see if symptoms have subsided. Then, reintroduce one at a time to see if that was in fact the trigger food causing discomfort.
Results
Okay now let's get to talking about my results. It ended up showing that I have a moderate reaction to barley and cow's milk and a high reaction to kidney beans and beef. I was aware that my body had a difficult time digesting milk products, which is one of the reasons why I've almost completely removed it from my diet. I will have Greek yogurt or Siggis yogurt every now and then, but in very small quantities in efforts to reduce gas and bloating. Beans in general are "iffy" for me and seem to depend on the day if I'll develop symptoms or not, so I'm not entirely surprised kidney beans made the list. Though I did have a feeling chickpeas could have been the culprit as well due to their fibrous outer shell. Beef on the other hand was a little shocking to me. As my body has recently been craving a more plant-based diet (within the past 6 months), I've definitely reduced the amount of meat I've been eating, including beef. I don't recall getting symptoms of any sort after consuming beef, but then again, tummy issues are so common for me I'm not sure I would have even noticed. And lastly, barley isn't a big deal for me to remove from my diet because I so rarely have it.
Anyways, the reason for me taking this test was to help find the root cause to my constant discomfort. Overall, I'm a little bummed I wasn't able to narrow down the real reason for my consistent stomachaches, bloating and poor digestion. I know this because other foods seem to be causing my symptoms in addition to the ones that showed up positive on my test. My plan is to continue experimenting by removing different foods from my diet to see what relieves my symptoms. I will remove kidney beans, beef, barley and cow's milk for 3 weeks to see how my body feels. I'm thinking I may also try the low FODMAP diet (which will be ridiculously hard to follow UGH) first to see if these foods are causing my discomfort. FODMAP stands for fermentable, oligosaccharides, disaccharides, monosaccharides, and polyols. Not sure if I will go through with it…. any suggestions?! For more info on which foods are recommended to consume on a low FODMAP diet, click here.
If you're at all intrigued by this food intolerance test, I highly recommend you try it for yourself! Use my discount code, 'goodeats' for $60 off your Pinnertest Kit at https://pinnertest.com/ (regular value: $490)
(This test would be an awesome Christmas present for anyone close to you!)
Winner has been chosen for this giveaway– Brittany Reynolds
---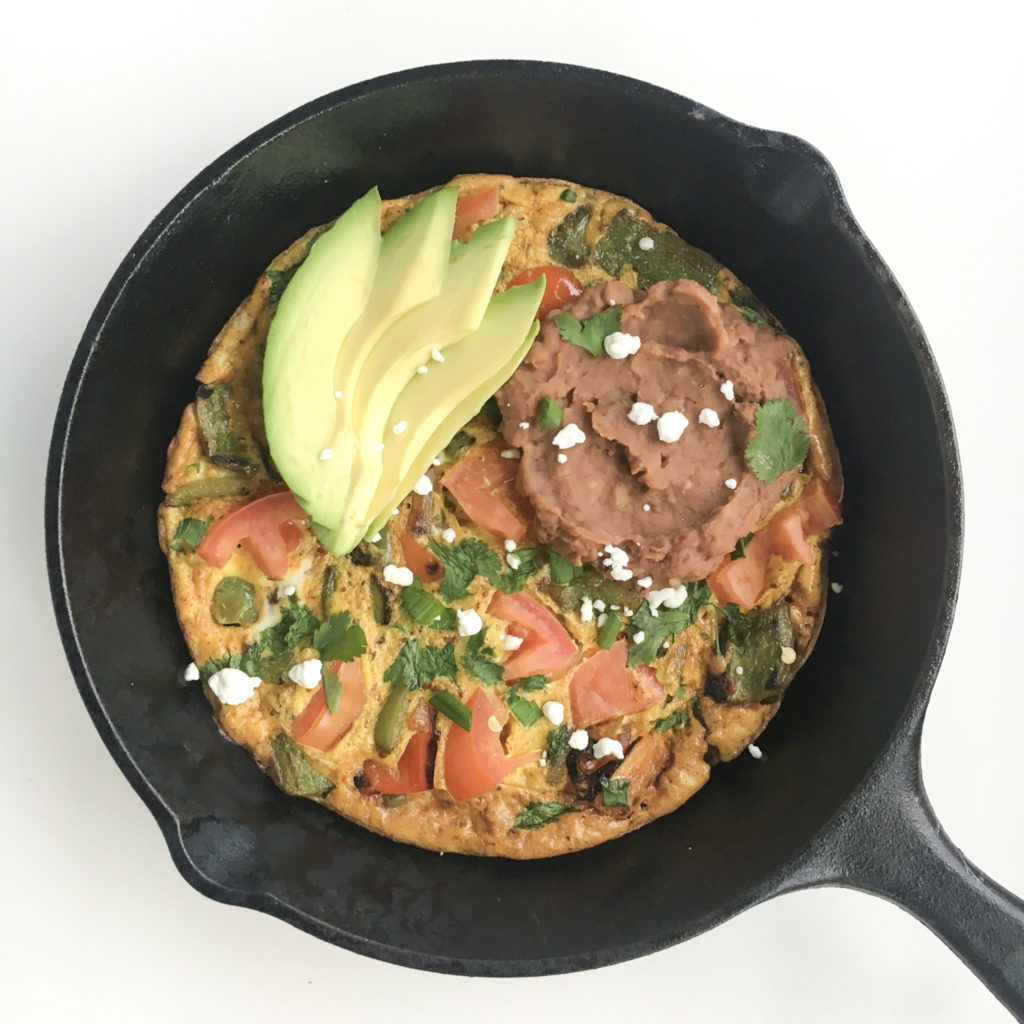 Spicy Mexican-Style Omelettata
3/4 cup red and green bell pepper, chopped
1/3 medium white onion, chopped
2 tbsp diced jalapeño
2 whole eggs, 1 egg white
Turmeric
Ground pepper
Chili powder
1/2 cup chopped tomato
2 tbsp cilantro
1 tbsp green onion, chopped
1/3 avocado
1/3 Trader Joe's refried pinto beans
Crumbled goat cheese
Directions:
Turn oven on broil 500 degrees F
Add 1 tbsp olive to 8-inch skillet to heat on medium
Add bell pepper, onion and jalapeño to skillet to cook down for 5 minutes
Whisk together eggs and seasonings
Spray pan with oil to prevent eggs from sticking, then pour eggs over the top, making sure to cover the entire pan
Next, add chopped tomato, green onion, and cilantro and let cook on stovetop for about 3-4 minutes
Transfer entire skillet to oven to finish cooking the top, about 3-5 minutes or until eggs start to fluff and turn brown
Remove from oven and top with avocado, heated refried pinto beans and crumbled goat cheese. Enjoy!