If there's one thing I've been loving this summer, it's the SUN. Now, you can probably see where I'm coming from as I live in Seattle and somehow go 6-7 months without proper vitamin D… let's just say when it gets to June, I'm in the sun whenever and wherever I can. It's been that way every summer growing up and now that I'm more knowledgeable on the potential damaging effects of the sun and our skin, I have the best routine in place to help with recovery & rehydration.
I'm not kidding when I say I can lay outside in my swimsuit for hours, just soaking up the rays. It fills my entire soul! It's become a habit this summer to go up to our roof around 3pm and take a 15 to 20-min nap in the sun. It's a good re-energizer for the second part of my day. Of course, I'll apply all the SPF 50 (body and face) beforehand. You know, the good stuff. But as soon as I go back inside, I know I'll need to cleanse, rehydrate and lather on all the oils.
Throughout the past couple years I've been so into transitioning all of my beauty products to more clean, non-toxic skincare. It's pretty life changing. Like, actually. SO much better for your body, including your endocrine system, your skin (duh), and your hormones.
Maybe this 8-step skincare routine is a little extreme, but you can afford a little extreme when it comes to your skin. Promise! I've included my absolute favorite clean skincare items at the moment & the ones I've been using all summer thus far. Have some additional recommendations? Leave in the comments below! 🙂
First up after the sun: I cleanse. I remove the SPF from my face and clean everything up. I typically use Indie Lee cleanser or Naturopathica Aloe Gel cleanser. Both are very gentle on the skin.
Next, I tone. Either Indie Lee (gentle) or Cocokind Skincare Raspberry Toner (a little more intense).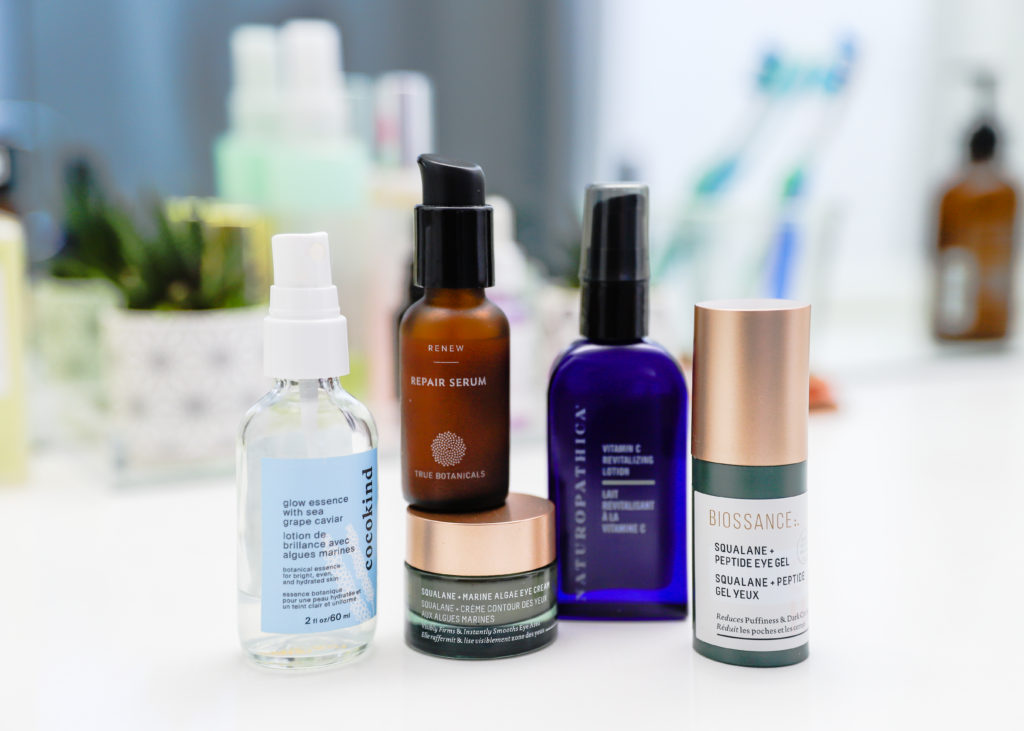 Then comes the good stuff. I've been loving True Botanicals Repair Serum. It's actually made to help with sun damage/repair. I use the spread and press technique all over my face, down my neck and even onto my chest. Then I'll use a hydrating vitamin C lotion that's rich in antioxidants to help neutralize free radicals and protect the skin from the harsh environment. I use Naturopathica Vitamin C Revitalizing Lotion and it's SO soothing to the skin. To apply, use an upward and outward technique– morning and night. Next up is the most important step… the eyes. I use a combination of Biossance Squalane + Peptide Eye Gel first, with their Squalane Marine Algae Eye Cream. Both are great in helping to reduce puffiness, fine lines, wrinkles, and dark circles. Make sure to lightly dab it around the "c" portion of each eye using your ring finger until it's fully absorbed.
Can I just call that above STEP 1???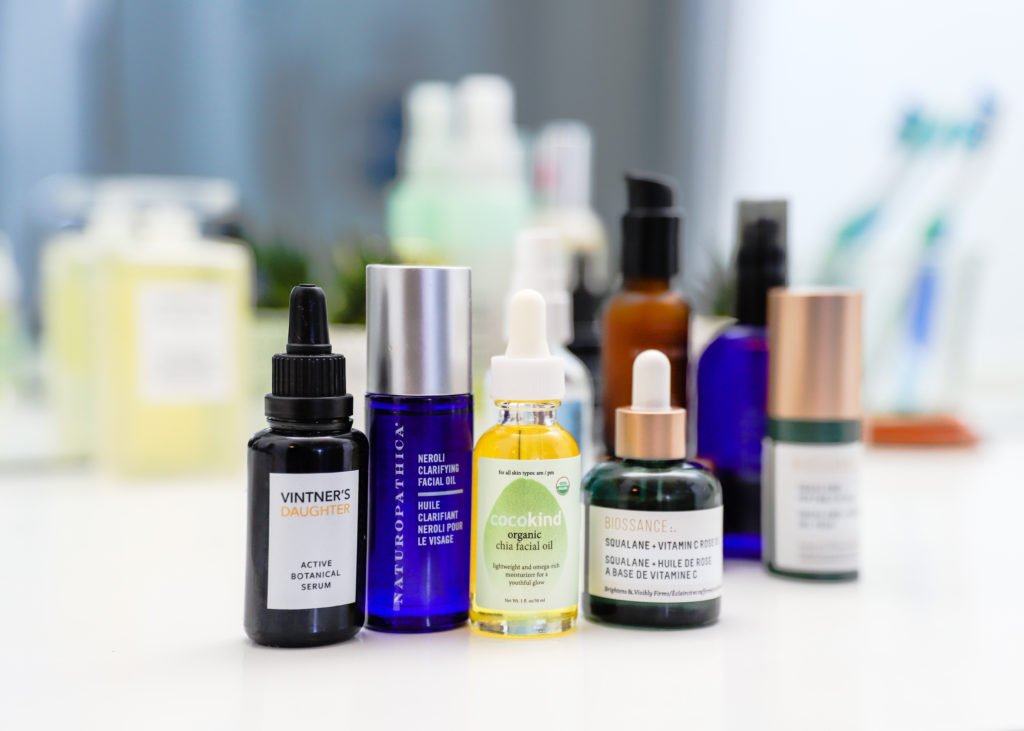 Step 2: now for the second base layer. I'll spray Cocokind Glow Essence just for some glow + spritz. I use this throughout the day, too for a quick refresher or when my face needs a little boost. Then I'll add the oils. I typically switch off based on the day, but it's usually a toss up between Vintner's Daughter (yes, totally worth the splurge of $185), Biossance Squalane + Vitamin C Rose oil, Naturopathica Neroli Clarifying Facial Oil, and Cocokind Chia Facial Oil. All are SO good on the face. If you're new to using face oils, don't be intimidated! I know we've been told that face oils can clog pores and make us break out, but honestly, the right oil can help balance out oil production. Sometimes I'll reapply 2-3x a day, especially if I'm not wearing makeup to ensure my face is hydrated as much as possible.
Once my face is taken care of and lathered up, I'm good to go!