This post has been sponsored by The Incredible Egg. All opinions expressed are always my own! 🙂
Okay, so we're halfway through February… which, for many, is about the time our motivation tends to run out and new years resolutions might get lost or forgotten. This year, instead of creating resolutions that I'd probably forget come the second month of the year, I took on a "resolution revolution," creating intentions that will help better my mind, body, and soul. And most importantly, goals I wanted to stick to!
How are your resolutions going so far? If you're hesitating to answer, "phenomenal!" …no worries! You're never too late to redirect your attention to where it matters most, or to even set new intentions for the remainder of the year. Here's an update on the intentions I made back in December:
RELEARN THE ART OF SINGLE TASKING
I think this one has had a HUGE affect on my productivity levels since starting the New Year / learning more about time batching/time blocking. Thinking back now, I have no idea how I was surviving before it. It's such a great way to manage my time and really focus on what tasks I need to complete that day. Essentially, time batching means grouping together several of the same things at one time. For me, this means grouping together recipes, meetings/phone calls, or spending a few hours on Sunday writing blog posts for the week. By only focusing my energy on one specific task at a time, I've been able to tackle a lot more without having to spend extra energy switching gears. SO much more efficient.
January 2019 has been one of my busier months to date, but nonetheless, I've found a few ways to cut some corners to allow more *organized* time throughout the day. I'm typically guilty of having 15+ tabs open on my computer… can you relate? Well, it wasn't always getting me anywhere and my mind was constantly on 20 things at once. NOW, I feel much more organized and feel so much better about staying on one task until it's complete and I can move on.
Benefits of time batching/time blocking:
Improves focus: when you can only focus on one thing at a time, you can put all your energy into the project at hand. Multi-tasking may seem productive, but it's hard to stay focused when your mind is constantly bouncing from one idea to the next.
Less stress: constantly having to think about all the things on your to-do list in the back of your mind can pack on quite a bit of unnecessary stress into your everyday routine. Instead, block out times throughout the day where you're only able to focus on ONE thing during that time until it's complete / before moving on to the next.
Saves time: Starting/finishing a task can sometimes be a task in itself. For me, if I am recipe testing, the setup and clean up is an entirely different process on its own. But with time batching, I only have to do the setup/cleanup once. It really saves me SO much time.
What changes I've begun to incorporate:
Make a checklist of everything I need done that day, in order of when it needs to get done. Itemize items by dedicating certain time blocks to them, i.e. 10:00am-10:20am, 10:20am-10:35am. Trust me… It might look excessive, but if you're busy and stressed, this WILL help!
Schedule calls / meetings on the same day(s) during the week to "de-clutter"
Schedule recipe-making days / taste testing / food photography the same day(s) during the week. This way I can gather all the ingredients I'll need at the grocery store once and I'll typically always schedule recipe days on cloudy days (not too hard in Seattle) for optimal lighting quality.
Do my best to shut out distractions and stay focused on the task I'm working on! Sometimes this means turning off notifications on my phone, not looking at my email, and trying to be really present.
INCORPORATING MORE HIGH-QUALITY PROTEIN INTO MY DIET:
I'm feeling pretty proud that I've been better at incorporating more high-quality protein into my diet. I think really focusing on adding in more eggs + creating recipes around eggs has been so helpful, and it doesn't hurt that they're one of my favorite foods and can be made so many different ways.
Eggs are one of the most affordable sources of high-quality protein, and one of my favorite foods. Seriously, I love eating eggs any time of day – breakfast, lunch, or dinner!
The egg yolk itself is one of the best parts- having choline, Vitamin B12, selenium, and more than 40 percent of the protein in an egg.
Check out this YUMMY sweet potato toast (inspired by our cafe, Toast Society), topped with diced avocado, everything seasoning, chives and 6-min soft boiled eggs. Gluten-free / grain-free! Eggs are a powerhouse of nutrition, with just one large egg containing 6 grams of high-quality protein and nine essential amino acids. These amino acids are important for helping with muscle recovery, so I've been loving eating eggs after all the workouts I have been doing.
A few other ways I've been eating eggs this year:
Link to Avocado Egg Salad below
Egg salad has been one of my favorite foods since I was little and we'd take them with us whenever we'd go camping in eastern Washington. It's one of those comfort meals and takes hardly any time to prep at all. Since becoming more health-conscious, I've created an avocado egg salad recipe that has 6g of protein from each egg and good fats from the avocado.
Head to Incredible Egg for more info and recipe inspiration using eggs.
DETOX FROM NEGATIVITY
As mentioned in my last "intentions" post, I believe that surrounding yourself around those that lift you up is one of the best things you can do for your mental health. It puts you in the right headspace, especially when you're around those that are constantly your biggest supporters.
Stop comparing yourself and your life to others: It's so easy to scroll through Instagram and compare your life to what everyone else is doing. But in reality, it's just a highlight real that most are sharing. It's their *best* moments, not their worst. I find myself so much happier when I'm focusing my energy on me, and my own goals.
IF IT'S NOT AN "OH YES!" IT'S A NO
This is constantly a big one for me. As my business is growing and I'm traveling more, especially to and from Toast Society, my time really matters. I'm pretty firm these days when it comes to outings, travels, even leaving the house for certain things. Basically, if I'm not ALL IN, it's going to be a no.
A lot of us are people pleasers, and that's fine… but to an extent. I think it's so important to do what YOU want to do, for the purpose of YOU, not for the sake of others. We spread ourselves so thin that by the time you're done serving others, we have very little energy left for ourselves.
MOVE MY BODY EVERY DAY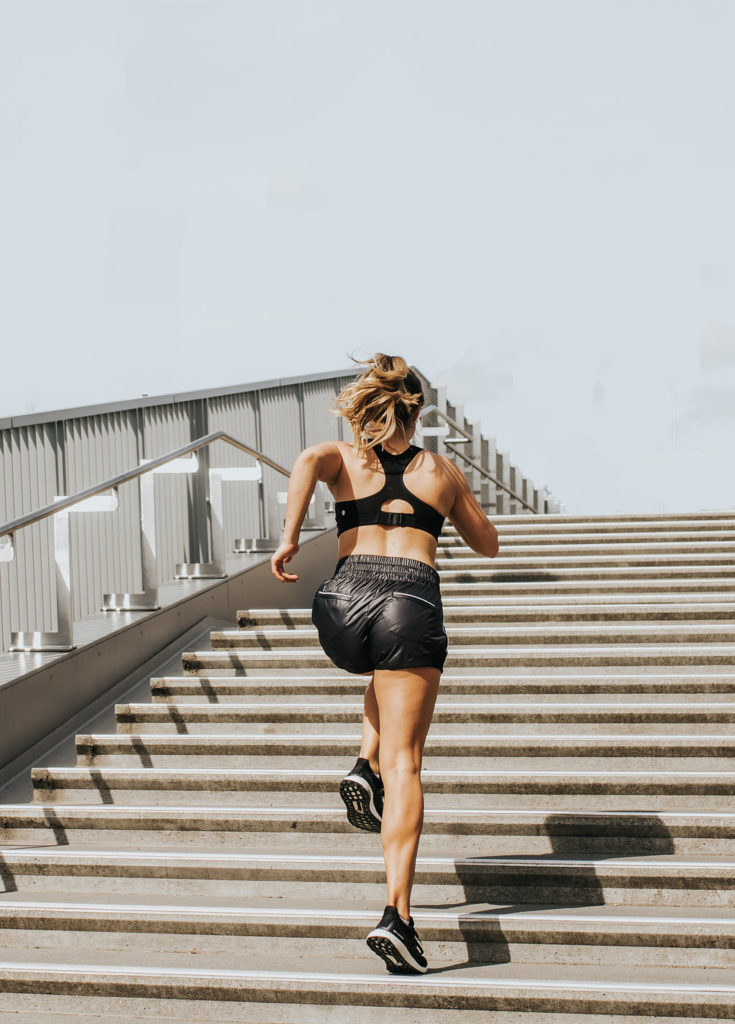 Finding some type of way to exercise every day is fun for me. I look forward to hitting the gym, designing a new workout…. *oh yeah, did you hear about my new workout program, Good Sweat?? Click here for more details!* I've found that getting it done FIRST thing in the morning is best. I'm definitely a morning person and getting my blood flow going really boosts my mood + energy levels and wakes me up for the day.
If you find yourself putting exercise on the back burner, you can look to notice if you're a morning or a nighttime person. From there, decide when it would work best to schedule a block of time (going back to time batching above) to get some movement. If you know you're always exhausted by the time you get home from work or school, maybe working out immediately after waking up or getting up even a little earlier will help prioritize your exercise better.
Even if working out sounds like the last thing I want to be doing some days, I always always always feel better after some type of movement. You truly never regret a workout!
I try to remember that even taking it easy like going for a long walk, stretching, or walking incline on the treadmill for 35 minutes does huge things for both my mindset + energy levels.