In the spirit of, *and trying to hold onto,* Fall (I'll start accepting it's winter once it hits Dec. 1st), I whipped up some pumpkin hummus and threw together an easy snack plate. It was bliss.
I'm such a sucker for crackers and dip– especially when it involves Simple Mills crackers. I'm beyond addicted, and their new Sprouted Seed Crackers go perfectly with this hummus! (They can be found at Whole Foods, and now Albertsons and Safeway!) I love making hummus at home because a good quality hummus is pretty hard to come by, ingredient-wise. Most times you'll find it loaded with inflammatory vegetable oils and unnecessary ingredients. There are only a few select brands I trust to buy, but honestly, that's why I recommend making your own. It's so easy anyways!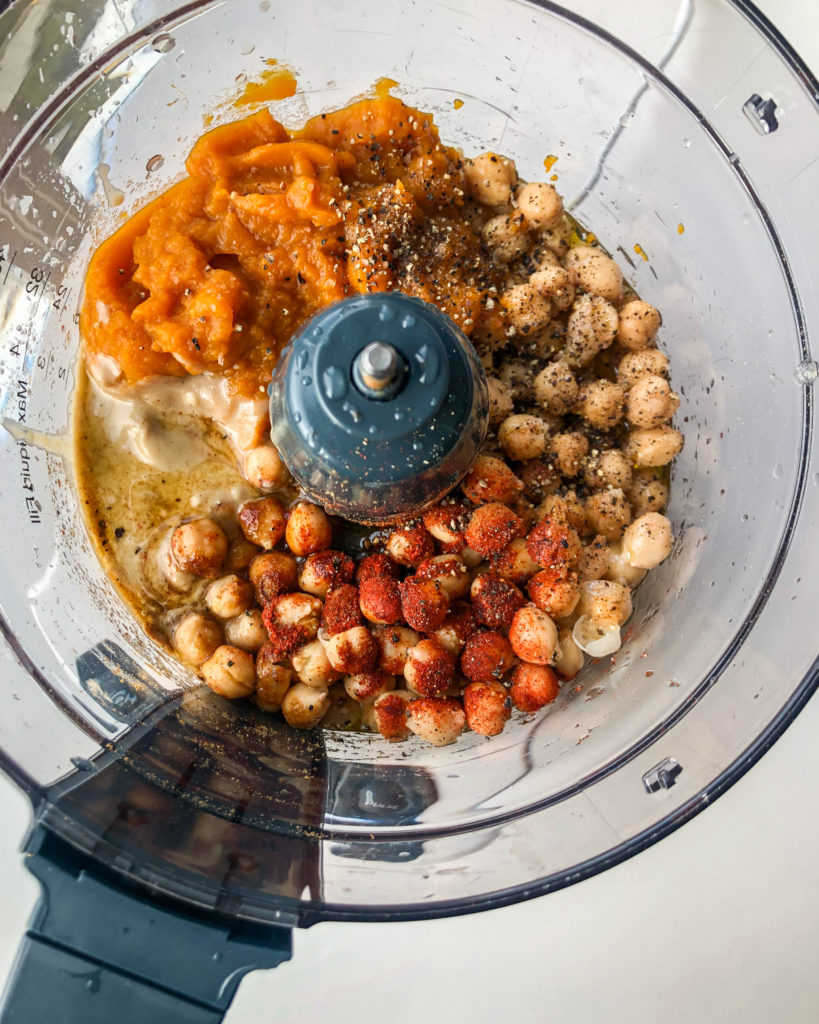 This batch took me all of about 5 minutes to make– throw all the ingredients in a food processor or blender and let blend for a minute. Adjust based on your taste preferences and you're set!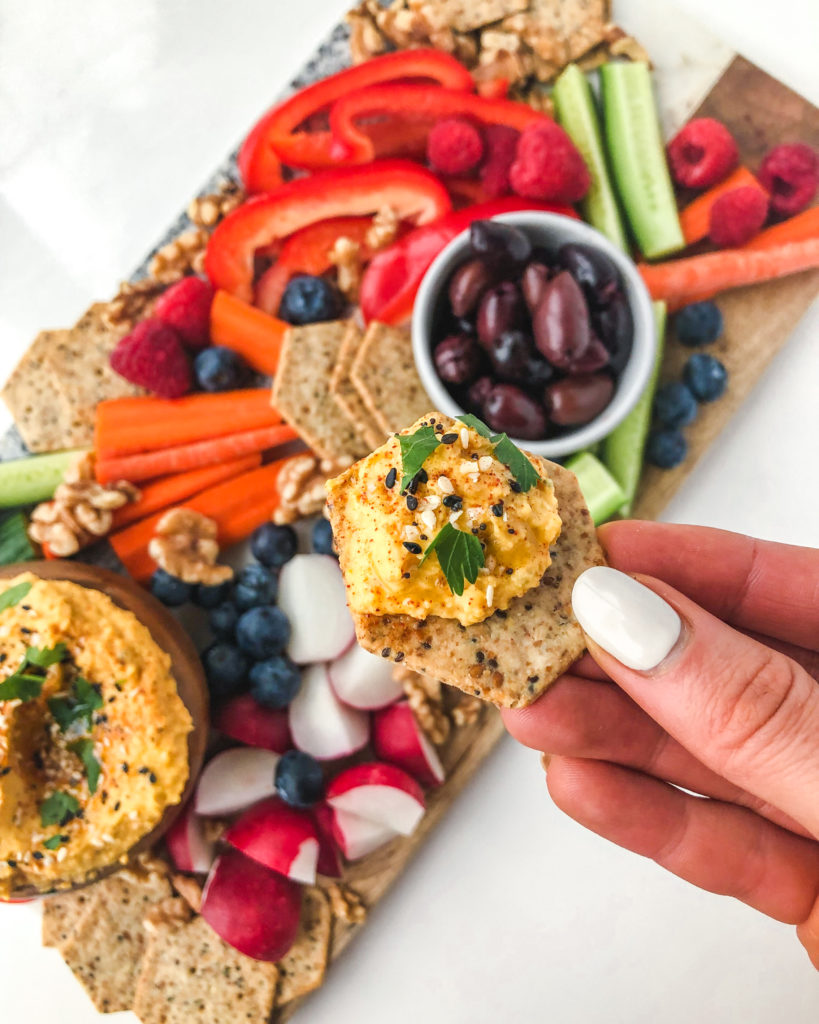 Once done, you can pair with your favorite finger foods to top the hummus on. I always love a variety. Nuts, olives, chopped veggies, fresh fruit– organic berries are always a win—and Simple Mills crackers. They're naturally gluten-free, non-GMO, and grain-free! They also contain 3g of protein per serving. They're the yummiest topped with this pumpkin hummus.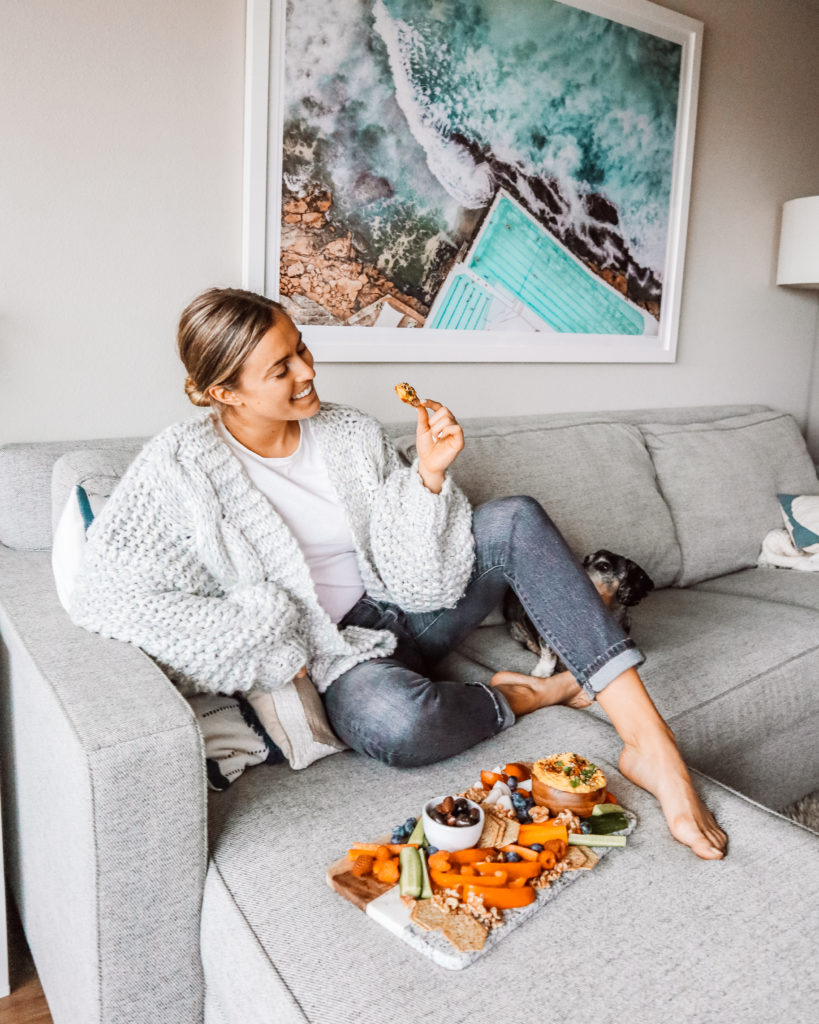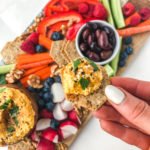 Pumpkin Hummus
Ingredients
1

can

chickpeas, drained & rinsed

1/2

cup

pumpkin puree

(not pumpkin pie filling)

1/4

cup

extra virgin olive oil

1

lemon, squeezed

3

tbsp

tahini

1/2

tsp

paprika

1/2

tsp

cumin

pink salt, to taste

ground pepper, to taste
Toppings
1

tsp

'everything' seasoning

3

tbsp

fresh parsley, roughly chopped
Instructions
Combine all ingredients in food processor or blender and blend until it reaches a smooth consistency. Serve with 'everything' seasoning, fresh parsley and paprika. Enjoy!!