If there was one decadent, sugar-laden treat I longed for as a child, it was those Snickers ice cream bars you get from the gas station during the summer. I'm assuming this was where my affinity for peanut butter and chocolate came from.
Earlier this season I created my first raw vegan cheesecake and it was almost like what was I doing with my life before this???? How could this healthy dessert be so simple to make and taste so UN-healthy? That my friends, is what brought me to this bright idea of creating a peanut butter cheesecake using my favorite peanut powder from Crazy Richard's. It's only one ingredient and is great for baking or blending.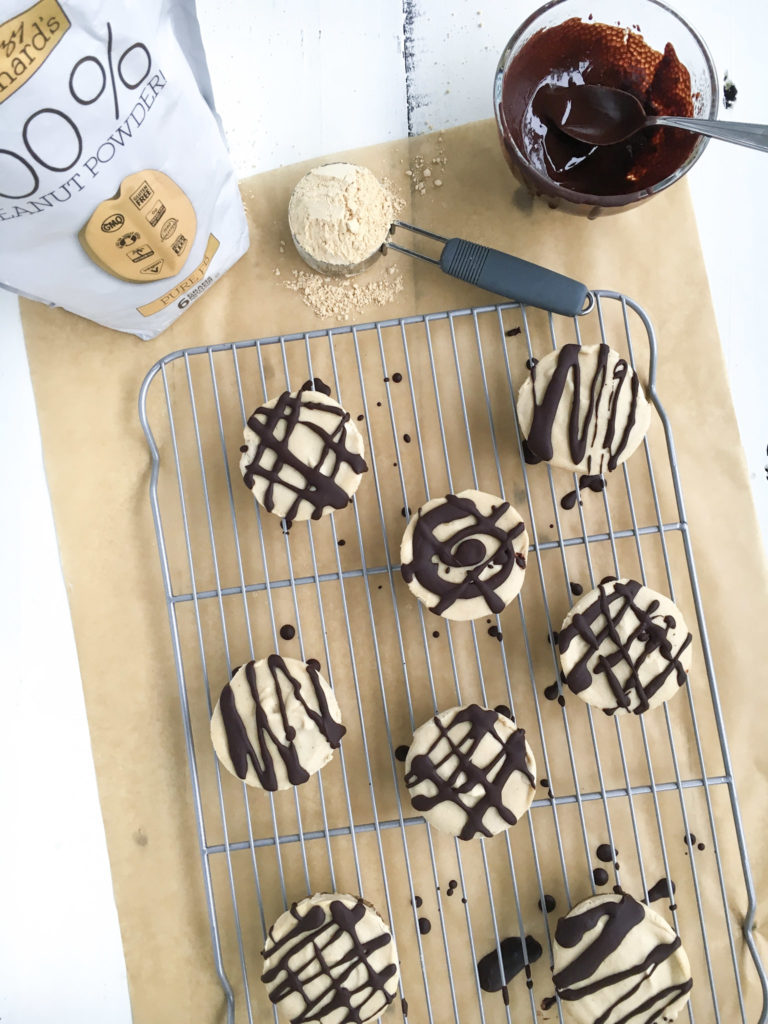 Let's just say after I poured the filling into the cups, the blender may or may not have been cleaned with a spatula and my mouth.
No baking is involved with this raw cheesecake, which is why it takes so little time to make! There's basically only 2 steps with creating the crust and the filling, and it's all done in the blender– easy cleanup!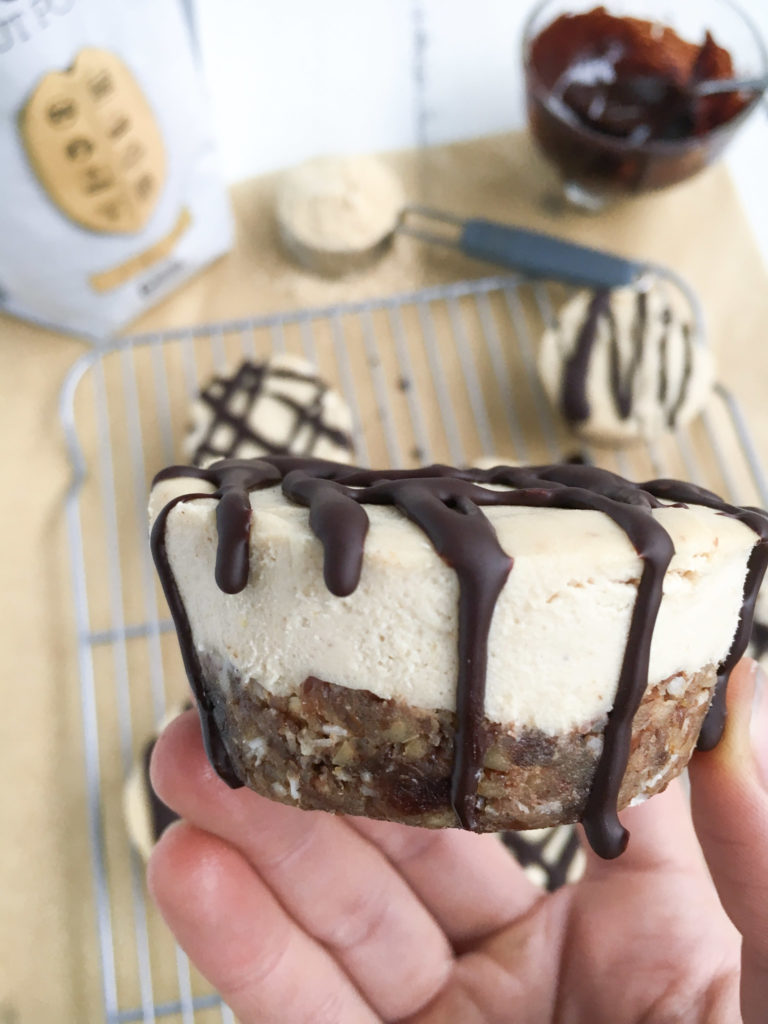 I ended up storing the finished cups in glass tupperware overnight before I was able to try. The next day I summoned my boyfriend as the guinea pig to test these delicious looking, single-serving, chocolate drizzled cheesecake cups. His face said it all. Then he mumbled, "Dairy Queen ice cream."
SUCCESS.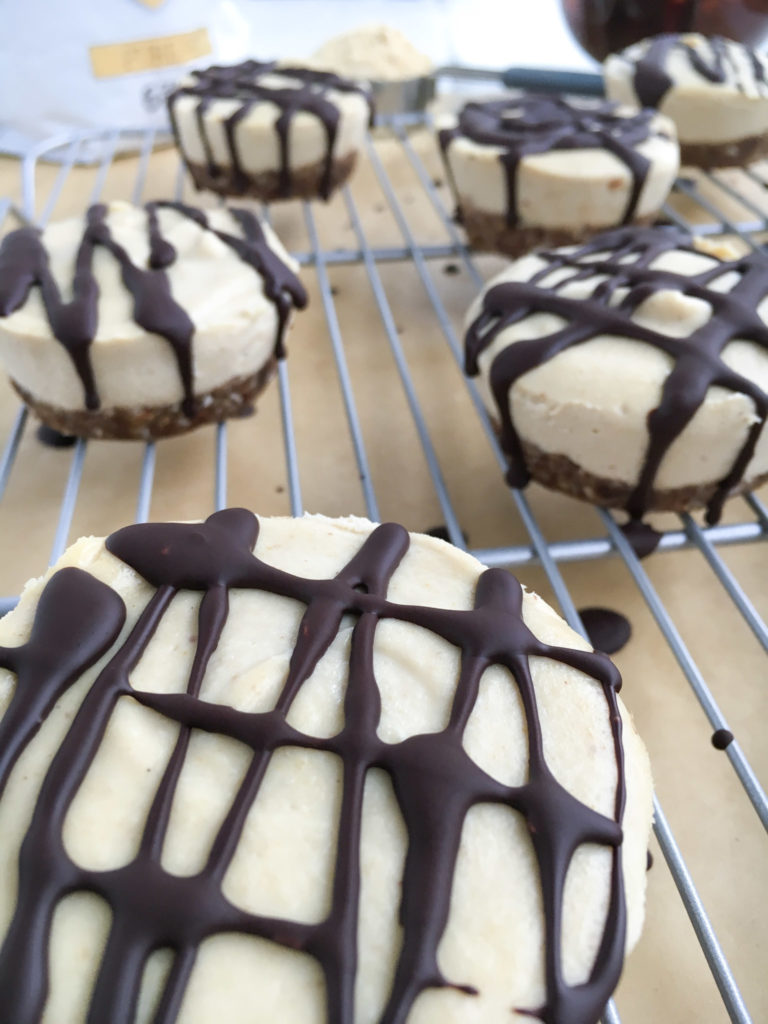 I knew right then I had to try for myself. I defrosted a second cup, bit into it and was immediately brought back to those summer days of eating Snickers ice cream bars. Not kidding you guys. These are the real deal. Dense little cheesecake cups, dairy-free, vegan, gluten-free, bliss.
Go make them and comment below with your thoughts!!! 🙂
Raw Vegan Mini Snickers Cheesecakes
Ingredients
Crust
7

dates

1

cup

pecans

1/4

tsp

sea salt

1

tsp

vanilla extract

2

tbsp

coconut flakes

1/4

tsp

cinnamon

2

tbsp

ground flaxseed

1

tbsp

water
Filling
2

cups

raw cashews

1/4

cup

melted coconut oil

1/4

cup

maple syrup

3/4

cup

coconut milk

1/3

cup

Crazy Richard's Peanut Powder
Chocolate Drizzle
1/2

Dark chocolate bar

(I use Eating Evolved)

1/2

tbsp

maple syrup
Instructions
Soak dates and cashews in warm water (separate bowls) for 3-4 hours. Set cashews aside. Remove pits from dates, drain and add to high-powered blender along with rest of crust ingredients to pulse until a fine texture.

Cut 5-inch long and 1-inch wide strips of parchment paper to lay in cupcake tin cups with ends sticking out on either side.

Divide crust into 8-9 cups and press firmly into base on top of parchment strip. Once cups are filled, make the filling.

Combine coconut milk and drained cashews in the blender to blend on high about 3 minutes until smooth. Add rest of filling ingredients and blend for 3-4 more minutes.

Pour filling into cups with crust until the filling reaches the top of the tin. Place cupcake tin in freezer for 1 hour then remove to let defrost for 20 minutes. Scoop out each cheesecake using a knife around the outside of cups. The parchment paper will help remove the entire cup in one piece.

Place 1/2 chocolate bar in microwave-safe bowl to microwave 45 seconds. Stir, and microwave 15 more seconds, if needed. Stir in maple syrup.

Place cups on drying rack and drizzle with melted chocolate.

Store in airtight container in freezer. When ready to eat, remove from freezer to let defrost about 10-15 minutes (best when slightly frozen). Enjoy!