When is your home ever really finished? Since moving into our West Seattle spot last September (2017), I was convinced the answer was never.
11 months later I made what seemed like the impossible, possible. And Bridger and I couldn't be more thrilled about where we spend the majority of our time together. The only minor detail… we have only 717 square feet to work with. For those of you who live in smaller apartments, I commend you. It's TOUGH to make it all work in tiny quarters.
The layout of our apartment is actually the most ideal and easily the best option we saw when touring apartments last year. The only thing I would add is a pantry (obviously), and an extra closet for storage. Other than that, I think it's the perfect first home for a couple of twenty-something year olds 🙂
To give a little backstory, Bridger and I have been together since high school and both went to school in Oregon. We moved back to Lake Tapps, Washington into our parents homes for about 2 years post-college to save some $$ before moving out. It also made us realize we needed more "city" in our lives. Not to mention, the nearest Trader Joe's was about 30 minutes away and Whole Foods, 45 min. This might not be a huge deal to most of you but for me, it's all about PRIORITIES people, haha. It was also getting difficult not having my own kitchen to utilize (my mom's pantry was basically overflowing with my stockpile of healthy goods). The kitchen was where I spent, and currently spend, the majority of my time anyways. My office, as you will. At that point, it was time to move out.
Fortunately, the best thing about moving out of your parent's house is getting to pick and choose your style and be able to completely decorate for yourself.
Design wise, I'm drawn to more of a mid-century modern, minimalist, comfortable and homey feel. I guess you could say the majority of our furniture came from West Elm… and I'm not mad about it. I love the clean look of our apartment when you first walk in. Mostly white, with greenery and the focal point being our favorite print from our favorite vacation spot above the couch 🙂
I'm SO excited to finally be sharing our space with you!! I did my best to link all furniture & products below!
All photos by Carina Skrobecki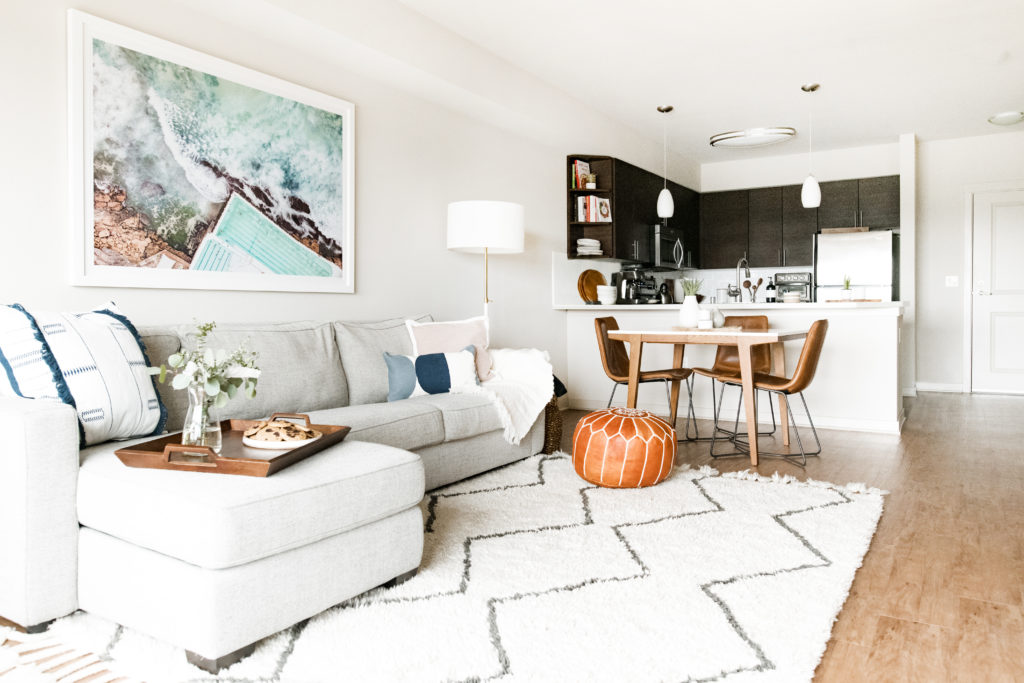 The living room is my favorite part of the apartment. Maybe because it ties in with the dining room, the kitchen, and the office… tiny home problems. But seriously, it's so cozy and truly where we spend all our time, especially our pup, Ellie. I knew white was going to be the main color in the space. It's so aesthetically pleasing and brightens it up even on the coldest Seattle day. The rug is also 100% needed. Although it did (and still does) shed quite a bit. It's so worth it.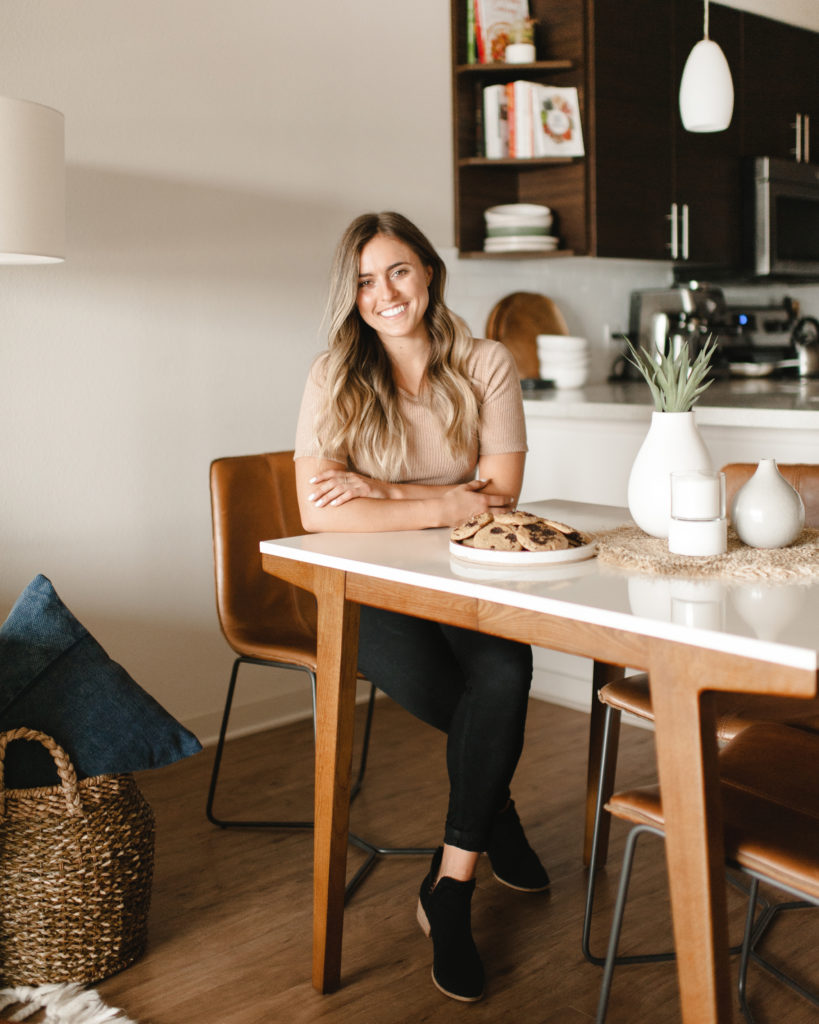 We didn't have much room for a large dining room table, which is why I opted for an expandable version. One we can make larger for when we have guests. Another trick for small spaces and with an office is choosing three of the same dining chairs, plus one with the exact same look except with wheels. This allows it to be used as the office chair, but can also double as a dining chair. To be honest, it works perfect (we've still never used the expandable insert except for when I shot a holiday themed video last year).
Kitchen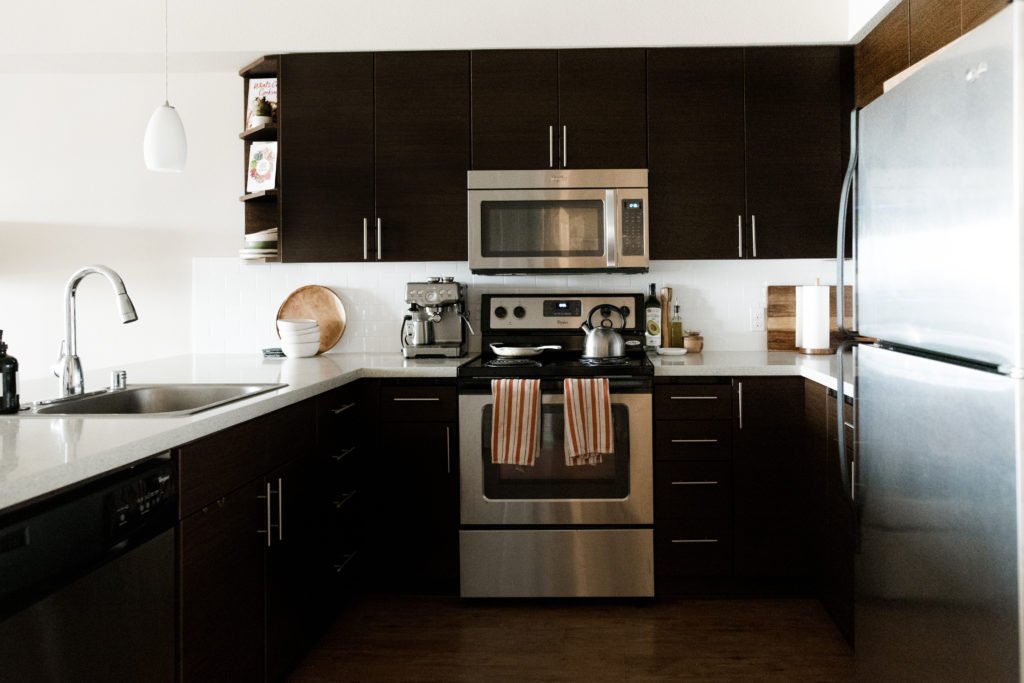 Like I mentioned earlier, the kitchen is basically my office so it's something we really needed to consider when touring apartments. I needed something with lots of storage/cabinets and nice appliances. The white subway tile backsplash & quartz countertops were a plus! I love wood accents, so you'll see quite a bit of white, wood and stainless steel for a clean feel.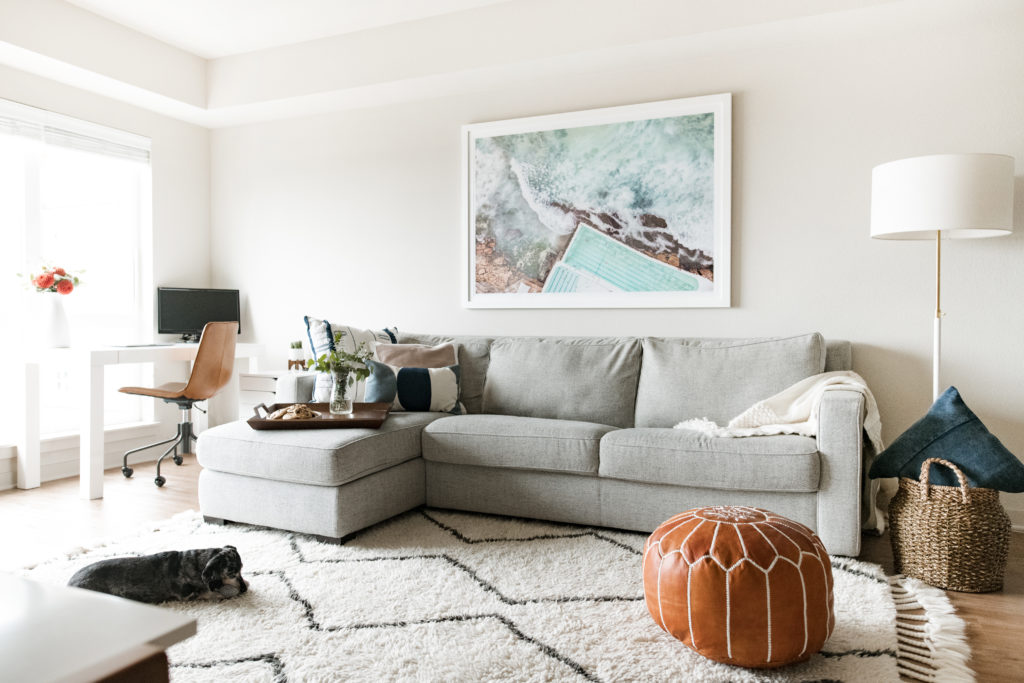 Living Room
We love the couch. The Henry Sleeper from West Elm. It's great because the sectional opens up for extra storage and it has a pullout bed for guests spending the night. Bridger and I actually ended up needed to use it our first night in the apartment when our bed hadn't shown up. It's pretty comfy for a sofa bed and I'd definitely recommend.
It took us just about 10 months to finally fill the big open space above our couch and I'm SO in love with how it looks now! When you first walk in, your eyes goes straight to the print. It's by Gray Malin and of the Bondi Icebergs in Sydney, Australia. After traveling there over my birthday at the beginning of the year, it's easily become our favorite destination Bridger and I have ever been to. Having it in our living room makes me feel like I'm still there and I couldn't be happier! All of the prints on his website are absolutely gorgeous– I need one in every room.
Click here for my Home Tour feature on his blog 🙂
Another one of the main reasons for choosing this apartment was because of its huge floor to ceiling windows in our great room. I need all the natural light I can get for my photos… I only wish there were more windows around the kitchen!! I tend to use our white office desk for my backdrop most days since it's near the window and has the best light.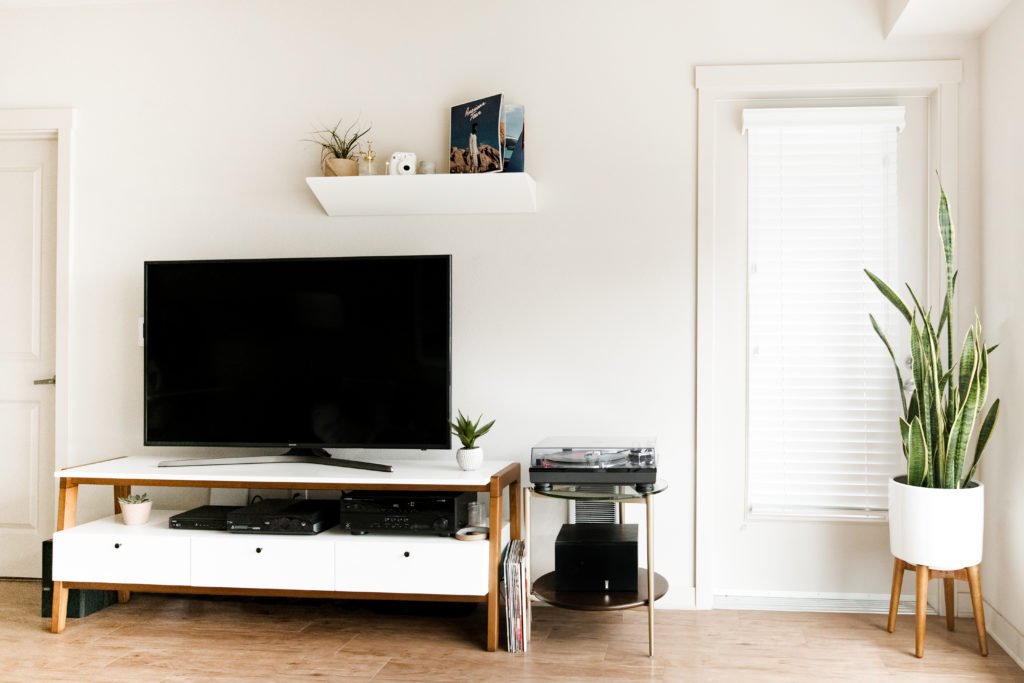 The TV area is very appealing to me. Bridger nudged me to upgrade our television a few months ago from our small college TV… I wasn't keen at first but now, I'm in love with the bigger screen. It took over the space of where our record player sat, so I found the cutest side table to hang out next to our media console.

Bedroom


The bedroom didn't feel completely finished until Bridger hung up our Australia farmer's market finds above the bed… one day before this photoshoot. And now I'm completely OBSESSED with the room! Super minimal and lots of greenery.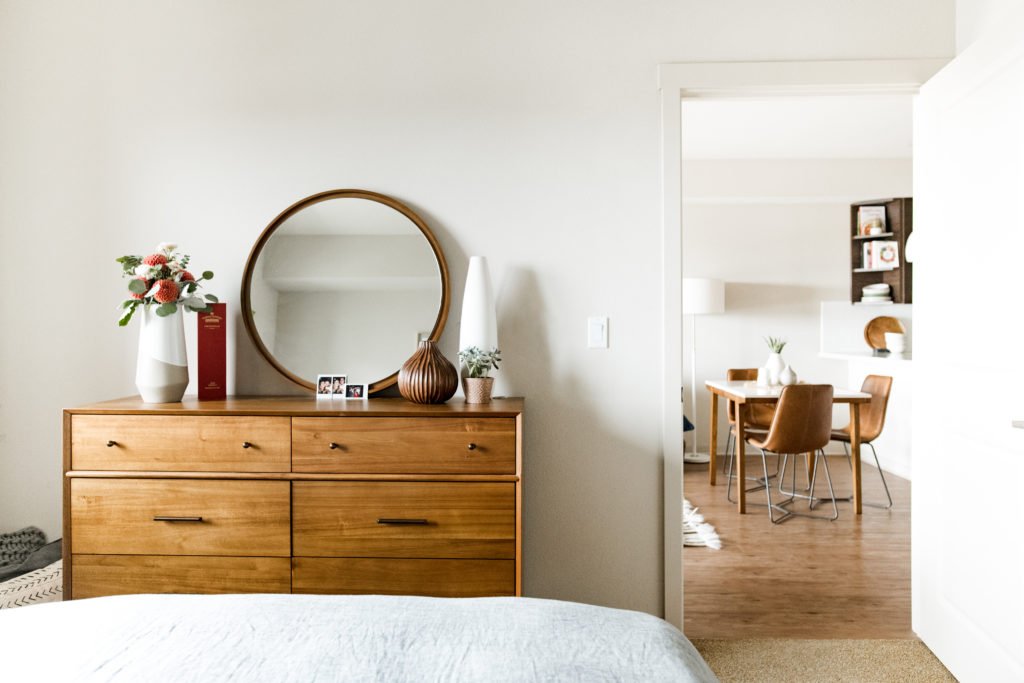 The mid-century modern nightstands, bed frame and dresser compliment each other so well. I can't get enough of the white space that fills most of our apartment.

Bathroom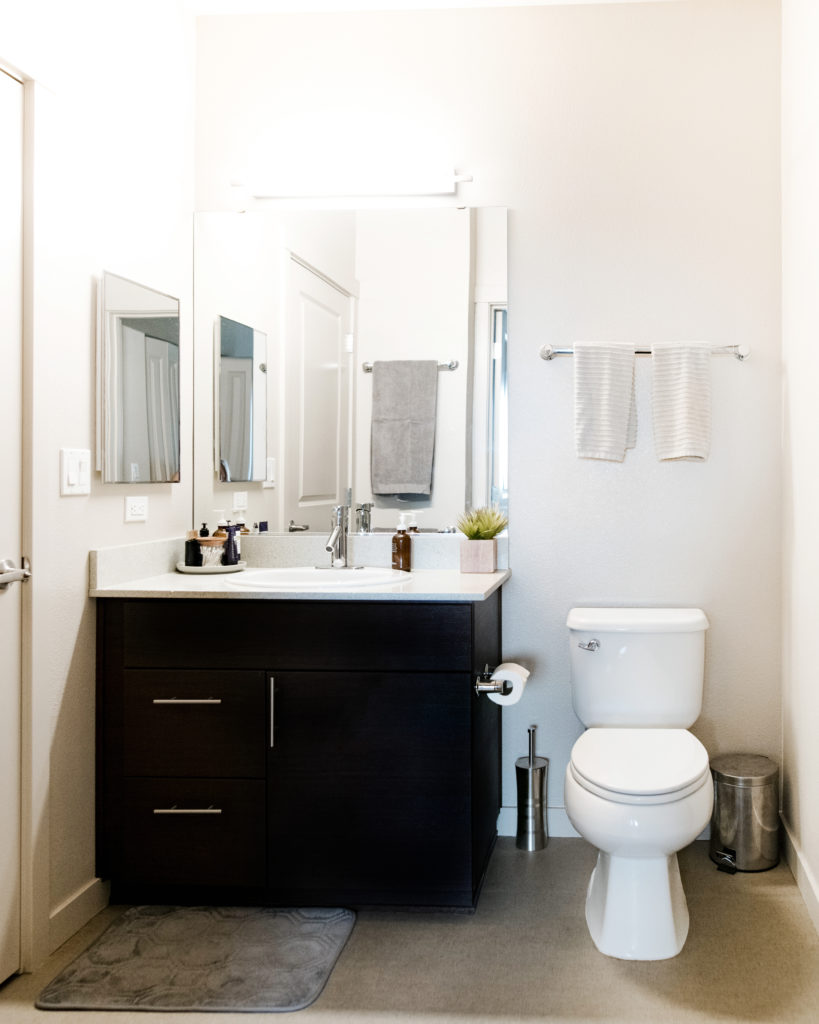 The bathroom is nothing crazy, but again, I like simple and the gray just works. However, it could always be my next project to "revamp." Until then, I'm seriously looking forward to the day we have a double vanity! 😉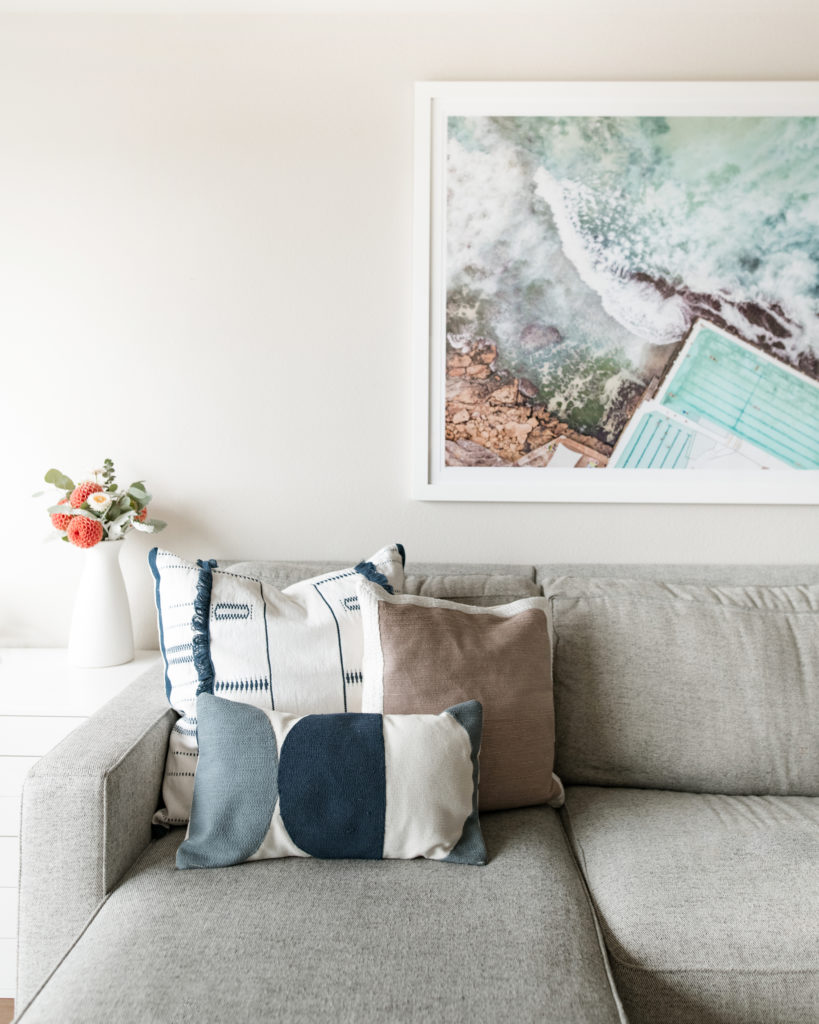 I sourced out help for the last few pieces to tie in our entire space. You know, proper throw pillows, vases, fresh bouquets, etc. Jessica Sosey was great at accomplishing that task and brought all items to me/the space! She was also kind enough to offer some design tips for those of you who also live in small spaces–
HOW TO DESIGN A SMALL SPACE
What are three tips you have to make the most of a small space?
1. Light it up!
Use mirrors to reflect light: Rachael has a tall mirror resting on the wall in the dining area. This helps some of the natural light from the windows into the kitchen (which gets the least natural light). Having a mirror on the wall across from where the main light source is helps expand the room.
Transitional light: The trick is to have lots of lighting options that can transition light well at all times of the day. In a small space, I suggest lamps to help with this. Floor and table lamps really help to even out the lighting without using the often harsh apartment ceiling lights. Try using a lightbulb that is between 2500k-4100k as this will produce a warmer white color. Even better if you're able to get a bulb that is dimmable!
2. Divide up the space. Just like Rachael and Bridger's multi-purpose living room, you may have one room that needs to serve many functions – and it ends up feeling like a mash. Here are a few tricks to successfully divide up one room into several purposes.
Rugs: the best way to make it feel like your transitioning from one room to another. Using a big rug in the living room visually closes off the space. This works for any room; dining room areas, office areas, bedrooms, you name it.
Focal point: when you walk into a room, there's usually something that draws your attention, a focal point. For most apartments, you want to direct people to the living room. In Rachael's house she has a beautiful print above her couch. This is easily the focal point of the room. Placing something with ample height as the main focus also makes the room appear bigger.
3. Control and eliminate the clutter. It will make any room seem cleaner and brighter. For Rachael & Bridger, it was deciding to add a small storage piece full of drawers next to the desk to store excess folders, books, papers, etc.
Another thing to keep in mind with minimal storage space is that you may have to display things you normally wouldn't. This could mean opting for an aesthetically pleasing wooden broom to lay against a wall, or a nice wicker basket instead of a plastic laundry bin for dirty clothes.
*Bonus Tips For Decorating:
– Decorate in three's! Visually, we love seeing balance and varied items in sets of threes does just the trick.
– Utilize greenery / plants. Plants in a small space make it seem more vibrant and alive (even if they're fake).
– Buy neutral furniture. This will work both in your apartment and any future homes. Bring in any and all bright colors with art, throw pillows, blankets and accent decor.
Thank you so much for reading! 🙂
xx,
Rachael