I think it's pretty safe to say that we all want something EXTRA cozy this time of year, right?! Well, I think I have the answer for you – roasted red pepper tomato soup! And it's so easy to make! Think traditional, yummy tomato soup with a MAJOR boost of flavor thanks to all the yummy sweetness of roasted red peppers. Seriously, you'd be doing yourself a huge disservice if you don't make this soup this winter. Trust.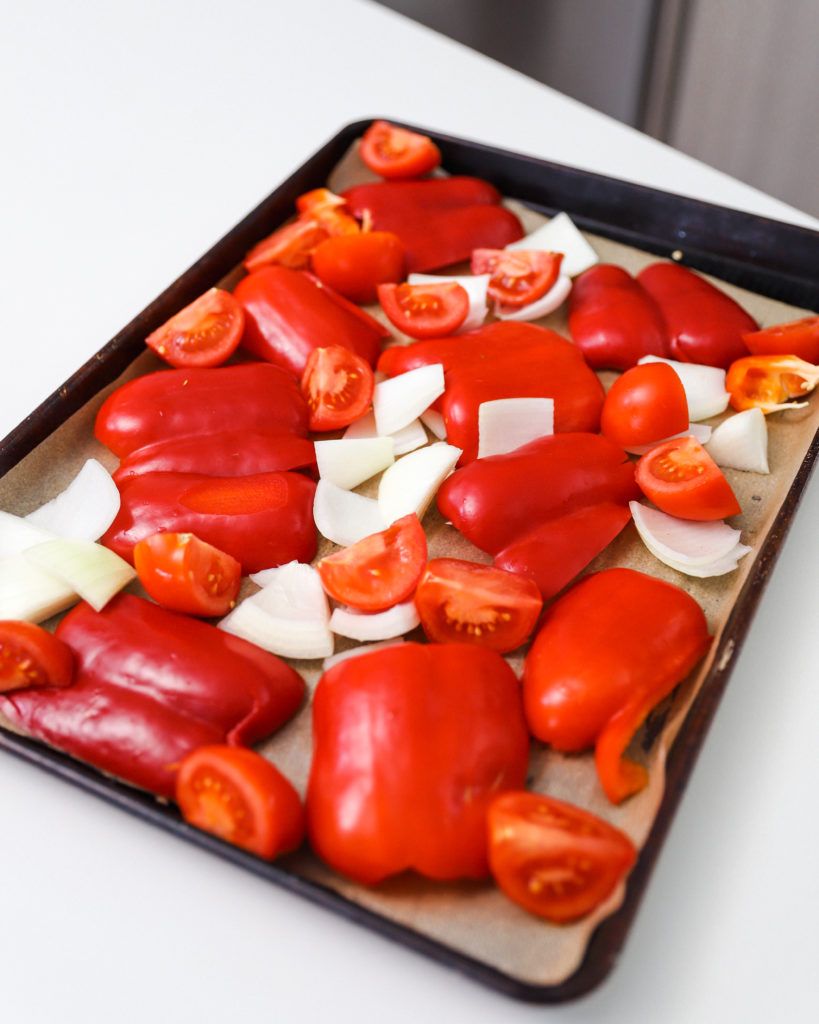 One of the best things about making it is how easy it is thanks to the Vitamix A3300 — I've had this blender for about 2 years now and as much as I hate to pick favorites with my kitchen appliances… this one continues to be highly favored. Literally, all you have to do for this recipe is roast your veggies, add some broth, salt and pepper and leave the rest up to your Vitamix! And the A3300 isn't just any old blender, it's a smart blender. It has a touch screen that features a programmable built-in timer, which makes blending this soup (or anything!) even easier because you don't have to sit there and hold down a button. I use it for anything and everything when it comes to smoothies, dressings, sauces, mixes, nut milks, soups, etc. Plus, look how pretty it is 😉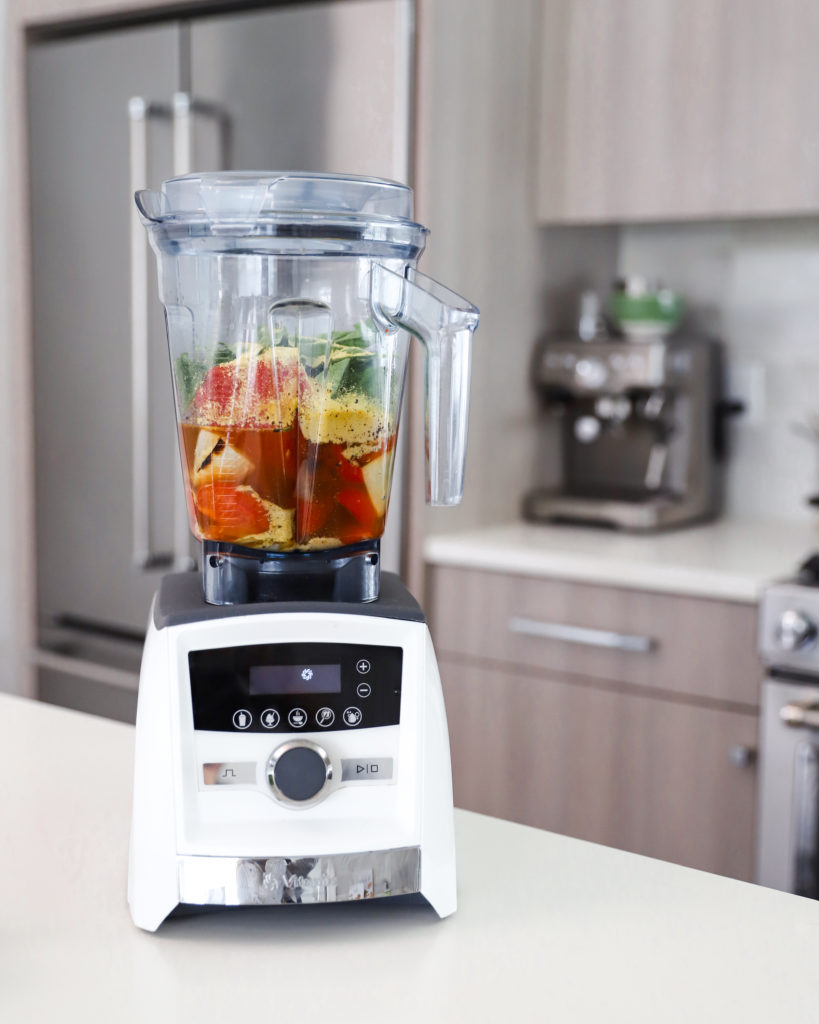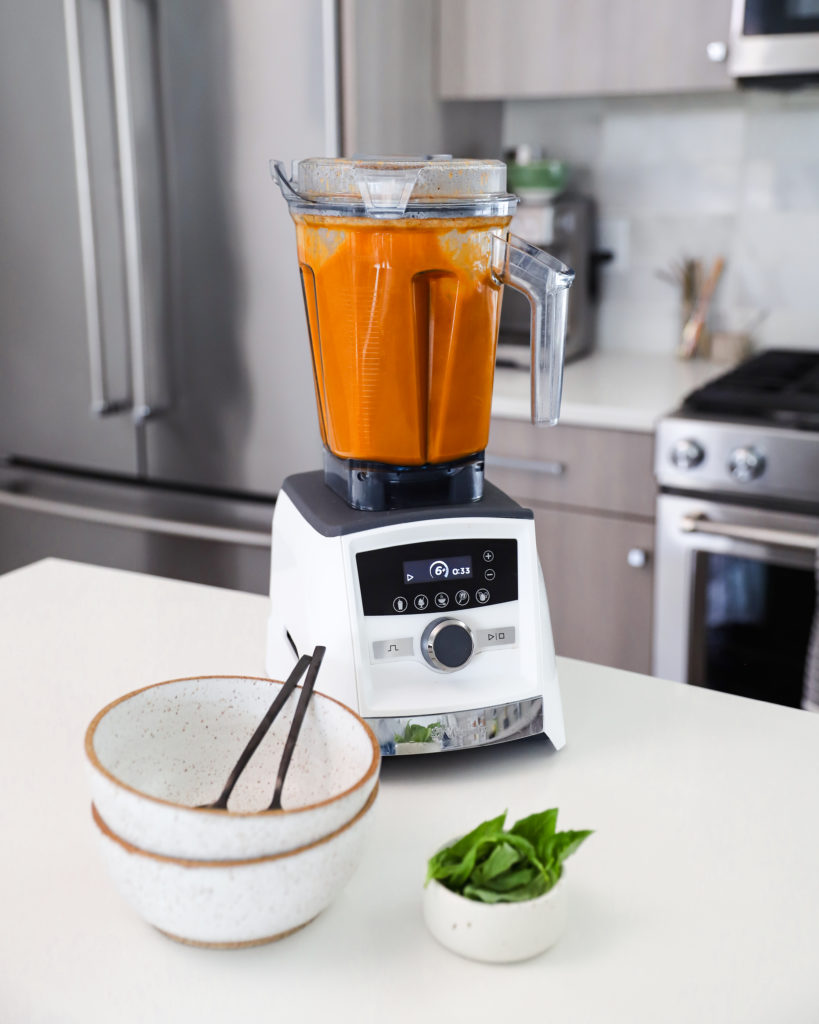 I also have to add, if you're still looking for a Christmas present for any foodie on your list, the Vitamix A3300 would BLOW. THEM. AWAY. It's the ultimate gift in my opinion for anyone who loves to cook. It's one of my most prized possessions, for sure, and definitely worth the price!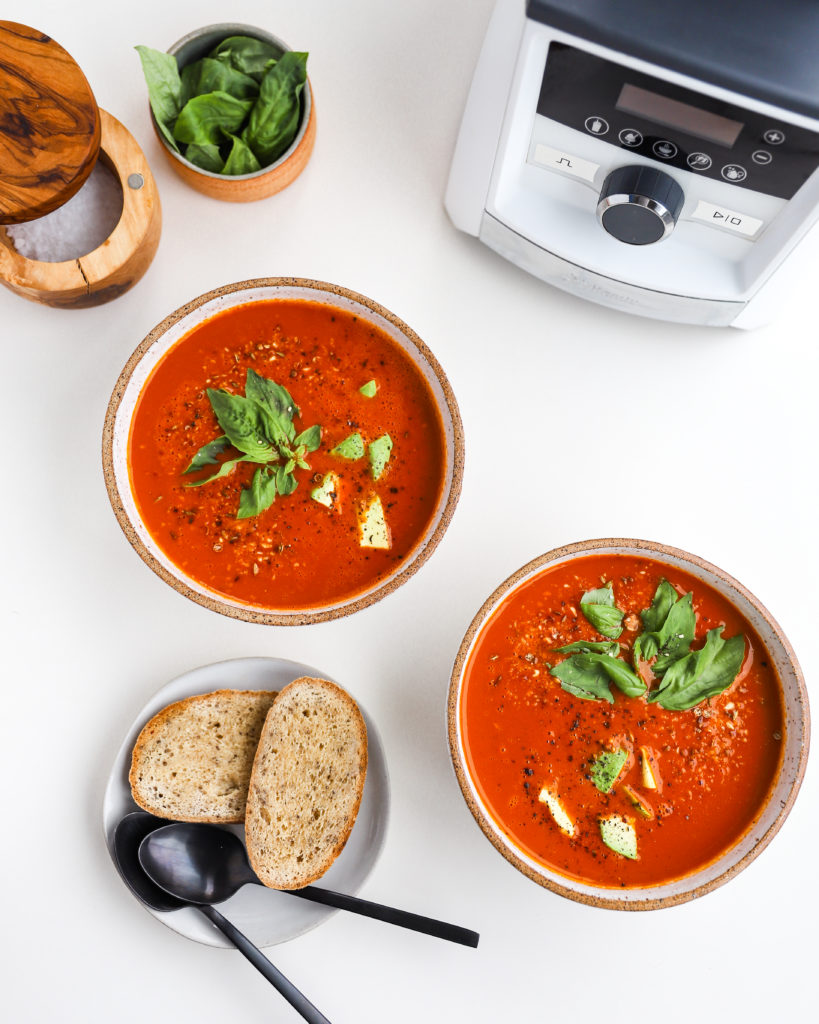 But let's get to it, shall we? Put on your favorite Christmas movie and grab something warm to drink because it is about to get COZY up in here!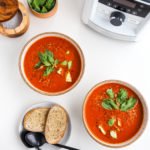 Roasted Red Pepper Tomato Soup
Ingredients
3-4

large

red bell peppers

1/2

yellow onion

4-5

vine-ripe tomatoes

2

tbsp

extra virgin olive oil or avocado oil

1

tsp

sea salt

1

tsp

minced garlic

1.5

cups

organic vegetable broth

(I use low-sodium)

3

tbsp

nutritional yeast

ground pepper, to taste

1/2

cup

fresh basil leaves
Topping
1/2

avocado, diced

1/4

cup

fresh basil leaves
Instructions
Preheat oven to Broil – 500 degrees F and cover a sheet pan with parchment paper.

Slice red peppers around stem and lay flat, skin-side up, on parchment paper. Roughly chop onion, slice tomatoes in quarters and add to parchment paper. Drizzle with oil, sea salt, and garlic, if using.

Broil for 12-15 minutes, or until peppers are starting to char.

Add all contents from sheet pan to Vitamix A3300 blender, along with vegetable broth, nutritional yeast, basil and pepper. Tap the soup function on the touch screen and let blend until smooth (about 5 minutes, 45 seconds).

No need to heat up-- the blender does it for you! Serve with fresh basil, avocado, pepper and a sprinkle of nutritional yeast. Enjoy! 🙂
See how simple that was thanks to the Vitamix? 😉 Now go cuddle up and enjoy yourself some soup!