It seems like every year, there's always a few week-span where everyone and their mother is sick. Have you been hit yet??? If so, were you prepared? No? Don't worry, I got you covered! I put together a list of my absolute favorite products to have on hand if and when that time comes this season.
For me, the worst part about being sick is that I'm usually left with a congested, nasty cough for quite some time following the cold. I had whooping cough and bronchitis when I was growing up, which now causes the symptoms to come back very easily. I'll typically use my inhaler when it gets to this point (eyeroll), but the cold usually goes straight to my chest and I'll immediately become congested.
I try my hardest to stay as natural as I can whenever I develop symptoms of any sort and resort to taking herbs and other natural remedies.
Keeping your immune system healthy is so important all year round so that it's ready to fight off any incoming sicknesses or harmful bacteria. While nearly 80% of your immune system lies within your gut, it's crucial to supply it with everything it needs to stay strong. There are tons of good bacteria that live inside and on our bodies that help us function properly, one of these being live microorganisms called probiotics. Probiotics have a wide variety of health benefits, including aiding in digestion and boosting immune health.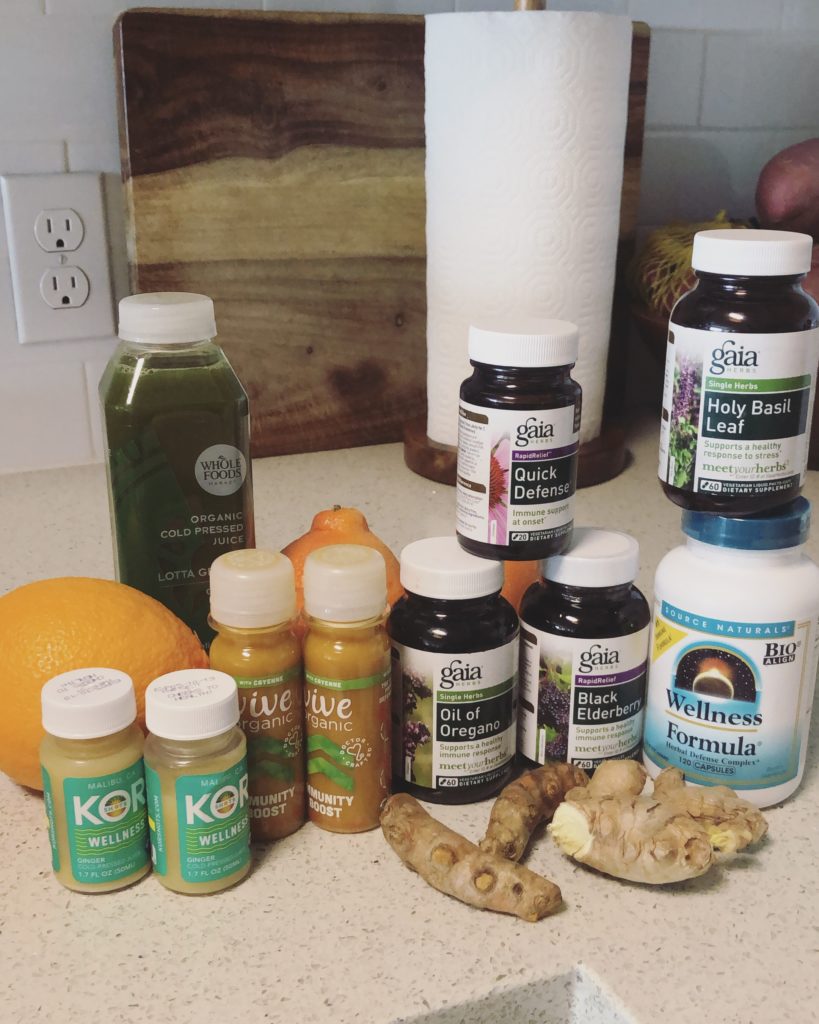 Basically, whenever I feel a cold coming on, I'll run to the store and typically grab these products above. They're lifesavers and have drastically reduced my sick-time in the past!!
1. FRESH ORGANIC ORANGES— these always sound so good & refreshing when you're sick, you know? But for me, I need them to be extremely cold for me to crave them. They're full of vitamin C needed to boost your white blood cells called phagocytes and lymphocytes, which help protect the body from infection. More on vitamin C here!
2. WELLNESS / IMMUNITY SHOTS— you can usually find several brands at the store (Whole Foods is my go-to for these), but I love KOR and Vive shots. Try to get those with anti-inflammatory ingredients like ginger and turmeric. Don't forget that black pepper helps with turmeric (curcumin) absorption!
3. GREEN JUICE— stick with the really green juices when you're not feeling well… in fact, stick with all veg juices in general! Green juices that contain fruit as well are higher in sugar & lack fiber (the skin's are what contain the majority of the fiber, and they're removed during juicing) to slow digestion, in turn, spiking your blood sugar. Go for all veggies, people!! Another tip, a lot of the vitamins/nutrients that are in green juices like vitamins A, D, E and K are fat-soluble, meaning a fat substance must be present in order for the vitamins to be properly absorbed. Try consuming the green juice with a healthy fat like chia seeds, ground flaxseeds, hemp seeds… you can always blend the juice with these. OR pour in 1/2 tbsp of coconut oil, flax oil, avocado oil or extra virgin olive oil to your drink, give a shake and you're good to go! Another idea is to use these green juices as the liquid base to your smoothies.
4. FRESH GINGER AND TURMERIC–– these both contain anti-inflammatory properties and great to throw a chunk into your smoothies, hot tea, soups, curries, etc.
*I love making this hot tea in the morning or before bed:
– 1 tbsp Wedderspoon apple cider vinegar with manuka honey
– 1 tbsp fresh lemon juice
– 1 peeled chunk of fresh ginger
– 1 peeled chunk of fresh turmeric
– 16oz boiling water
—-> pour boiling water over the top of the above ingredients in a mug and let steep for 5-10 minutes before drinking.
5. WELLNESS FORMULA— first of all, TONS of recs regarding this product!! Contains many antioxidants and nutrients that work to boost the respiratory system.
6. GAIA HERBS— One of my personal favorite brands for all things supplement-related. You need to be fully stocked with their elderberry syrup, oil of oregano, quick defense and holy basil leaf. Trust me, they help!! The flowers and berries of elderberry plants (blue and black) contain flavonoids, which have been found pre-clinically to possess a variety of biochemical and pharmacological actions, including antioxidant and immunologic properties that have shown benefit in treating influenza, bacterial sinusitis, and bronchitis (source). I make sure to take Black Elderberry several times per day to reduce my symptoms.
Local elderberry is also super beneficial. Another favorite local brand is Seattle Elderberry. They ship, too!
7. STEAM TENT— This is honestly life changing if you're having sinus issues. As soon as I get a runny nose and the congestion starts forming in my chest, I immediately make a steam tent. It's a great way to relieve pressure in the nasal canal and also allows you to sweat out toxins in your own makeshift sauna. It leaves you feeling detoxified, exfoliated and relaxed. And tbh, it's like a steam facial, so make sure to wash your face before you do this and your face will feel AMAZE & so glowy afterward.
*How to: Boil a large pot of water. Add 2 tbsp Franklin & Whitman's Botanical Steam mixture (and/or essential oils– I like adding a few drops of peppermint, lavender and/or eucalyptus oils) to a large bowl and pour the boiling water over herbs/oils. Lean over the bowl, lay a large towel over your head, close your eyes and breathe in deeply / inhale the steam through your nose for about 10-15 minutes.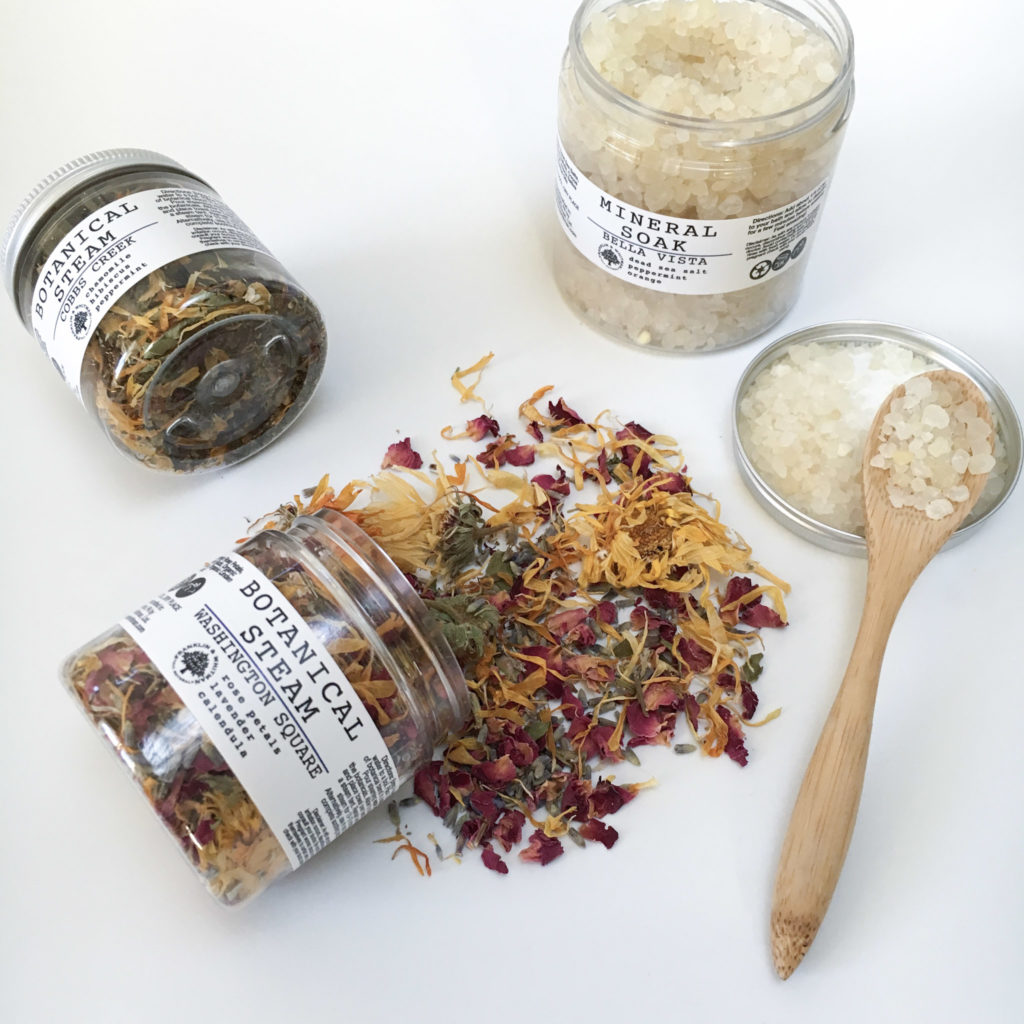 (Franklin & Whitman products are all-natural, plant-based, cruelty-free and 5% of EVERY purchase is donated to Dog Rescue organizations! You can use my code, 'GOODEATS' for 20% off your orders)
8. EZC Pak— I love this pack of echinacea, zinc and vitamin C. This herbal remedy has shown to treat and shorten the duration of colds. This is also great to take during travel, stressful times, or lack of sleep when our immune system function is at its weakest.
9. WEDDERSPOON MANUKA HONEY DROPS— These are my GO-TO immune-boosting drops, similar to cough drops, but much healthier. Great for cold, flu and allergy season. My favorite is the eucalyptus or ginger. They taste surprisingly delicious and nothing like the generic "cough drops" on the market. I try going more natural with these instead! Wedderspoon's Manuka honey is also one of my most used "supplements" during fall and winter.
10. ZOE ORGANICS BREATHE BALM— Obsessed with this stick and put it on my chest, neck and soles of my feet at night to help breathe a bit easier /  soothe my cough. It's made with organic essential oils of eucalyptus, tea tree, lavender and cedar
11. ESSENTIAL OIL DIFFUSER / ESSENTIAL OILS— I got my first oil diffuser a few years ago and love it. Not only does it help me relax and unwind at night, I make sure to take advantage of it whenever I'm feeling under the weather. Essential oils are great for clearing sinus issues and have even been known to treat allergies & sinus infections.
I have a few different concoctions using my essential oils–
eucalyptus, tea tree, peppermint
eucalyptus, lemon, peppermint
lavender, peppermint, oregano
12. SLEEP— This one is probably most important. Aim for anywhere between 8-10 hours a night, especially when you're feeling less than adequate. Lack of sleep hinders your immune system– so you should be bumping that number UP anytime you're not fully well. When your body is feeling run down it's telling you that you need a break & should rest!!

---
References:
– Ulbricht, C., Basch, E., Cheung, L., Goldberg, H., Hammerness, P., Isaac, R., … Wortley, J. (2014). An Evidence-Based Systematic Review of Elderberry and Elderflower ( Sambucus nigra) by the Natural Standard Research Collaboration. Journal of Dietary Supplements, 11(1), 80–120. https://doi.org/10.3109/19390211.2013.859852