This post is sponsored by Weber and all opinions expressed are always my own 🙂
After getting this brand new Weber Genesis II S-335 gas grill I can confidently say that grilling season will now be ALL. YEAR. LONG. Let's just say I've been a fan of mastering my parent's grill in years past and can't even begin to describe how excited I am for my own!
I've partnered with Weber this season to show that grilling doesn't have to be difficult– it's actually quite easy, and more importantly, it's fun and completely elevates the flavor of your favorite foods! When I first began grilling, I remember feeling slightly intimidated because I didn't know how to work the grill, how long to cook the meat, how to cook for best sear/prevent sticking, etc. But honestly, with the ease of Weber grills, you can become a pro in no time. It's so simple to use & easy to clean, not to mention getting to utilize the Weber Grills App (what a time to be alive). It's an awesome resource that provides instructions to help set up your new grill, offer hundreds of recipes, and step-by-step grilling instructions on how to prepare the perfect meal.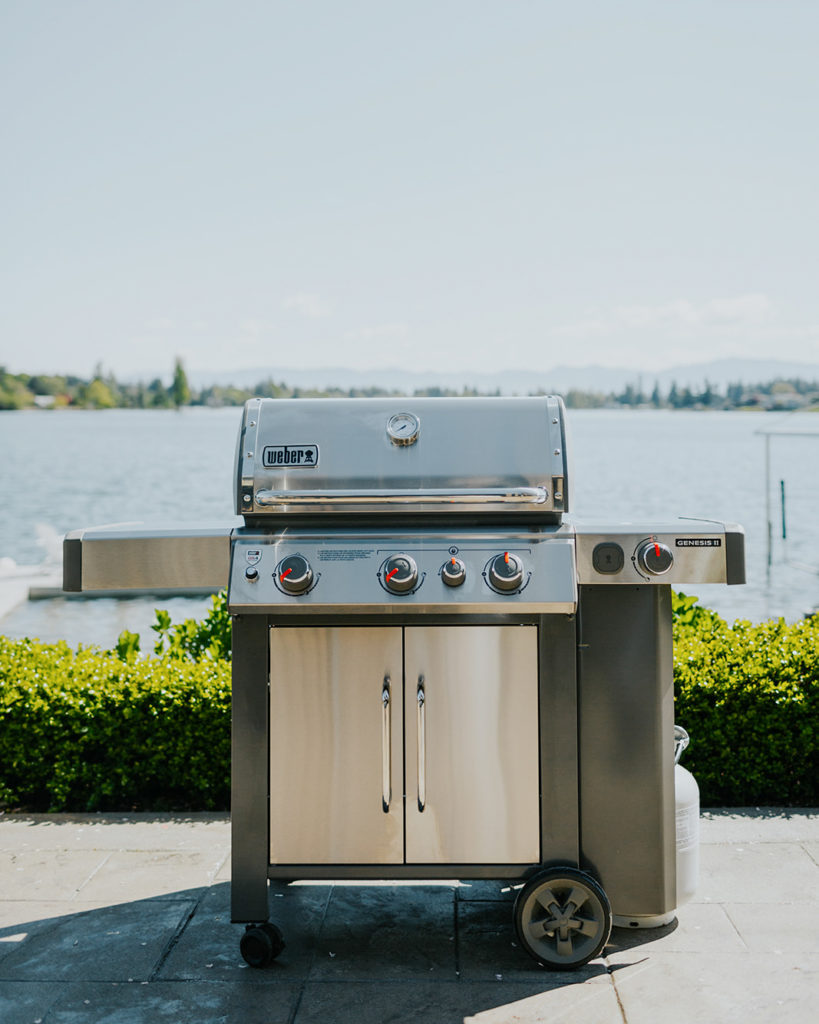 I've actually never had a smoother experience putting together an appliance / grill and that's because the directions were in 3D with audio & photos to make it more seamless. I mean, how could you ever use a paper manual after that???
In regards to the Genesis S-335, it basically has all the features you could possibly need. Stainless steel burners, two side tables, a tuck away warming table, durable wheels, six tool hooks on either side, a grill cabinet with stainless steel doors, and it's even iGrill compatible. The iGrill is an app-connected thermometer that literally takes the guesswork out of cooking. If you're unsure of when to take the meat off the grill, this is definitely for you! It notifies you on your smart device once the food has reached the perfect temperature to serve. *sold* All in all, you can tell they care about quality materials with their grills and I am FULLY here for it.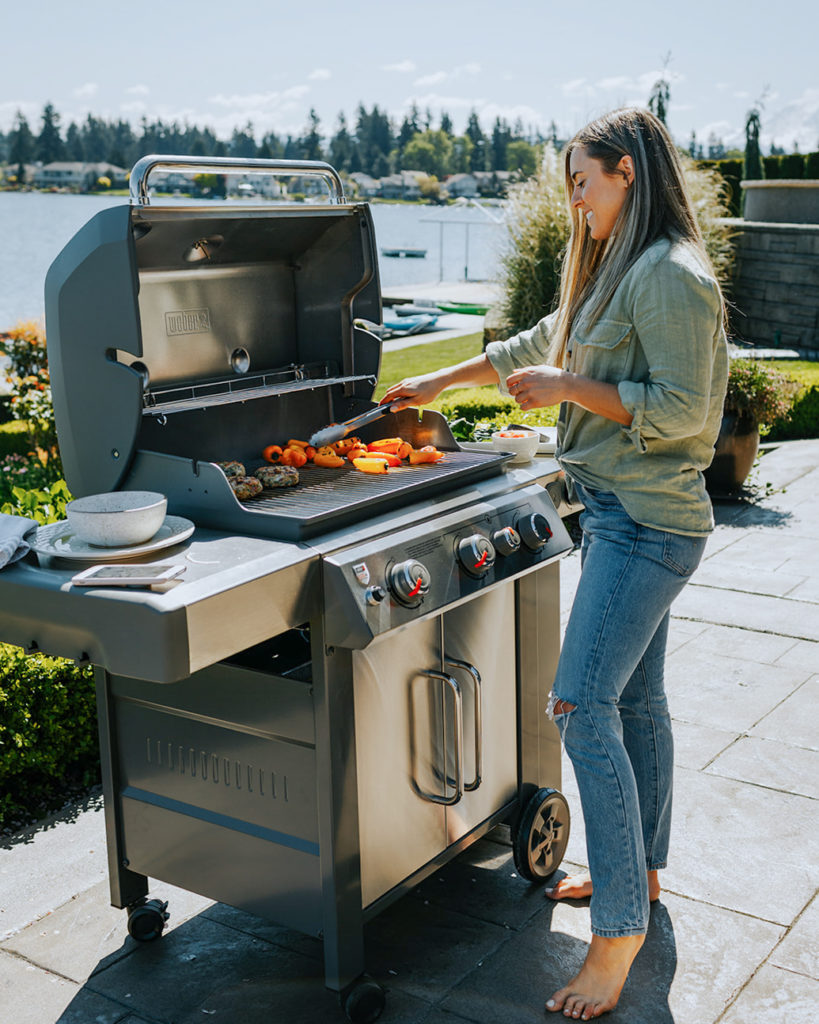 Whether you're new to grilling or feel like you need some helpful info to get you started with your grill, I've put together 7 of my best grilling tips to help make it a little easier for you 🙂 Here we go…
Tips for easy grilling:
Make sure you preheat the grill first and allow it to fully heat up before using (about 15 minutes). Doing this ensures that food (especially meats) won't get stuck to the grate!
Make sure to keep your grill clean, always! Keeping your grill clean will not only motivate you to use it more often, it will ensure that it stays in top shape longer and prevent any flare-ups from happening. After you preheat the grill for 15 minutes, use the stainless steel brush to remove any remaining food pieces from the grates.
Always put your cooking oil on the food directly, not the grill! When cooking with healthy oils (I love using extra virgin olive oil or avocado oil), make sure to put the oil directly on the food, not the grill. This adds flavor, prevents the food from sticking, and is a great source of healthy fats.
Keep a lid on it! It allows heat to circulate, cook food evenly and without flare-ups. Every time you lift/open the lid, except when instructed to in a recipe, you add extra cooking time.
Make sure to check the grease pan/clean it out after each use.
Keep foods separated and prep before hand. Cut up all your veggies, and keep veggies separate from any animal proteins.
Veggies are a great place for grilling beginners to start! Chop up any veggies you like and toss with some extra virgin olive oil, black pepper, and pink salt in a large bowl. Feel free to add them onto skewers or cook right over the stainless steel grates on high heat. Squash, zucchini, or onions will take anywhere from 5-10 minutes, while asparagus will only take 3-5 minutes. Sliced tomatoes are also delicious on the grill, and are done in just 1-2 minutes 🙂 Talk about fast food, am I right?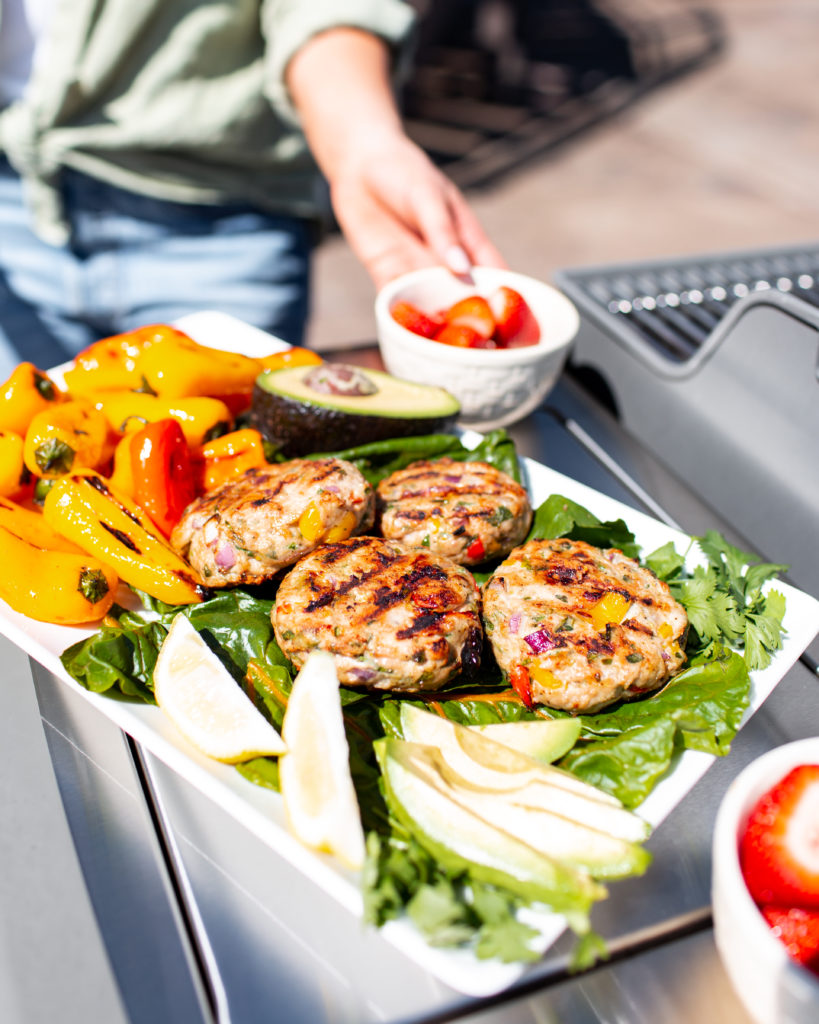 Recipes:
Today, I've made my famous organic turkey burgers & some grilled baby bell peppers on the side. Add some fresh organic greens, avocado, and some roasted potatoes and you have yourself a staple meal this summer!
Organic Ground Turkey Burgers
Ingredients:
1-lb organic ground turkey
½ bell pepper, diced
3 tbsp chopped sundried tomato
1 cup packed spinach, finely chopped
3 tbsp crumbled feta cheese (optional)
¼ cup red onion, diced
1 tbsp fennel seed
1 tsp italian seasoning
Ground pepper, to taste
Pink salt, to taste
1 tbsp avocado or extra virgin olive oil
Directions: combine all ingredients in large bowl. Form into patties, about ¾-inch thick. If it's any thinner, it's likely to dry out before a nice crust develops on the outside. Lay flat on clean plate and drizzle oil over the top. Once grill has preheated to 500 degrees F, using tongs, transfer patties to grill and cook about 6-8 minutes either side (with the lid closed), or until you can lift the edge of the burger using a spatula without the patty breaking/falling apart. If it sticks to the grate, you know it needs more time.
Some key burger tips:
Burgers tend to puff up in the middle as they cook, making the tops rounded and awkward– a good tip to avoid this is by pressing a little indentation into the center of the patty with your thumb or the backside of a spoon. Then, when the center puffs up, the top of each burger should be relatively level. Also, you should only flip the burger ONCE, and only when it's ready to flip.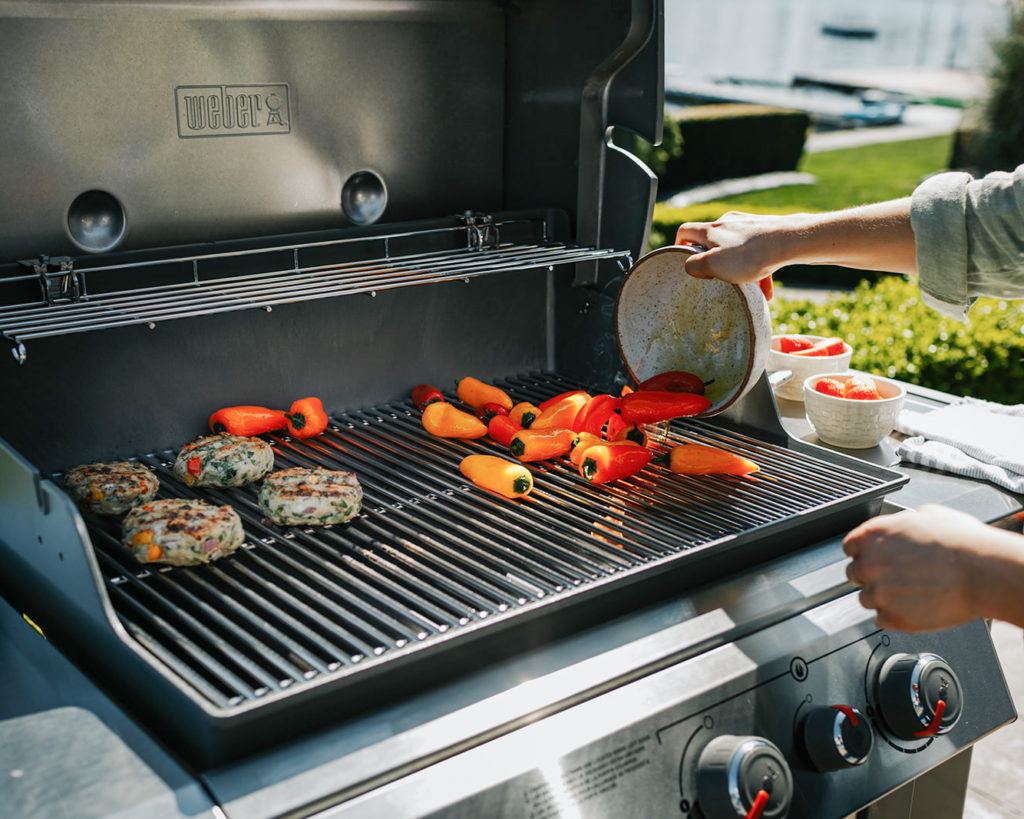 Grilled baby bell's
Ingredients:
1 large bowl baby bell peppers
2 tbsp extra virgin olive oil
Ground pepper, to taste
Pink salt, to taste
Directions: Toss bell peppers with olive oil and s + p and let marinate for 5 minutes. Once burgers seem to be almost done cooking, add the bell peppers to the other side of the grill and close the lid. Cook about 4-5 minutes either side, or until you see grill marks / the peppers become tender. Enjoy!!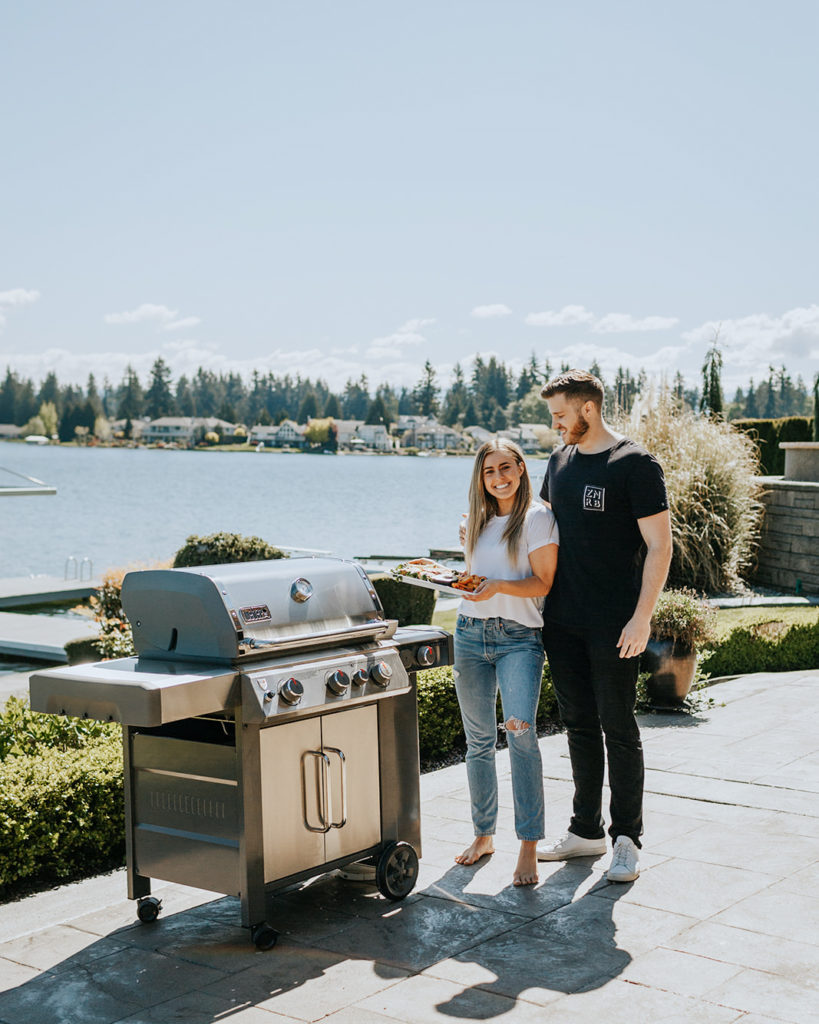 I'm hoping you can see from this post that grilling doesn't have to be intimidating. I'm beyond happy with *my* new grill (let's be real, I'm the one who will be out there all summer instead of Bridger). I know Weber is purpose built and I can't wait to start creating more recipes using my new grill!! Click here for more info on all things Weber grills 🙂
xxRachael
*All photos by Gina Paulson 🙂