Okay, so it's obvious I spend the majority of my time in the kitchen…no secret there. Over the years I've found out which pots, skillets, pans, dishes I can't live without. And though I'm always in the business for new finds, these are my favorites at the moment and I've linked them below!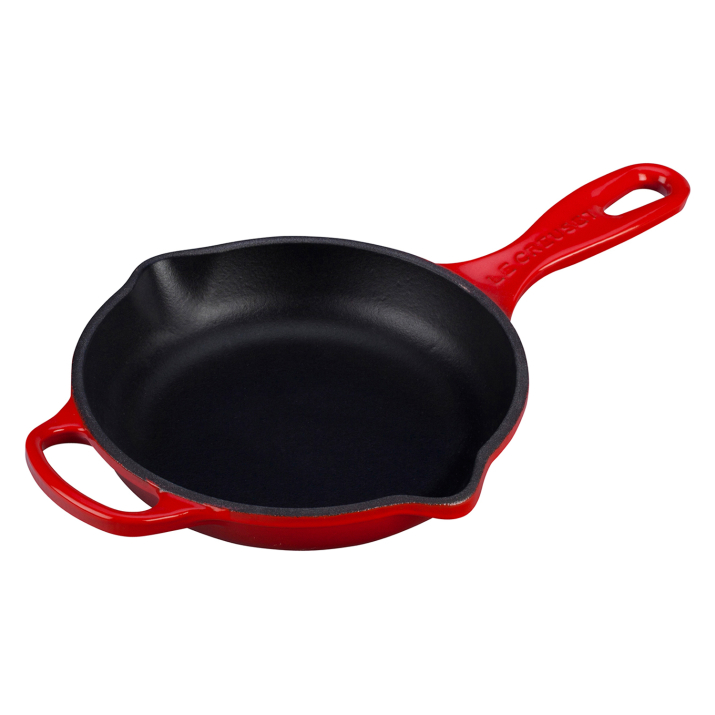 Le Creuset Signature Skillet: This skillet basically lives on our back burner– I have the 9-inch, but honestly, I'd be happy with the 10 1/4-inch since I use it so much and could use the extra space sometimes. It's the best! It's a cast iron, but don't be overwhelmed as it doesn't need to be seasoned (more on how to care for your cast iron HERE). Plus, it will last seriously forever if you take good care of it. Extremely durable and well worth the $$ in my opinion. Also so ideal for extra crispy fried eggs– any cast iron, really.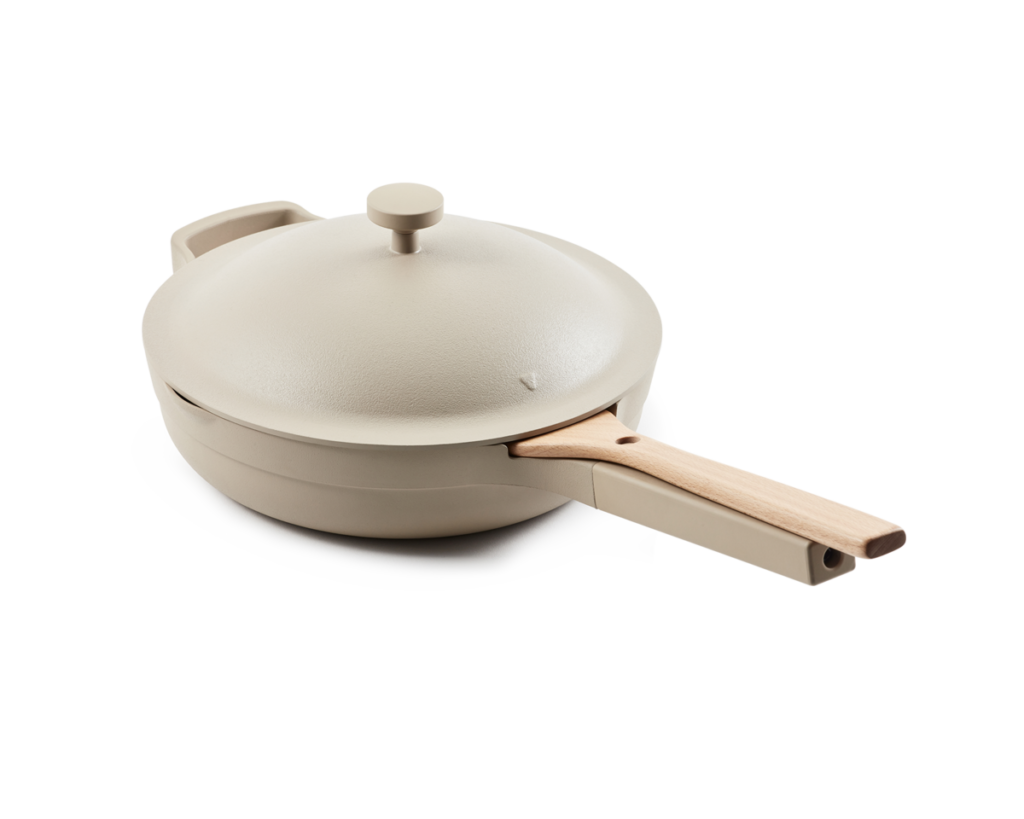 Our Place Always Pan: this is the newest addition to our collection and I'm fully obsessed. It has a non-stick cast-aluminum base, is non-toxic, has a pour spout, is deep enough for a spaghetti sauce, yet shallow enough to sautè whatever you want, includes a steam basket, has a resting handle situation that's brilliant… it's the best! Definitely worth the $$. Plus, I'm obsessed with this neutral color (steam from their website). Use RACHAEL10 for 10% off their entire website.
These Le Creuset braisers are amazing, I use these daily for our dinners. I have the 3.5L and again, a big investment, but they last forever and work so well. I found a more affordable option by Lodge here.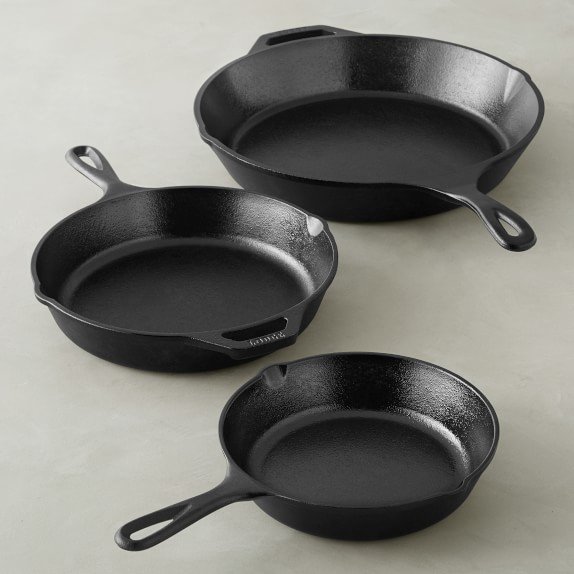 Lodge Cast Iron: I use this 12-inch cast iron whenever I'm cooking a large serving or bigger meal. This was actually my first ever skillet and I really do love it. It's on the heavier side, is very durable and has one handle on either side (one long & one short for easier lifting and transferring). Unlike Le Creuset, Lodge skillets are very affordable and you can buy anywhere from Target and Amazon to Williams Sonoma. They take a little bit to warm up & get hot, so wait to put your food in until then. When you're looking to clean your cast iron, I recommend extra hot water, no soap, and either a firm brush or a chainmail scrubber. Don't leave it wet once clean, wipe dry, then coat with a thin layer of avocado oil over entire skillet using paper towels. P.S. this 12-inch cast iron works like a CHARM when you double the batch of my Cashew Chocolate Chip Cookie Skillet 😉 You're welcome.
I just found a Lodge 5-Piece Bundle on Amazon for $70! Click here.
Cuisinart: I found this 12-inch skillet at a local Market here in Seattle for a very reasonable price, I think $45. It's stainless steel, oven safe up to 500 degrees F under the broiler, dishwasher safe, has an extra handle for easy mobility, and this one includes a lid! I'm obsessed with this clean looking stainless steel skillet. I typically use it for cooking/sauteing enough food for two. Very easy to use– make sure to add enough oil so that the food doesn't stick– and when you're wanting to clean stuck-on pieces, add some water to the skillet and turn the heat on medium. Gently remove with silicone or wooden spatula/spoon.
I just found a 7-piece Cuisinart stainless steel set on Amazon for $70! Click here. And a 12-piece set for only $214.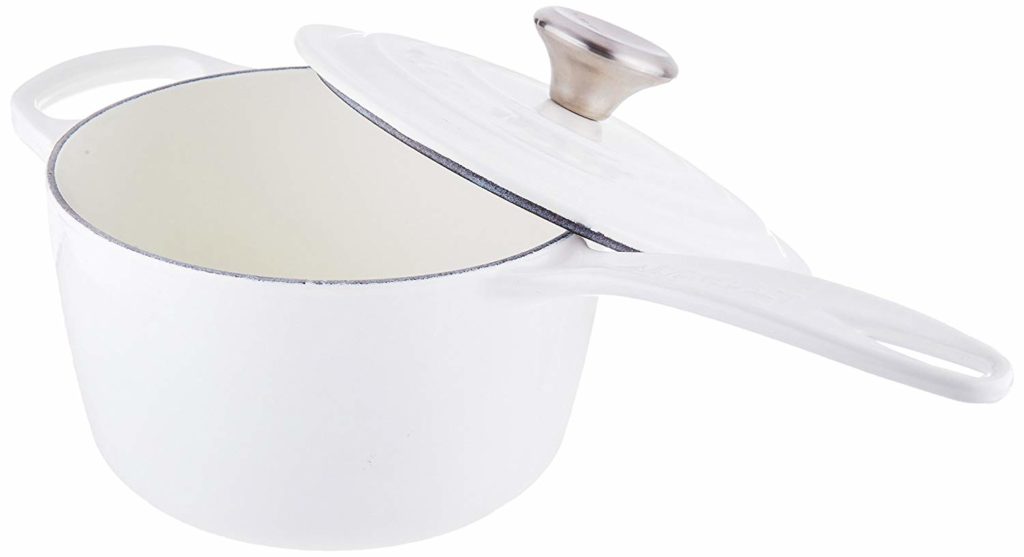 Le Creuset: As for pots, I typically use this signature 1.75 quart saucepan for smaller batches of things, i.e. caramel sauce, 1-2 servings of pasta, heating water, etc. I also have and love their 5 1/2 qt. signature round Dutch oven. If you're interested in both of these and the Le Creuset signature skillet above, I would recommend getting the set of 3 altogether. Again, these are on the more expensive end, but they're the highest of quality, will last forever (something you can pass down), and work so great!
I also had a set of the Original Green Pan, but honestly wasn't overly impressed– food started to stick on the two skillets I used every single day. It seemed like the more wear and tear just didn't hold up after a handful of months. Fortunately, I still use 2 of the pots in the set and they're great! I'm sure it's because they're not in my heavy rotation.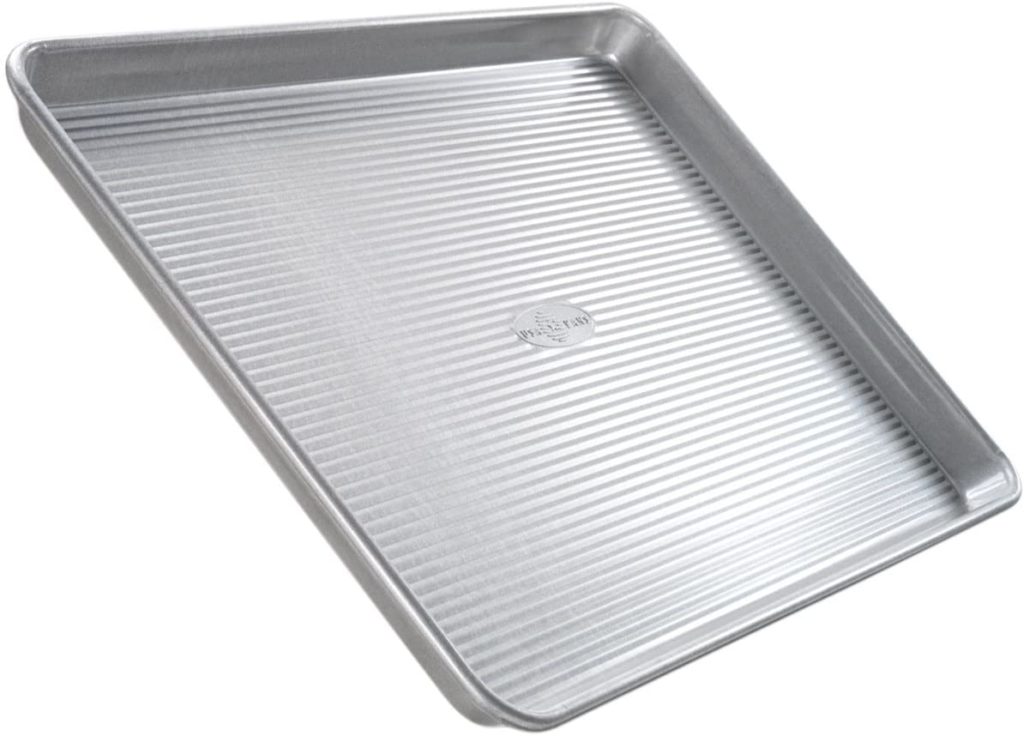 As for sheet pans, I use USA Pans. Nonstick and durable for anything baking-related!
SHOP THE POST