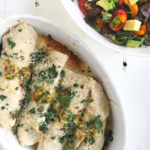 Tomatillo Enchiladas With Homemade Tomatillo Sauce
Total Time
6
hours
20
minutes
Ingredients
Homemade tomatillo sauce:1-2 tbsp olive or avocado oil1.5 lbs tomatillos1 sweet onion

sliced3 jalapeños1/2 cup cilantro1 tbsp minced garlic1/2 lime, squeezed

Enchiladas:4 chicken breasts or thighs4-5 tortillas

or more depending on people (I use Siete grain-free tortillas)3 tbsp chopped cilantroGrated goat cheesePepperRed pepper flakes
Instructions
Soak tomatillos in warm water for 15 minutes, then remove skin. Cut into quarters and add to bowl with sliced onion.

Cut jalapeños in half, remove seeds and wash.

Heat large skillet on medium with 1-2 tbsp olive or avocado oil until hot, but not smoking. Add tomatillos, onion and jalapeño to the skillet and sauté for 5-7 minutes.

Blend sauté in high-powered blender with cilantro, garlic and lime juice. Add tomatillo sauce to slow cooker along with organic chicken thighs + breasts (whatever your preference-- I did both) and cook for 4-6 hours. Shred once done.

To make enchiladas, heat tortillas over an open flame for 10 sec each side. Stuff with chicken mixture (light on the liquid) and roll into oiled baking dish. Top with cilantro, grated goat cheese, pepper & red pepper flakes. Bake at 350 degrees F for 15-20 minutes.