Ghee. Is it butter? Is it healthy? …What is it?
Ghee is a clarified form of butter that has been used in cooking for thousands of years. It's produced by simmering butter until all milk solids have separated, leaving a golden, nutty and rich healthy fat. The difference between clarified butter and ghee is that ghee is cooked a bit longer, evaporating more moisture. This creates a longer shelf life for ghee, in addition to the more potent flavor. Ideally, ghee is made from grass-fed butter, something you should look for when purchasing.
GHEE BENEFITS
During production, the casein protein and lactose are removed. Most people who have a casein allergy or intolerance to the milk sugar, lactose will be able to consume ghee without any issues. Common symptoms of lactose intolerance include gas, bloating, diarrhea, indigestion, skin troubles, etc. Casein allergy symptoms include swelling of the lips, mouth, tongue, face, or throat, skin reactions, such as hives, a rash, or red, itchy skin, nasal congestion, coughing, wheezing.
Some say ghee has a more intense "buttery" flavor than regular butter
Has a high smoke point, meaning it can cook at higher temperatures without burning and/or smoking. It's important to look at a fat's smoke point, as cooking above that threshold can increase oxidation, therefore producing harmful free radicals
The smoke point of ghee is 485 degrees F vs. butter that is 350 degrees F. This makes ghee ideal for pan-frying or cooking basically anything in place of other fats like butter, coconut oil, olive oil, avocado oil, etc.
Contains fat-soluble vitamins like vitamin A, powerful antioxidant that supports immunity and skin health, vitamin E that helps repair damaged skin, fights free radicals, and promotes heart health, and K, which is important in bone health and normal blood clotting/wound healing
Contains conjugated linoleic acid (CLA), a polyunsaturated fat found to be associated with a number of health benefits, such as reduced inflammation and decreased fat mass
Contains a greater amount of short- and medium-chain fatty acids compared to regular butter
Considered paleo
HOW DO YOU USE GHEE?
Being lactose intolerant myself, I haven't used butter in my cooking in… I can't even remember how long. And just up until about two years ago, I feared fat. SO, ghee is pretty new to me and my diet and I'm loving it! I typically use ghee to saute with certain veggies (broccolini is my current favorite), spread on toast, and use in my baking. Ghee has also been very popular in Indian and Southeast Asian cooking for thousands of years; ideal for curries, sauces and other slow-cooked meals.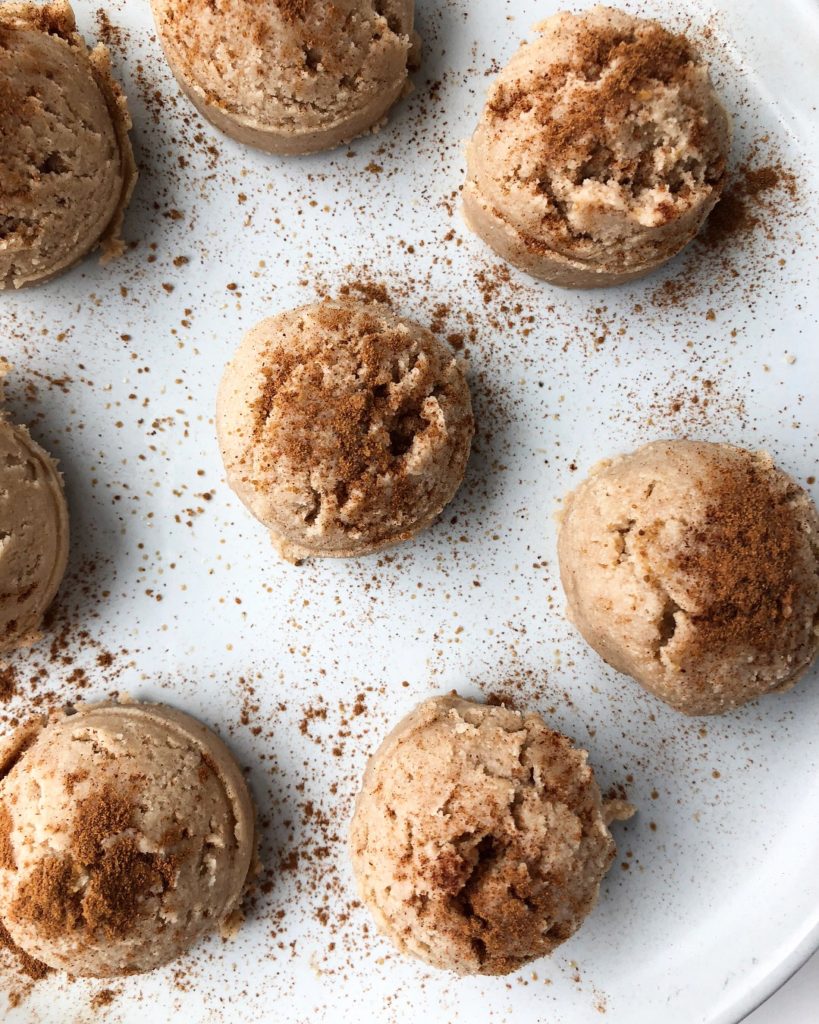 Have you tried my cinnamon fat bombs yet? I use vanilla ghee in them!! They're the perfect "anytime snack" or "treat."
Bulletproof Coffee:
Ever thought about swapping your coffee creamer for ghee? It's all the hype on the ever so popular Bulletproof diet.
GHEE VS. BUTTER
When it comes to deciding which is healthier, ghee or butter, let's break it down.
Ghee Nutrition:
Per one tablespoon serving of ghee,
112 calories
0g carbohydrates
0g protein
12.7g fat
0g fiber
Butter Nutrition:
Per one tablespoon serving of grass-fed butter,
100 calories
0g carbohydrates
0g protein
11g fat
30mg cholesterol
0g fiber
Although ghee contains slightly more calories + fat compared to plain butter, it has many of the same nutrients that butter provides, but without any dairy proteins or sugars. For this reason, it would be the better choice for those sensitive to milk protein. Ghee is also great for cooking at higher temperatures and adding great flavor!
Side note– even though ghee and butter contain fat soluble vitamins, neither are enough to supply your recommended daily amount! Make sure you're getting in other ways from both food and supplements.
*also make note that ghee is not vegan.
WHAT TO LOOK FOR / HOW TO MAKE YOUR OWN GHEE
If you're thinking ghee may be too expensive to purchase, try making yourself! It's super easy– but again, you want to make sure you're buying grass-fed butter as step 1. Animals need real grass in their diets to make CLA. Plus, you'll get less toxins like hormones and antibiotics when you purchase grass-fed compared to the conventional options!
Click here for a simple how-to recipe for making ghee.
https://blog.bulletproof.com/how-to-make-ghee/
When purchasing ghee, look for organic, grass-fed to make sure you're maximizing the amount of nutrients you're getting.
I've linked my favorite go-to ghee's below! Enjoy!

SOURCES:
https://www.ncbi.nlm.nih.gov/pubmed/22452730
https://www.ncbi.nlm.nih.gov/pubmed/22648724
https://www.ncbi.nlm.nih.gov/pubmed/18641180
https://www.ncbi.nlm.nih.gov/pubmed/17490954