Print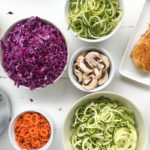 Shredded & Fried Buttery Brussels With An Egg + Avocado
This is such a great meal anytime of day. Greens + fats + protein!
In a skillet on medium, heat the ghee then add the shredded brussel sprouts to toss for about 5-7 minutes or until browned. Add to plate and set aside.

Add oil to skillet to warm, then crack the eggs. Heat until whites are cooked. Place over the top of the brussel sprouts and serve with goat cheese, avocado and tomato.

Enjoy!