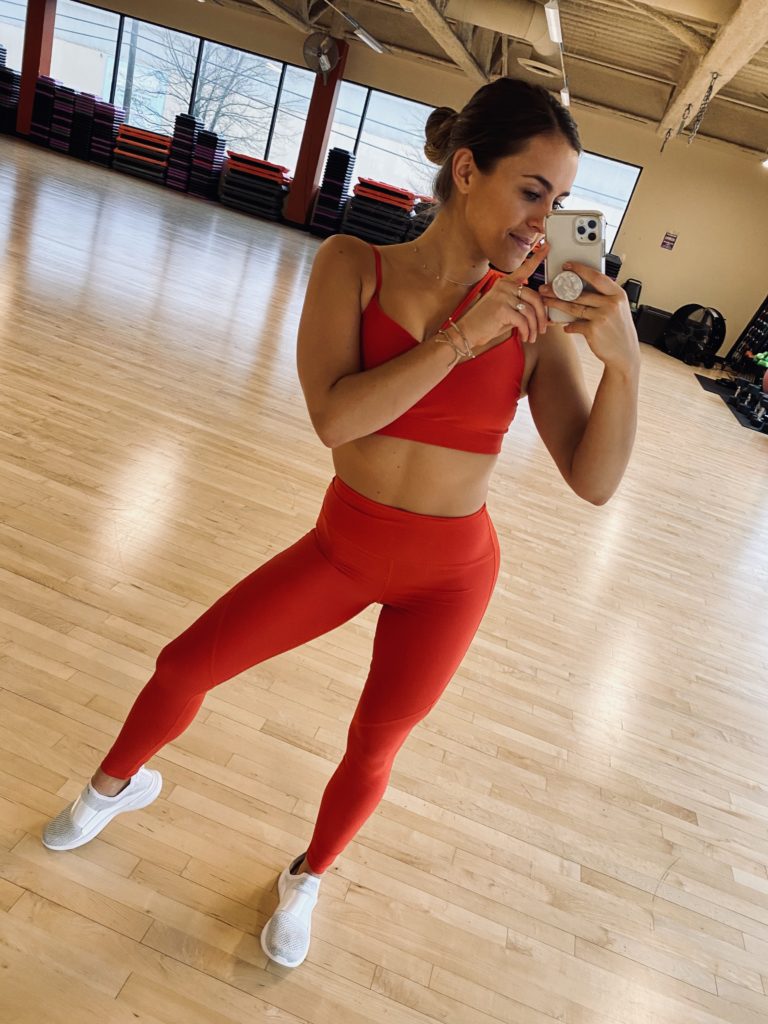 If you live in a place that's anything like Seattle from November-April, I FEEL YOUR PAIN. We've now tied the record for most days in a month with measurable rain 28 out of 31 days in Jan– which also happened in January 2006 and January 1953. So that's where I'm at right now lol… Gloomy & rainy, with most days being light out from 9am-4pm. It's crazy this is where we choose to live, but I'm convinced the summers here make it worth it.
Let's just say with the weather, motivation is HARD to come by in the winter time, but I rounded up a list of ideas to hopefully help you stay on track with your health & fitness goals because 2020 is YOUR YEAR! Let's do this!!!
We ALL need a badass pair of workout clothes + shoes to really kill it in the gym. I love Carbon38, Zella, Alo and some Gymshark. Check out my favs below.


Tunes: I don't know about you, but a good playlist can literally get me through any kind of slump at the gym. Click here for my brand new GOOD SWEAT VOL. 2 playlist!
Fitspo: Following the right fitness accounts on IG can really be a huge help when it comes to lighting that fire under your tush and getting yourself to the gym. Follow people who give you inspiration, who motivate you and leaving you feeling positive after leaving their page. I know I've said it before, but you're 100% in control of where you consume your time on the internet. Don't waste it following people who leave you feeling bad about yourself or don't get stuck in the comparison trap! Some of my favorite fitspo accounts are @evolve.nation, @krissycela, @kelseywells, @annavictoria and @whitneyysimmons.
Set yourself up for success! Whether that's meal prepping, planning where you're going to eat out/what you're going to make for the week ahead, or keeping junk food snacks & treats out of sight, no one is going to put in the work for you when it comes to living a healthy lifestyle. You have to be the one to think ahead, plan and be ahead of the game!
Lay your clothes out: OK, I know this sounds very high school (I definitely did this all throughout school), but I'm telling you it helps. Once you have your workout clothes picked out & ready to go, it's that much easier to physically get out the door, which is by far the hardest part of getting your workout in.
Shop: make a point to hit the grocery store 2-3x a week so your fridge is never empty and therefore you won't rely on Ubereats, takeout, fast food, etc. This is actually my weakness because I love the grocery store and because we live within walking distance of Whole Foods, Trader Joe's and the farmer's market on Sunday's haha. But I like going often because then I'll only buy fresh ingredients I know we're going to eat so it decreases our food waste.
Stay organized: to me, keeping the house clean is basically the same thing as keeping your mind decluttered. Make it easy on yourself and pick up as you go, make your bed in the mornings– the best feeling, and make sure you have a clean creative space to let the juices flow, get work done & relax at the end of the day.
Experience a sunrise: In ANY form lol. No one likes to wake up when it's still pitch black out, which is why I definitely recommend trying out this simulated sunrise alarm clock to ease the process. I've had it for years now and it works like a charm! Definitely helps brighten the room when it's time to pull yourself out of bed.
Get a girlfriend (or boyfriend) to be your accountability partner! This helps, trust me! It can really put the pressure on–in a good way– to help you make it to the gym on time in the morning, after work when you don't necessarily feel like stopping on your way home, or on the weekends. Motivate each other and be there for support! Push each other!
Set & write down goals: doesn't matter big or small, the point here is to make them clear and concise so you know what you're working towards! Make sure each goal is challenging, yet attainable and try telling a friend or family member to increase the likelihood you'll actually follow through. It can help to have Sunday's be the day to reflect on your goals- these can be the same ones each week but make sure you're going in the right directions.
Plan a trip: if you're willing and able, this could be what you need to get in the zone ready for your trip! I love a good countdown to time in the sun, ESP during this gloomy Seattle winter.
Sign up for hot yoga: I tend to go through phases with taking classes near me, but once I get locked in with hot yoga I look forward to it once a week! In the colder months I love going in the evening– such a good time to relax after a long day, warm your muscles, stretch, get sweaty. Try it out!
Make a to-do list: This SAVES me on days I have so many things to do I don't even know where to start. You can find stationary anywhere- I got mine at The Container Store surprisingly, but get very detailed lists. I'm talkin, "To-Do, To Email / Call, To Buy, Don't Forget." We need all the lists here. Makes things so much more organized of what needs to get done and in what order. Huge motivator and something I love to make sure I'm staying productive throughout the day.