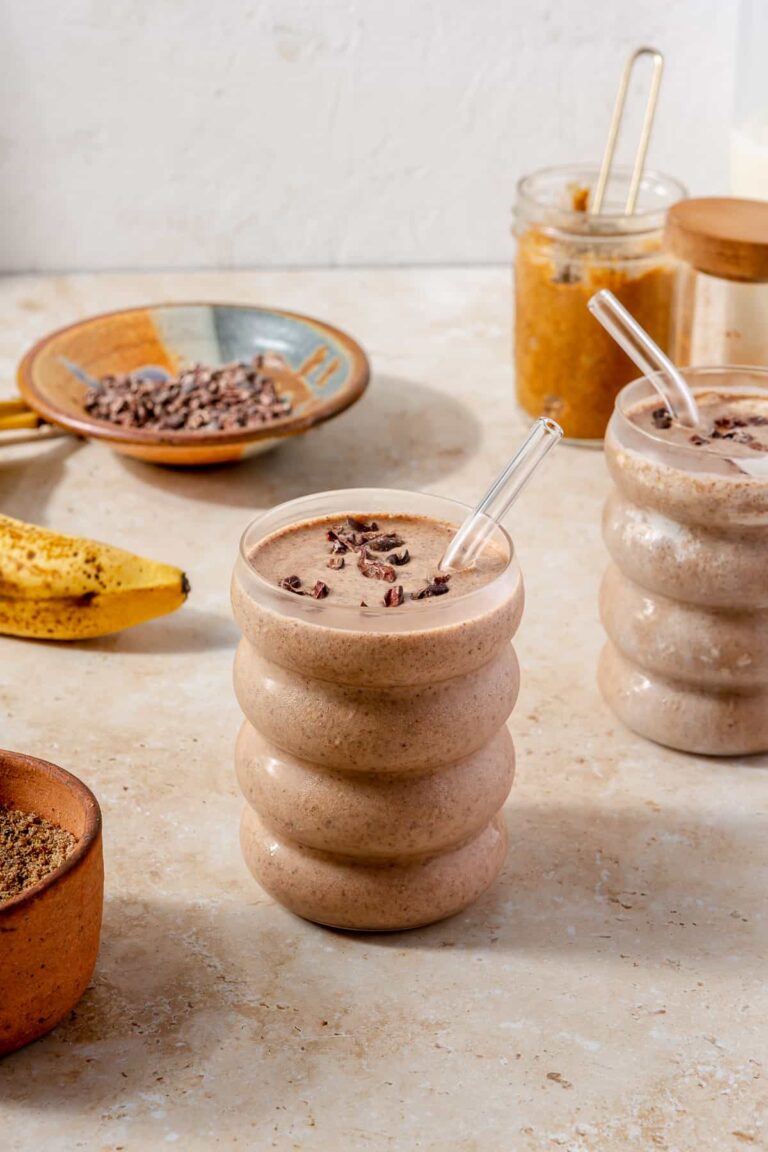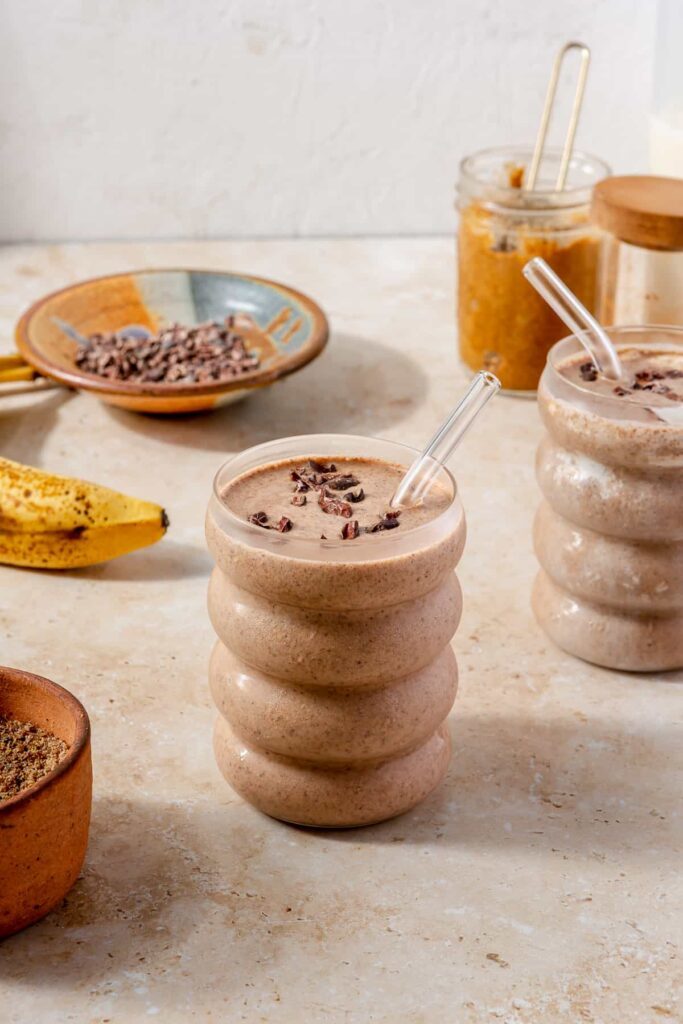 I think it's safe to say we're all nostalgic for the snickerdoodle cookies from our childhood. What did they put in those to make them so delicious, so addicting? Actually, turns out they were loaded with refined sugar and inflammatory oils.. yikes. Luckily, our snickerdoodle's can glow up with us into adulthood, and we can still have all the enjoyment of those sweet & spiced cookies without any of the sugar crash. And, we can have it for breakfast. Yeah, I said it! Introducing one of my all-time favorite smoothies, Snickerdoodle Chip. Get ready to satisfy your nostalgia!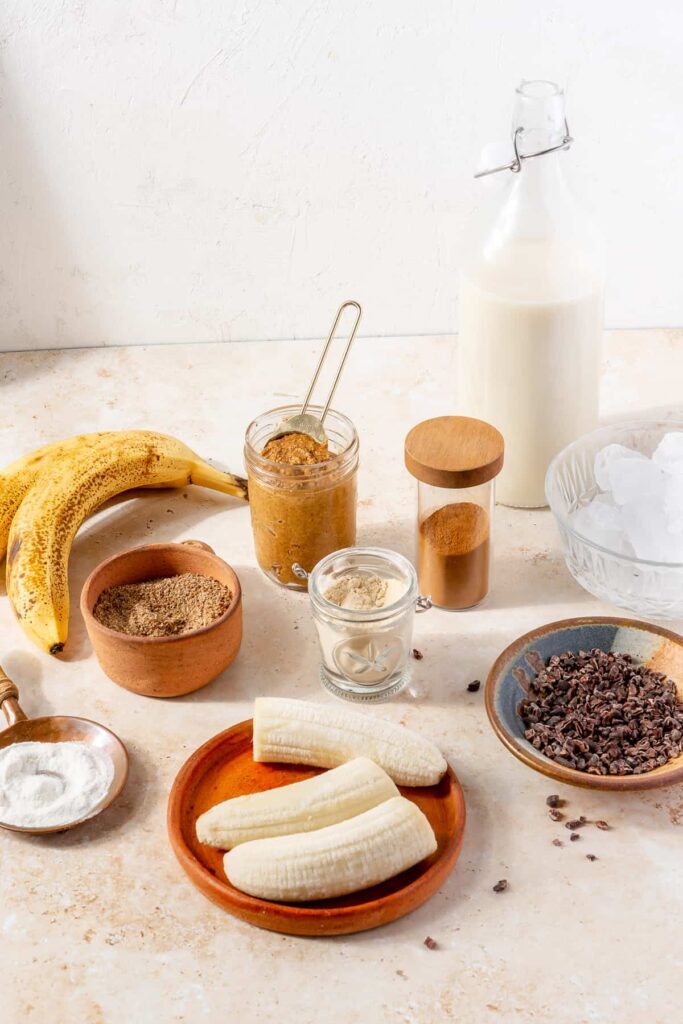 THE SECRET TO A HEALTHY & HIGH-PROTEIN SMOOTHIE
Smoothies are my go-to breakfast. I have a few recipes that I rotate between depending on what I'm craving, and they always hit the spot. But because I usually have a smoothie as my first meal of the day, it's extra important that it's nutritionally balanced so that I can avoid the blood-sugar rollercoaster. It's too easy to accidentally overload a smoothie with sugar, even natural sugar, when using all fruit or an added sweetener like honey. In order to better balance my smoothies, I always add at least 1 scoop of protein powder (20-25 g of protein), include 1-2 healthy fats (nuts, seeds, nut butter, avocado, etc), and limit the fruit content to 1-2 servings total. The result is a satisfyingly sweet smoothie, without a sugar crash or a spike in blood sugar.
In this recipe, I use vanilla protein as the primary protein source, almond butter and flaxseed for healthy fats, cacao and cinnamon for those warming spices and nutritional benefits, and half a banana to boost the sweetness and creaminess. This smoothie is way too simple for how delicious it is, and I can't wait for you to give it a try.
I have a full blog post on my favorite protein powders: My 5 Favorite Protein Powders.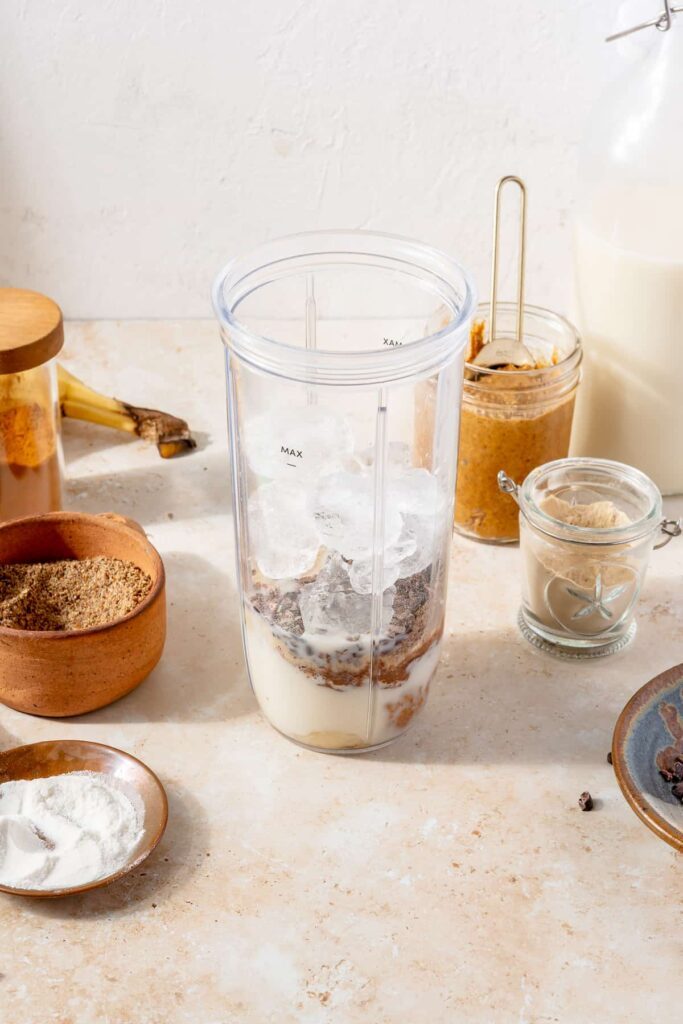 INGREDIENTS YOU'LL NEED
Almond Milk
Frozen Banana
Vanilla Protein
Almond Butter
Vanilla Extract
Ground Flaxseed
Cacao Nibs
Cinnamon
Ice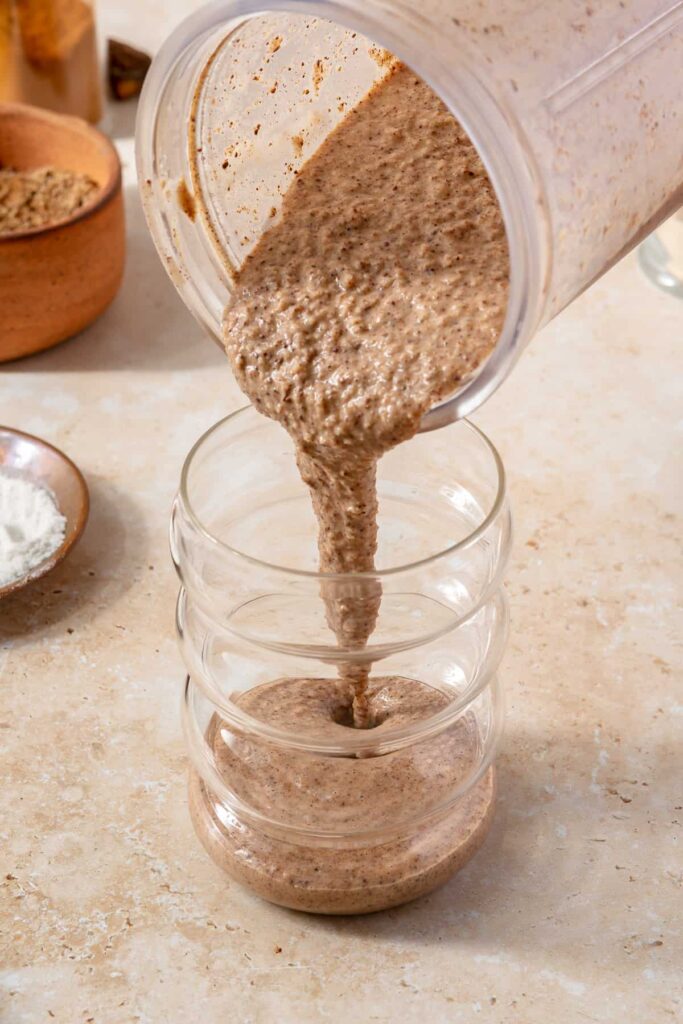 HOW TO MAKE A SNICKERDOODLE CHIP SMOOTHIE
Add almond milk, frozen banana, vanilla protein, almond butter, vanilla extract, ground flaxseed, cacao nibs, cinnamon and ice to a high-speed blender. Blend for 2-3 minutes, or until it reaches a smooth consistency and all the ice is broken up.
Pour the blended smoothie into a cup, and add an additional scoop of cacao nibs over the top. Stir in slightly until evenly mixed into the smoothie. Enjoy!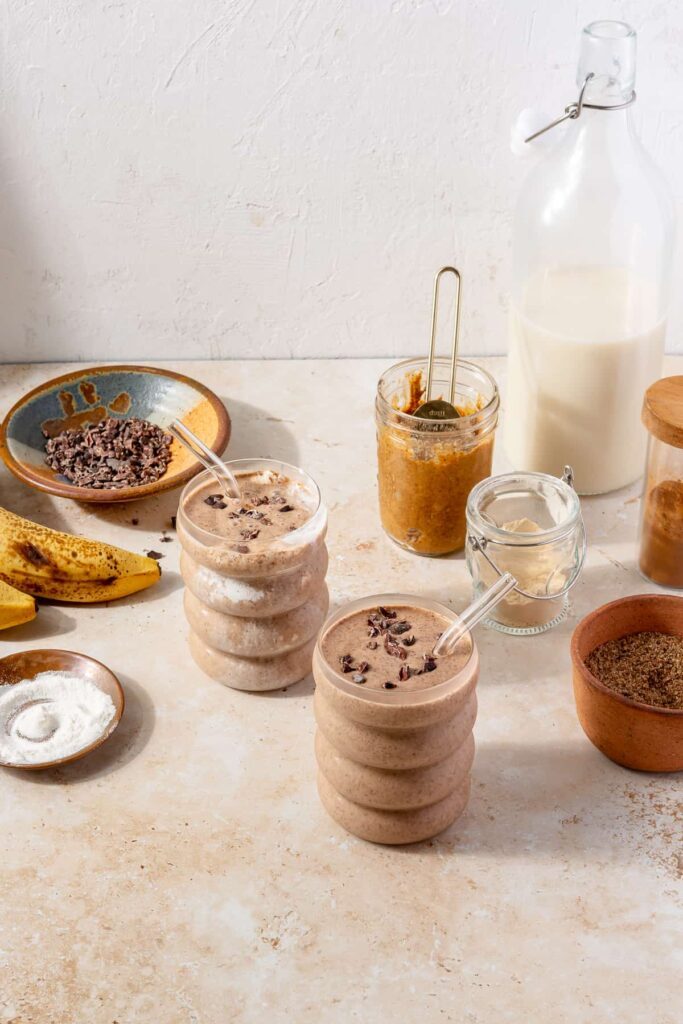 RECIPE QUESTIONS & SUBSTITUTIONS
If you don't have a frozen banana on hand, you can use a room temperature banana instead. Feel free to sub your favorite nut/seed-butter in place of the almond butter listed. Any milk or non-dairy milk can be used in place of the almond milk listed. If you choose to omit the protein or use unflavored, add 1 date or 1 tsp of maple syrup. You can omit the flaxseeds, or replace with hemp hearts.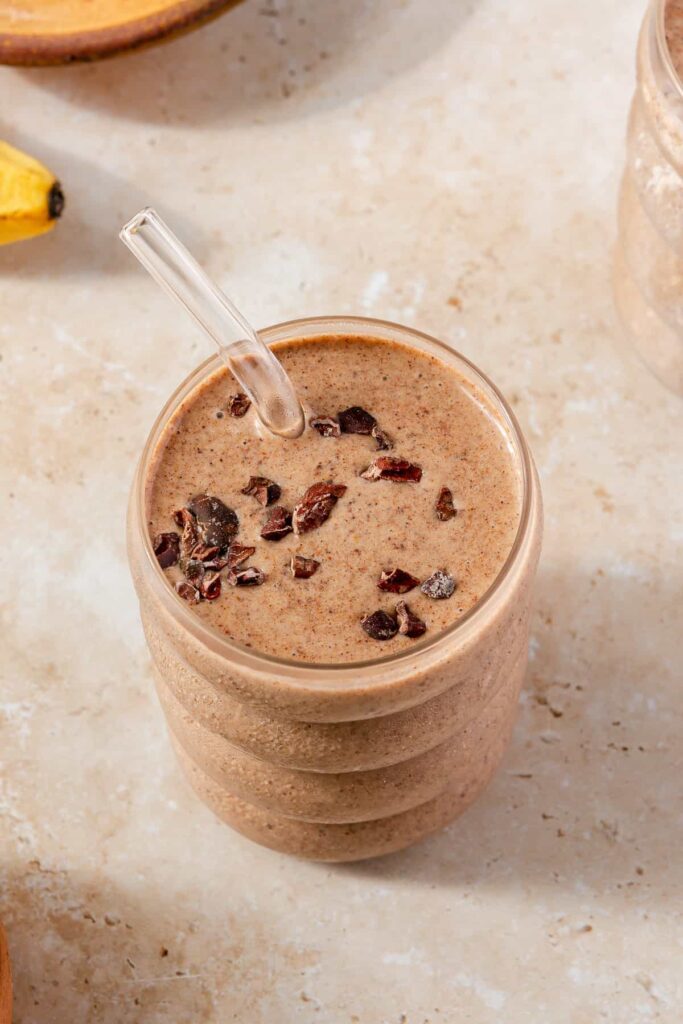 IS IT GOOD TO HAVE A SMOOTHIE FOR BREAKFAST?
In my opinion, there's nothing better! I have a smoothie for breakfast most days and I love how quick and convenient it is. It takes just a few minutes to make, and I barely have to dirty any dishes. Having a smoothie really helps the flow of my crazy mornings, and keeping the protein, fats, and carbs balanced makes it an ideal meal. Beware of accidentally overloading your morning smoothie with sugar, even natural sugar, as you're far more likely to experience a spike in blood sugar, a crash in energy, and get hungry much earlier.
WHY ARE MY SMOOTHIES NEVER THICK?
The ideal consistency of a smoothie is thick like a milkshake, but not too thick that you can't get it through a straw. Do you agree? One of the most important tips is to use frozen ingredients. I often use a frozen banana, because it keeps the smoothie cold without using as much ice. A powerful blender also makes a big difference in the overall texture of a smoothie, you can use less liquid overall to keep the smoothie thick.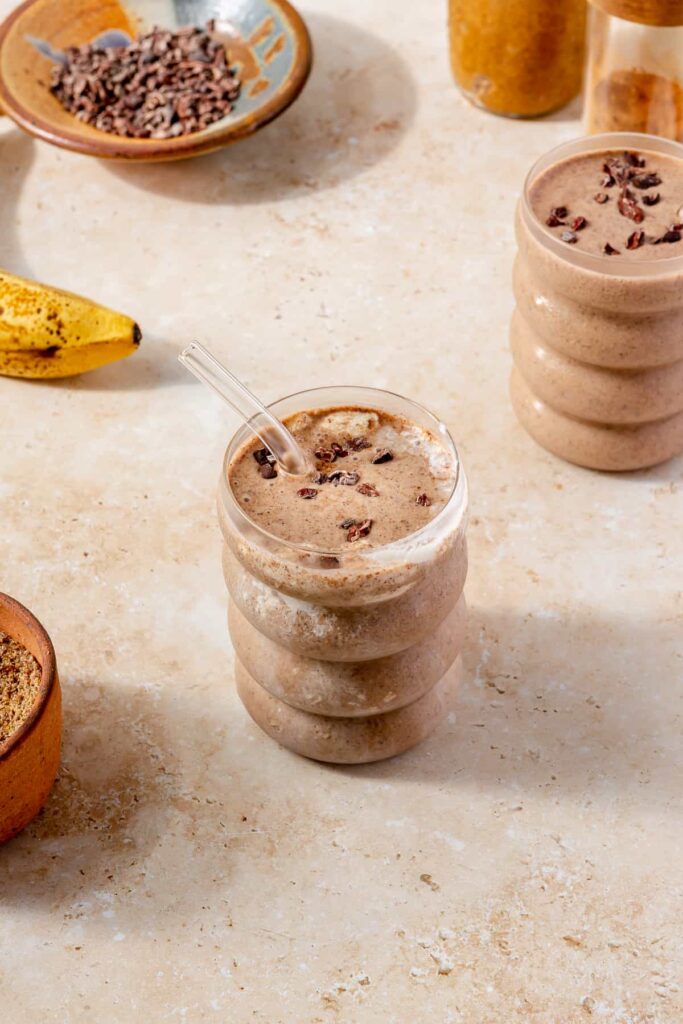 WANT MORE HEALTHY SMOOTHIE RECIPES?
MY SMOOTHIE NECESSITIES

Snickerdoodle Chip Smoothie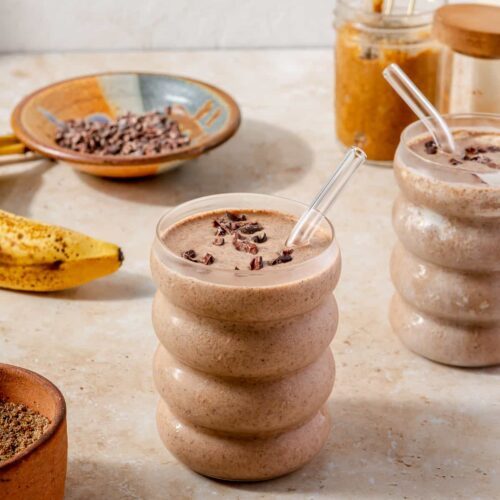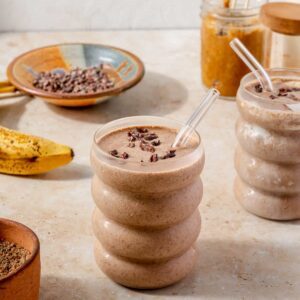 You will LOVE this smoothie! It's decadent without being too sweet and you get the perfect bit of crunch from the cacao nibs.
Ingredients
3/4

cup

unsweetened almond milk

1

cup

ice

1/2

frozen banana

1

tbsp

almond butter

1

tsp

cinnamon

1

scoop

vanilla protein

1

tbsp

ground flaxseed

1/2

tsp

vanilla extract or vanilla bean powder

2

tbsp

cacao nibs

,

(plus more to sprinkle on top after)
Instructions
Blend together then top with a spoonful of cacao nibs for extra crunch!