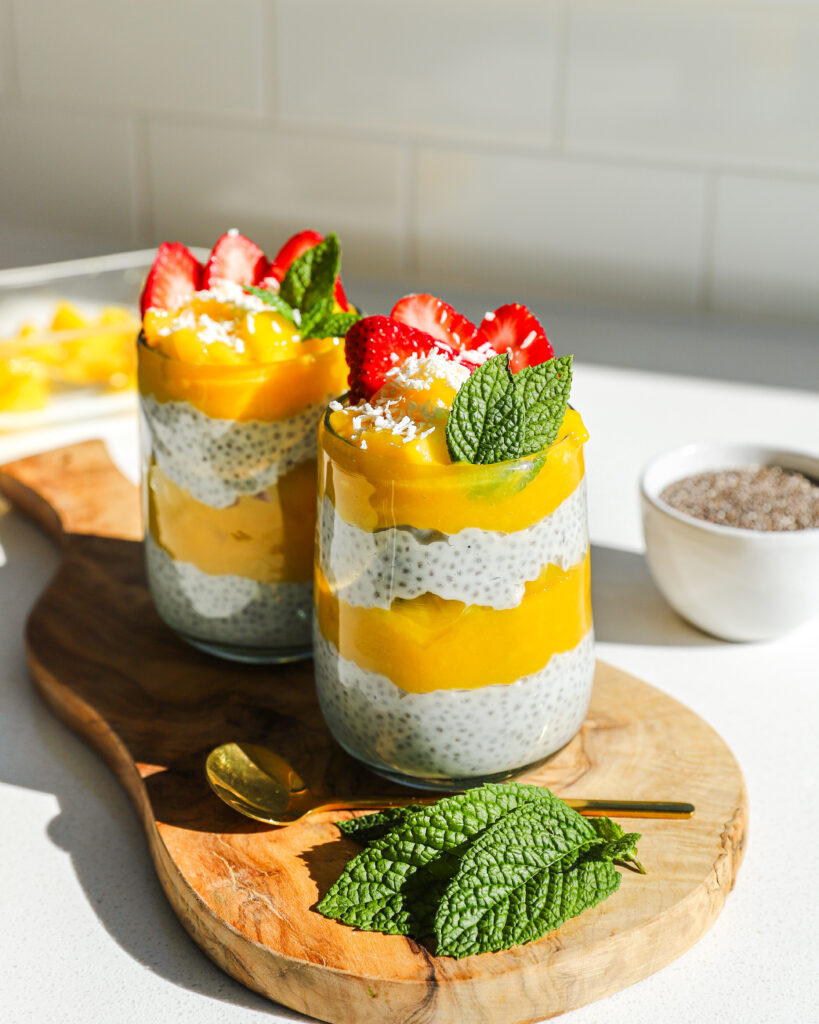 I'm always looking for a quick and healthy snack during busy days that I don't have to put much thought into. One that I can just grab and eat, knowing it's going to give me a boost of energy and is made from really good and simple ingredients. OK, well this Coconut Mango Chia Pudding is it. And I know, I've made chia pudding about a hundred times before and even have a recipe in my cookbook, but this one hits different. Trust me! I recreated it from my book tour in San Francisco, when Bridge and I stayed at Cavallo Point. I wanted something light and fruity because I was feeling a little nervous for my cooking demonstration / book signing later that morning, so I ordered the mango chia pudding on the menu. It was life-altering, let me tell you. So velvety, creamy and light, without being too sweet. It had layers of mango puree and then diced mango and raspberries on top, garnished with fresh mint. It was so good that even Bridger ordered it the next morning with me, so that's saying a lot(!).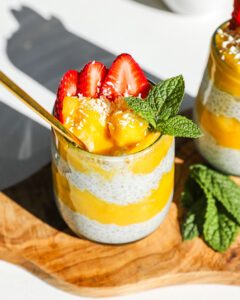 I knew I had to remake it home and now it's on weekly rotation for us to have for a speedy breakfast, healthy snack, or even dessert! Hot tip, add some fresh fruit (I recommend raspberries or strawberries) and chocolate chips and it'll satisfy your sweet cravings.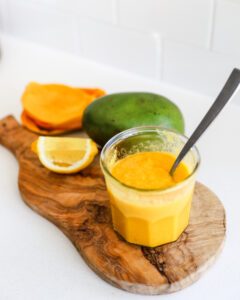 A DELICIOUS TREAT ANYTIME OF DAY
Chia pudding is one of those snacks that make for a sneaky treat. Chia seeds are naturally high in fiber, healthy fats and and omega-3 fatty acids which are so important for brain health, digestion, and stabilizing blood sugar. It's a win when you can hit all the above! Fiber and healthy fats will keep you full for longer, making this recipe more nutrient-dense, and satisfying to be honest, versus a bag of a chips or crackers.
I recommend enjoying these after letting the chia pudding fully set in the refrigerator, at least 30 minutes. You'll know it's set when the chia seeds fill the jar evenly, and there is no liquid on top. I prefer to make a double (or triple) batch early in the week so that it's prepped and ready to go for an easy grab-and-go snack. Store in the refrigerator for up to 5-7 days.
WHY I LOVE COCONUT CHIA PARFAITS
Ok, chia pudding itself couldn't be easier. Chia seeds will absorb whatever liquid you decide to use for your pudding (just water, non-dairy milk, nut-milk, etc) but the canned coconut milk gives the whole parfait an unbeatable tropical and velvety flavor that you have to try. I always add vanilla and a splash of maple syrup to give it a bit of flavor and sweetness.. a 10 out of 10 if you will.
The mango puree is liquid gold. If you've never had mango puree, you must make for this one. It's so easy and I'm almost positive you could add it to anything. I'm even thinking about enjoying it with vanilla coconut milk ice cream, or using it to remake my High-Protein Froyo.
I highly recommend layering the parfait with the puree, fresh mango, berries, and coconut flakes, but you can get creative with your mix-in's and toppings here. A swirl of peanut-butter and fresh raspberries for a PB&J vibe, or hunks of banana, chocolate chips, and walnuts for a banana bread inspired parfait!

INGREDIENTS YOU'LL NEED:
Mango
Lemon
Maple Syrup
Sea Salt
Unsweetened Coconut Milk
Almond Milk (optional)
Vanilla Extract
Chia Seeds
Hemp Seeds
Berries (optional)
Mint (optional)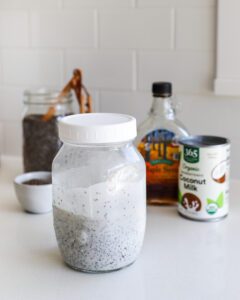 HOW TO MAKE MANGO PUREE
All you need to make this liquid gold mango puree is mango, lemon juice, maple syrup, and a pinch of salt. Grab your blender, add all the ingredients and blend until smooth. Transfer to a refrigerator friendly jar and seal tightly, store for up to a week in the fridge.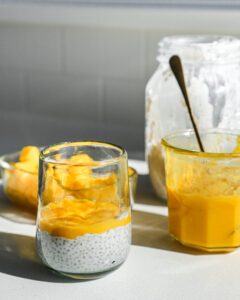 HOW TO MAKE COCONUT CHIA PUDDING
Give your blender a quick rinse, then add the entire can of coconut milk, almond milk (if you're using), vanilla, and maple syrup. Blend until smooth. Pour the blended milk into a jar and add the chia seeds (and hemp seeds, if using). Stir well, then transfer to the refrigerator for at least 30 minutes to chill and thicken. If you make a large batch, you can store chia pudding in the fridge for a week.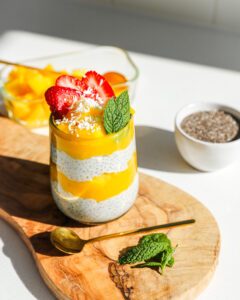 ASSEMBLE THE PARFAITS
When the chia pudding is set, start assembling your parfaits. Start with a layer of chia pudding at the bottom, then spread a layer of the mango puree. You can add a layer of cubed fresh mango here as well. Repeat, layering the chia pudding and mango puree once more, and then garnish with fresh fruit, coconut, and mint.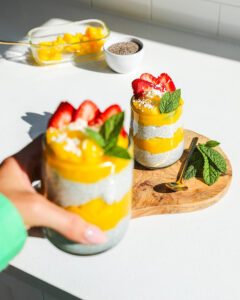 WHAT ARE THE BENEFITS OF CHIA SEEDS AND MANGO?
Chia seeds pack a nutritional punch. They're great for digestion, brain-health, and glowing skin because of the omega-3 fatty acids, antioxidants, and dietary fiber. Mango happens to pair perfectly with the coconut flavors in this chia pudding, but mango is also a bit of a superfood itself – high in Vitamin A and Vitamin C. Your fridge doubles as a medicine cabinet with this one!
IS IT GOOD TO EAT CHIA SEEDS EVERY DAY?
Because of the healthy fats and fiber in chia seeds, chia seeds are a great pantry staple. Whether you want to eat them every day is up to you, but I always find that this chia pudding is the perfect snack that actually keeps me full and satisfied. The glowing skin and good digestion is another great perk! Other pantry staples with similar benefits include hemp seeds, flaxseeds, and low-inflammatory nuts like walnuts.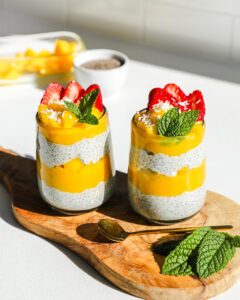 RECIPE SUBSTITUTIONS & QUESTIONS
Feel free to use your preferred milk option in place of coconut milk. You can replace the almond milk in the recipe with your favorite milk to thin the canned coconut milk out a bit, or omit completely.
LOVE THESE COCONUT MANGO CHIA PARFAITS? HERE'S MORE HEALTHY SNACKS YOU'LL LOVE:
High-Protein Froyo & Chocolate Shell Topping
2-Minute High-Protein Almond Milk
PB Chocolate Chip Protein Balls
Click here for the Reel I made of this recipe 🙂
Coconut Mango Chia Pudding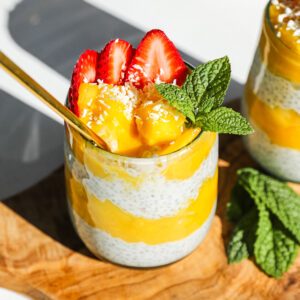 With the combo of canned unsweetened coconut milk and chia seeds, you're getting healthy fats, fiber, and a variety of vitamins and minerals like manganese (brain and nerve function 🧠), copper (red blood cell formation & antioxidants💥), omega-3s (heart health ♥️), so this will actually keep you full for longer 🙌 
Ingredients
Mango Purée
3

mangos, or about 4 cups

,

(peeled)

1

tsp

maple syrup

1/2

lemon

pinch of sea salt
Chia Pudding
1

can

unsweetened coconut milk

1/3

cup

almond milk

,

(optional - will thin it out slightly)

1

tbsp

maple syrup

1

tsp

vanilla extract

3

tbsp

chia seeds

2

tbsp

hemp seeds

,

(optional)

1-2

cup

mango, freshly diced

,

(to garnish)

coconut flakes

,

(to garnish)

fresh mint

,

(to garnish)
Instructions
Mango Purée
Blend mango purée ingredients together until smooth. Pour into a jar & store in the fridge for up to a week.
Chia Pudding Parfait
Rinse your blender, then add the entire can of coconut milk, almond milk (if using), vanilla, and maple syrup. Blend until smooth.

Add the blended milk, chia seeds and hemp seeds (if using) to a refrigerator friendly jar. Stir and refrigerate for at least 30 minutes to an hour.

Build your parfaits by layering chia pudding, mango purée, freshly diced mango, and garnish with coconut flakes and fresh mint.
Notes
*The mango puree makes a generous serving throughout the entire week. I recommend double batching the coconut chia pudding to last you much longer.