One of the easiest ways to not only avoid added sugars / additives in your everyday diet, but to get the freshest milk on the market is to make your own at home!! So many nut milks, especially those served in coffee shops and cafes, contain unnecessary added sugars and fillers. In a perfect world, everything would be unsweetened, allowing people to add their own natural sweeteners after, if needed.
Making your own cashew, almond, hemp, etc. milk in your own kitchen is great because it cuts out those fillers, additives and gums.
To be completely honest, I don't make it enough at home & need to get better at reminding myself how easy it is– because when it comes to cashew milk, you don't need to strain with a cheesecloth/nut milk bag! This tends to be the most demanding step when making almond milk.
You also have the ability to flavor to your liking– cinnamon, nutmeg & vanilla for a seasonal blend, maple syrup & vanilla for a sweet version perhaps to be used as coffee creamer & my personal favorite, vanilla bean extract and sea salt.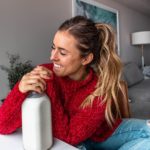 Homemade Cashew Milk
Ingredients
1-2

cups

raw cashews

8

cups

filtered water

1/2

tsp

vanilla bean powder

(or sub vanilla extract)

1/4

tsp

cinnamon

1/4

tsp

sea salt
Instructions
Soak cashews in 3 cups water in bowl or jar overnight (or about 12 hours) to soften.

Once softened, strain cashews and discard water the cashews soaked in.

Add cashews to high-powered blender (I prefer Vitamix), along with remaining water, vanilla, cinnamon and sea salt. Feel free to sweeten with a splash of maple syrup or honey, or a pitted date.

Blend on high for 2-3 minutes. No need to strain cashew milk if nuts were able to soak for 12+ hours!!

Pour cashew milk in milk jug or other storage jar and refrigerate. Lasts up to 4 days. Enjoy!