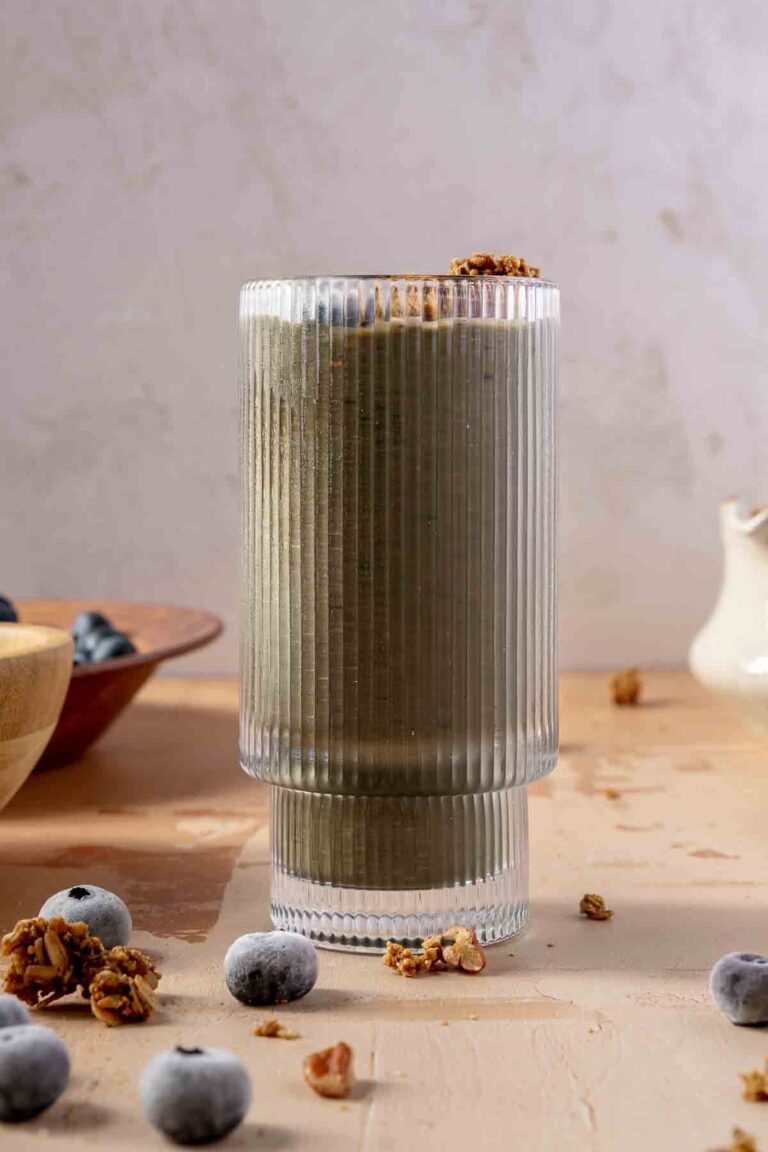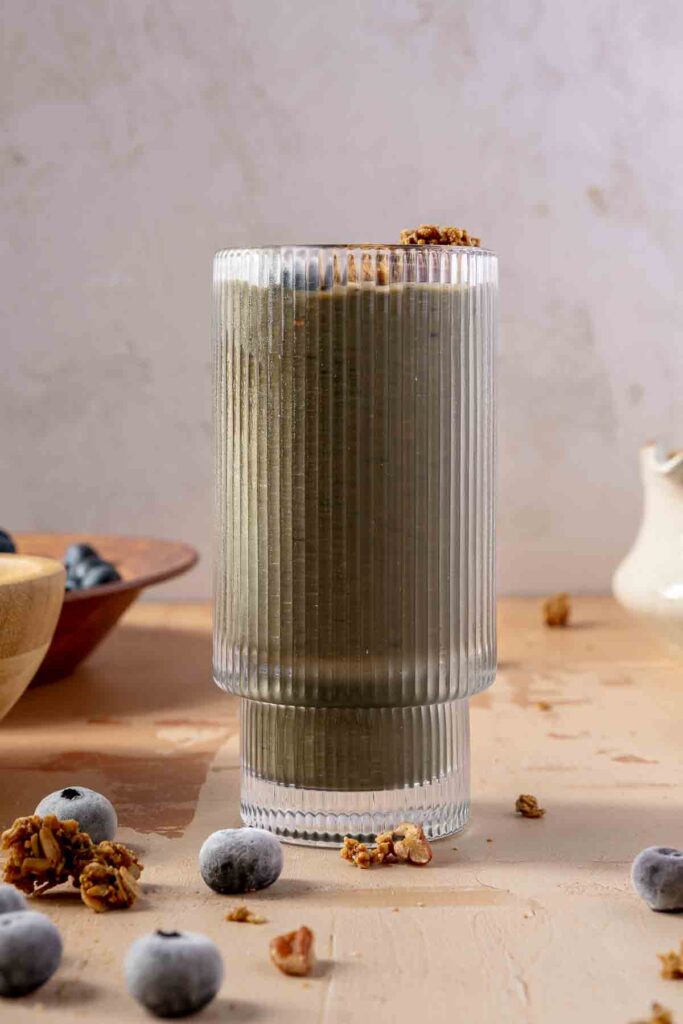 Wake up, work out, smoothie. It's my morning routine 95% of the time and I'm hooked! Not to be dramatic, but this smoothie holds all the secrets to having great skin, sustained energy, and that all-around healthy-girl glow. True to its name, this protein-packed, and nutritionally balanced smoothie has been a longtime *glow-to* in my smoothie rotation. At one point, I was definitely making it almost every day, and I swear it's been a key factor in helping to maintain a healthy glow in my skin. You have to make it at least once!
This one is a definite winner in my book.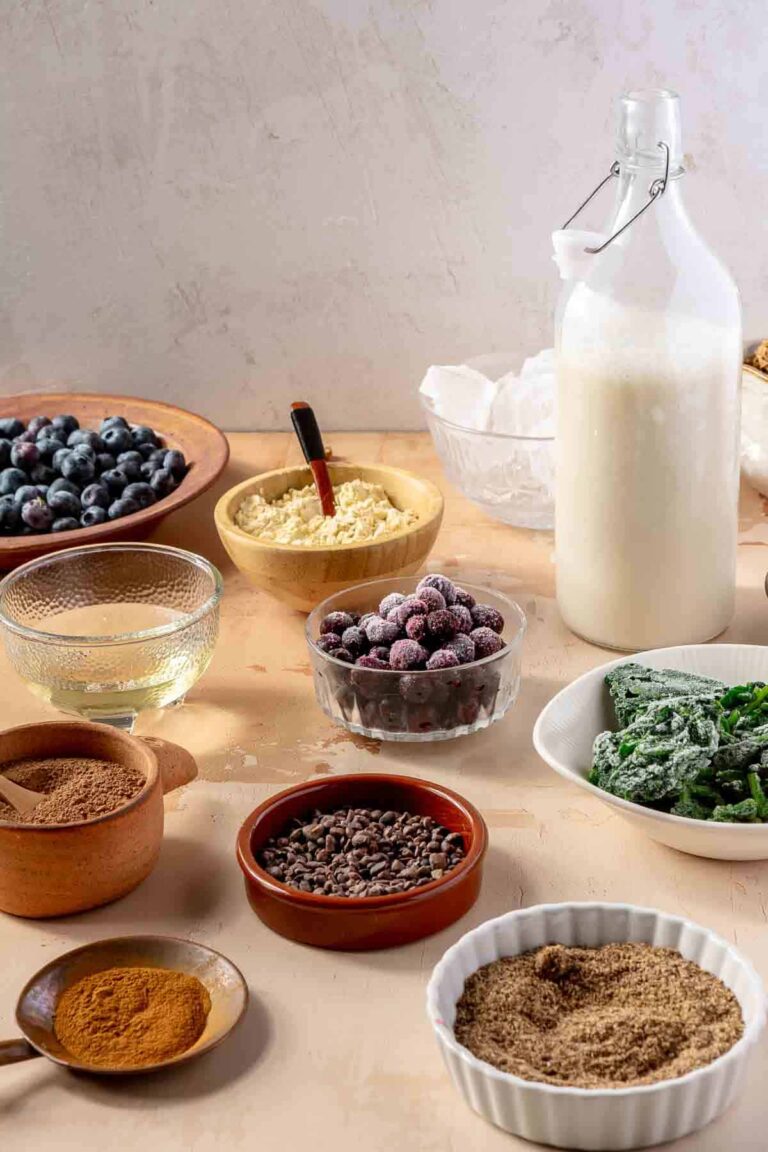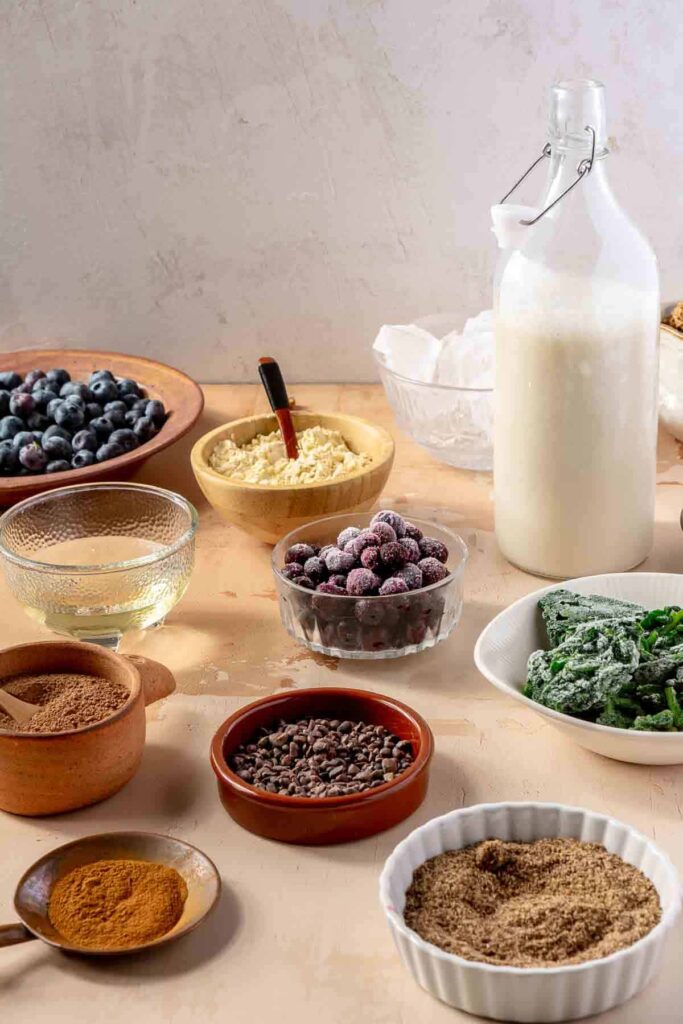 SUPERFOOD SMOOTHIE
So I know the Hailey Bieber "glazed donut" skin is all the rage these days, and I won't lie to you… I'm fully on board. It's her subtle, lit-from-within look that I'm after, and putting this smoothie on repeat is only going to help me get there. I'll just sit back and let the superfoods work their magic. Let's go through the full run-down on this absolutely stacked superfood roster:
Blueberries are one of the best natural sources of antioxidants, are rich in vitamin K (which helps promote heart health), and supports blood sugar control.
Spinach is a great addition to any smoothie because it contains high levels of iron, vitamins C & E, magnesium & potassium, and doesn't detract from the overall taste (I promise nobody will even suspect the greens in this recipe!).
Flaxseeds are a great source of many nutrients including fiber, protein and omega-3 fatty acids.
Ceylon cinnamon is one of my most used spices in my cabinet, hands down. It contains antioxidant, anti-inflammatory and antimicrobial effects. Cinnamon can help reduce blood sugar levels after eating. Some studies have even shown that the effects of cinnamon can help with skin regeneration through stimulating enzymes that promote cell growth and repair (hellooo glazed donut skin!).
Cacao is full of antioxidants, flavonoids and polyphenols – which have been found to promote calmness and decrease stress-levels.
Protein is a key macronutrient that helps build & repair muscle, and provides a great source of sustained energy. You can check out my favorite protein powders in this post: My 5 Favorite Protein Powders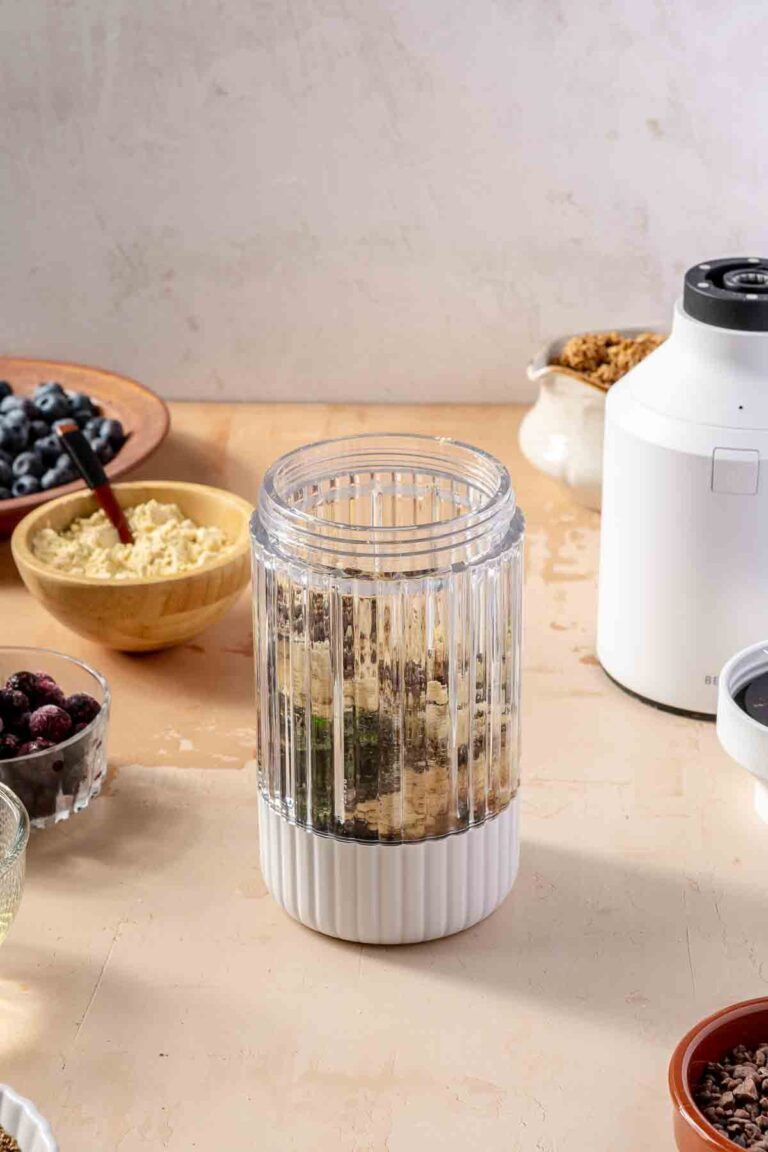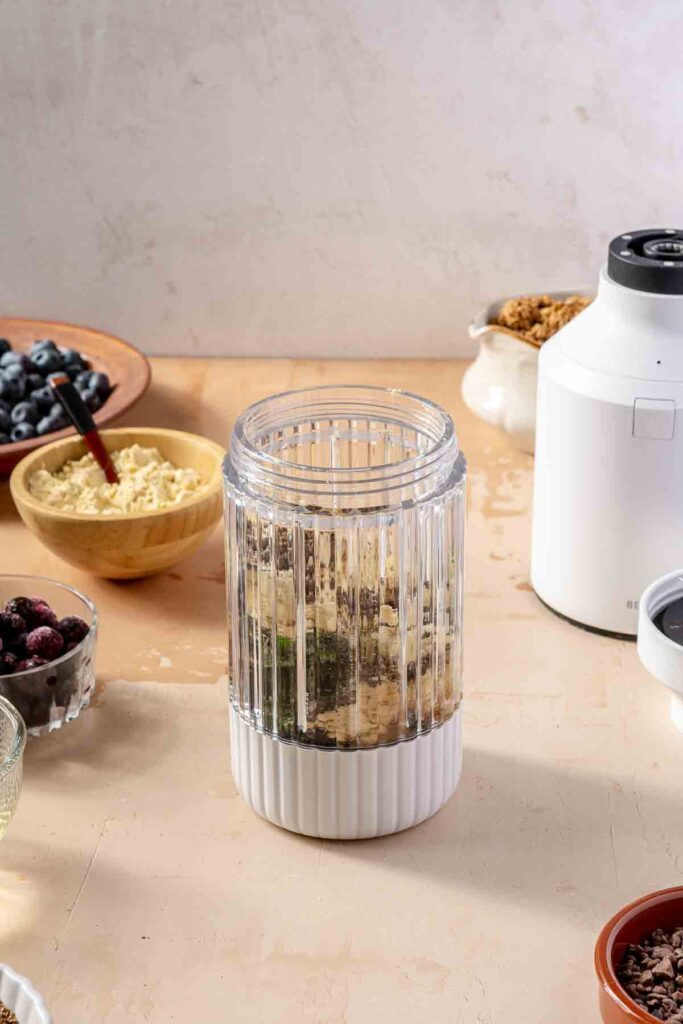 WHAT IS CEYLON CINNAMON?
The two most widely available varieties of cinnamon include Ceylon and Cassia. Ceylon, or "true cinnamon", is native to Sri Lanka and southern parts of India, is tan/brown in color and has a delicate, mildly sweet flavor. Cassia cinnamon originated in southern China, tends to be a dark red/brown color and has a stronger, spicier flavor. Both are delicious and share the superfood qualities that we love!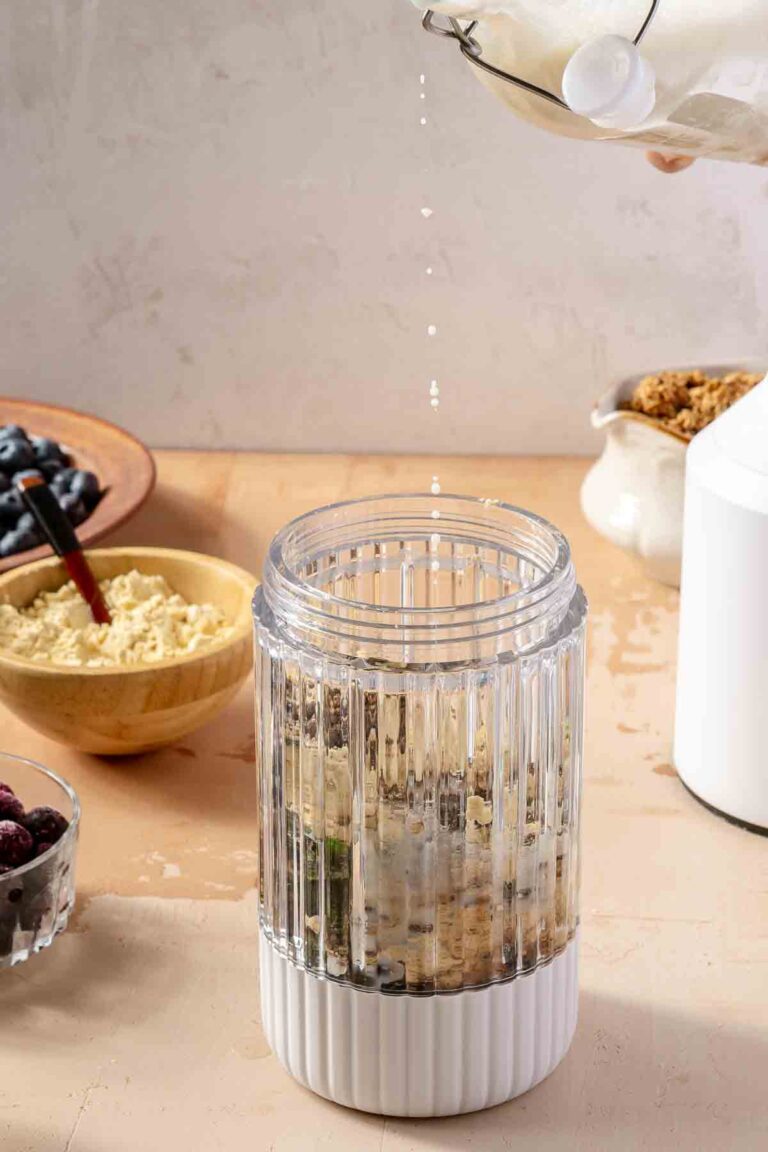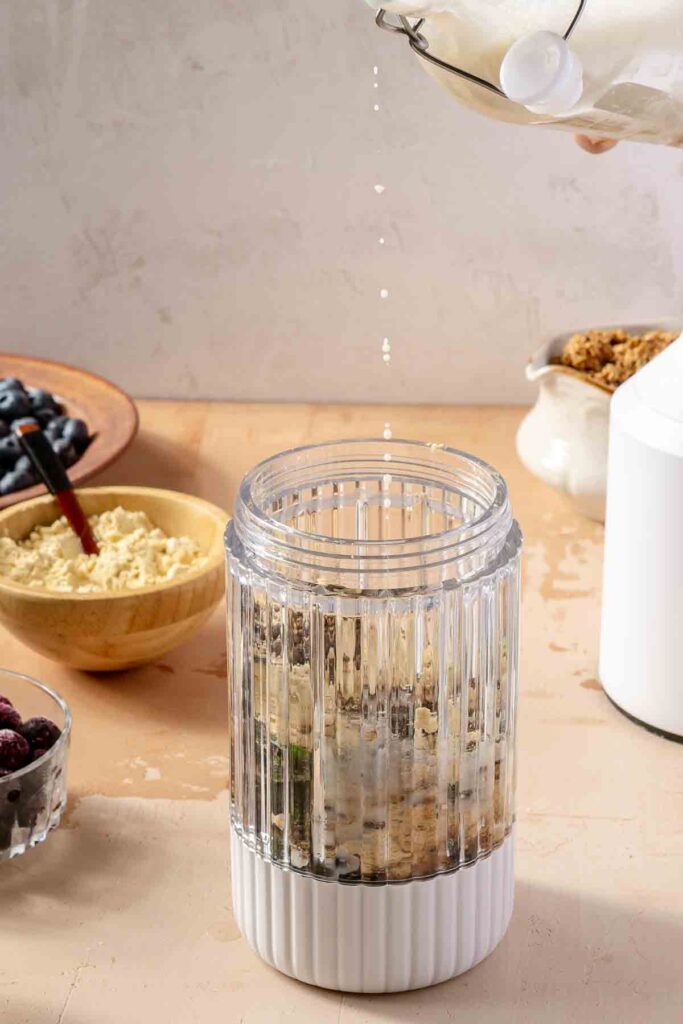 INGREDIENTS YOU'LL NEED:
Unsweetened Almond Milk
Ice Cubes
Frozen Blueberries
Frozen Spinach
Ground Flaxseed
Cacao Powder
Protein Powder
Cacao Nibs
Ceylon Cinnamon
Coconut Oil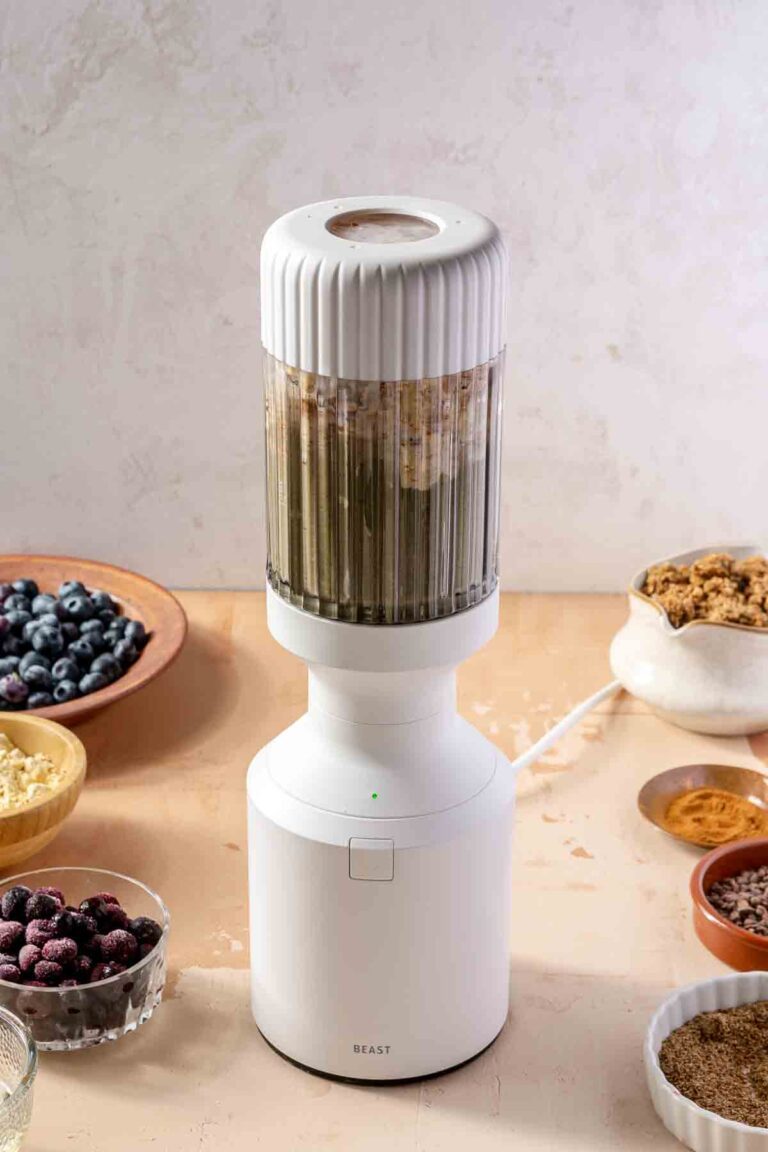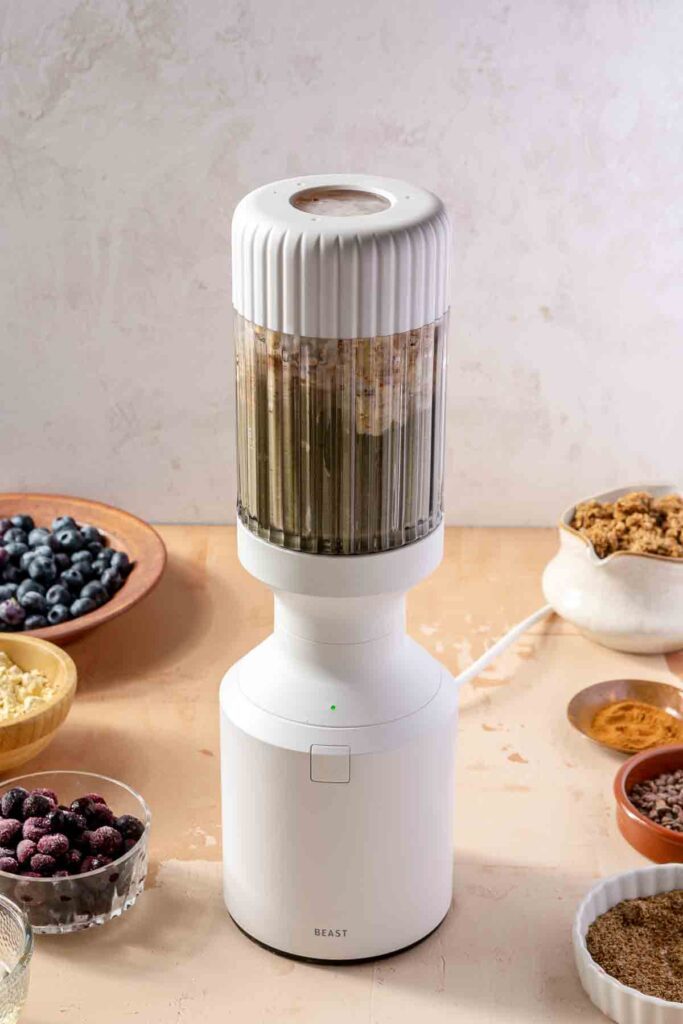 HOW TO MAKE THE EVERYDAY GLOW-TO SMOOTHIE
If you're like me and prefer your smoothies at a colder temperature, I recommend freezing your blueberries and spinach the night before or simply buying already-frozen from the grocery store. Otherwise, straight from the fridge works too!
Start by adding unsweetened almond milk, ice cubes, frozen blueberries, frozen spinach, ground flaxseed, cacao powder, protein powder, cacao nibs, Ceylon cinnamon, and coconut oil to your blender. Blend on high until smooth.
Pour the smoothie into your cup and top with a sprinkling of cacao nibs or my Easy 20-Minute Paleo Granola and start sipping your way to smooth skin!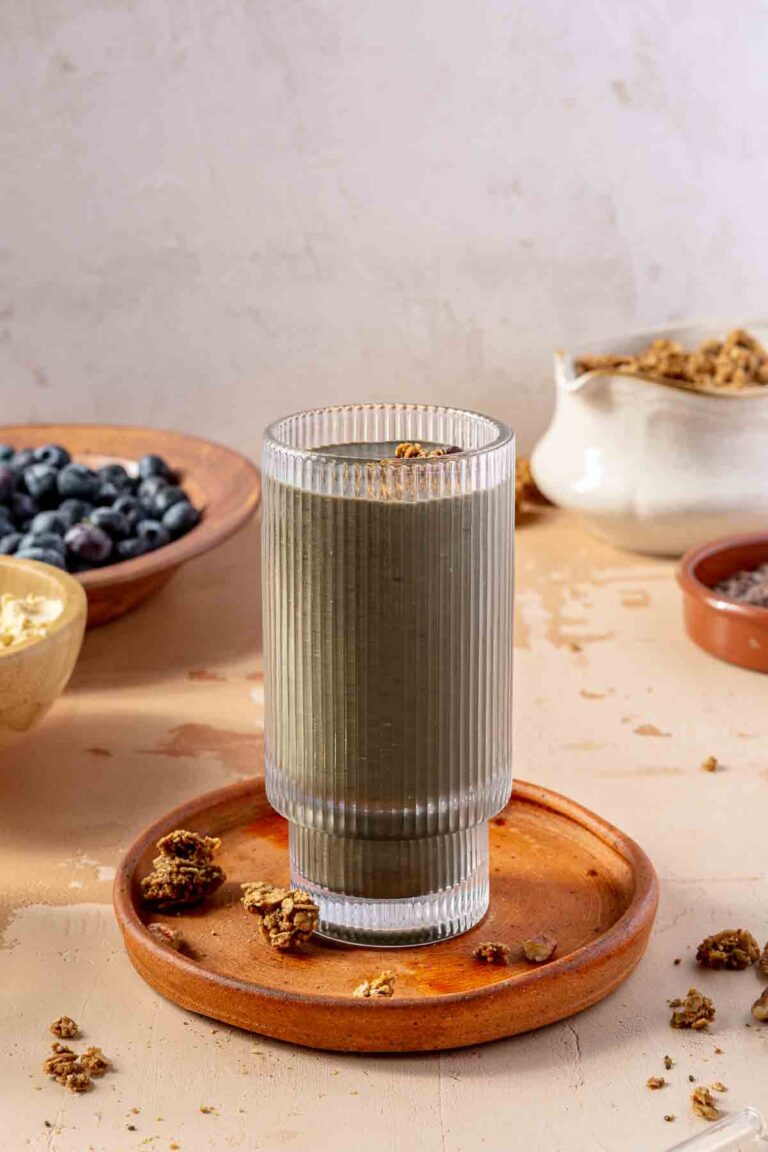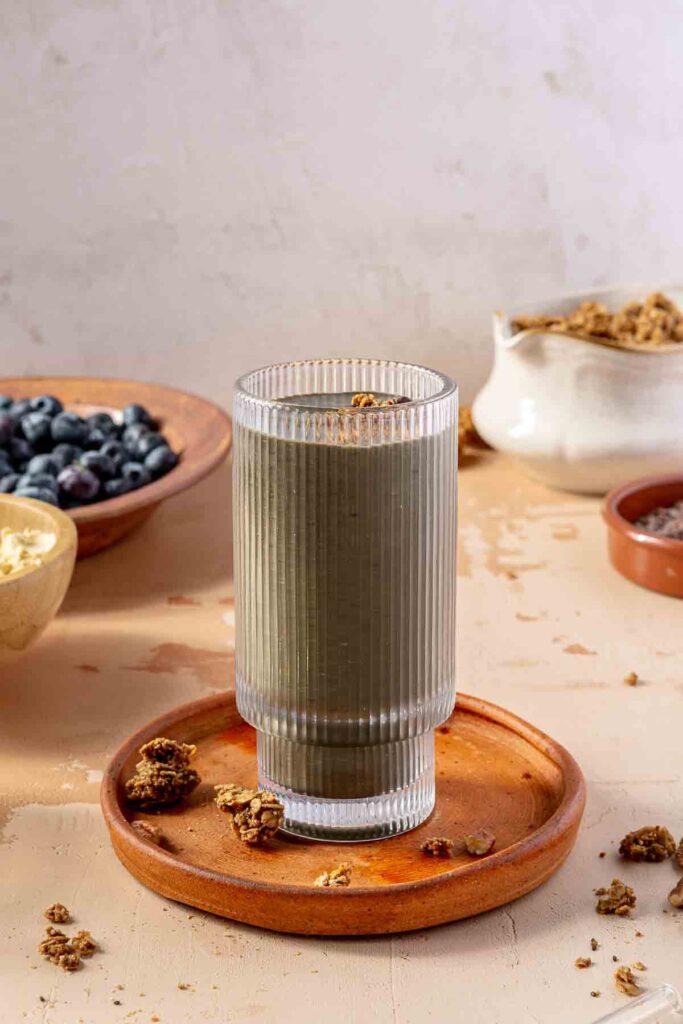 ARE HOMEMADE SMOOTHIES HEALTHY TO DRINK EVERYDAY?
Yes! As long as you're making a balanced smoothie packed with key nutrients like protein, fat and fiber, a smoothie a day can be a great meal replacement, snack or pre/post-workout. It can be especially great for picky eaters to get some nutrients and greens in their diet that they otherwise might not get. Take my word for it!
SMOOTHIE NECESSITIES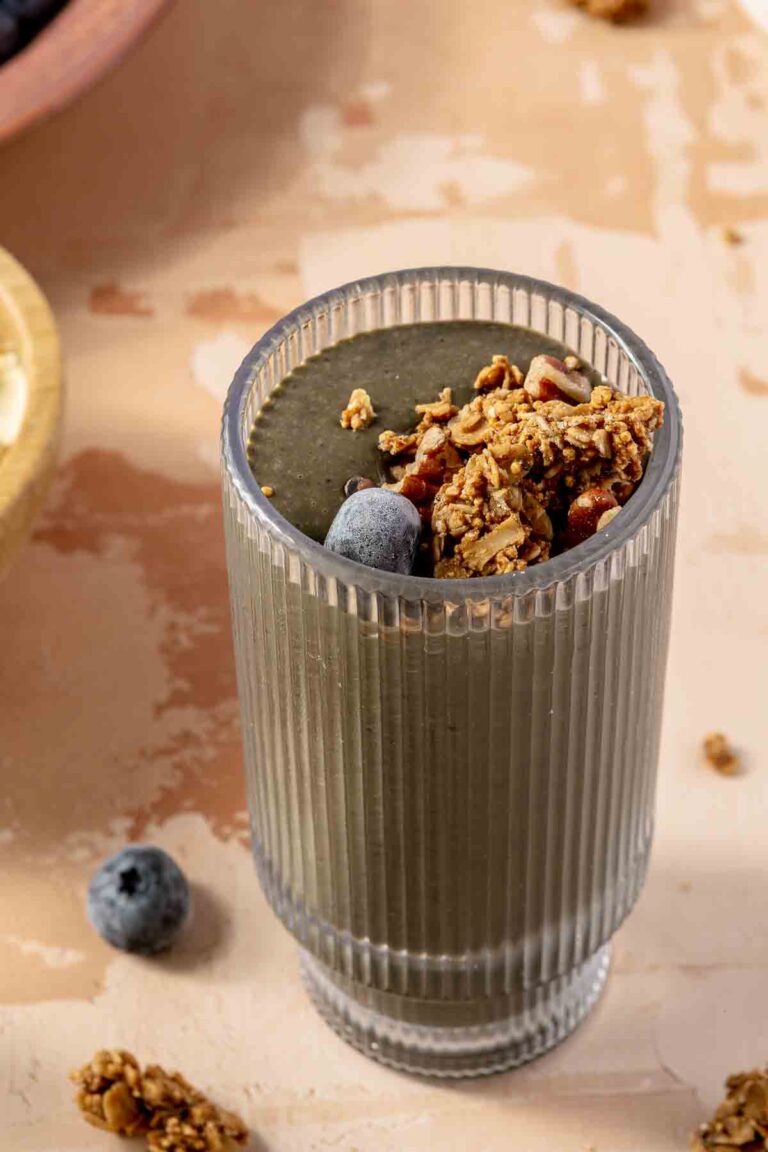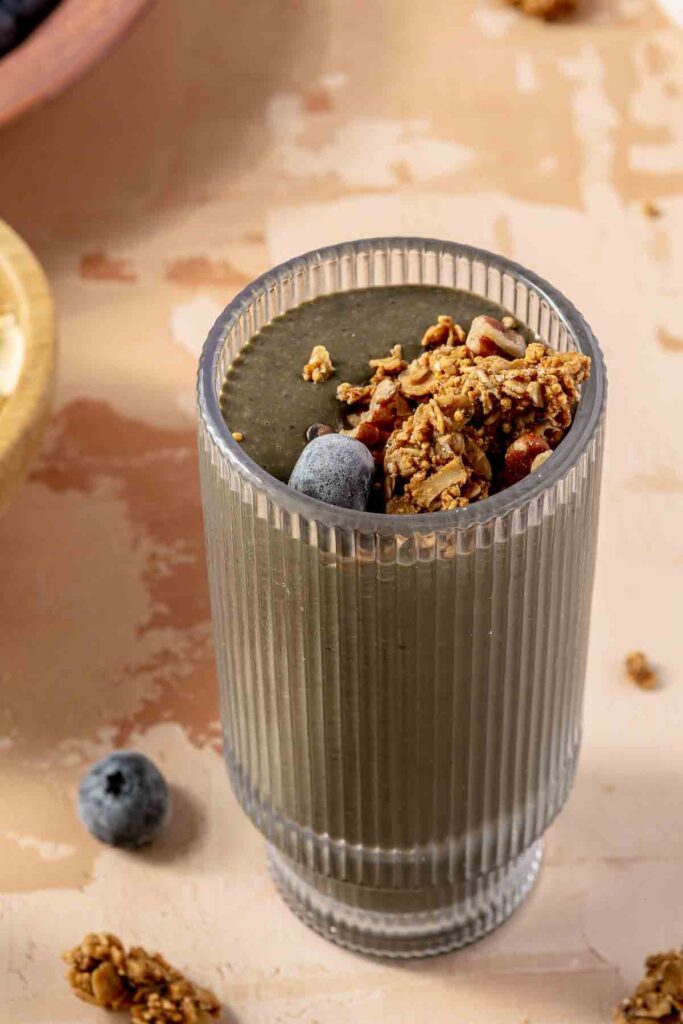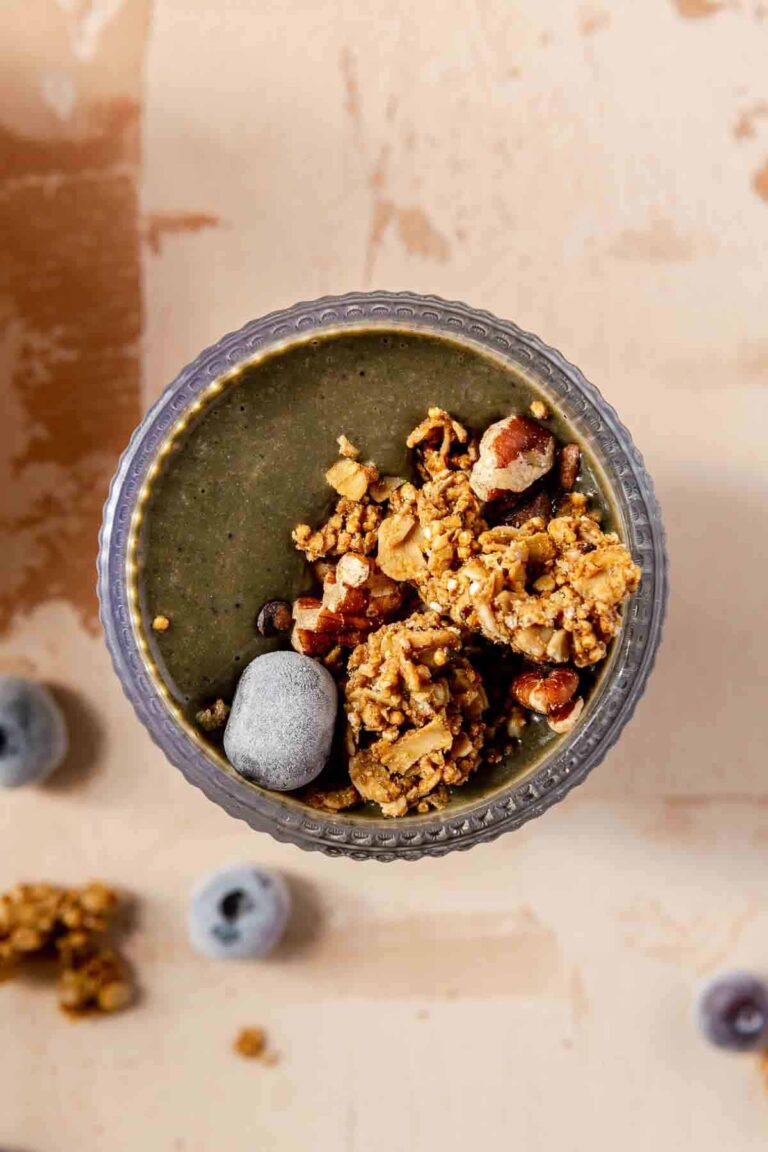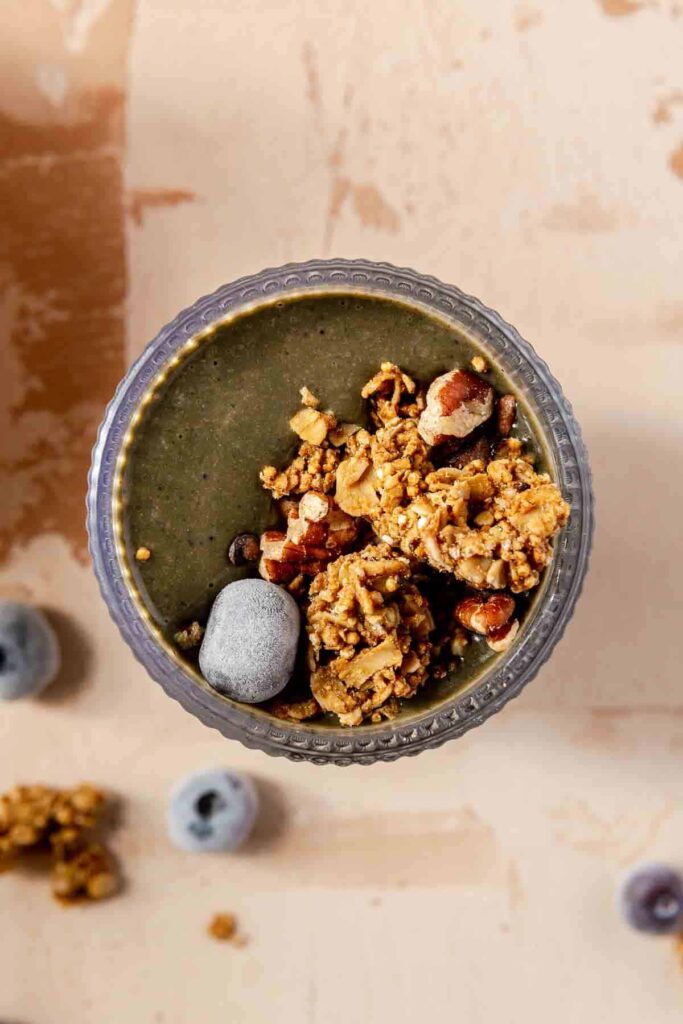 IS FRESH OR FROZEN SPINACH BETTER FOR A SMOOTHIE?
I prefer frozen spinach (I typically just buy two bags organic spinach at the store and toss one straight in the freezer for my smoothies. It keeps great!) because I find it hides the flavor better, it adds coldness to the smoothie & it blends better. Try it out! If you don't have frozen spinach on hand, fresh will work fine too.
RECIPE SUBSTITUTIONS & QUESTIONS
Feel free to use your favorite milk (I typically prefer an unsweetened, non-dairy to avoid excess sugar) instead of the unsweetened almond milk listed here. Also, you can omit the flaxseeds and/or the cacao nibs if you don't have them, but I'd recommend making sure you at least include cacao powder for the taste (& superfood benefits!).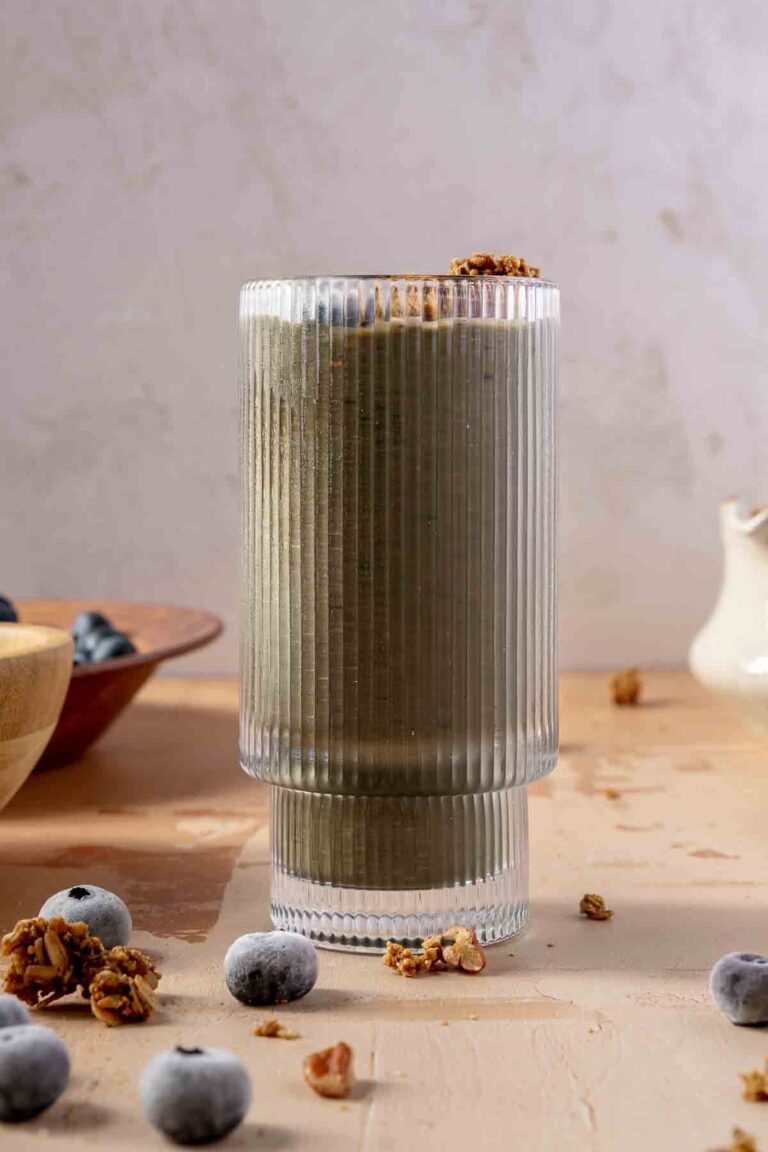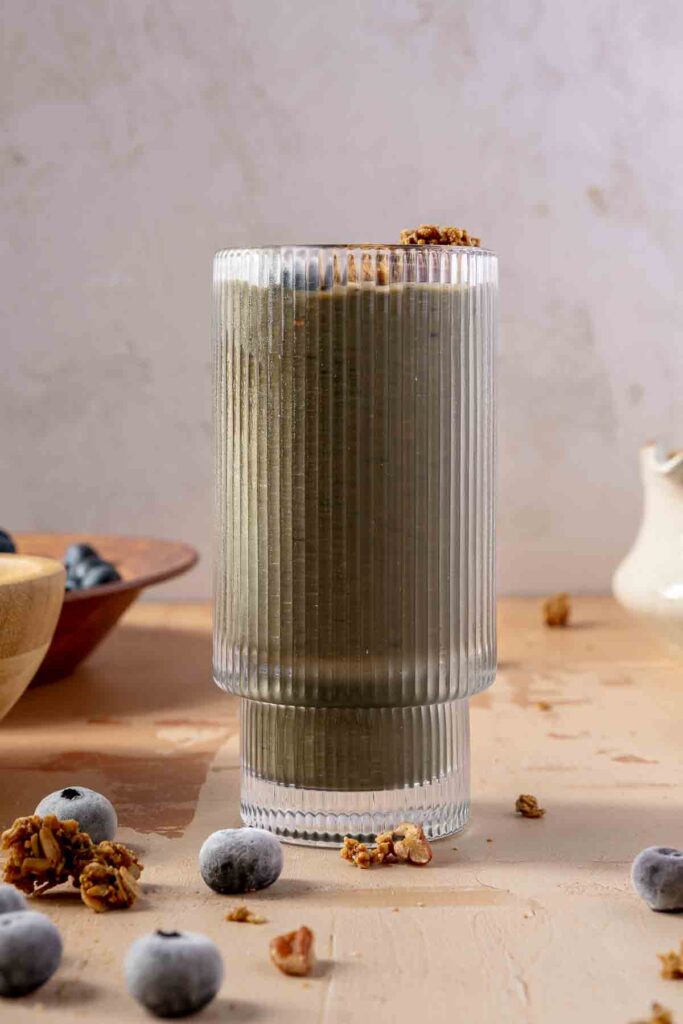 LOVE THIS RECIPE? TRY MORE RGE SUPERFOOD SMOOTHIES: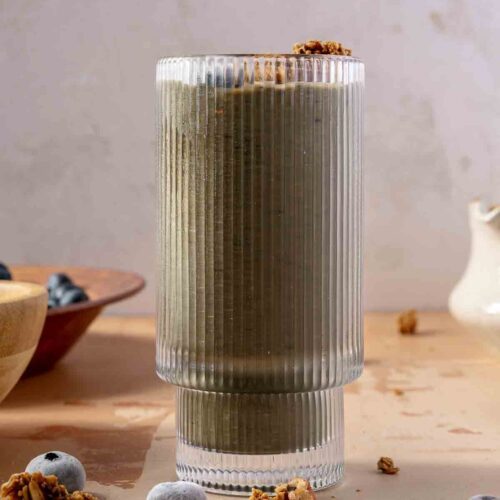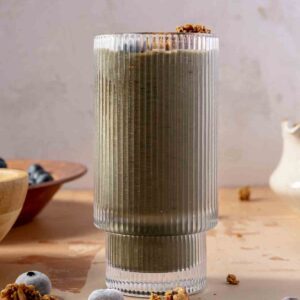 Ingredients
1

cup

unsweetened almond milk

1

handful

ice cubes

1/3

cup

frozen blueberries

1

cup

frozen spinach

1

tbsp

ground flaxseed

1

tbsp

cacao powder

1

serving

plant protein

,

(I've been loving Nutraorganics– their Coconut Chocolate flavor is amazing)

1

tbsp

cacao nibs

1/4

tsp

ceylon cinnamon

1/2

tbsp

coconut oil
Instructions
Blend all ingredients & top with cacao or granola. Enjoy!