The holiday season is officially upon us, and what better way to kick off the coziest time of year than with pumpkin? I always get requests for pumpkin recipes, and this smoothie is the most festive and delicious way to start your day. Packed with protein and warming spices, you need to work this one into your smoothie rotation ASAP!
SMOOTHIE SEASON
I'm going to let you in on a little secret – I'm a year-round smoothie kinda girl. I really don't care if it's below freezing outside, a smoothie is my absolute favorite way to start the day. I love a morning smoothie not only for the speed and convenience, but you can pack so many nutrients into one meal. Did you know pumpkin is rich in vitamins, minerals and antioxidants like vitamins A, B, & C, contains fiber, calcium, potassium and magnesium? So the pumpkin-spice craze is actually rooted in nutrition and is dietitian approved… you're welcome! This pumpkin pie smoothie is just further proof that a flavor-packed, nutrient dense, protein-centric smoothie is an A+ choice no matter the season.

PUMPKIN SPICE EVERYTHING
If you're here for a pumpkin pie smoothie, I'm going to take a wild guess that you're either crazy about pumpkin-spice, or you have a few tablespoons of leftover pumpkin puree from fall baking. This recipe uses 1/4 cup pumpkin puree, which I commonly find to be the amount left in the can after baking. Instead of saving the leftovers and forgetting about them at the back of your fridge, let's turn that pumpkin into a protein-packed treat. Next time you have leftover canned pumpkin, you know where to come!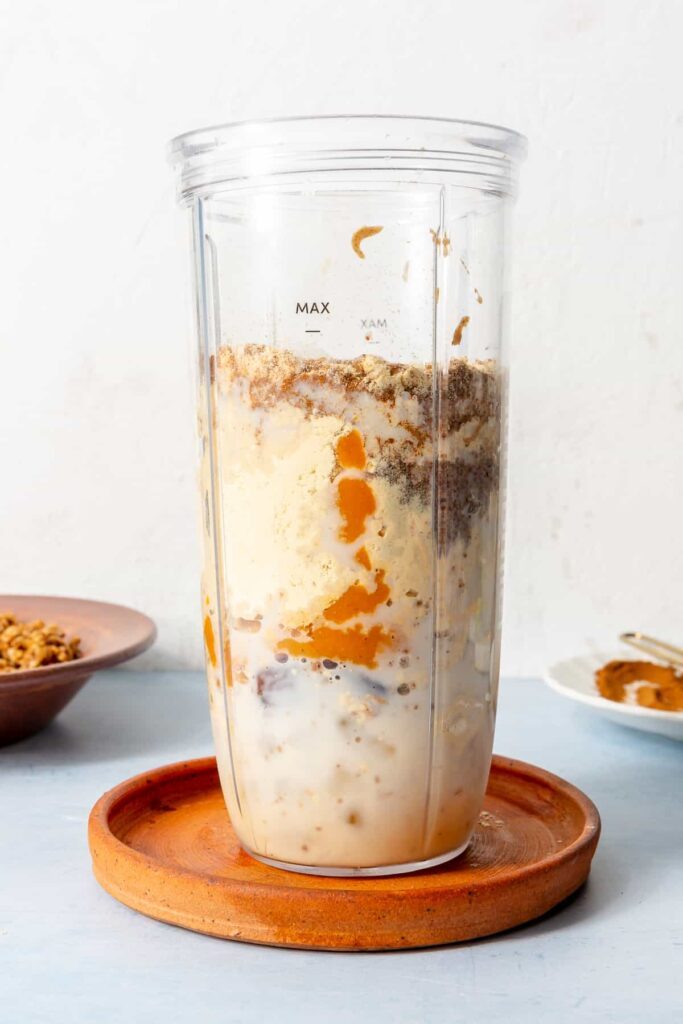 INGREDIENTS YOU'LL NEED:
Almond Milk
Ice
Frozen Banana
Pumpkin Puree
Ground Flaxseed
Pumpkin Pie Spice
Almond Butter
Frozen Pitted Date
Vanilla Protein
Granola (optional)

HOW TO MAKE A PUMPKIN PIE SMOOTHIE
The night before, or at least a few hours before making this smoothie, freeze your banana and dates. The frozen banana gives the smoothie the best cold and creamy texture, and I find that the date blends better when it's frozen.
When you're ready to make your smoothie, add the almond milk, ice, frozen banana, pumpkin puree, ground flaxseed, pumpkin pie spice, almond butter, frozen pitted date, and vanilla protein to a high-speed blender. Blend on high until smooth, or until it reaches your desired consistency.
Pour into your cup and top with granola for an extra crunch. Enjoy!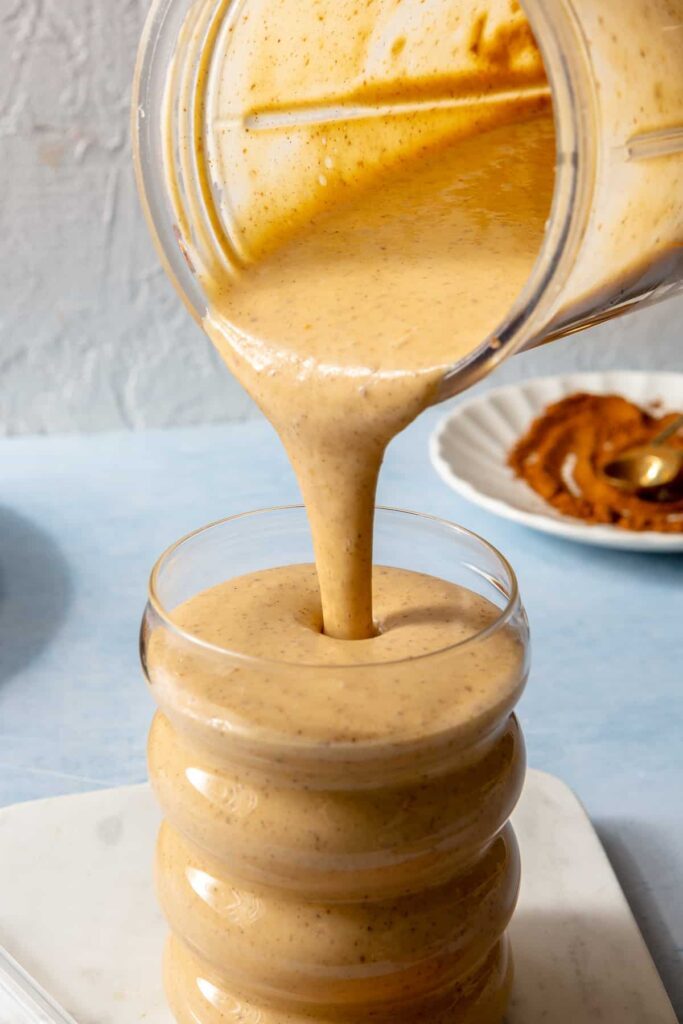 RECIPE QUESTIONS AND SUBSTITUTIONS
Feel free to sub your favorite non-dairy milk for the almond milk listed. You can choose your favorite nut or seed butter in place of the almond butter, but the almond butter compliments the pumpkin nicely, so it may change the flavor of the smoothie. You can omit the flaxseed if you don't have it, no problem.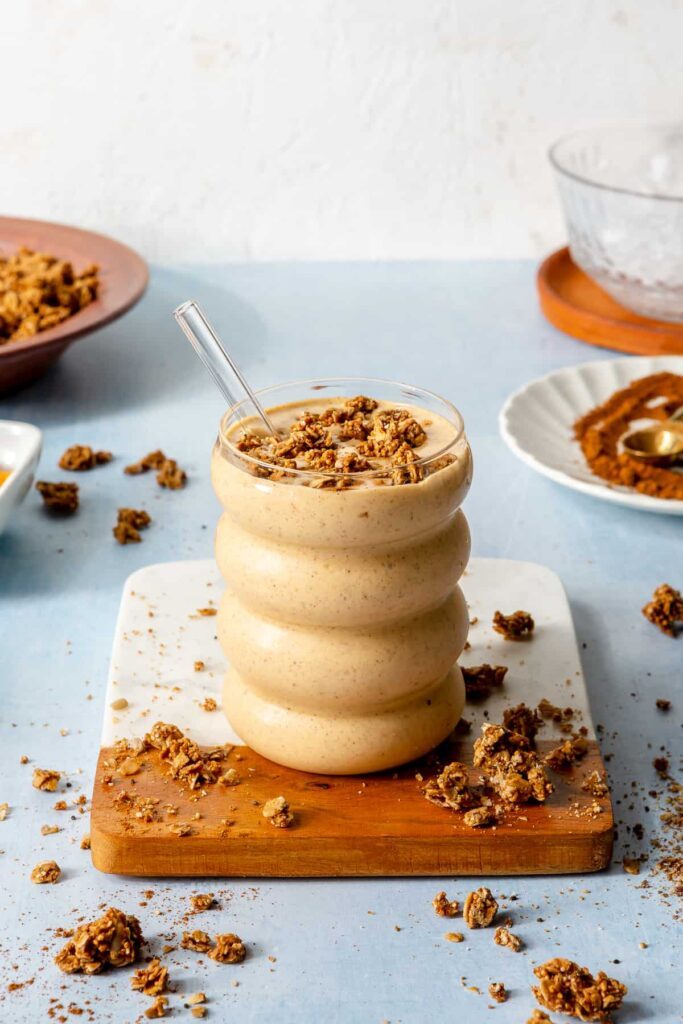 WHAT IS PUMPKIN PUREE?
Pumpkin puree is cooked and mashed pumpkin! It's super easy to cook with, and a popular ingredient to add to baked goods. I prefer buying organic, which is widely available. One other note is to make sure you double check what your buying by reading the ingredient label. Pumpkin puree and pumpkin pie filling are usually next to each other in the store, but they're very different things. Pumpkin pie filling is loaded with sugar, oils, and additives – nothing we need in our morning smoothie!
WHAT IS THE BEST VANILLA PROTEIN?
The best protein powders are those that are minimally process with simple, high-quality ingredients. I've tested so many protein powders over the years and finally found a handful I use interchangeably every day. I also have a very sensitive stomach, so finding a high quality version, without all the crap ingredients (and without dairy because I'm lactose intolerant) is always important to me. I also prefer sugar-free or low-sugar (sweetened naturally) and I wrote a post on a few of my favorites: My 5 Favorite Protein Powders.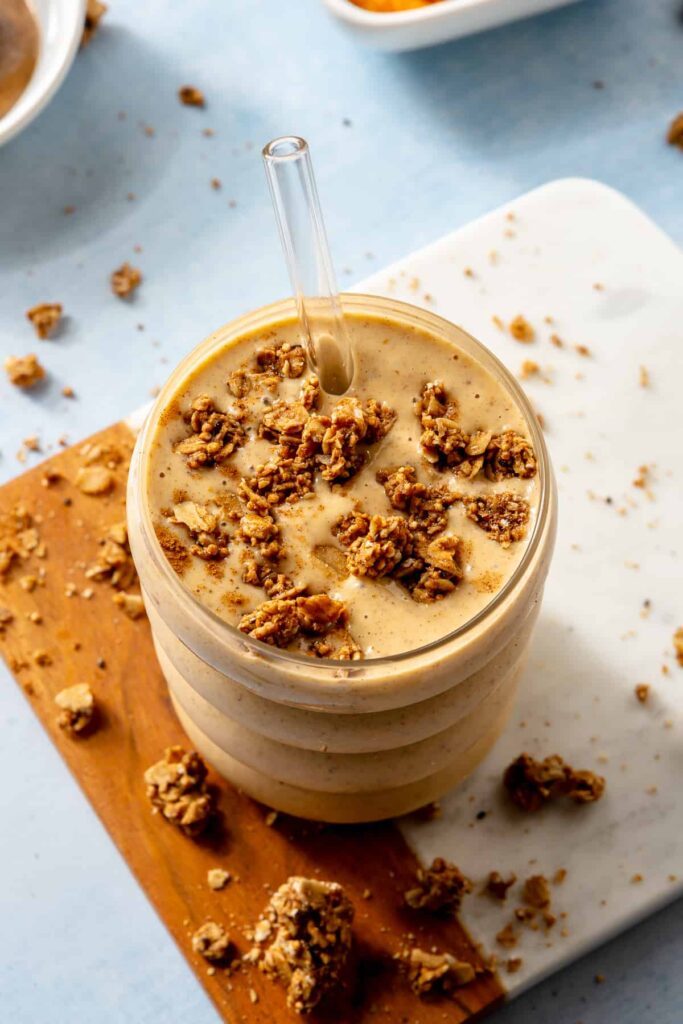 LOOKING FOR MORE PUMPKIN RECIPES?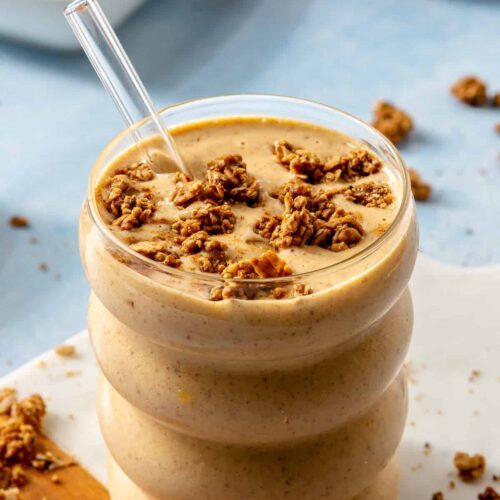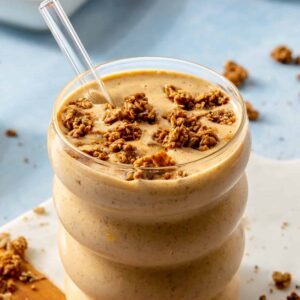 Next time you have leftover canned pumpkin from a recipe, you have to try this smoothie 😋
Ingredients
1 1/4

cup

almond milk

,

or milk of choice

1

cup

ice

½

frozen banana

¼

cup

canned pumpkin puree

1

tbsp

ground flaxseed

1

tsp

pumpkin pie spice

1-2

tbsp

almond butter

1

pitted date

,

frozen is best – toss a few in the freezer the night before

1

serving vanilla protein

,

my favorites linked on the homepage of my website

granola

,

optional
Instructions
Blend all ingredients together and top with granola 😍