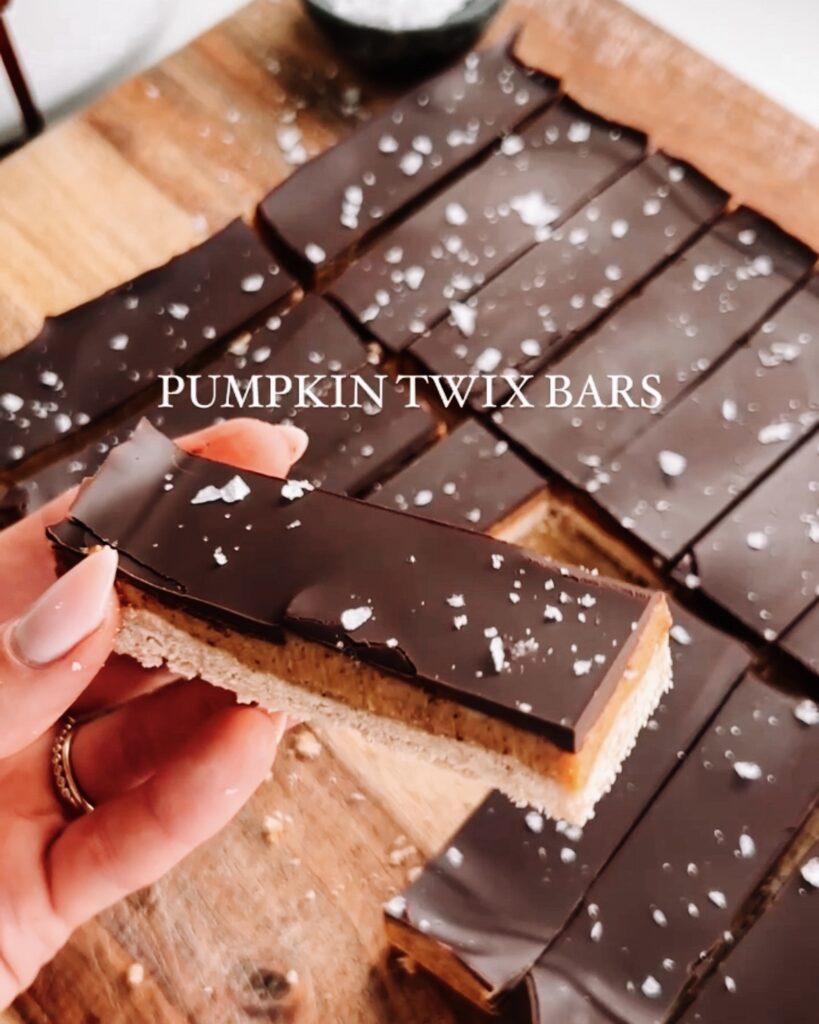 Click here for the Reel I made of this recipe 🙂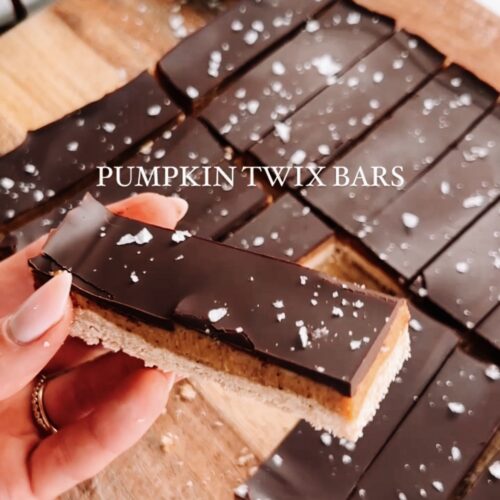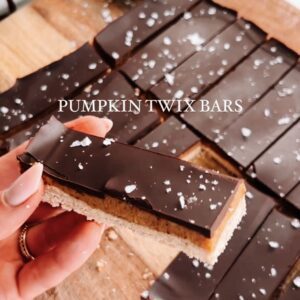 As if the originals couldn't get any better… try these out!
Ingredients
Shortbread layer
1/2

cup

coconut flour

1/2

cup

almond flour

1/3

cup

coconut oil, melted

3

tbsp

honey, warmed

,

(option to substitute maple syrup)

1

tsp

pumpkin spice
Caramel Layer
1/2

cup

pumpkin purée

1/3

cup

almond butter

1/4

cup

coconut oil

1/4

cup

maple syrup

1

tsp

vanilla extract

1/2

tsp

pumpkin spice

pinch of sea salt
Chocolate Layer
1/2

cup

chocolate chips

,

(or one 2.5 oz dark chocolate bar)

1

tbsp

coconut oil

1/4

tsp

flakey sea salt
Instructions
Shortbread layer
Preheat the oven to 350 degrees F.

In a large bowl, combine the shortbread ingredients until well combined, stirring out all the crumbles.

Line a 6×6 baking dish (I use 8×8 and add crumbled foil to the sides to make it a bit smaller) with parchment paper. Pack the shortbread mixture into the baking dish using a silicone spatula.

Bake for 10-12 minutes or until just starting to turn golden brown. Set aside and let cool.
Caramel Layer
In a medium saucepan over medium-low heat, combine the caramel ingredients. Whisk until the mixture is completely liquid and thoroughly mixed, about 2-3 minutes. Remove from the burner and let cool.
Chocolate Layer
In a small saucepan over low heat, combine the chocolate, coconut oil, vanilla, and sea salt. Stir constantly until chocolate is completely liquid. (Option to microwave for 30 second intervals, stirring in between, until melted.)
Twix Bars
Once the shortbread and caramel layers have cooled completely, pour the caramel over the shortbread and spread it evenly. Set in the freezer until it hardens completely, 1-2 hours.

Once frozen, remove from freezer and pour chocolate over the top. The chocolate will melt quickly because the base will already be hardened, so make sure to spread the chocolate quickly. Sprinkle with sea salt and set back in the freezer to harden for 5-10 minutes. *If you leave these in the freezer too long, the chocolate may crack when you're trying to slice the bars.

Once chilled and chocolate has hardened, take the Twix bars out of the pan by pulling up the parchment paper. Lay the bars on a cutting board and and slice into 1/2-inch strips and then in half length-wise for bars or into thirds for bites. Enjoy!