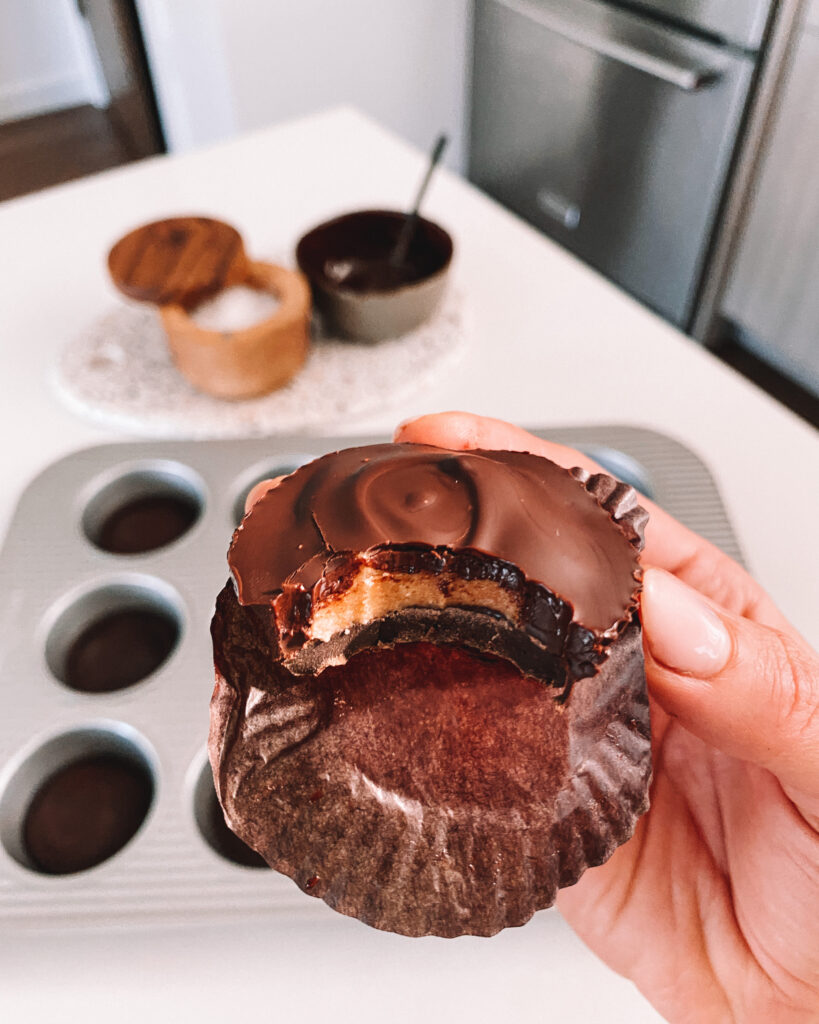 Reese's cups are hands down my favorite candy ever. Without a question! I'll never get tired of this combo and I feel like I've made remade them into a similar version almost every holiday now. But I promise you, this one is the best! 🙂 Super simple to make with just a handful of better-for-you ingredients than the real thing.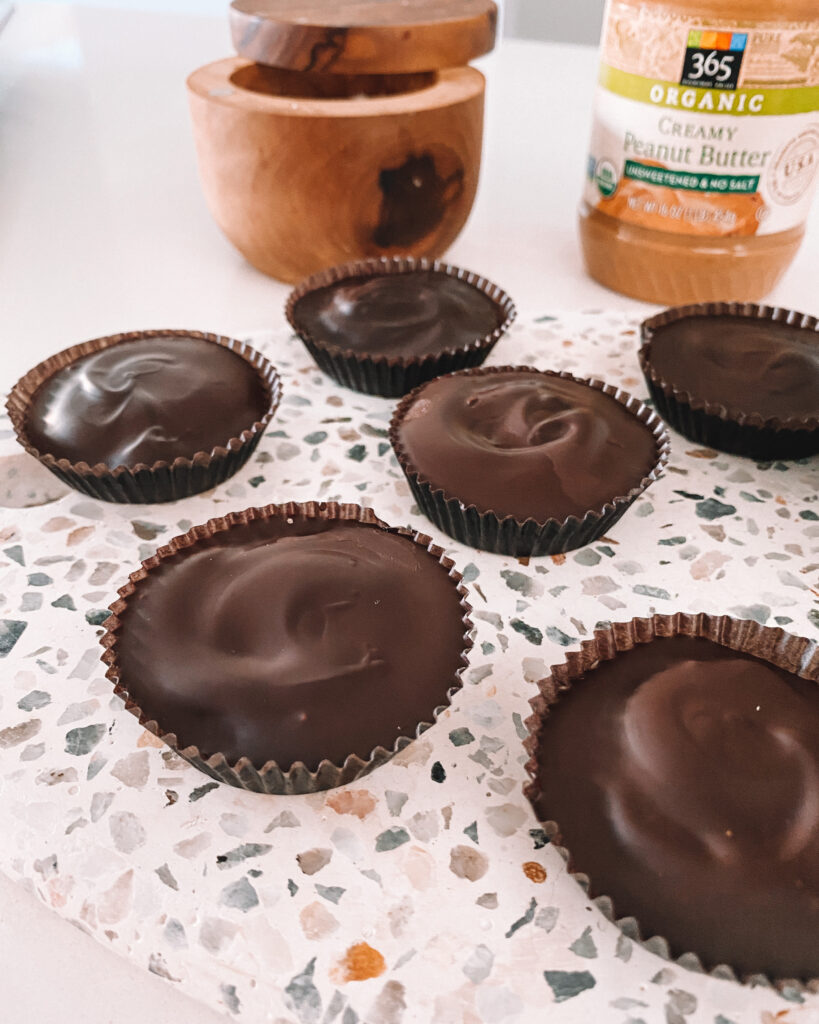 You'll want to always have a stash in the freezer, trust me!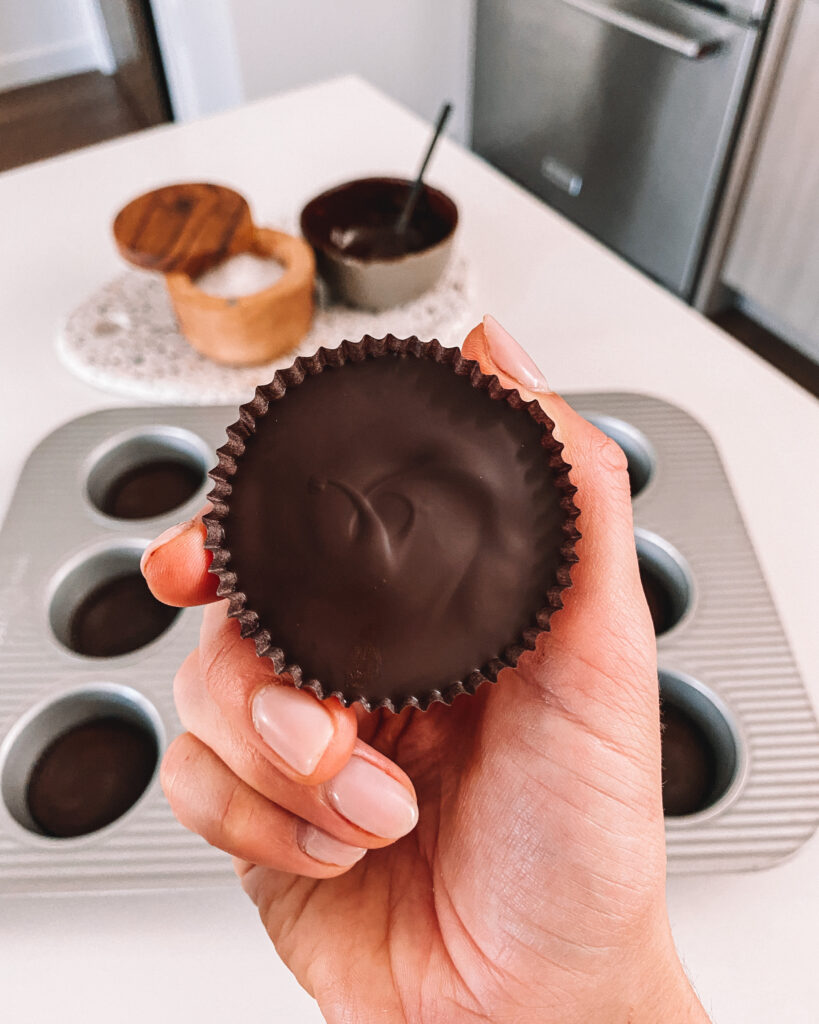 I found Reese's pb cup liners on Amazon, which made it all that much better. Brought me back to every halloween growing up, stuffing as many of these in my pillow case as possible. You can use chocolate bars or chocolate chips– melt them in a small pot over the stove on low heat or in the microwave for 30-second intervals, stirring in between. Once you've filled the base of all the liners with chocolate and let it harden, you can add the filling. I like using any one to two-ingredient creamy peanut butter. My go to is Whole Foods 265 brand creamy pb (unsweetened and no salt). The filling is incredible & it's hard not to eat all the batter before you use it so… just be warned.
Click here for the Reel I made on Instagram.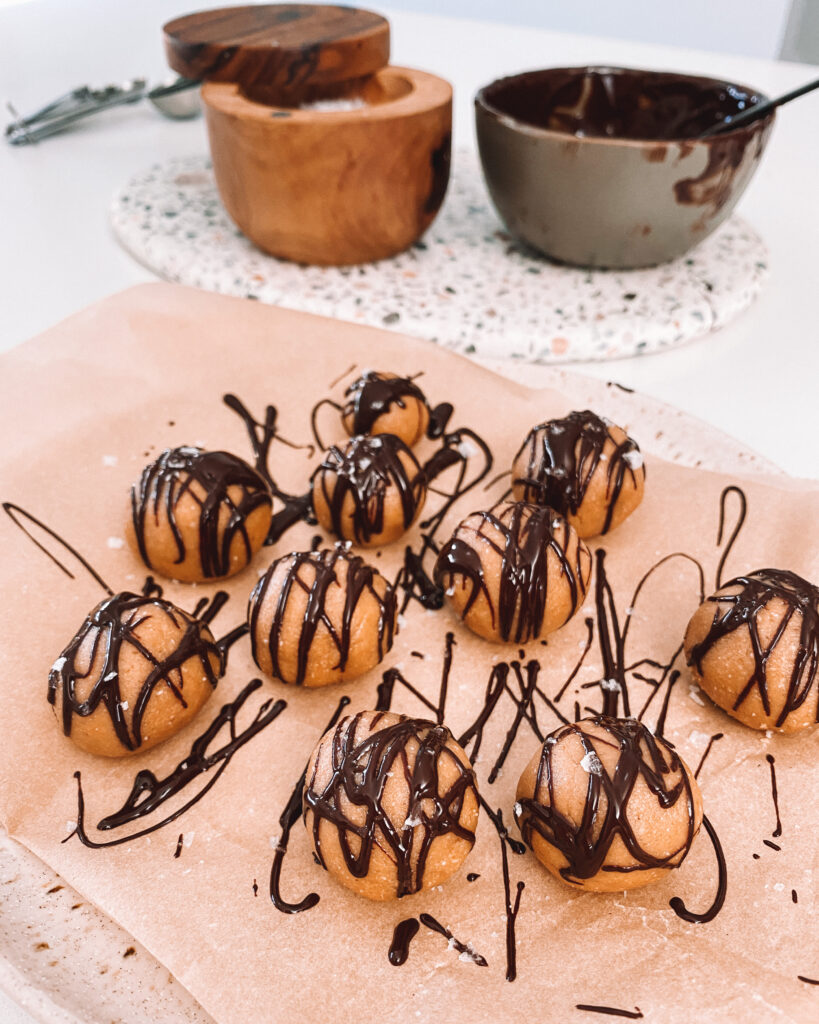 If you end up having leftovers of the pb filling, I like making them into chocolate pb truffles! Try rolling the dough into small 1/2-inch balls, placing on a plate with parchment paper, sticking it in the fridge for 10-15 minutes to harden, then drizzling them with chocolate over the top. Add some flakey sea salt for the best flavor! These keep forever in the freezer, too and gives you a different option if you're not feeling like a lot of chocolate.
Try them out & make sure to give them a rating below, it really helps out my page 🙂 Thank you so much, I know you'll love them!
Copycat Reese's Peanut Butter Cups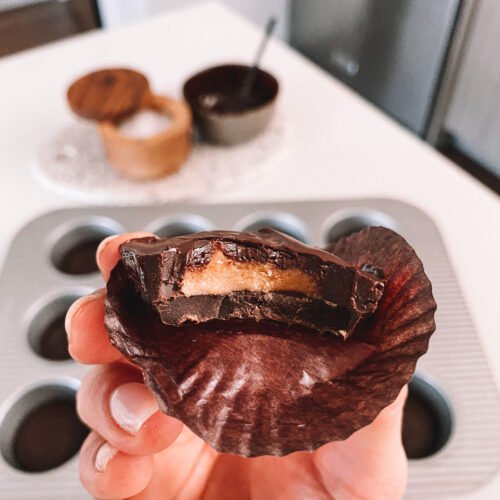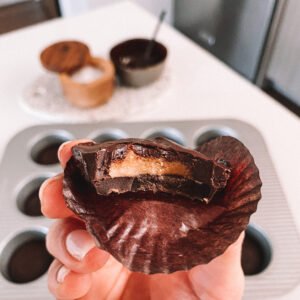 Everyone's favorite peanut butter chocolate combo– this one is UNREAL and made with just a handful of ingredients!
Ingredients
PB Filling
1/2

cup

creamy salted peanut butter

,

(2 ingredients is best: peanuts, sea salt)

2

tbsp

maple syrup

,

(honey works, too!)

2

tbsp

melted coconut oil

1

tsp

vanilla extract

3

tbsp

collagen peptides

,

(completely optional! They dissolve right into the "dough.")

5-6

tbsp

coconut flour

,

(or sub 10 tbsp almond flour)
Outer Chocolate Layer
3

chocolate bars or 2-2.5 cups chocolate chips

,

(may have to add more depending on how many cups you make)
Instructions
Add Reese's liners or cupcake liners to cupcake tin.

Melt chocolate over the stove on low heat or in the microwave, stirring every 30 sec until liquid. Using a spoon, transfer chocolate to each liner, filling only the base. Once all are filled, move to freezer to harden while you make the filling. 

Whisk together pb, maple syrup, coconut oil and vanilla extract in medium-sized bowl. Pour in collagen, if using, and coconut flour, & stir thoroughly. 

Form dough into smaller, 1-inch thick balls and press together with your palms to flatten into a circle. Place filling over the hardened chocolate in the liners, thin enough so that it doesn't pass the top of the liner and enough room on the outside so the chocolate can fill the space.

Once all dough has been added (you'll probably have some leftovers), pour remaining chocolate over the top until it's level. Place back in fridge/freezer for 5-10 min to harden.

Best when fully defrosted– Enjoy! *store in airtight container in fridge/freezer for up to several weeks.