You guys know I'm alllll about a good health–but not always healthy tasting–dessert. I grew up eating the classics: Snickers, Butterfingers, Reese's Chocolate Easter eggs (my version here), and TWIX BARS. I was that kid who organized their Halloween candy by category, and would NEVER trade my twix bars. They were gold.
Nowadays, I love recreating my childhood favs into treats you can feel GOOD about putting into your body. These Twix Bars are made with only a fraction of ingredients as the original junkfood version, take the shortest amount of time (& effort, let's be real. This recipe is not hard at all!!) to make, and the finished product is phenomenal!!!! Bridger even said, "I love you, but these are better than your Mars Bars and your cookie skillet." So, I mean, if that isn't saying something then I don't know what will.
I urge you to add this recipe to your "to-do" this week or weekend because you will fall in love! This recipe makes a ton of little mini "bars," but I promise you they'll be gone before you know it. Each layer blends so well together and the shortbread base layer is beyond.
All gluten-free, dairy-free and refined sugar-free 😉 My kinda dessert. Feel free to swap maple syrup for honey in the shortbread layer– I personally love manuka honey. And you can also make your own chocolate layer if you're out of a 2.5oz chocolate bar. Simply mix 1/4 cup melted coconut oil with 1/4 cup cacao powder, 1/2 tsp vanilla extract and 1-2 tbsp maple syrup.
As for presentation, if you want layers to be THICK and distinguished, use a loaf tin or 6×6 baking dish. If you're left with an 8×8 dish/tin, you can take up another inch of space by stacking two shot glasses and laying them sideways underneath the edge of the parchment paper so the mixture doesn't take up the entire base, #cleverright? Also, to prevent the chocolate from cracking/breaking when you slice into the bars, I recommend using a very sharp knife, gently pressing down, and wiping the knife clean with a paper towel each cut. You should also let the block of twix sit out of the freezer for a few minutes so it's not rock hard (this can also lead to cracking of the chocolate).
MAKE THIS RECIPE!! It's definitely a fan favorite!
p.s. do NOT be intimidated or overwhelmed by the steps / layers below. It's much easier than you think! Check out the step-by-step video below from my YouTube channel 🙂
One more thing, I know you won't be able to stop licking the spoon after you make that caramel layer. Try making it as a dip for apples in the fall/winter 😉 You're welcome.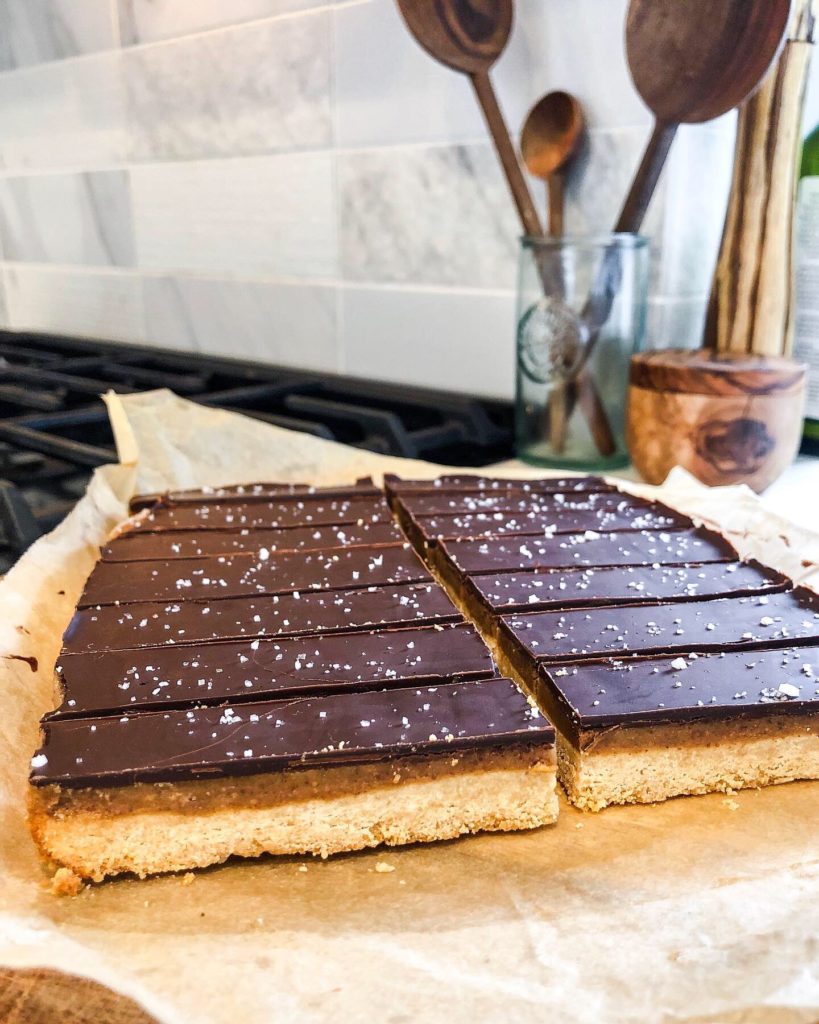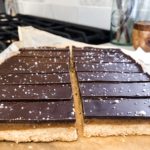 Healthy TWIX Bars (GF, DF, Refined Sugar-free)
Ingredients
Shortbread Layer
1/2

cup

coconut flour

1/2

cup

almond flour

1/3

cup

coconut oil, melted

3

tbsp

honey, warmed

(feel free to sub maple syrup)
Caramel Layer
1/2

cup

almond butter, creamy or crunchy

(swap for your fave nut or seed butter)

1/4

cup

coconut oil

1

tsp

vanilla extract

1/4

cup

maple syrup

pinch

sea salt
Chocolate Layer
One

2.5 oz

dark chocolate bar (I use Evolved Eating Signature Dark)

Or sub 1/2 cup chocolate chips

1

tbsp

coconut oil

1/4

tsp

flakey sea salt
Instructions
Shortbread Layer
Preheat oven to 350 degrees F.

Combine coconut + almond flours with melted coconut oil and warmed honey in a large bowl. Stir out all the crumbles of flour until thoroughly combined.

Line a smaller baking dish (I prefer a 6x6 baking dish) with parchment paper and pack down shortbread mixture into the base using a silicone spatula. If shortbread mix starts to stick to spatula, dip in melted coconut oil and continue to gently press down evenly into entire base of dish.

Bake for 10-12 minutes, or until starting to turn golden brown. Remove once done and let cool completely.
Caramel Layer
Combine almond butter, coconut oil, vanilla, maple syrup and sea salt in a saucepan over the stove on medium-low heat and heat until completely liquified, whisking together, about 2-3 minutes.

Remove from burner and let cool completely.
Chocolate Layer
Break up chocolate bar into small bowl and add coconut oil. Warm in microwave for 30 sec intervals, stirring in between, until completely liquified. Or, heat over the stove.
TWIX BARS
Once shortbread & caramel have completely cooled, pour caramel sauce over the base layer, spreading out evenly. Set in freezer until it hardens *completely,* about 1-2 hours.

Remove from freezer once frozen (if still soft, keep in freezer until fully hardened) and pour chocolate over the top, spreading out evenly. Sprinkle flakey sea salt as the last touch and set back in fridge for 5-10 minutes to harden.

Once chilled, remove the hardened mold from pan by pulling on the sides of the parchment paper. Lay on cutting board and using a large chef's knife, slice into 1/2-inch strips, and from there, slice each strip into thirds. *if you leave the chocolate layer in the freezer for too long, it may crack when you cut into slices.

Ready to serve!! Enjoy! Store in airtight container in the freezer or fridge 🙂