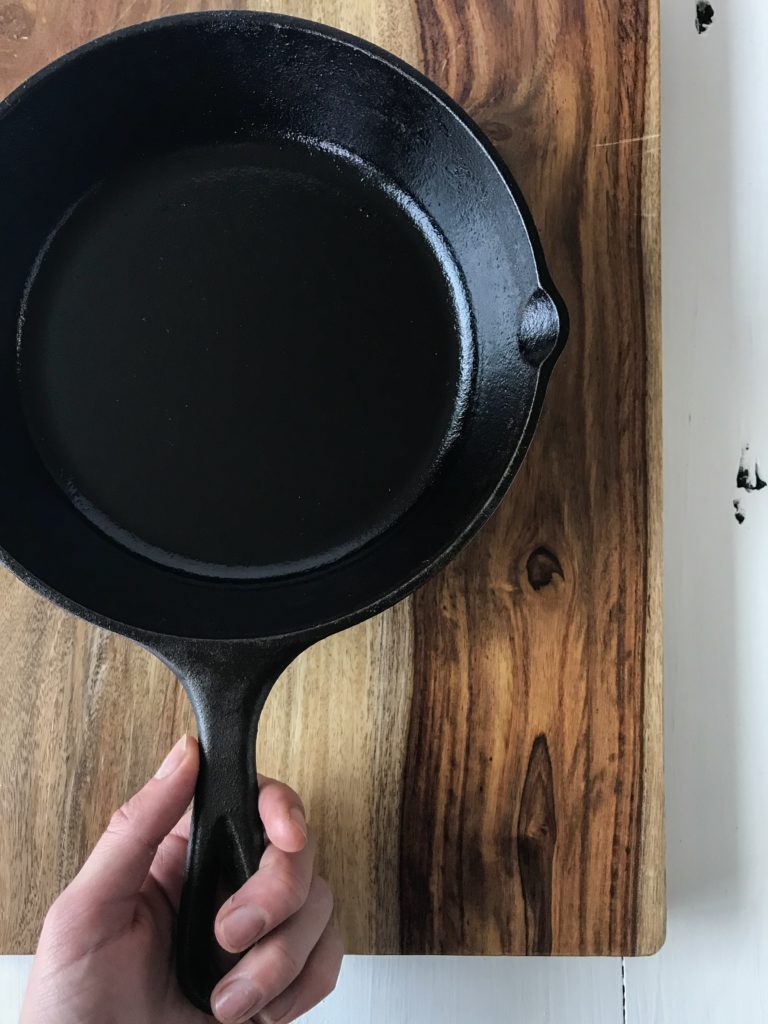 One of the most frequently asked questions I get is how I clean and maintain my cast iron skillets without them rusting or food sticking to them. Trust me, I had these same hesitations before I bought my own skillets. I was intimidated, for sure.
Turns out it's a lot less work than you may think. It just takes a little practice getting the routine down each time you put your cast iron to use. But as long as you keep it in tip-top shape, it'll be your best friend in the kitchen! Cast irons are great for anything from pan-searing (i.e. extra crispy fried eggs and seared chicken) to baking (i.e. my cashew chocolate chip cookie skillet). My favorite brand's are Lodge Cast Iron and Le Creuset. You can find them at Target, Amazon, William's Sonoma and other stores.
When you first purchase a cast iron, it's important to know whether or not it is pre-seasoned. If it is pre-seasoned (for example, Lodge Cast Iron's are pre-seasoned), you should only have to give it a quick rinse and dry and it will be ready to start cooking with. If the cast iron has not been seasoned, here are the steps to season your new skillet:
Preheat oven to 350 degrees F and warm cast iron for 10 minutes. Remove and coat entire skillet with oil (Chosen Foods avocado is my favorite to use!! You can now buy it at Trader Joe's) using a paper towel.
Return skillet to oven and bake for 1 hour.
Remove and let cool. Store carefully in a dry place.
Cast iron skillets work best at low-medium heat and take a few minutes to warm up– let it do so before adding your food.
When I use my skillet, I always make sure to add enough oil or ghee so the food doesn't stick (about a tbsp or two). Once I'm done cooking/baking, I like to wash the skillet when it's still fairly warm. This will help any residue or burned-on food come off easier. It's important to try to avoid using soaps– I stick to hot water and a scrubber brush or a stainless steel chainmail scrubber. If I cook fish or something with a more pungent smell, then I will use a few drops of mild dishwashing soap (like Dr. Bronner's) and be gentle when scrubbing. Once all residue is removed, I'll wipe it dry immediately with a lint free towel or paper towel.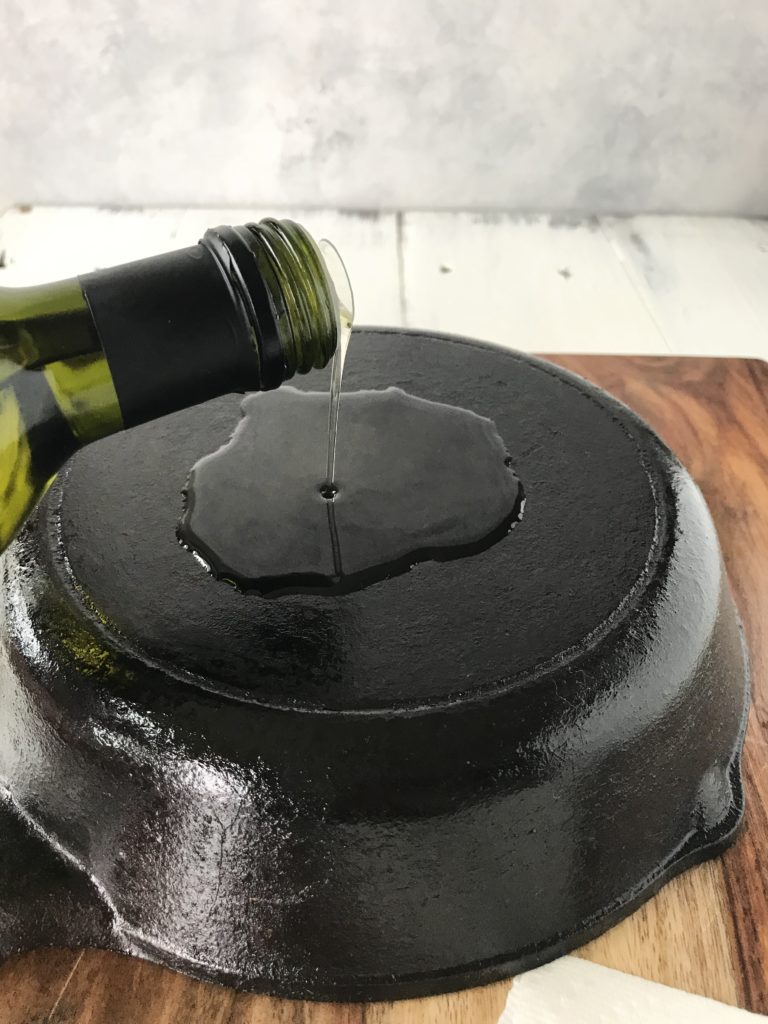 Next, I'll pour about 1 tbsp avocado oil to the skillet and use a paper towel to wipe the entire skillet down (including underneath and handle). It should look shiny, but not wet. Then I'll store it in a dry place without any lids on top to avoid rusting. Feel free to lay a paper towel over the top to protect it from dust.
The Don'ts With Your Cast Iron:
-Don't run it through the dishwasher
-Don't let it soak or stay wet (not properly drying your cast iron can cause it to rust). Dry immediately after rinsing with a dish towel
-Don't use harsh soap every wash
-Don't use a harsh, stiff metal brush or scouring pad
*If your cast iron happens to rust, don't give up on it!!! You can easily get it back to lookin' brand new. Use some steel wool to remove the rust and then re-season your pan. Click HERE and scroll to the bottom of the page for an easy how-to video on restoring your rusted cast iron.
Shop my favorite products below!