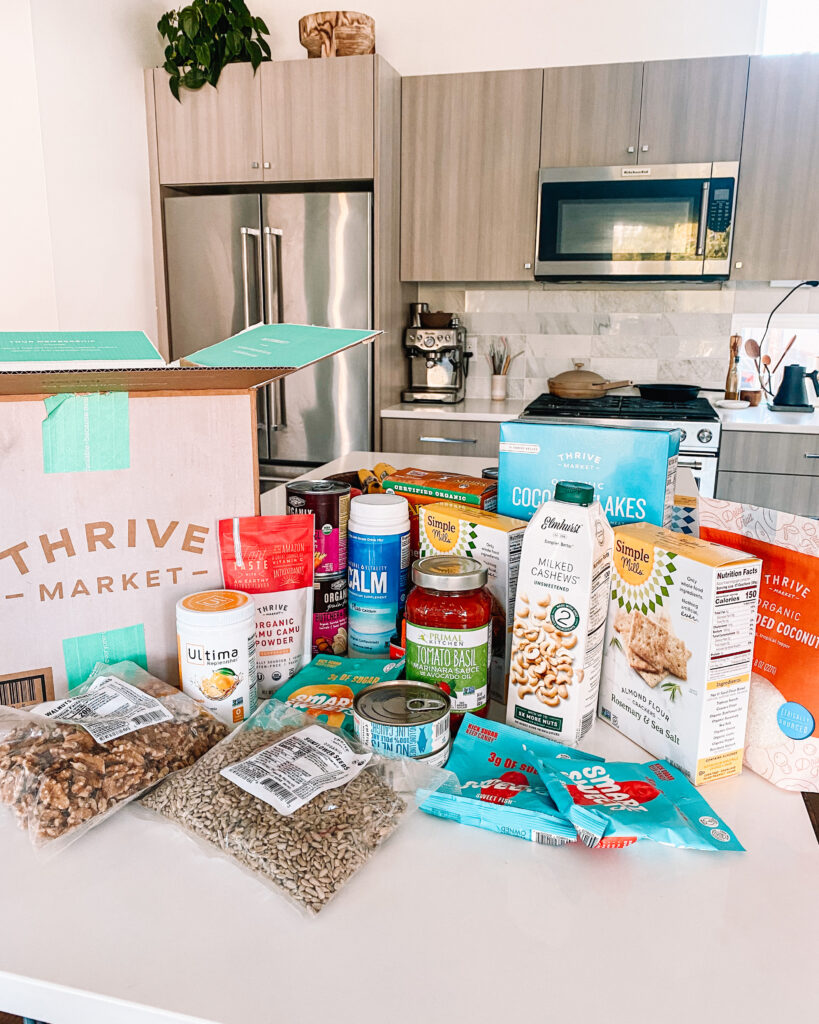 If you know me, you know I've been ordering from Thrive Market for the last couple years and it's safe to say I'm fully obsessed. It's basically a one-stop shop for everything food, home, supplements, wine, pet, babies/kids, beauty, etc. and it's been saving us a trip to the store at least once a month since the start of this year (hello, covid-19). I love it because you can get anything you'd normally buy from your local grocery store, but usually at a more affordable price and delivered straight to your door. It's convenient to say the least!
Anyways, you guys constantly fill my DMs with questions about what I normally buy so I figured I'd keep it all here in one place and can continue to add to it when I find new gems on their site.
p.s. they normally give me a discount for you guys when you sign up so stay up to date on my stories! They have a 1-month and 12-month membership option and it's super flexible so you can cancel at anytime. We go with the 12-month just because it comes out to only like $5/month, which is great cause I've been using it so much + it's so worth it.
Let me know in the comments if you have any favorites I should try for my next order!
CHIPS/CRACKERS:
– Siete chips
– Thrive Market brand sea salt & vinegar chips made with avocado oil
– Pipcorn truffle corn dipper: oh my god, they are legit fritos
– Simple Mills crackers
– Hu Crackers (Everything flavor)
– Lesser Evil popcorn/paleo puffs
– Quinn pretzels, including the pb filled (they're all GF by the way)
COOKING/BAKING
– Dr. Bronner's coconut oil
– Chosen Foods, Primal Kitchen or Thrive Market avocado oil (I go through this the most in my kitchen)
– Avocado + coconut oil spray
– Fourth & Heart ghee (himalayan pink salt is my fav)
– maple syrup
– Wedderspoon Manuka honey
– Lakanto maple syrup and their powdered sugar
– parchment paper
– Primal Palate seasonings (we go through these the most: taco seasoning, meat & potatoes, bbq, adobo)
– Simply Organic ceylon cinnamon
– Vanilla extract
– Birch Benders paleo pancake mix (for me) + protein mix (for Bridge)
– Purely Elizabeth pancake mixes
CONDIMENTS/SAUCES/DRESSINGS
– Primal Kitchen everything (unsweetened ketchup, all their dressings/marinades, marinara, alfredo sauce for my 20-min Chicken Alfredo)
– Siete hot sauce
– Coconut Secret coconut aminos (soy sauce alternative)
– Rao's marinara
MORE PANTRY STAPLES
– Jovial pasta (literally any kind is so good. Made from brown rice flour + water and is gluten-free!)
– Birch Benders paleo pancake mix
– Wild Planet albacore tuna in extra virgin olive oil
– Numi organic aged earl grey tea
– Thrive Market organic coconut flakes cereal
– Thrive Market organic shredded coconut
– Bob's Red Mill almond flour
– Purely Elizabeth grain free bread + muffin mix, and pancake mixes
– Thrive Market sprouted brown rice
– Simple Mills artisan flour baking mix (or any of their mixes. I used their vanilla cupcake/cake mix for our wedding cake lol)
– Annie's organic graham crackers
SMOOTHIE ESSENTIALS
– hemp seeds
– camu powder
– ground flaxseed
– cacao nibs
– cacao powder
– chia seeds
– Elmhurst milked cashew milk
SUPPLEMENTS/PROTEIN
– Nordic Naturals omega-3s + vitamin D3
– Magnesium calm powder
– organic spirulina
– Ultima replenisher (lemonade flavor)
– Primal Kitchen Collagen Fuel (I use vanilla most)
– Gaia Herbs: any of their products are amazing
– Genexa: great brand, organic medicine
– Beekeeper's propolis spray
– MegaFood zinc
– Four Sigmatic focus shots, mushroom mixes, protein powder
NUTS/SEEDS
I always opt for raw or dry roasted so no additional oils are used in processing. Typically for roasted nuts and seeds, canola oil or a similar inflammatory vegetable oil is used and you could easily go without or roast your own at home 🙂 I also typically buy Thrive Market brand because they're prices are cheaper than any others!
– organic walnuts, pecans, cashews (for my homemade Cashew Milk), sunflower seeds, pumpkin seeds, Brazil nuts
SWEET TREATS
– Smart Sweets (Bridger loves them. only 3g sugar per bag)
– Evolved chocolate !!
– Unreal dark choc peanut gems
HOME/CLEANING
– Dr Bronner's sal suds biodegradable cleaner
– Stasher bags (reusable ziplocks)
– paper towels/toilet paper
–
---