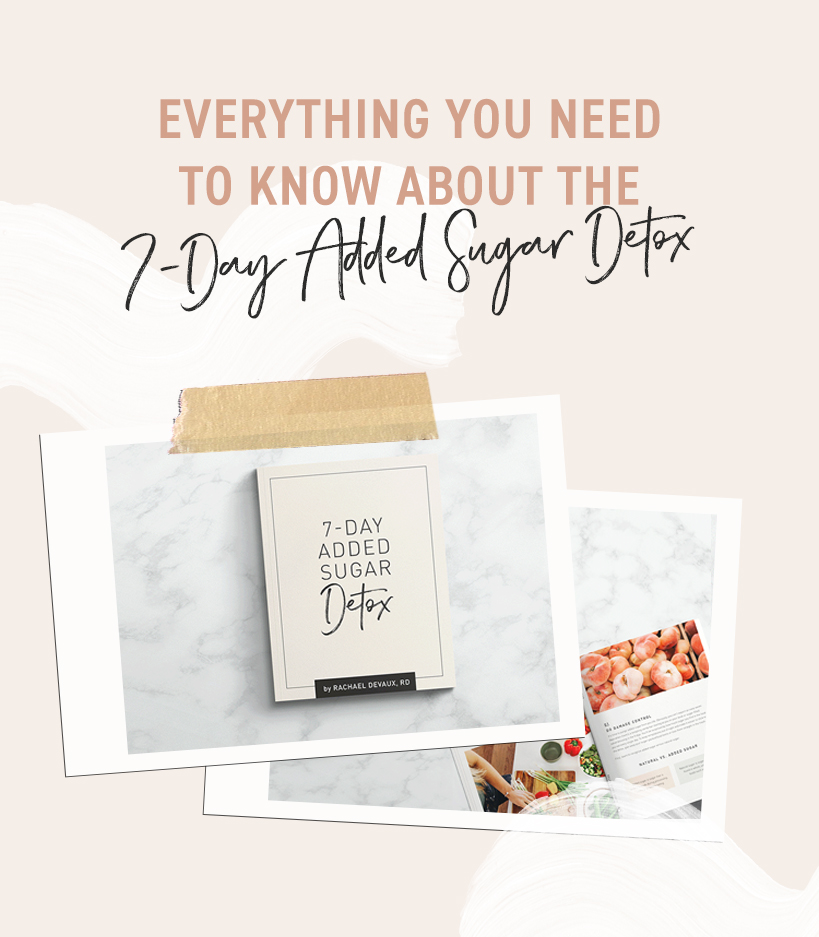 My most-asked questions BY FAR (outside of workout tips and recipes) are all about my 7-day added sugar detox ebook. This makes me so happy because building this program actually helped change my own personal eating habits so I KNOW it has the ability to have the same effect on yours!
Because I get so many Qs about what the detox is exactly, how it works, what you get for your money, etc., I thought it would be helpful to break everything down and want you to have all the information you need before deciding to invest in it!
So, here are some of the most commonly asked questions regarding the 7-day added sugar detox and if you have others that I didn't cover, drop them in the comments and I'll do my best to answer!
Q: Can you break it down for me? What does this 7-day added sugar detox entail?
A: This ebook I created is basically a how-to guide in learning how to reduce added sugars in your diet. It's about paying attention to how you're fueling body, realizing how much sugar sneaks its way into so many common everyday food and drink items, how to detect sneaky sugars, learning what to order when eating out, and learning how to retrain your taste buds to become more sensitive to sweet tasting things. It's everything that's helped me better my own eating habits along the way, but not only that, you can think of this guide as a healthy cookbook with delicious recipes! 🙂
Q: What's included in the program?
A: When I developed this detox, I really focused on providing as much VALUE as I could. What you get in the ebook: exclusive recipes (breakfast, lunch, dinner and snacks) not listed on my site, a shopping list, nutritional information on added sugar and the effects it can have on your body, tips & tricks on how to ease into the detox and continue being aware of the sugar you consume moving forward after the detox, and – my favorite part – access to a private Facebook community where you get all the support and encouragement from others also doing the detox.
Q: Can I purchase/do the program at any time or only during a community detox?
A: The ebook version of the detox is available at any time and I definitely encourage you to do it whenever you feel like you need it! I've done more than a dozen the past two years and each time I do it, it gets so much easier. I also host a community-wide added sugar detox every few months in the private Facebook group you get access to after purchasing. The next community detox starts in July once everyone receives their hard copy (2-3 weeks after pre-order closes), so snag your copy and join us! 🙂
Q: What are the benefits of doing an added sugar detox?
A: I dive pretty deep into this in my book, but for me, the biggest benefits are simply FEELING BETTER and learning more about what you're fueling your body with. There is hidden added sugar in so many processed foods marketed as "healthy" and going through this detox will open your eyes to this as well as the nutrition of real, whole food. You are also sure to notice increased energy, less brain fog, a better mood, your body becoming leaner/less bloated, better sleep, and clearer skin.
Q: How many recipes are included?
A: The program includes 22 recipes for breakfast, lunch, dinner and snacks– all gluten-free and dairy-free! They are obviously catered to how I typically eat, which is more paleo-ish, but then again I don't necessarily follow a specific diet. People often ask if it's vegetarian-friendly or vegan-friendly, and I like to answer by saying yes, I definitely encourage you to swap with your favorite proteins! It's very easy to modify the recipes. Other FAQs include how many recipes include nuts: 3, and eggs: 3. Let me know if you have more specific questions regarding food allergies/preferences below 🙂
TESTIMONIALS
"This ebook is so amazing! I absolutely love all the recipes and tips that are included! The 7-day added sugar detox was so hard the first 3 days but after that I felt amazing and had so much energy. Even though I don't do the no added sugar every day I love to look back at the recipes to use on a daily basis! Thank you for all your hard work and attention you put into this ebook! Can't wait to buy more of your books!" – Jordyn
"Just bought it and can't wait to host a build-your-own fajita night with RGE's new recipe. I know the trail mix and fat bombs will become a staple in our house for quick snacks during the week – sugar detoxing or not. Thanks, Rachael!" – Alli
"This ebook is amazing! We bought it when you brought it out and did multiple detoxes. Your tips really helped me and my husband who's a type 1 diabetic. And doing it with you this week was amazing! I love how engaged you are and all the extra tips you share in the FB community! Thank you so much! To everyone not sure if they should do it… you should! You will gain so much mental clarity and see how much sugar you actually eat. The benefits are countless!" – Michellé
"I absolutely love this ebook. I snag recipes from it weekly, regardless if I'm doing the added sugar detox or not. The recipes are simple, easy, and delicious—a triple win!" – Lauren