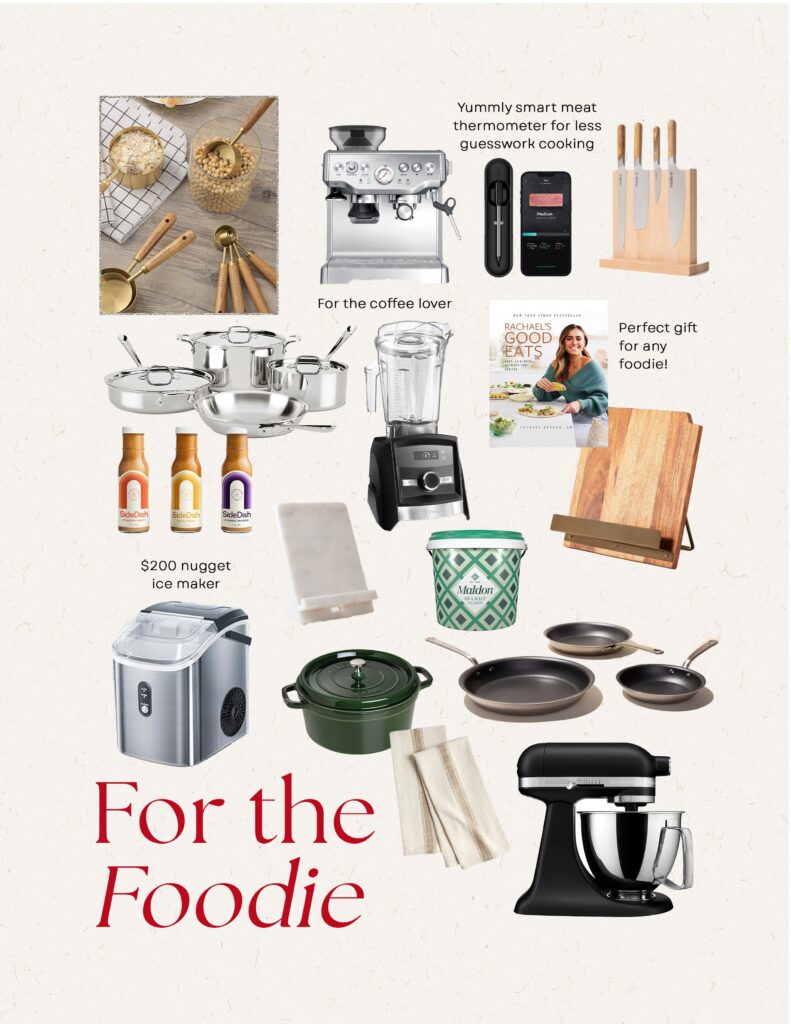 I'm officially kicking off the holiday season with some gift ideas for all my fellow foodies out there. Whether you love to cook or are shopping for someone who does, I've rounded up some of my personal kitchen favorites, along with some other items that I think would make a great gift. This Yummly wireless smart meat thermometer would be perfect for anyone who loves their meat OR maybe for those who are intimidated to cook meat (this was me before I got hooked on this thermometer). It helps you cook your meat exactly how you like it and takes all the guesswork out of it. It can also be used on the grill, stove, in the oven or a smoker. Use my code RACHAEL10 for an additional 10% off your order on their site.
For the iced coffee lovers out there, this nugget ice maker is under $200. Or, for the serious coffee drinkers, this espresso machine makes the perfect latte or cappuccino. Of course, this list would be incomplete without my Cookbook – it's packed with 110 healthy recipes for any occasion and I guarantee you will find so many family favorites! It would also make a great hostess gift, especially paired with this cookbook stand and/or some Maldon flaky salt. This is my go-to gift to anyone.
I also love these dressings and marinades by Side Dish. They taste incredible (Creamy Sesame is my favorite) and have my dietitian approval for ingredients! You can use my code Rachael10 to save 10% on your order. Linking more of my favorite kitchen essentials and more down below. Enjoy 🙂
**If you hover over any product on the photo below, you can click it and you'll be redirected to that website for purchase.