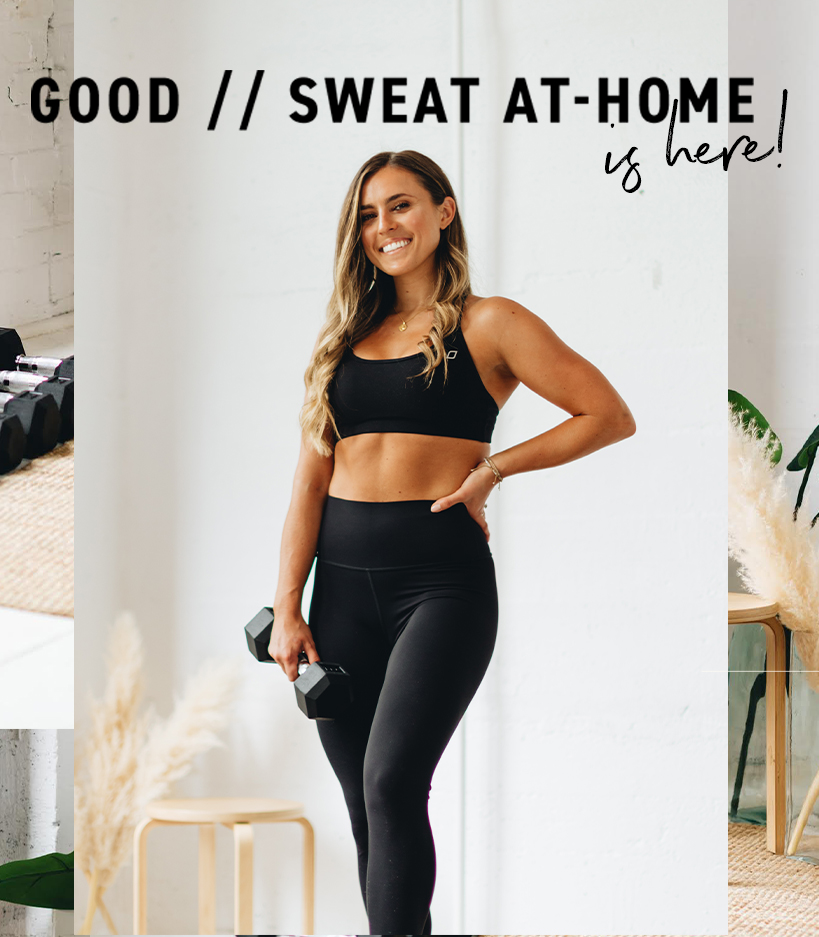 GOOD // SWEAT At-Home is finally here!! I know this year didn't go as planned for all of us, but to come out of it (or continue living through it) with such a tight-knit community, a great workout schedule and each other to hold ourselves accountable… I mean, I couldn't ask for a better scenario in a global pandemic. Six months of working out in our kitchen turned into a passion project for making fitness at-home accessible and fun FOR YOU during this wild and chaotic time. We were forced to adapt, and we did just that! As a community, we've completed more than 44 Live workouts together on Instagram (click here for the full archive) and have pushed each other to the max! Whether you've been here since day one or just started following along, I truly feel like I get to workout with all my besties 2x a week! And now we have GOOD // SWEAT At-Home to dive into together for another six weeks of killer workouts!
GOOD // SWEAT At-Home is basically an extension of what we've been doing on IG together, but kicked up a few notches. It's the most comprehensive ebook I've ever created and combines both my passions: nutrition and fitness. It's 97 pages (!!!) of nutritional guidance– not a meal plan, but instead, I offer you the foundation you need to be successful in your own journey– six weeks worth of workouts (5 workouts/week: two full-body, one lower, one upper and one CHALLENGE), and includes both photo and video demos so you can be sure your form is on point! This is a game changer and definitely an upgrade from my last training guide.
I also wanted to make sure we continue the community support we've built on Instagram, so I created a private Facebook group that you'll receive access to with your purchase of the ebook! P.s. you can find access on the Resources page in your ebook. If you've ever done my 7-Day Added Sugar Detox then you know how amazing and supportive these groups can be!
To celebrate the release and really kick things off right, I'm starting the guide from the beginning NEXT MONDAY, SEPT. 7th so we can all support each other throughout these next six weeks, as well as holding each other accountable in the FB group. Definitely snag your copy before then so you have some time to read through it and prep anything you need to before we start 🙂
I'm forever grateful for this community and the platform you've given me to continue spreading my knowledge about health and fitness! Can't wait to get a GOOD SWEAT! xx