Since moving into our new house last May 2019, I wanted to start fresh and organized, you know? A new *clean* chapter and I was fully here for it. For one, our old apartment was only 700 sq ft., which didn't quite give us any actual space to get organized. By the last couple months of living there, it was so unmanageable and we finally just gave up.
The second we got our house (much bigger space, esp the kitchen!), it was time to mold into a Type A. Before we even started moving in our things I think I took about 2-3 trips to The Container Store to get a handle on all things organization. I wouldn't say our kitchen before was particularly unorganized, but now that it's equipped with all the necessary boxes, tubs, lazy susans to whip it into shape, it feels like a night and day difference! It also made me realize that having a clean and super organized kitchen is kinda similar to what it feels like to purge your closet – like a weight has been lifted. Knowing where everything is and being able to SEE everything – both food and small appliances – definitely plays a huge factor in my overall mood as well as encourages me to make healthy food choices, use what we have, and put things back where they live. I mean, the kitchen is basically my office and where we spend most of our time so it needs to be kept in tip top shape.
But I'm getting ahead of myself! I want to break it all down for you guys step by step and explain each storage solution, what area of the kitchen we're using it in and why The Container Store has become the ultimate BFF– they have literally everything. *Plus, you can take advantage of their annual kitchen sale going on now through April 5th!!* Then, I'm going to circle back on what I said above about how I think kitchen organization can encourage healthy eating habits because we can all use a little more of that!
Let's dive in, shall we?
PANTRY
So, welcome to my pride and joy! We lucked out with a walk-in pantry–most of the other houses we toured in the area didn't have this much storage.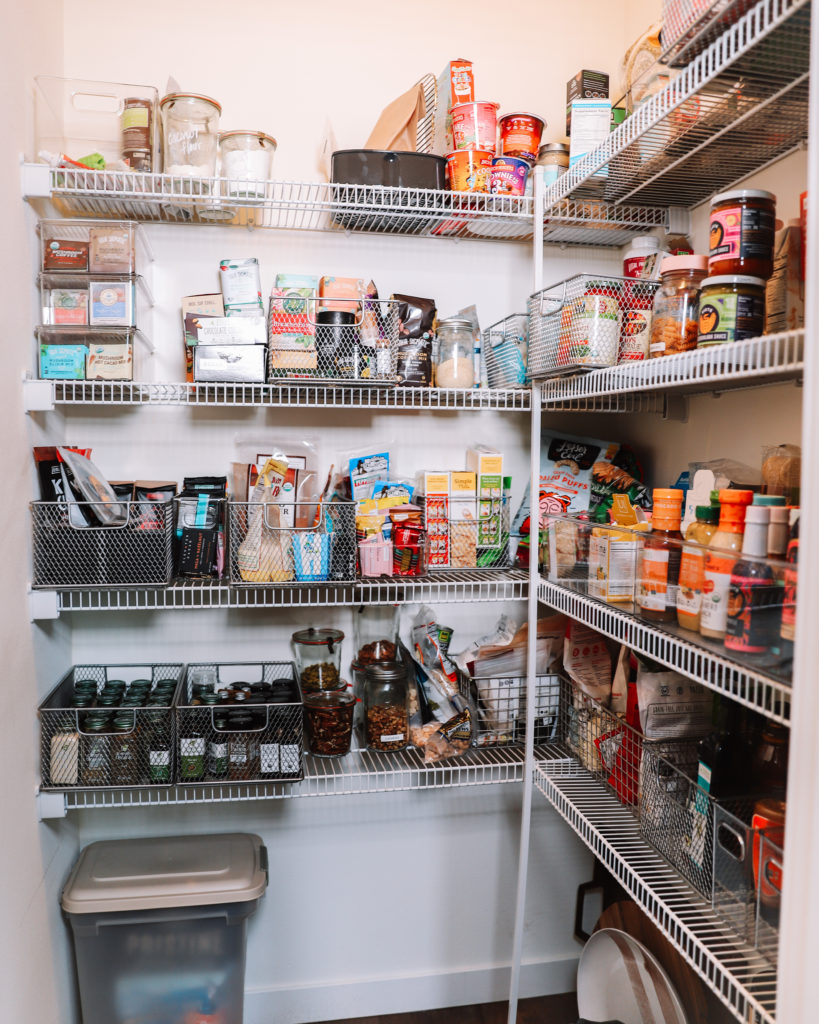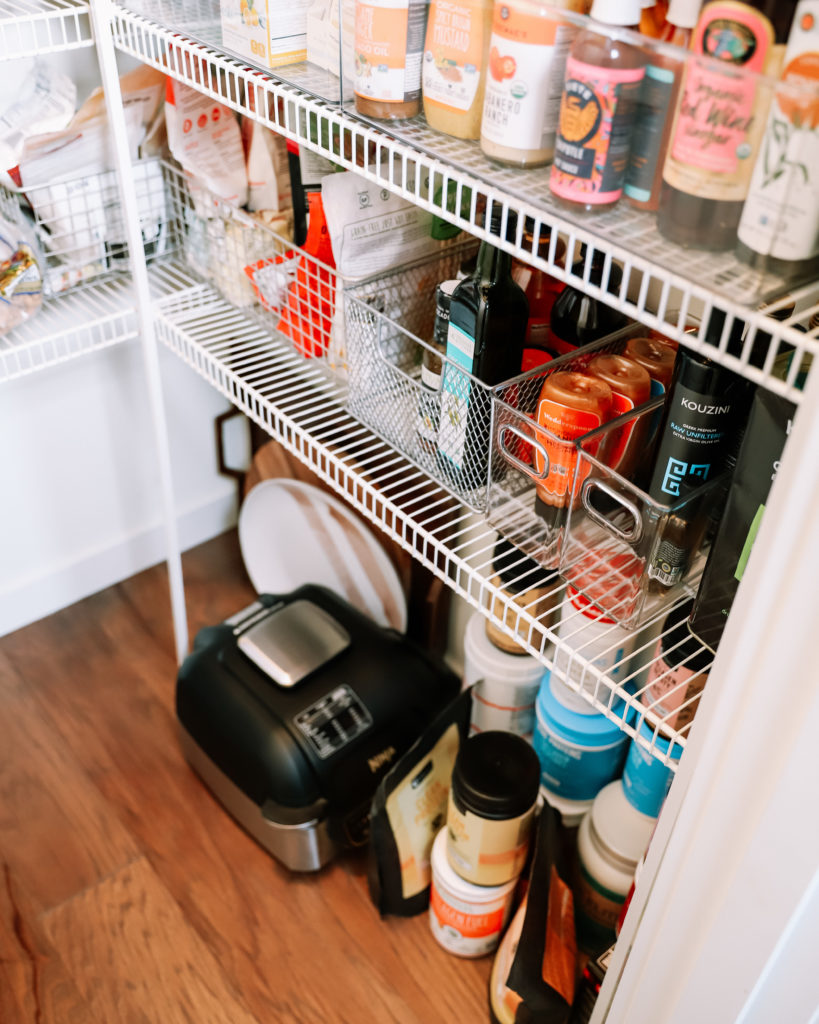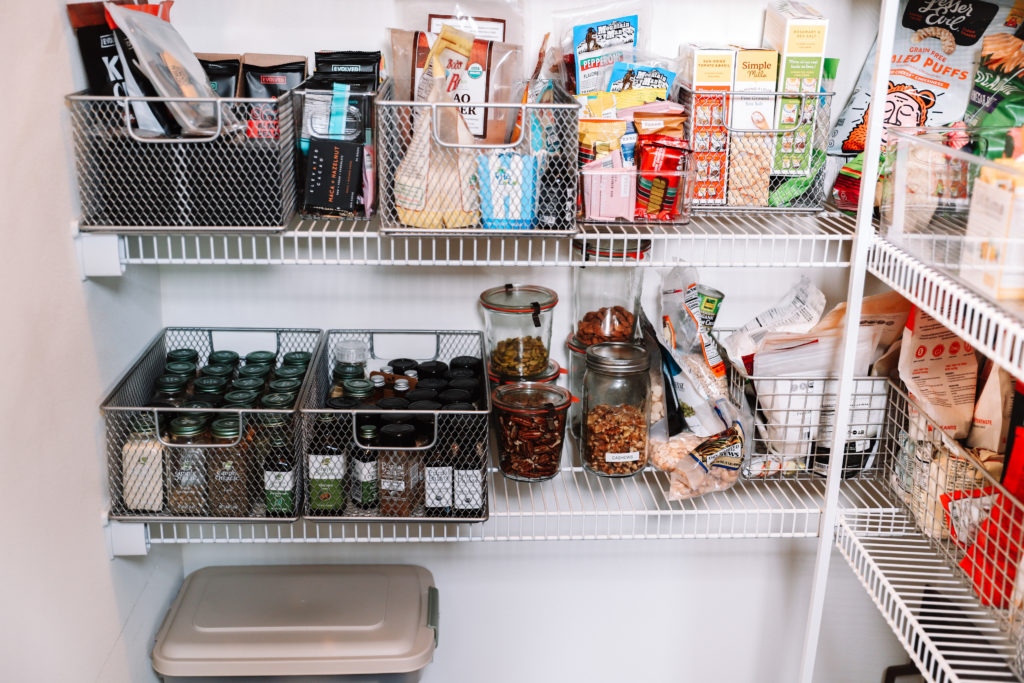 I'll give you the before– I know everything may (I say this lightly) look somewhat organized, but you don't know what you don't know, am I right? When I first decorated/organized upon moving in, I wasn't necessarily thinking about the overall aesthetic, only the fact I finally had space for bins and containers. I figured I'd keep it one color scheme… gray. I mean, in any other aspect of my life, I personally love the color gray, but seeing it in the pantry every day just became very mundane and something I wouldn't recommend.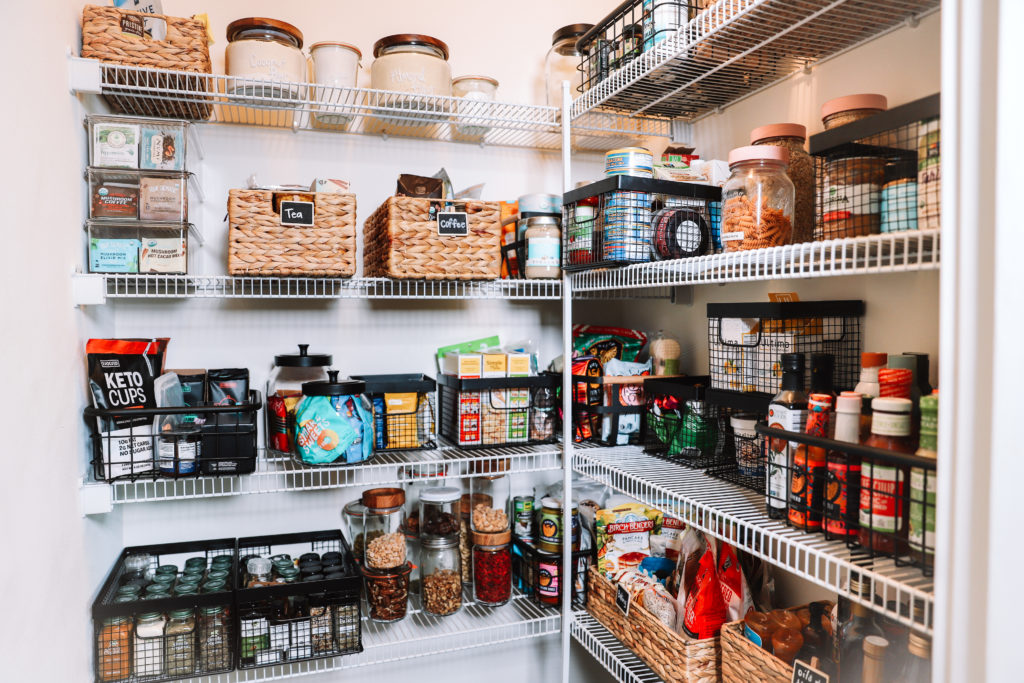 Earlier this week, I went in and completely spiced up the space with blacks, wicker baskets, bins and jars, and immediately felt a huge improvement in the overall mood. It feels so much more homey and I'm just obsessed!

A FEW MAJOR TIPS HERE
-Start FRESH. Pull out everything from your pantry and take inventory of what you have. I'm sure you'll realize that you have much more than what you thought.
-Toss what you haven't used in x amount of months, the crinkled bags of chips pushed back in the corner, as well as everything that's expired.
-Next, start organizing groups together! The cans, nut butters, cereals, nuts, baking supplies, oils, seasonings, you know what I mean.
Following these simple steps, make a mental note of which items you'd visually like to see in your pantry/cupboards. For example, I don't need to see coffee bags and our stockpile of tea boxes on the daily, so I chose wicker baskets for these as opposed to see-through wire bins. Things I do like to see in order to avoid buying doubles or to remind myself to use on a weekly basis: condiments, marinaras, seasonings, chips/snacks, bars, etc.
Another hot tip: leave some space! Check out my before photos– no space in between groups of items. When you leave a couple inches between each bin/section, it feels much more clean & less crammed.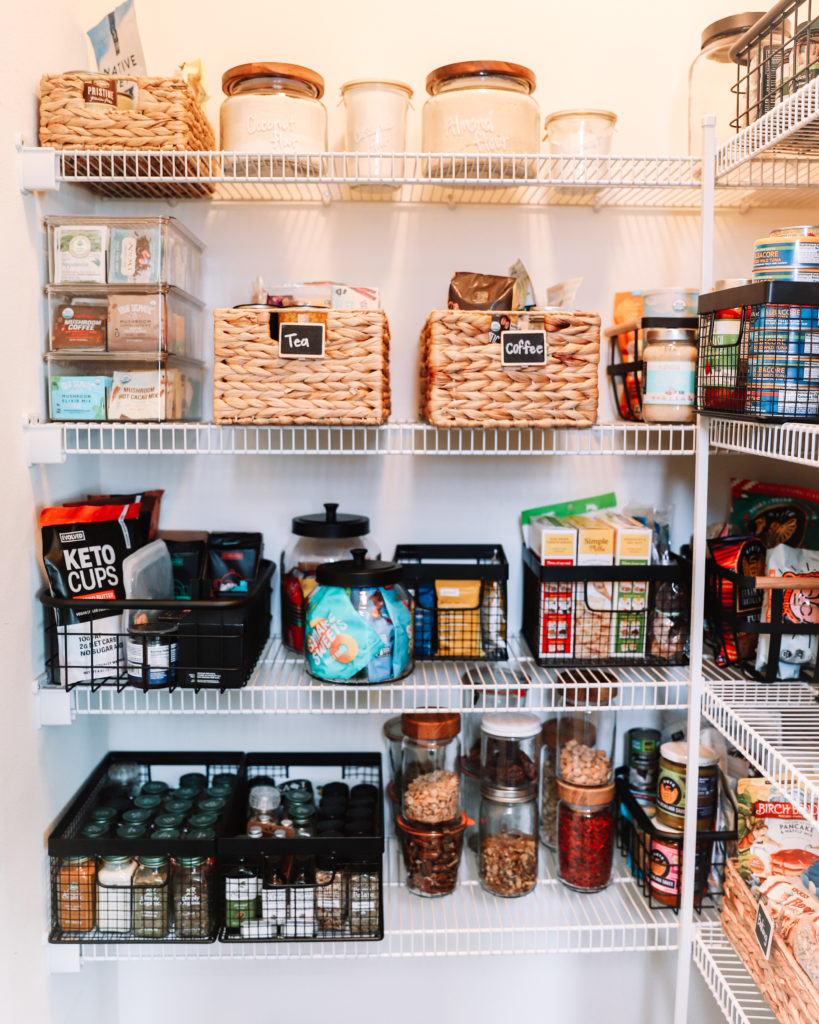 So, starting up top– I poured all my flours into large jars to sit on the top shelf. Almond flour, coconut flour, cassava flour and arrowroot starch. To the left, I stored some of Ellie's treats and extra food.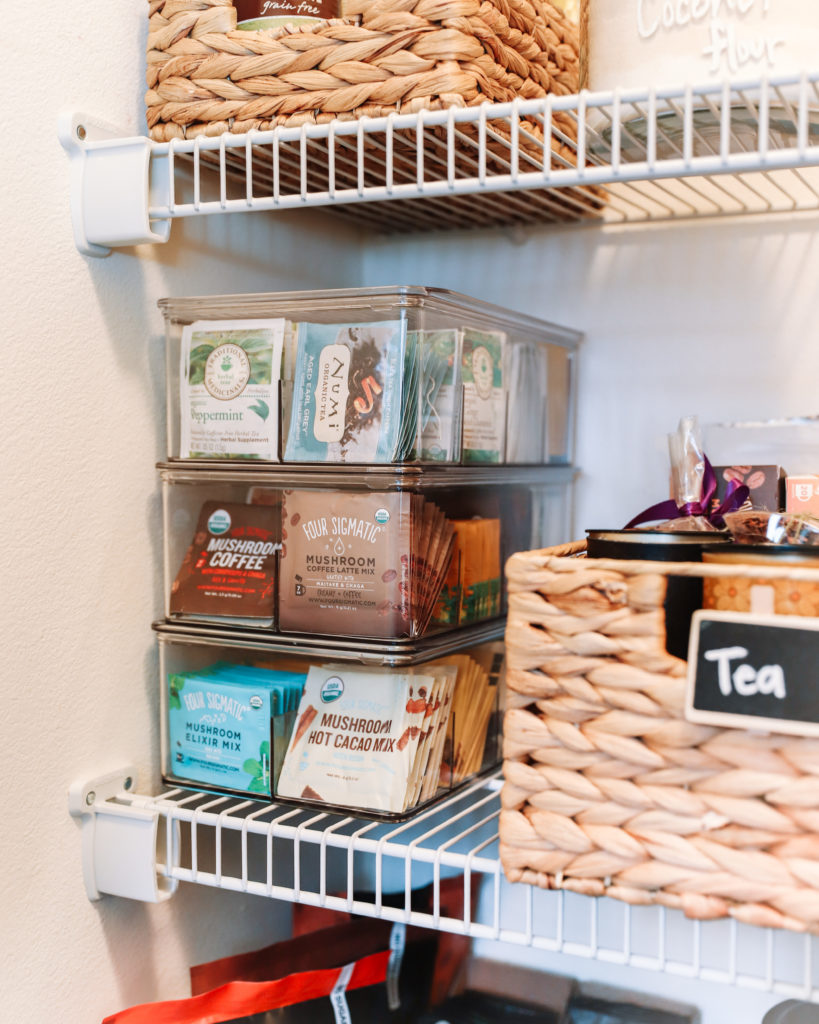 Drop down below and we have my tea stack, which happens to be one of my favorite items from The Container Store. These things are incredible and solve the issue of having 19284 stacked tea boxes in your cupboard taking up way too much space. This way, you can organize the bags and clearly see them from the outside. I have 3 and I don't know how I lived before this!!
Then we have the wicker bins filled with additional tea and coffee items. Remember above how I said it's smart to pick and choose what you have on display? Here you go!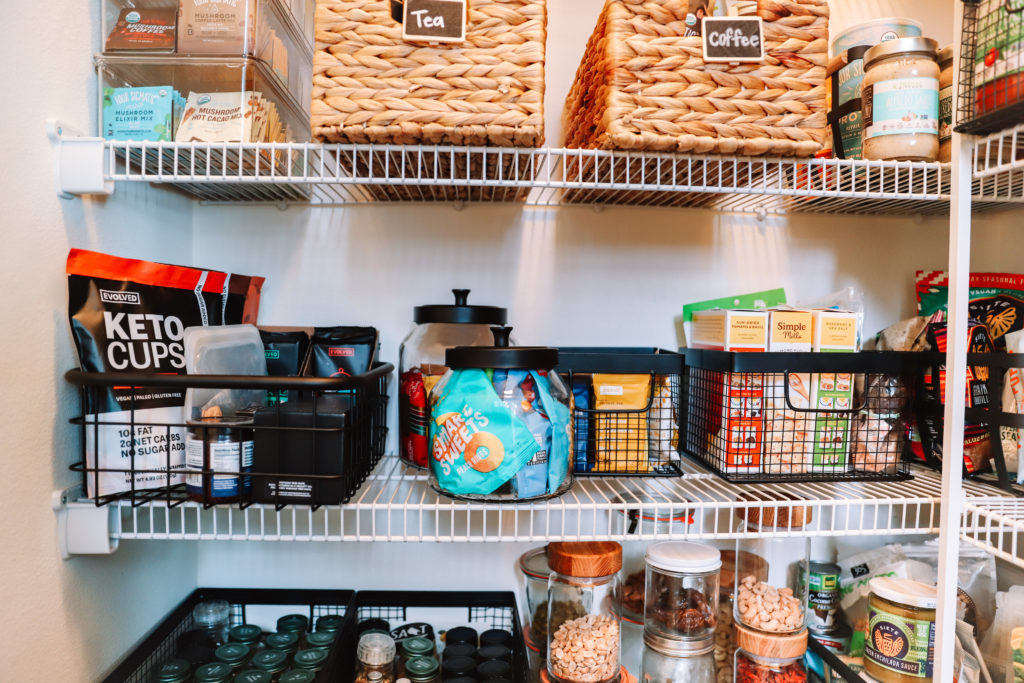 Now, the shelf underneath that houses alllll the snacks + treats. The left black bin is filled with all things chocolate. Basically all Evolved Eating (dairy-free, keto-friendly, tons of diff flavors & you can even custom make your own bars !!)… it's our weakness. Then we have all the bars + Smart Sweets in big glass jars for easy grab and go, followed by crackers and chips in the corner (Simple Mills, Siete chips, brown rice crackers, Lesser Evil puffs, beef jerky).
Click below for the links of the products I used above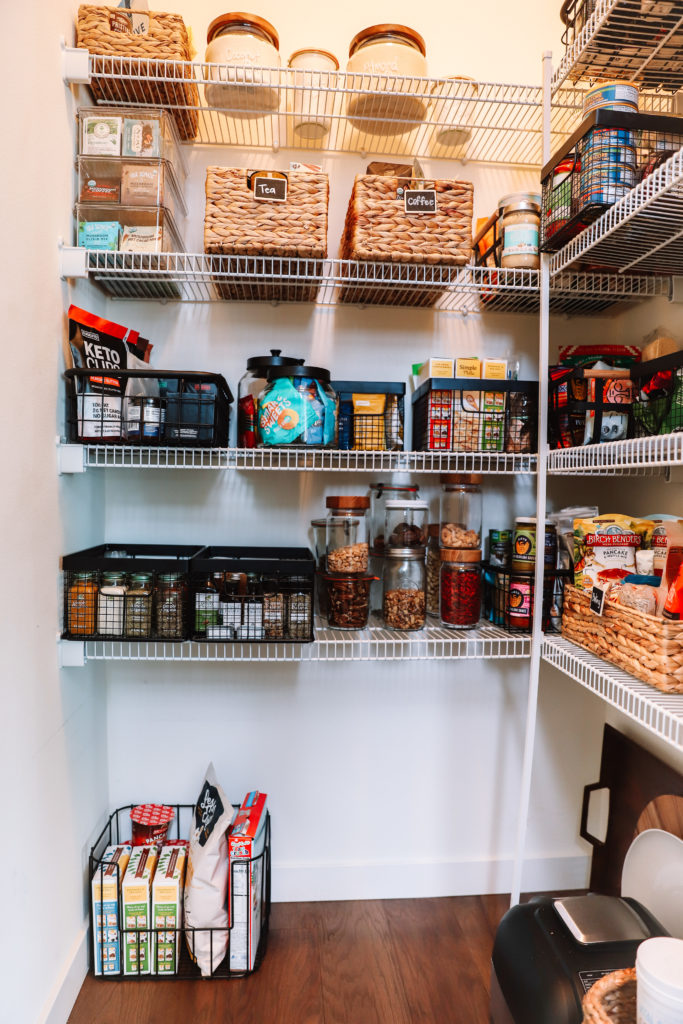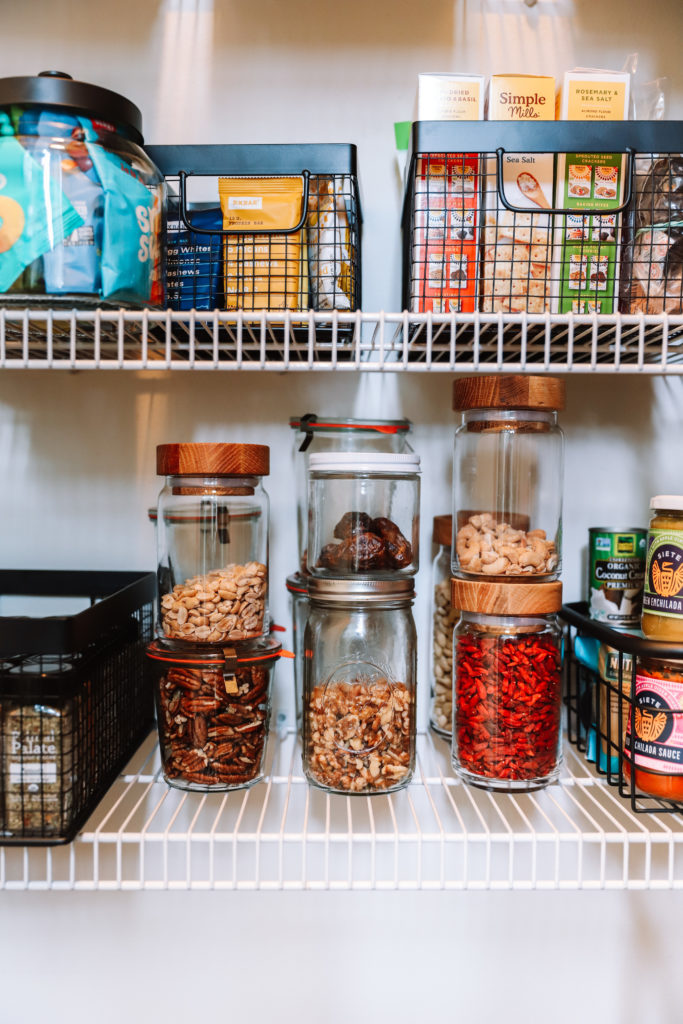 On the bottom shelf I organized all of our extra slash seasonings we don't use everyday. I love Primal Palate and Simply Organic the best. Then we have all the nuts + seeds in jars on display. I like to keep some in the fridge– they last longer and remain more fresh this way– but keep most of them in the pantry sealed tight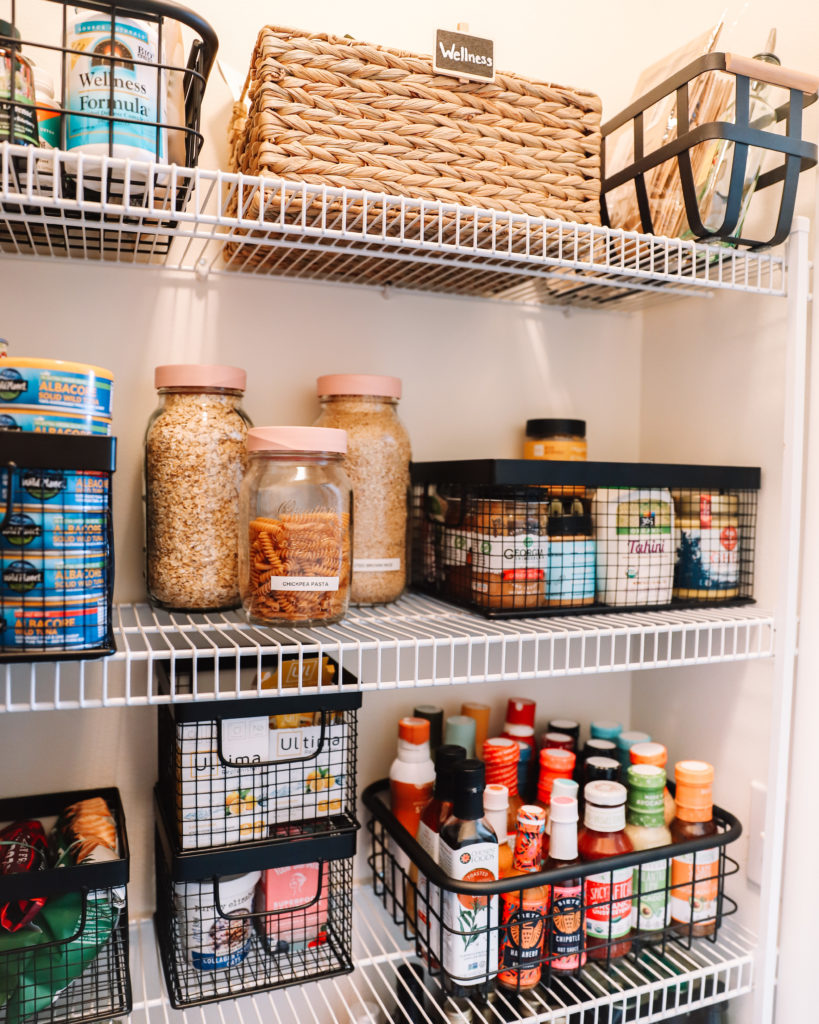 On the right side of the pantry starting from the top we have our extra immune support + supplements. Below that: marinara's, canned products, organic chicken broth with a couple glass Ball jars filled with dry goods like organic sprouted oats, sprouted brown rice, and chickpea pasta. Next to that, of course, I need a stockpile of condiments, nut butters and ghee, cause we all need some options. The bottom shelf consists of baking essentials, honey and all of my avocado and extra virgin olive oils since we go through so much 🙂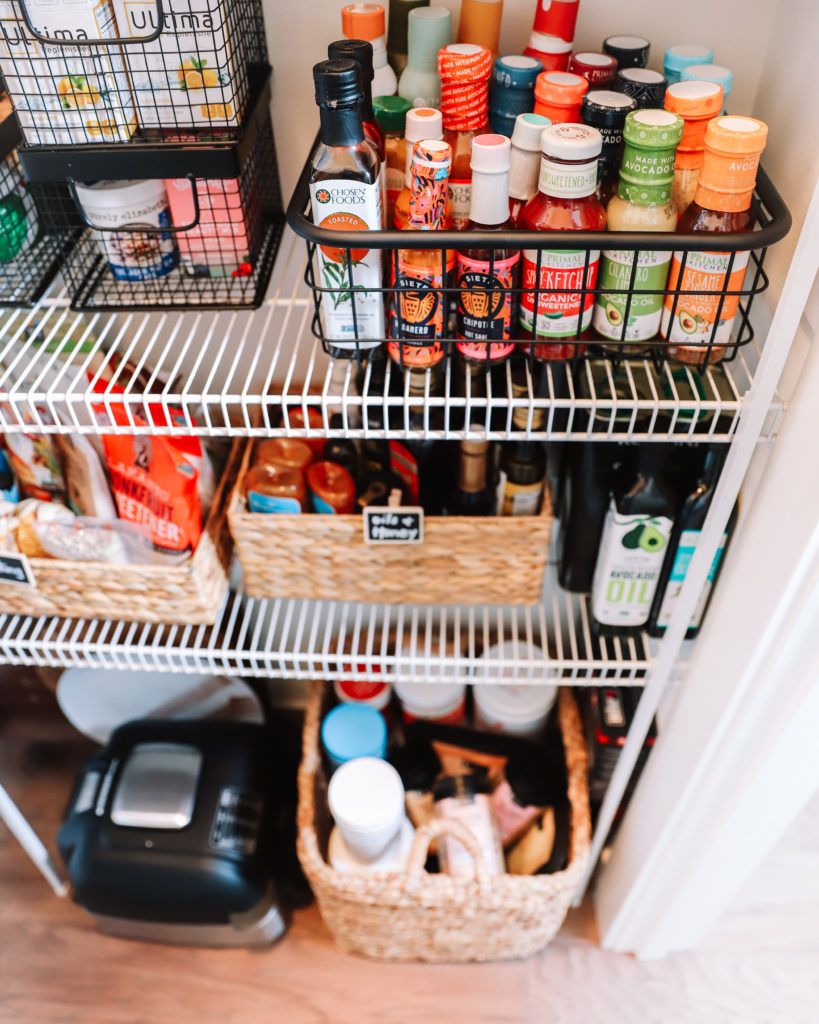 That's it for the shelves! Down below on the floor I added another matching black wire stacking bin to hold the extra/stock items, along with our indoor grill and a big braided storage cube with handles to house all of our free-floating protein powders, collagen, pre-workout, etc., which makes it feel much more organized and maximizes the space below.
Overall, I added more dimension by incorporating different sizes and textures of bins and jars. I feel like it finally has some character and you could say I thoroughly enjoy whenever I have to go grab something out of the pantry now haha.

FRIDGE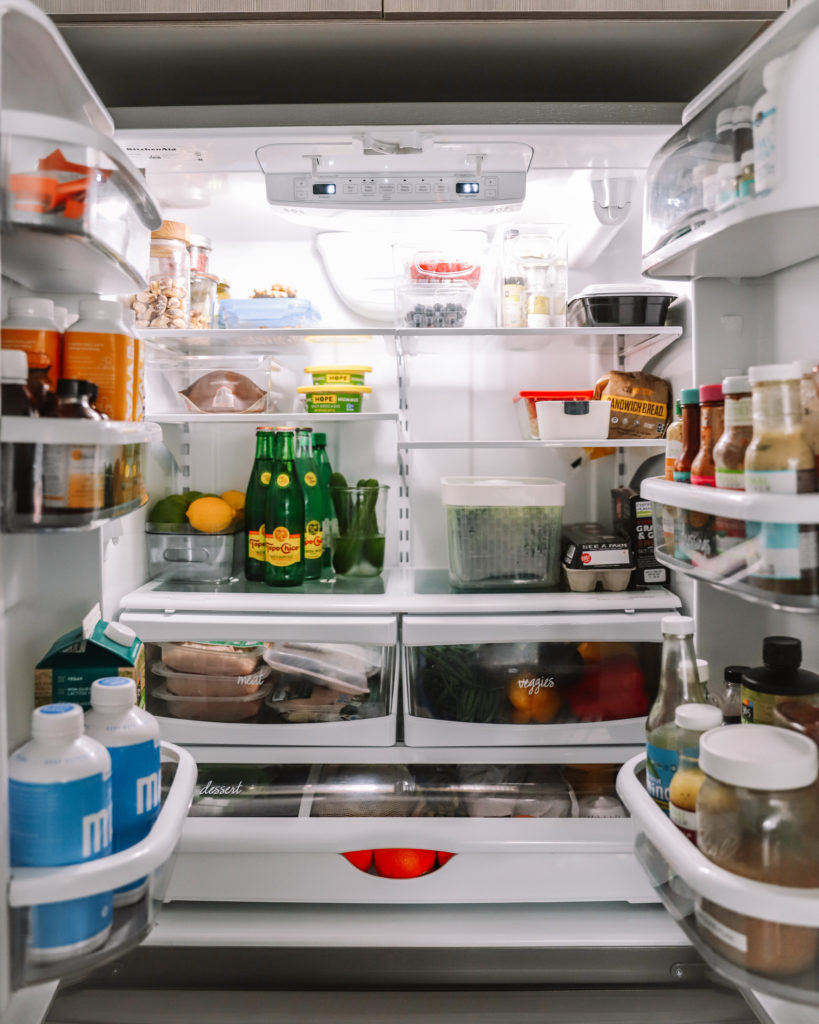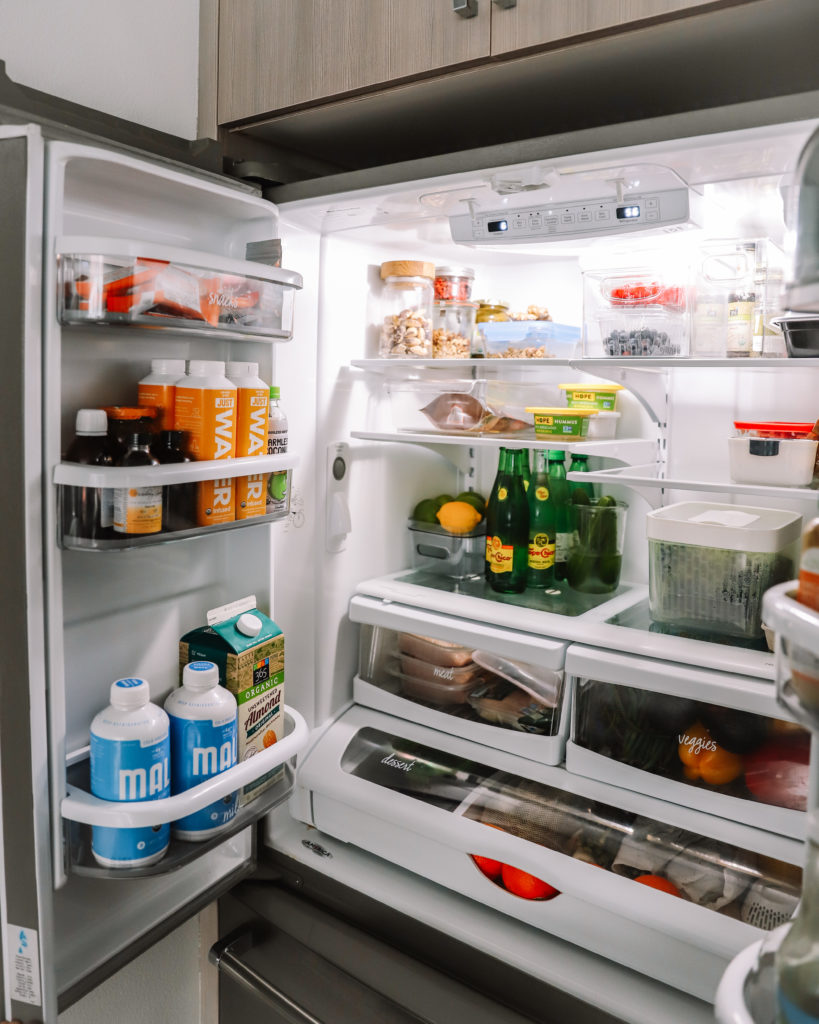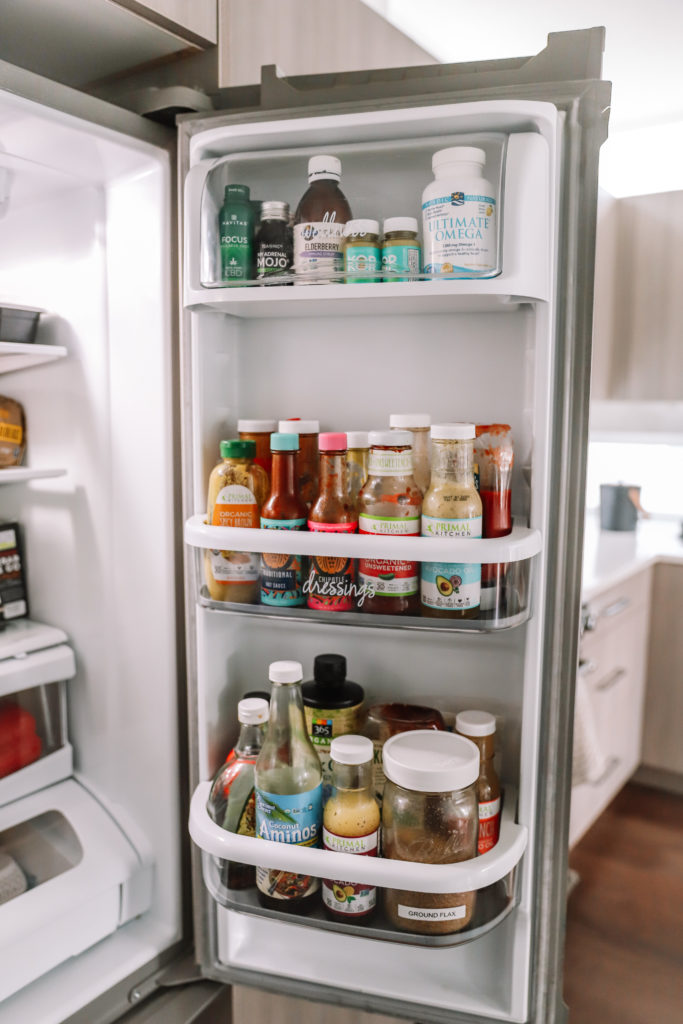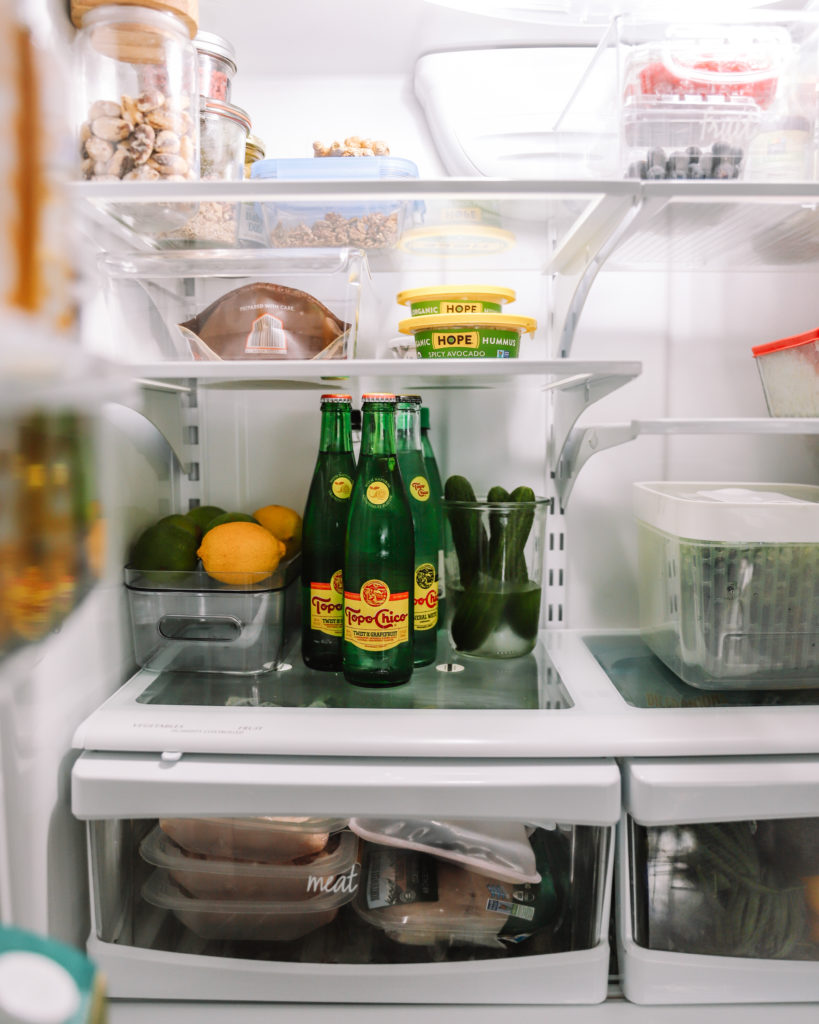 Nothing too dramatic for our fridge, but I do like opening it up to a clean, crisp & colorful space. I invested in some pre-made labels from The Container Store here, which definitely helps keep things organized.

CABINETS
Hands down, my favorite item in our cabinets is the 9-inch lazy susan. It's something you didn't know you needed until it's in your kitchen, I promise. It makes everything seem way less cluttered, easily accessible and visually appealing. I'm sure you could get more use out of it in the fridge and pantry as well!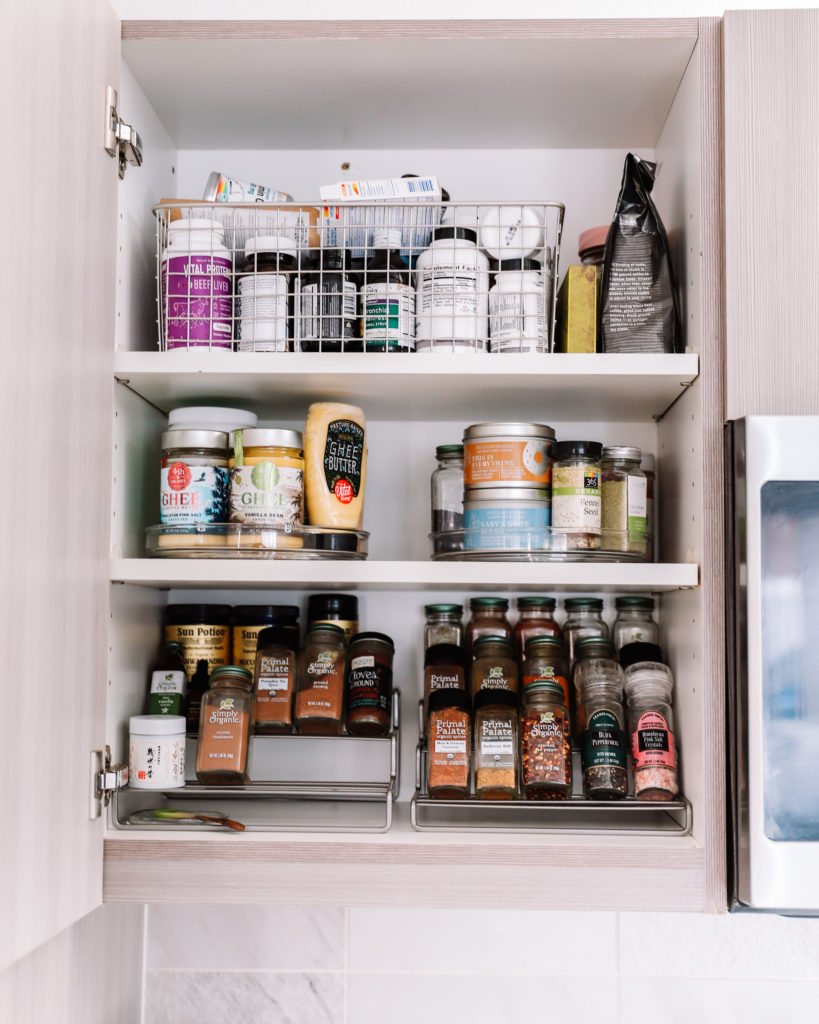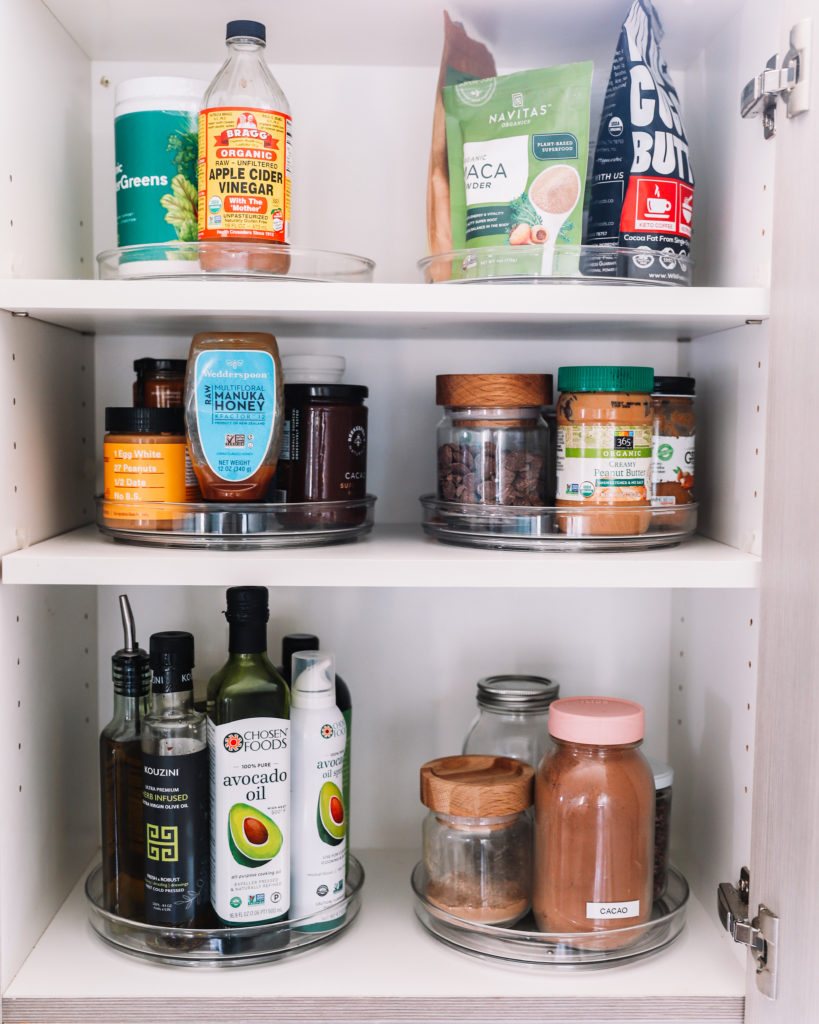 On one side of the stove in the upper cabinet I house the seasonings we use on a daily basis, along with matcha, ghee, and our supplements on the top shelf. On the other side of the stove we have the majority of the smoothie boosters. Things like cacao powder, chia seeds, nut butters, camu powder (high in vitamin C!), manuka honey, all the oils I use to cook/bake with, and some dairy-free chocolate chips on hand. Again, the lazy susans will change your life– look how much open space there is!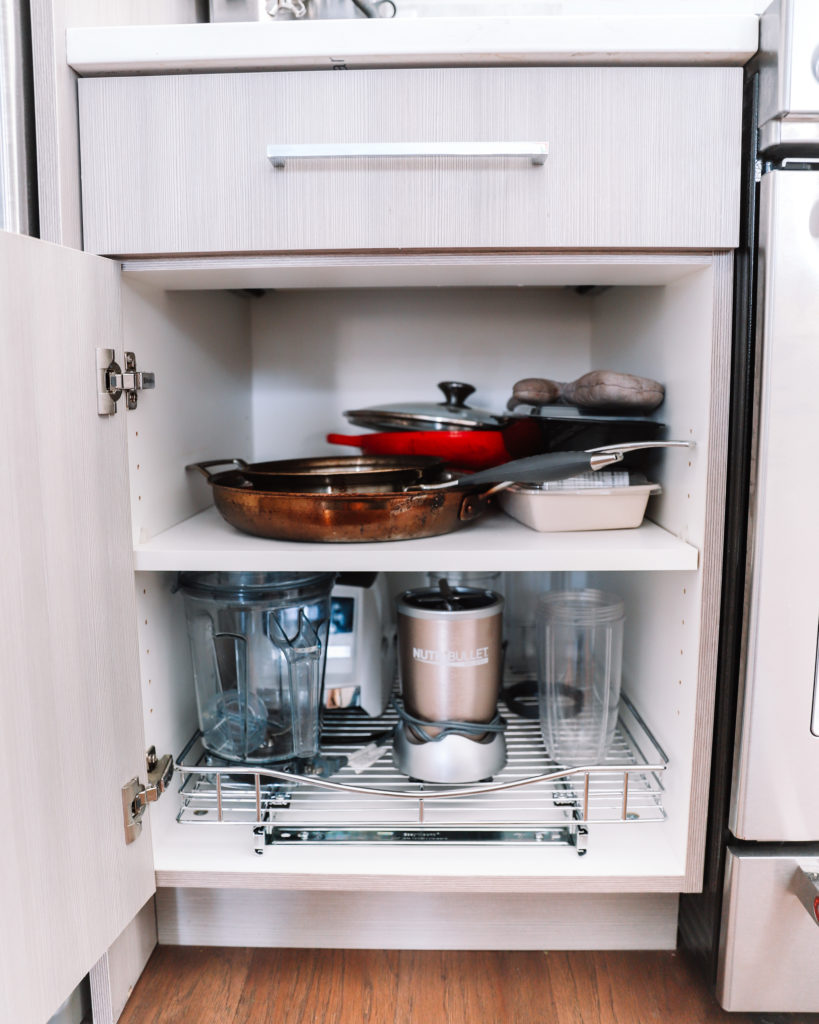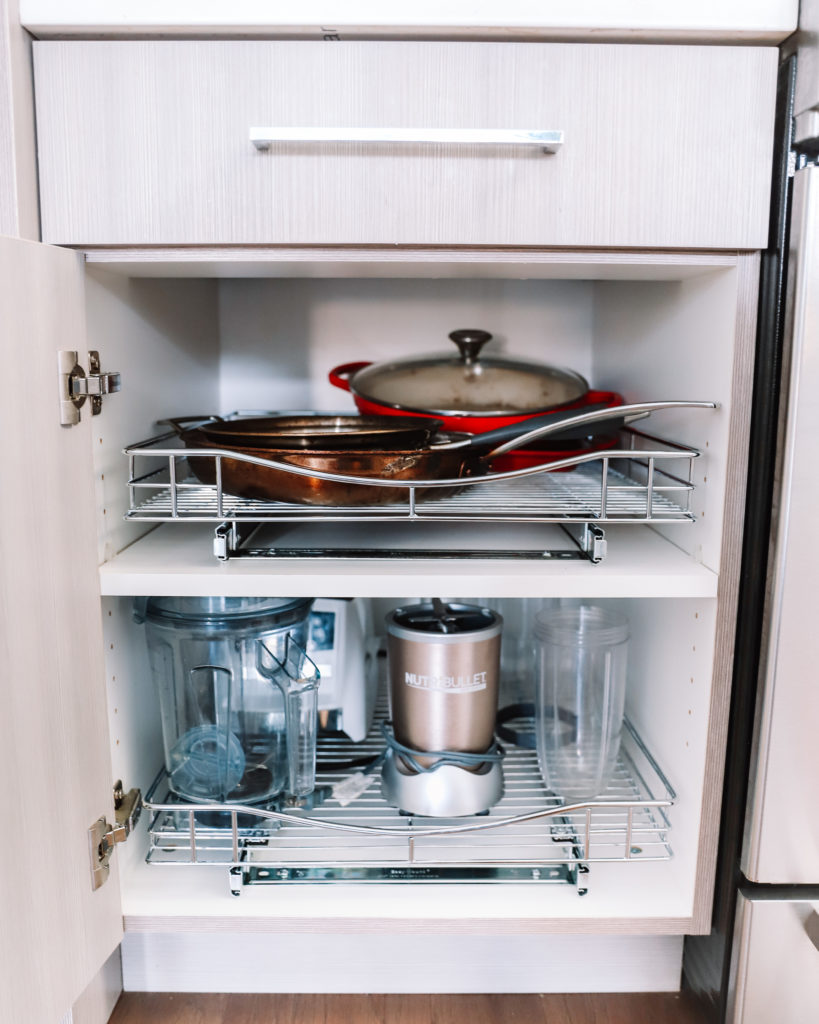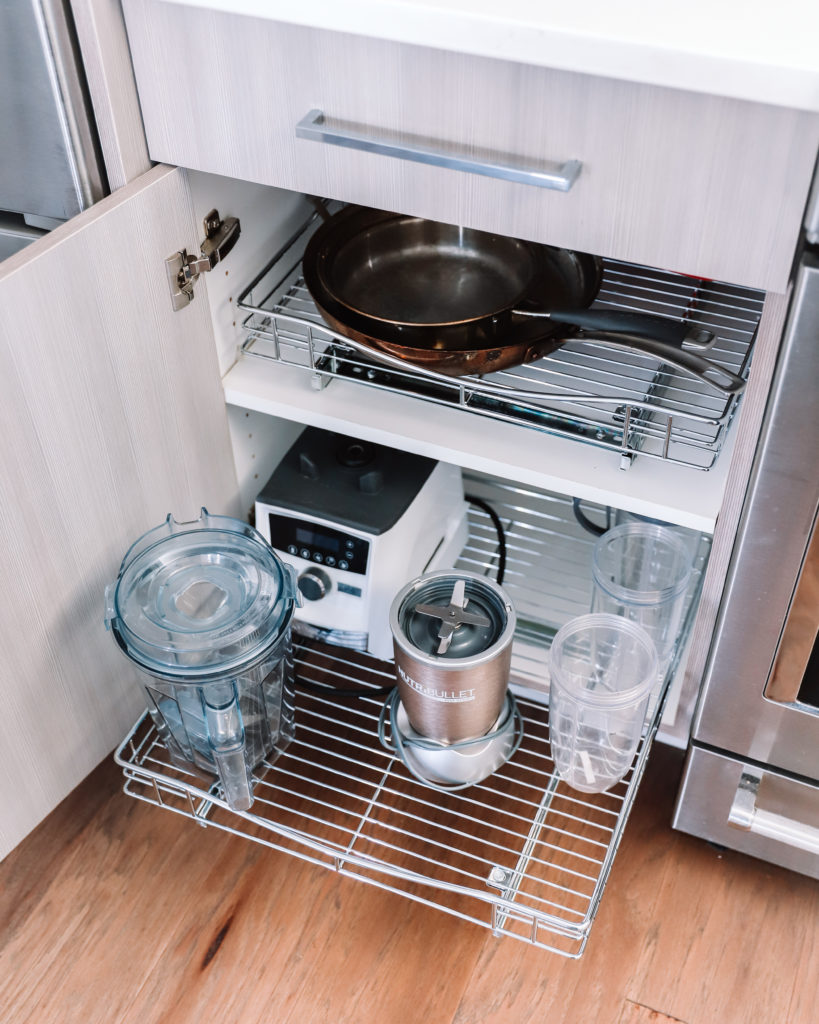 My next favorite addition are these pull-out cabinet drawers. Perfect for blenders + skillets we otherwise have been leaning down to grab underneath the shelves. P.s. they're super easy to install, too! I did it on my own in about 10 min 😉

DRAWERS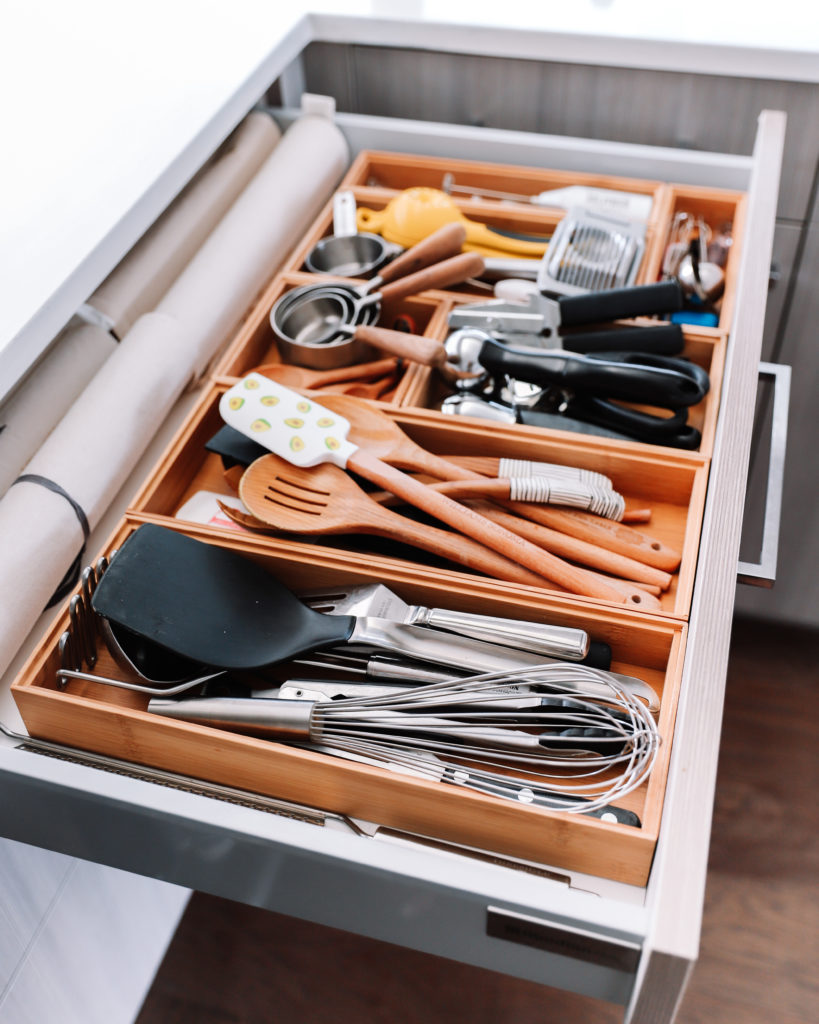 I feel so grateful to finally have extra large + deep drawers after living in such a small kitchen in our old apartment. When we first moved into this house, I bought tons of stackable bamboo drawer organizers and they've held up incredibly this past year! Next to the stove is all of the cooking/baking utensils. You can see I organized into stainless steel, wood, measuring cups, "other" utensils and more. The different shapes are perfect!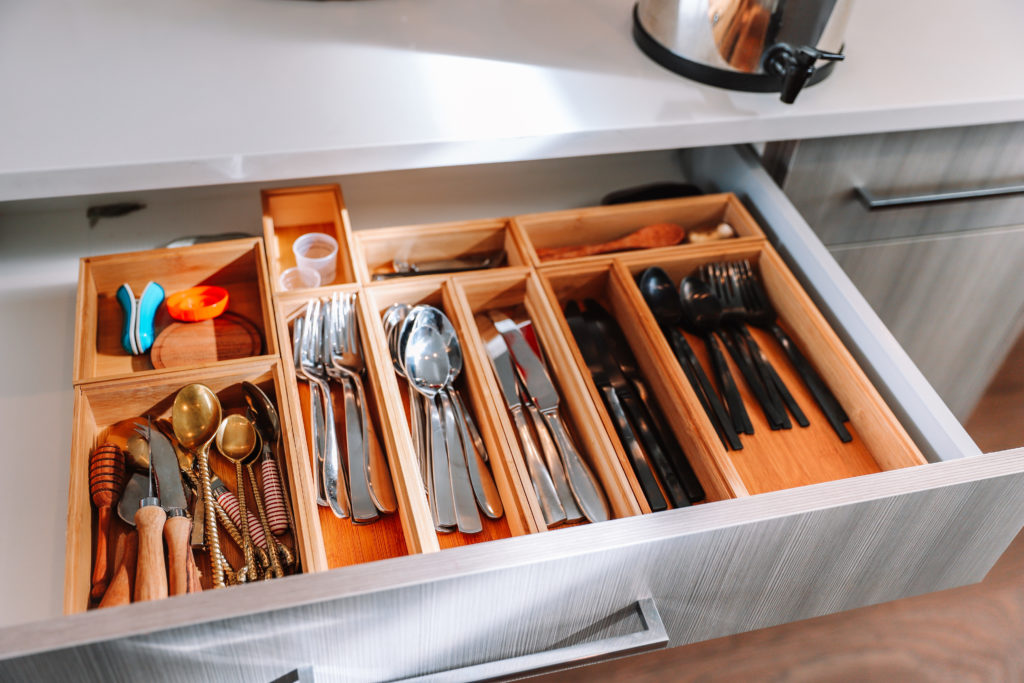 In our daily utensils drawer, we keep a combo of silver and matte black utensils, along with cheese knives, bottle openers, etc.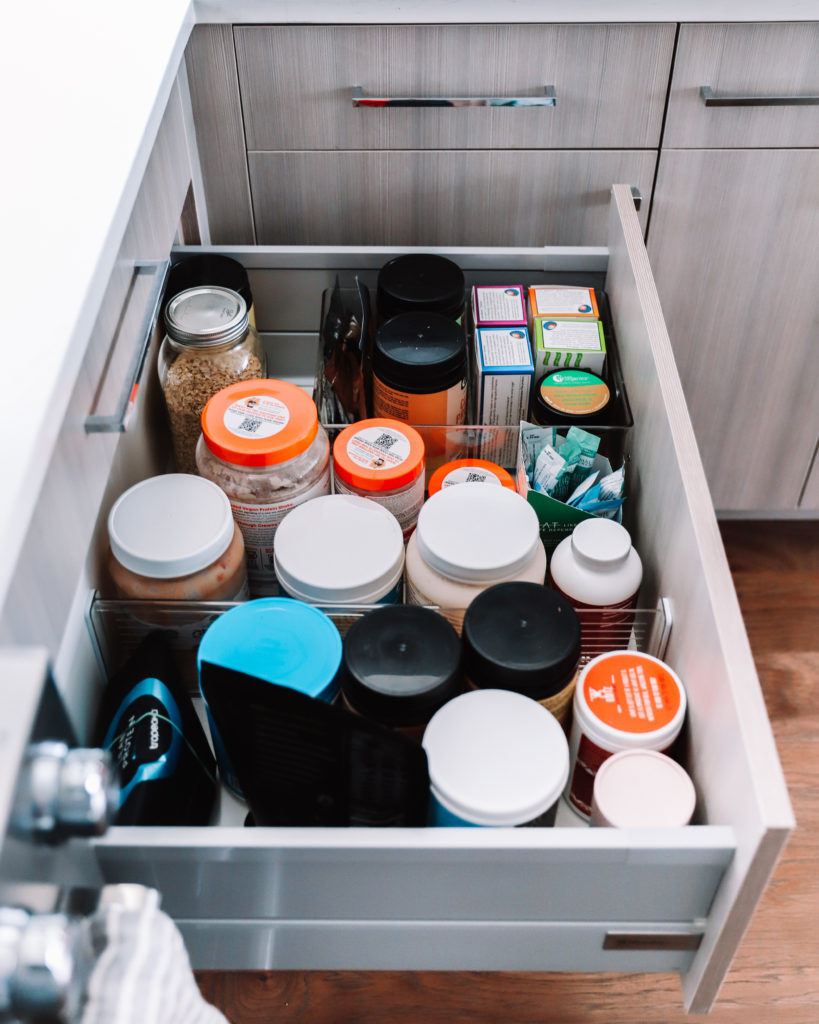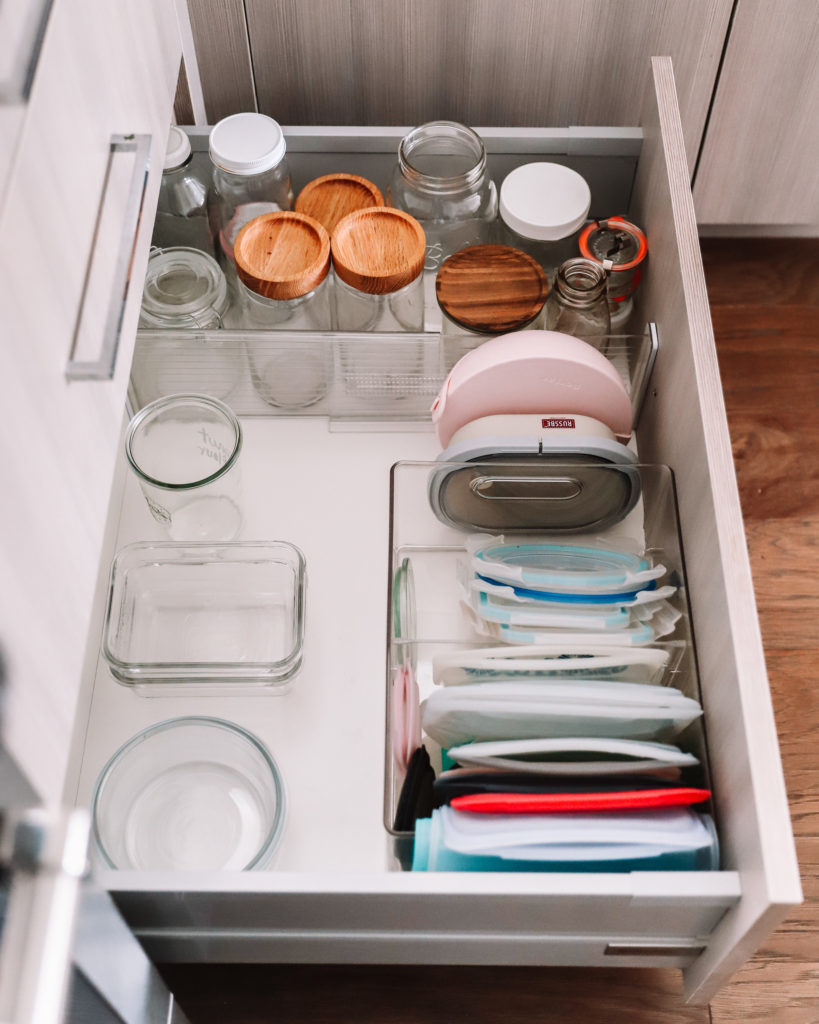 For our deep drawers above, one holds basically all of our protein powders, boosters, and workout supplements. I inserted this expandable divider, which makes things much easier to decipher between what's Bridger's and what's mine. The drawer below houses our tupperware, extra jars/containers and lids.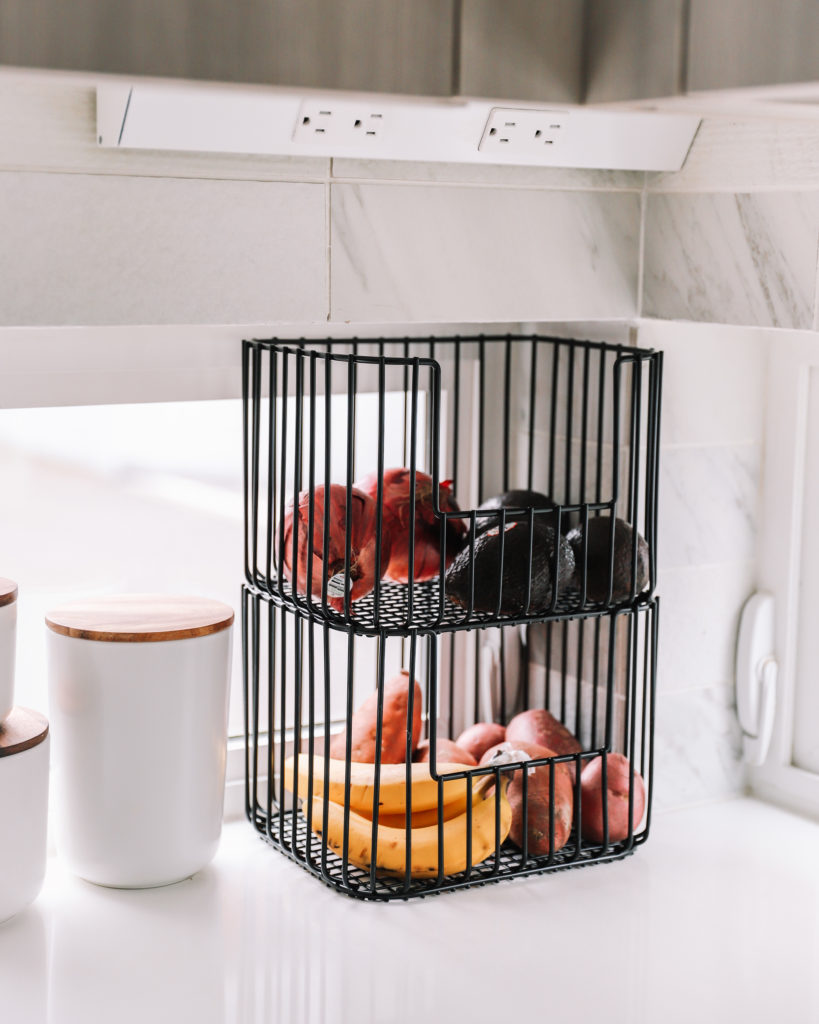 And last, but not least, our newest addition to the counter are these black Vertica Wire Stacking Bins to store our produce. Huge improvement from our past wooden bowl we used to use (produce ended up going bad because I couldn't always see what we had/we forgot about it/etc.)!

LIVING ORGANIZED & HEALTHY
Going back to what I was saying about having your pantry staples + ingredients more visible so you can get into a healthier routine– this is huge for me. When you do this, you not only have a better sense of what you have to cook with, but the feeling of being organized and put together in the kitchen tends to make you want to spend more time there… so why not whip up a few simple and nutritious recipes like my 20-min Honey Sesame Chicken, Simple Greek Salad, or my Cashew Chocolate Chip Cookie Skillet for a yummy treat to end the day? 🙂
Basically, the moral of the story is that The Container Store makes dreamy kitchens happen. You can basically find everything you need and more to accomplish organization projects big or small 🙂 take advantage of their sale this month and maximize your space!
Thank you to The Container Store for Sponsoring this post! 🙂
xxRachael