I can't believe September is already here! This month, we'll be cooking our way through my debut cookbook, Rachael's Good Eats. It's been such a dream come true seeing so many of you make the recipes since it first came out earlier this year. I figured, before summer comes to an official end, why not throw together our very own Good Eats Cookbook Club and make the recipes together?
Although I'm still heavily hooked on the summer-style recipes in the book like Baja-Style Coconut and Lime Ceviche, Heirloom Tomato and Pineapple Bruschetta, Cilantro Caesar Salad with Grilled Chicken and Crispy Croutons, Pistachio-Crusted Fish Tacos, and Raw Cheesecake with Strawberries, I'm really looking forward to making some off the cozier fall recipes again like the White Bean Chicken Chili, BBQ Meat Loaf Minis, Creamy Tuscan Chicken Pesto Pasta, Chicken Pot Pie with Thyme Crust, Bone Broth Latte, Paleo Apple Crisp, and so many more!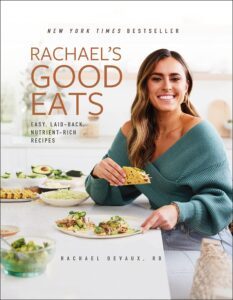 More details on Good Month Eats below, I can't wait to cook my way through this book with all of you.
The challenge
Cook as many RGE cookbook recipes as you'd like to between September 1st – September 30th. Watch my Instagram Reel HERE.
The requirements
Each entry requires one in-feed post or Reel featuring one of my cookbook recipes posted to your instagram, along with 1 Instagram Story tagging me, @rachaelsgoodeats, and using the hashtag #RGECookbookClub. Here's the fun part: the more times you post, the more entries you get! Basically, the more recipes you make and post about, the more likely you are to win one of the insane prizes throughout the month. I'll pick 6 winners total 🙂
The prizes
Of course, this challenge wouldn't be complete without a few prizes. I will be giving each prize to a different winner and the prizes include:
– Made In package of my some of my favorite cookware: their Knife Set, Non-stick skillet set, and griddle + press all valued around $1,200
– $1000 gift card to Recreation Sweat
– ONE YEAR supply of Side Dish dressings: they're made with super clean ingredients and they taste incredible!! You can use RACHAEL10 to save on their site.
– $500 gift card to STAUB and $500 gift card to Zwilling
– $250 gift card to Whole Foods to grab groceries for a happy hour with your friends + me on zoom 🙂
I hope you love this challenge and walk away with a few new staples in your everyday cooking routine! Snag my book here while it's on sale and LET'S GET COOKIN' 🙂
xx Rach