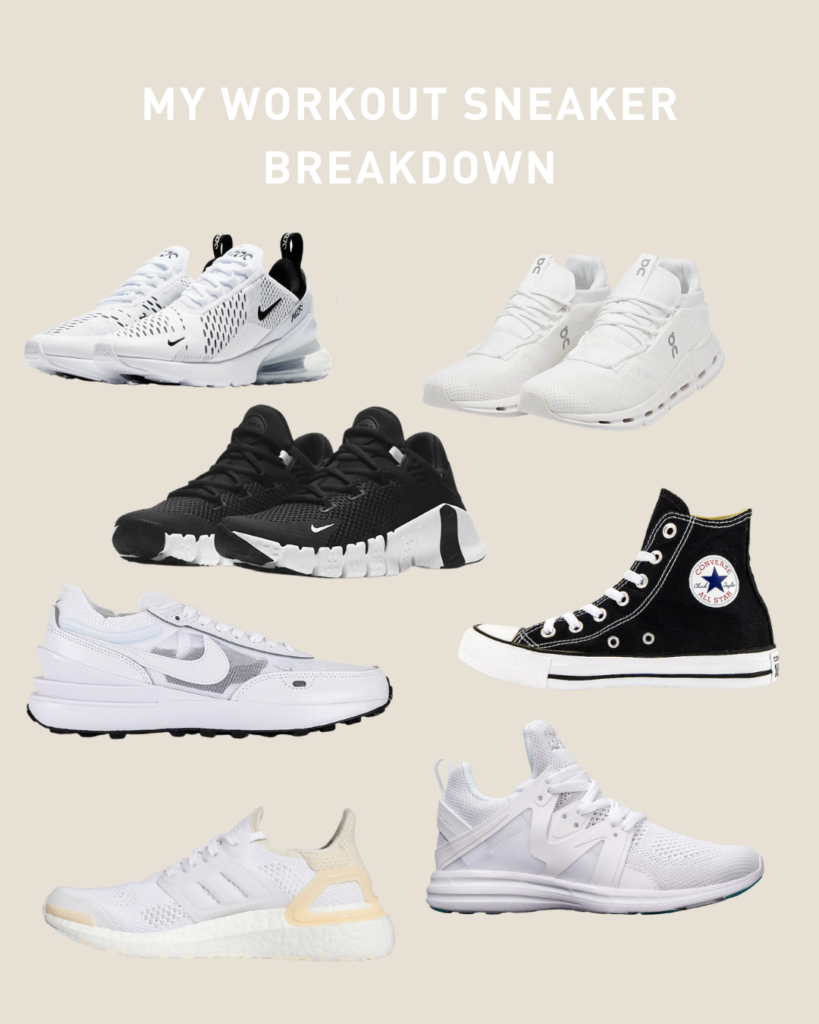 Sneakers are a  I get asked all the time what my favorite workout sneakers are, so I wanted to break it all down for you. For the most part, I keep things pretty simple and tend to rewear my ride-or-die pairs. I'll switch things up based on what workouts I'm doing for better form and comfort, so here are the sneakers I love most for running and walking, cross-training, lifting, and lower body days.
Nike Air Max 270 – These are probably my most-worn pair of sneakers. They're great for cross-training and I love the way they look. I have them in white, which goes with everything, but they come in a ton of different colors including black. I have wider feet, so they took a little bit to break in. Nikes typically run pretty narrow.
On Cloud – These are super comfortable so they're great for anytime workouts. They tend to sell out quickly so I recommend snagging them while they're in stock.
Nike Free Metcom 4 – The Good Sweat fam (myself included!) are obsessed with these Metcons for cross-training. These are another one of my most-worn pairs that come is so many good colors.
APL Ascend – I love these for lower body days because they're flat. I have the all white
Adidas UltraBoost – I prefer my UltraBoosts for running and walking. They're super comfy but don't have as much support as some of my other pairs.
Nike Waffle One – These are from the REC SWEAT ACTIVE shoot – a newer pair in my arsenal, but I just love the way they look with scrunchy socks.
Converse Chuck Taylor All Star – This is another great flat shoe for lower body days, but I'll wear them casually with jeans as well. Love my Converse sneakers! I leave the platform Converse for outside of workouts.
LINKS BELOW