We had our rehearsal dinner at Acre Baja in Cabo, Mexico. It seemed like it was out of dream when we walked in– it was 6pm and we had just taken a 40-minute car ride from The Cape, where most of our guests were staying and where our wedding would be the following night.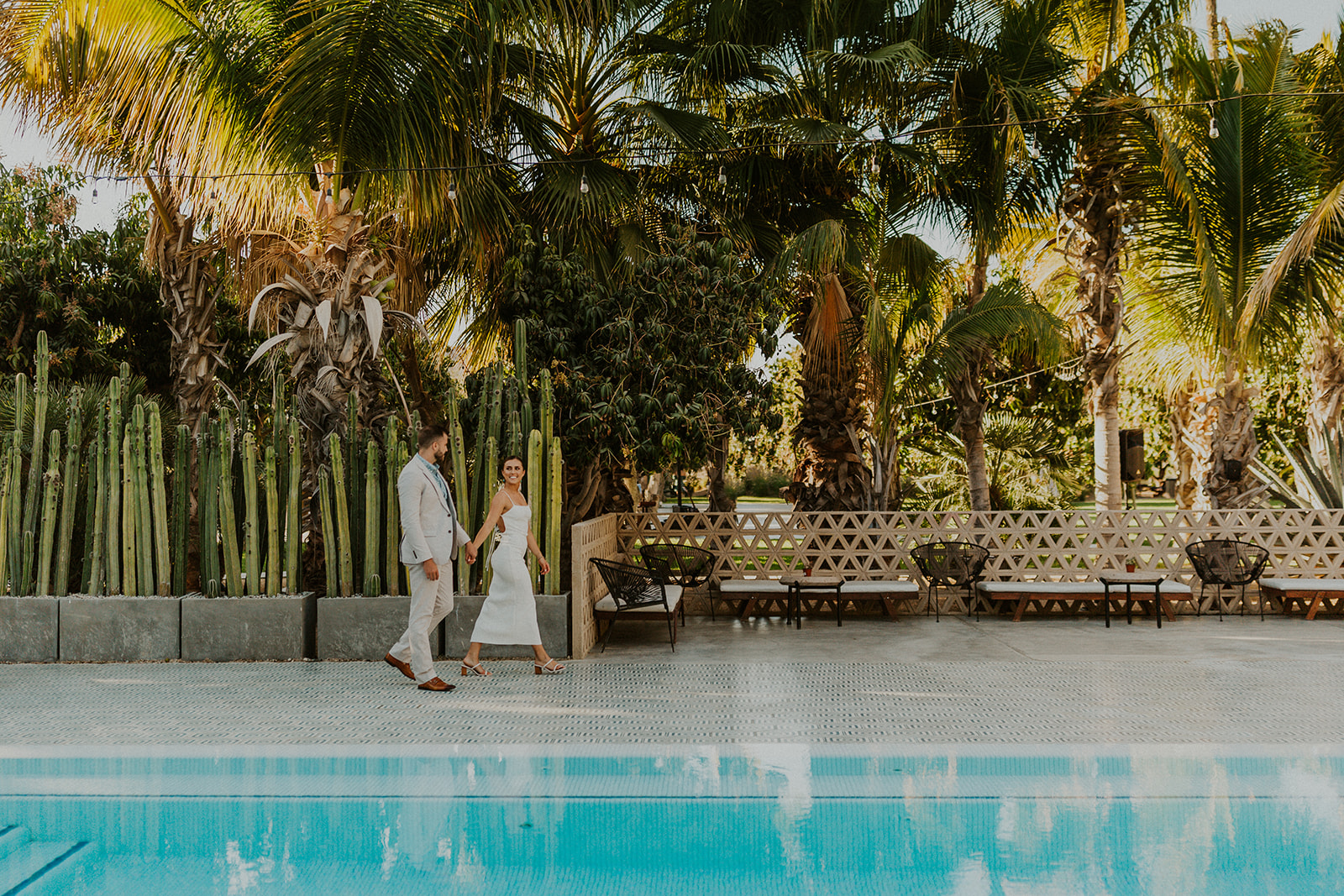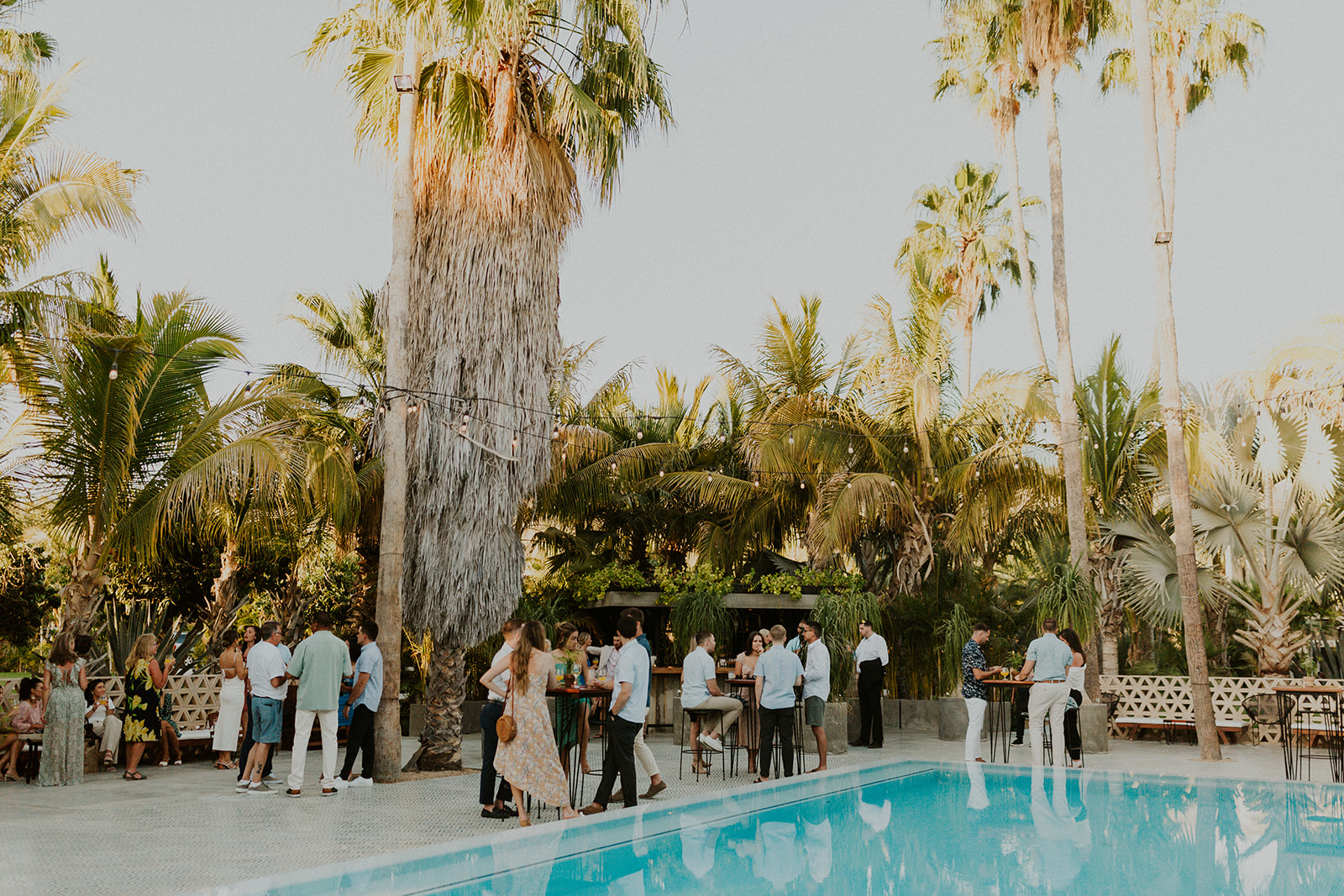 We invited all of our guests to our rehearsal dinner because we wanted the weekend to feel very inclusive and also be able to spend as much time as possible with our friends and family. And technically, we didn't have a 'rehearsal' of the actual wedding this night, but it was the perfect add-on for our wedding weekend that I would do again in a heartbeat. We did our walk-through of the ceremony the next morning and it worked out great!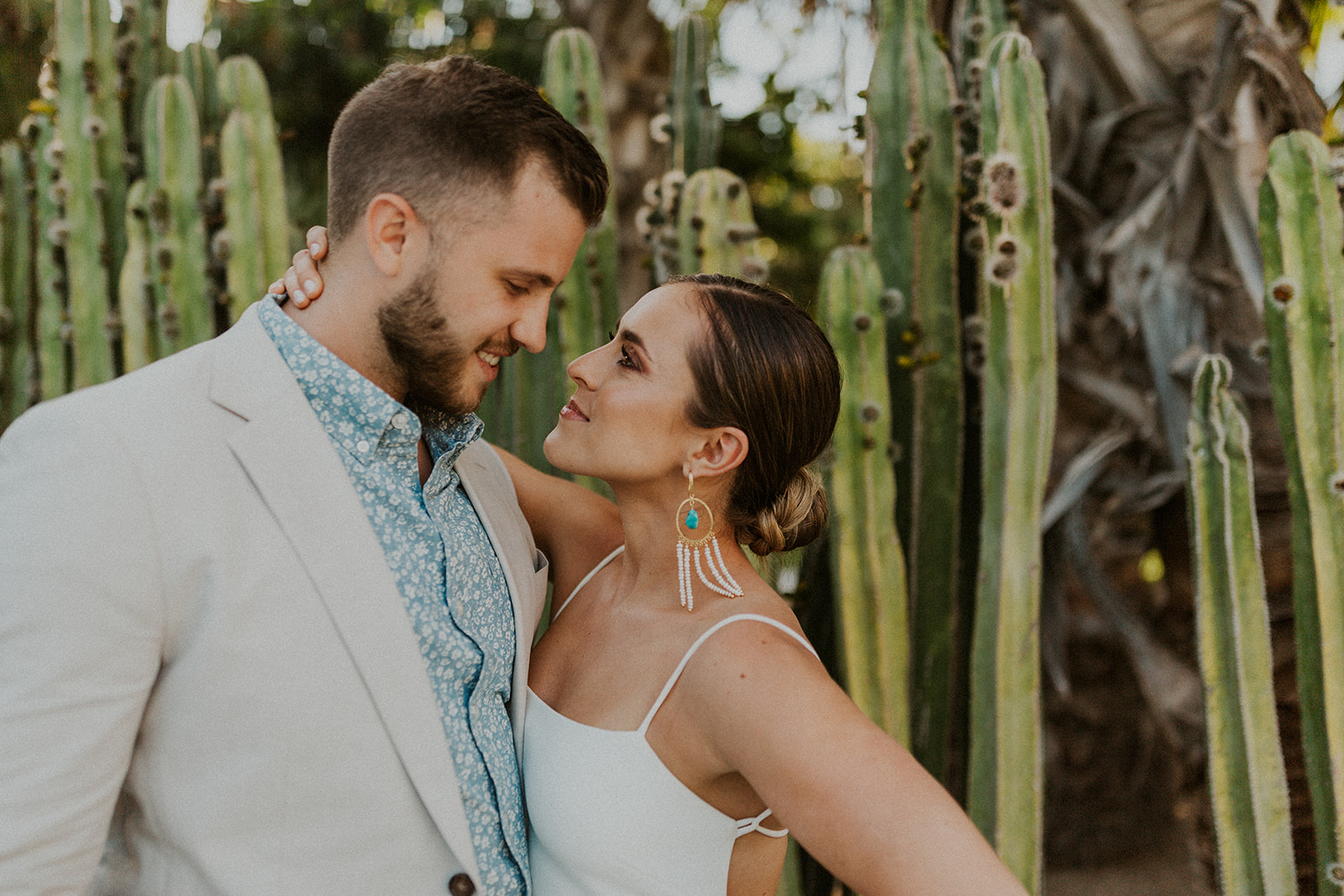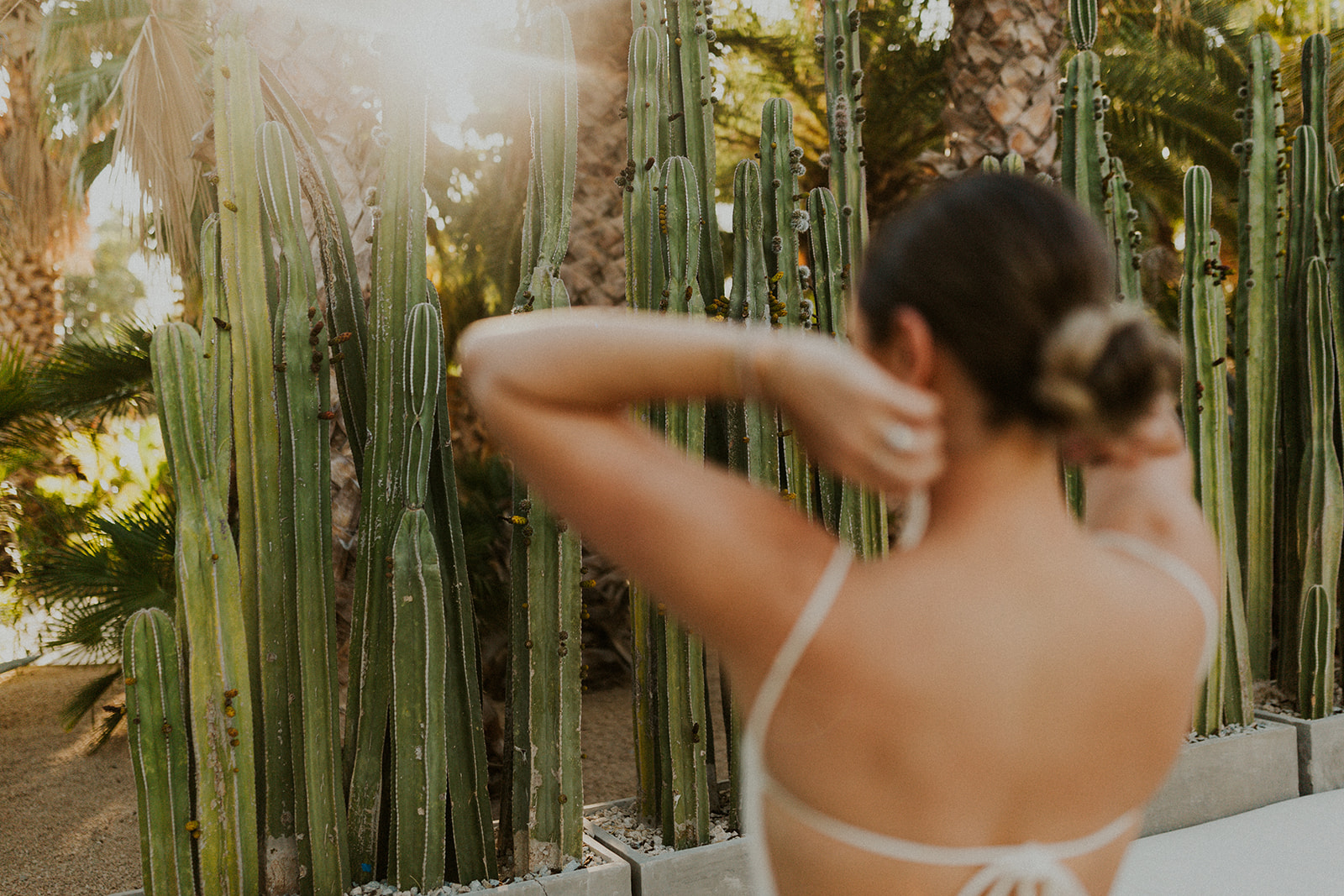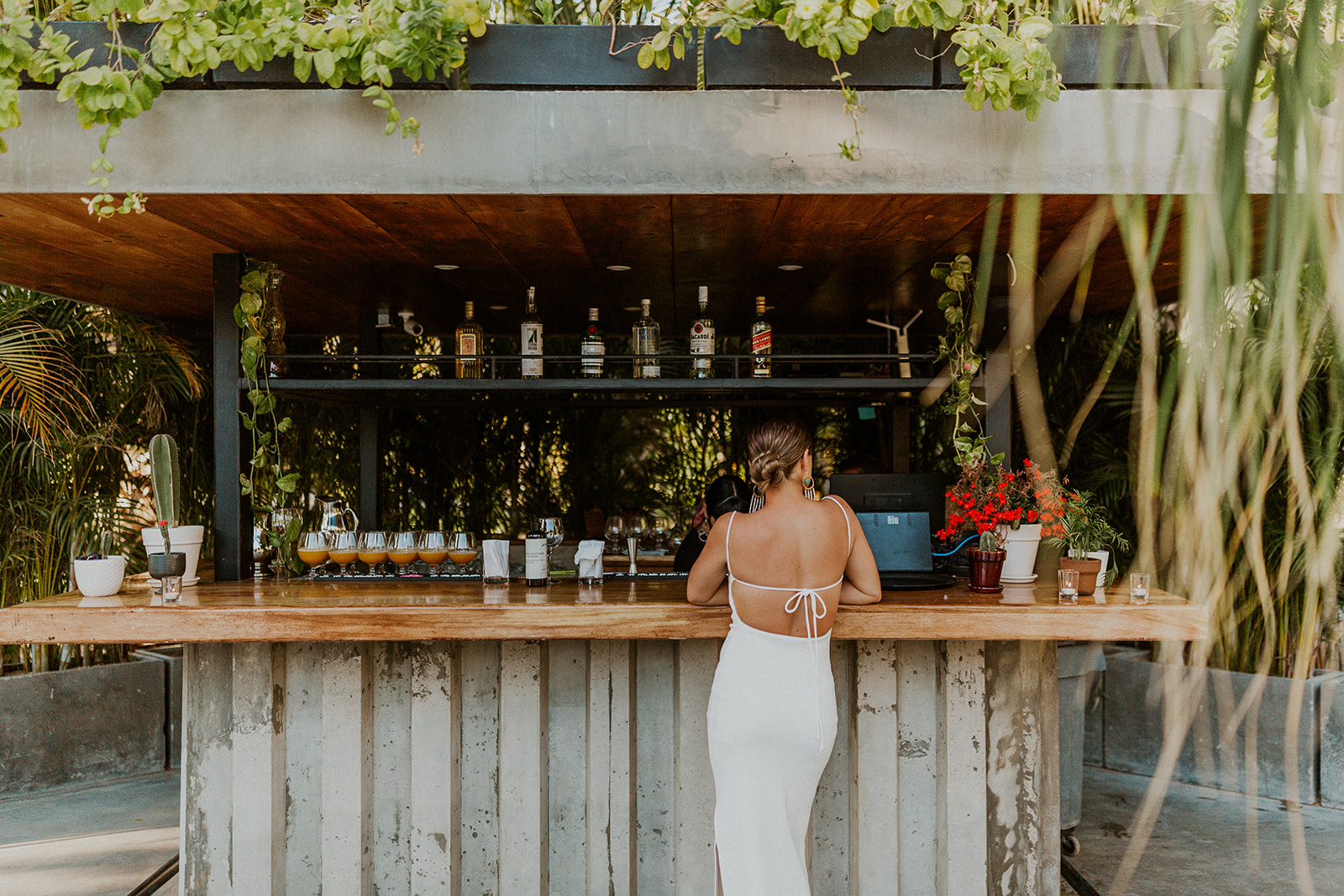 Anyways, we all arrived, walked through their restaurant on-site, which happens to be one of my favorite restaurants, and through the next area until we hit the pool. This was where cocktail hour was set up. It was a full on VIBE.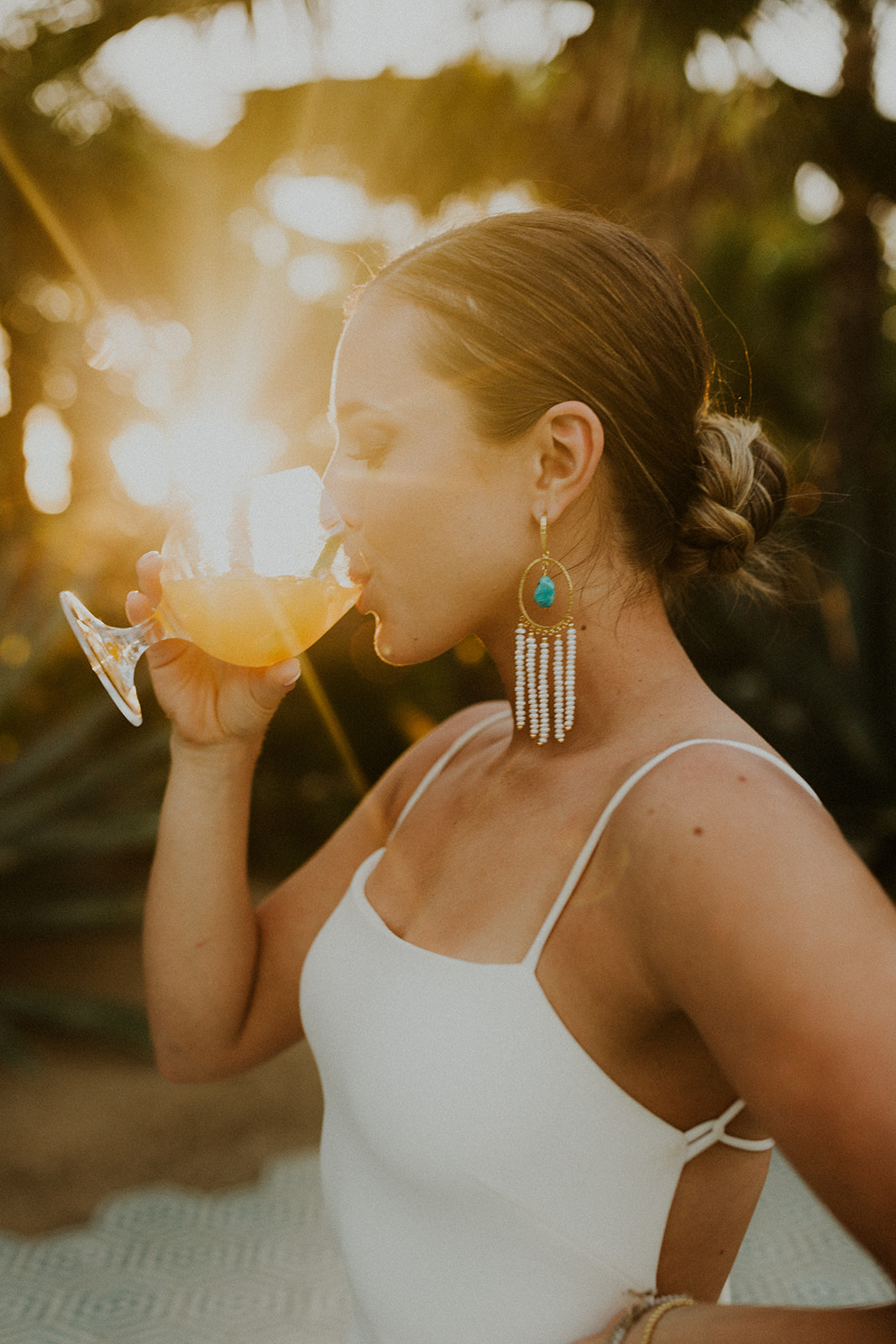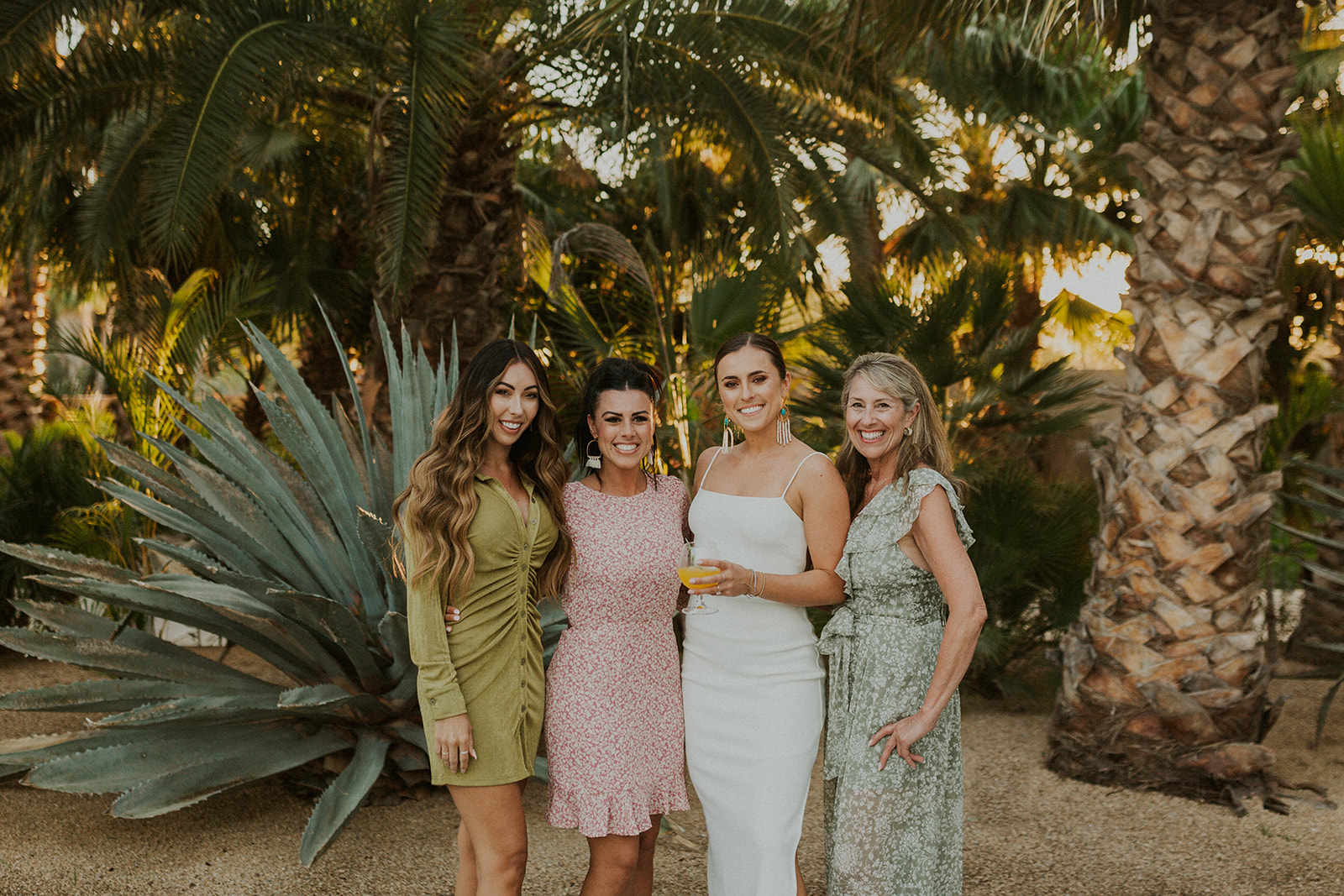 Acre's cocktails are out of control— seriously, follow their Instagram, they always post the most gorgeous food + drinks on their stories! Our signature cocktail of the night was the Perla de la Baja: tequila, mezcal, passionfruit and pineapple. I'm usually not a huge drinker, but I've started to enjoy a tequila drink every now and then, which for me is major. This one was so fresh, I loved the passionfruit!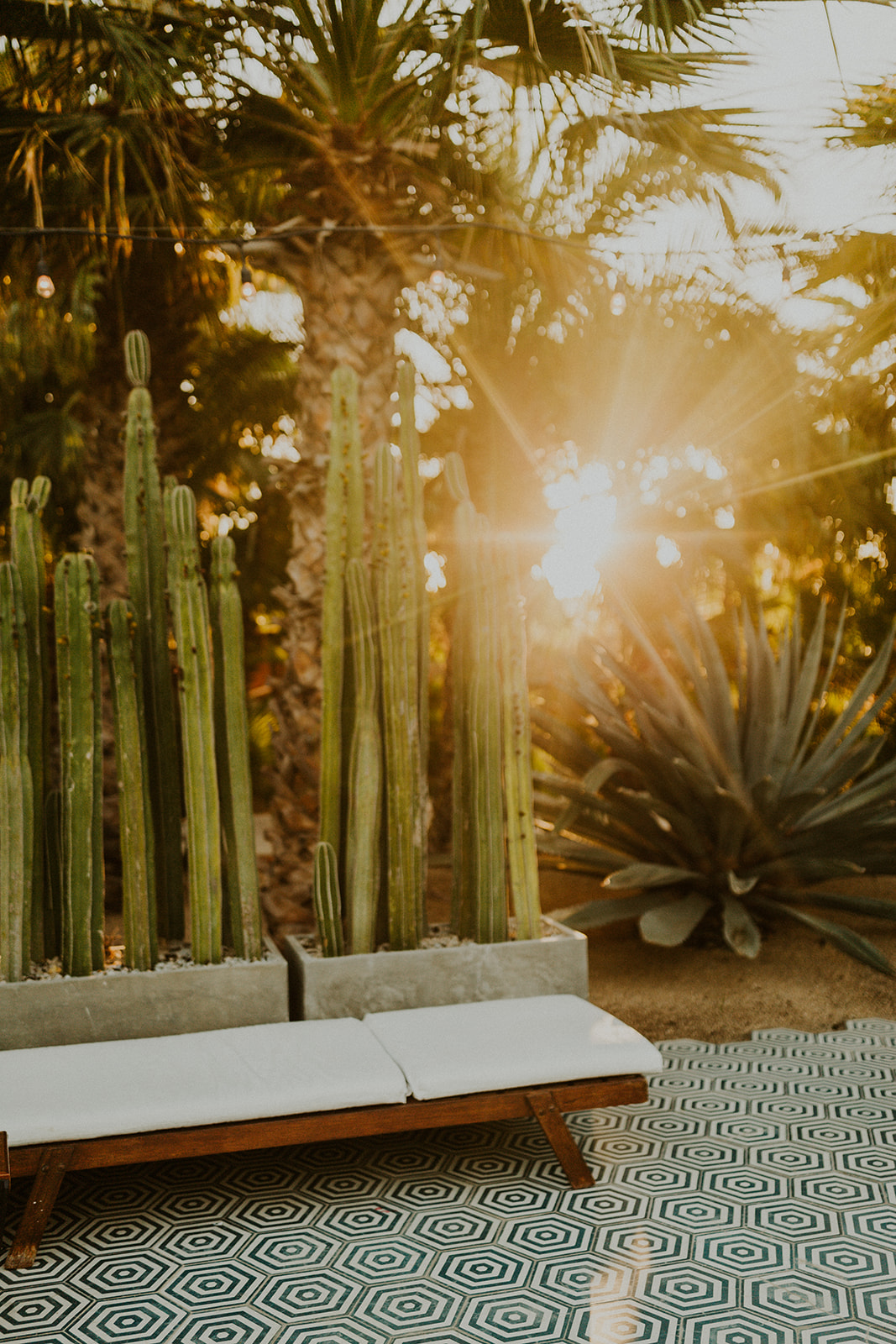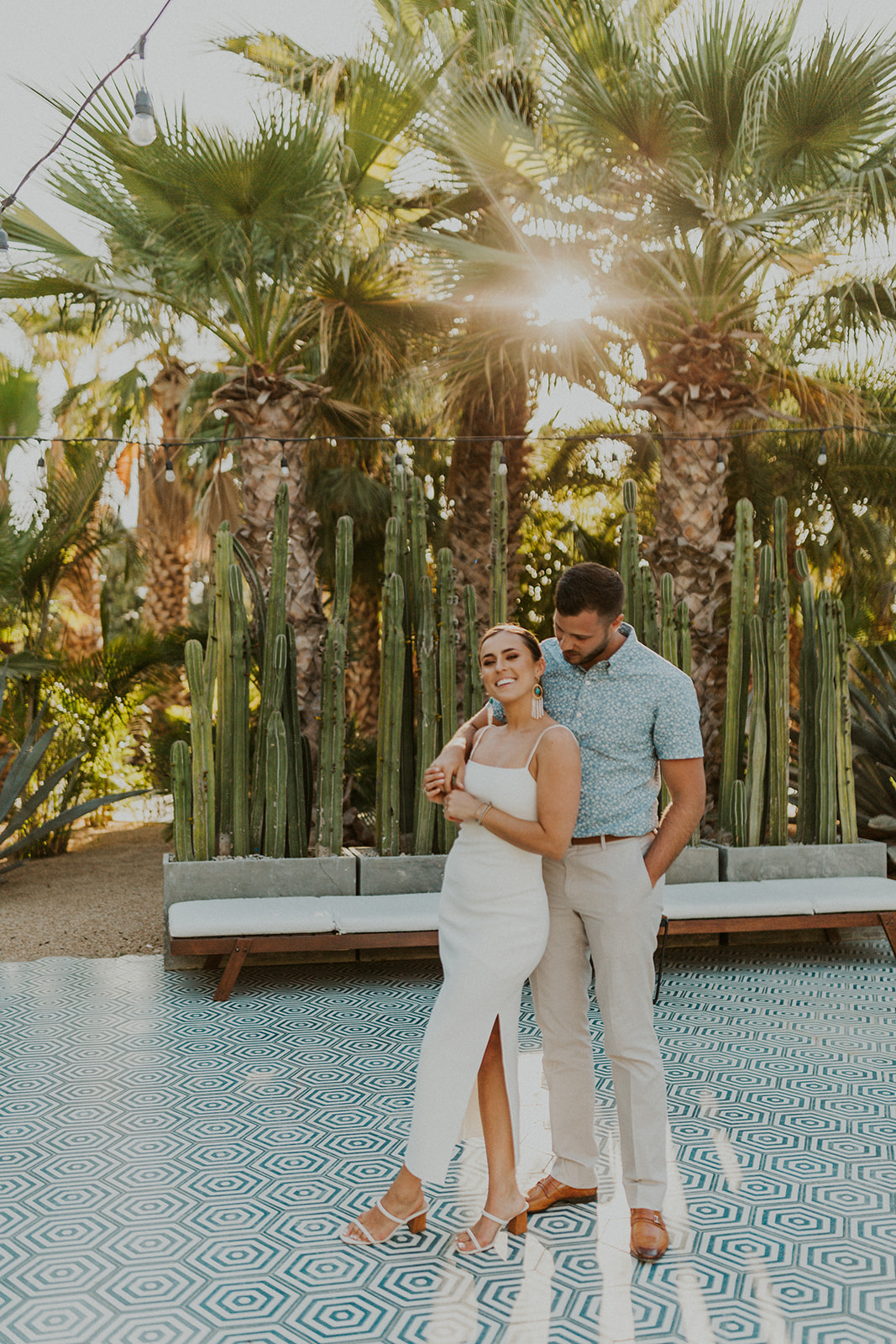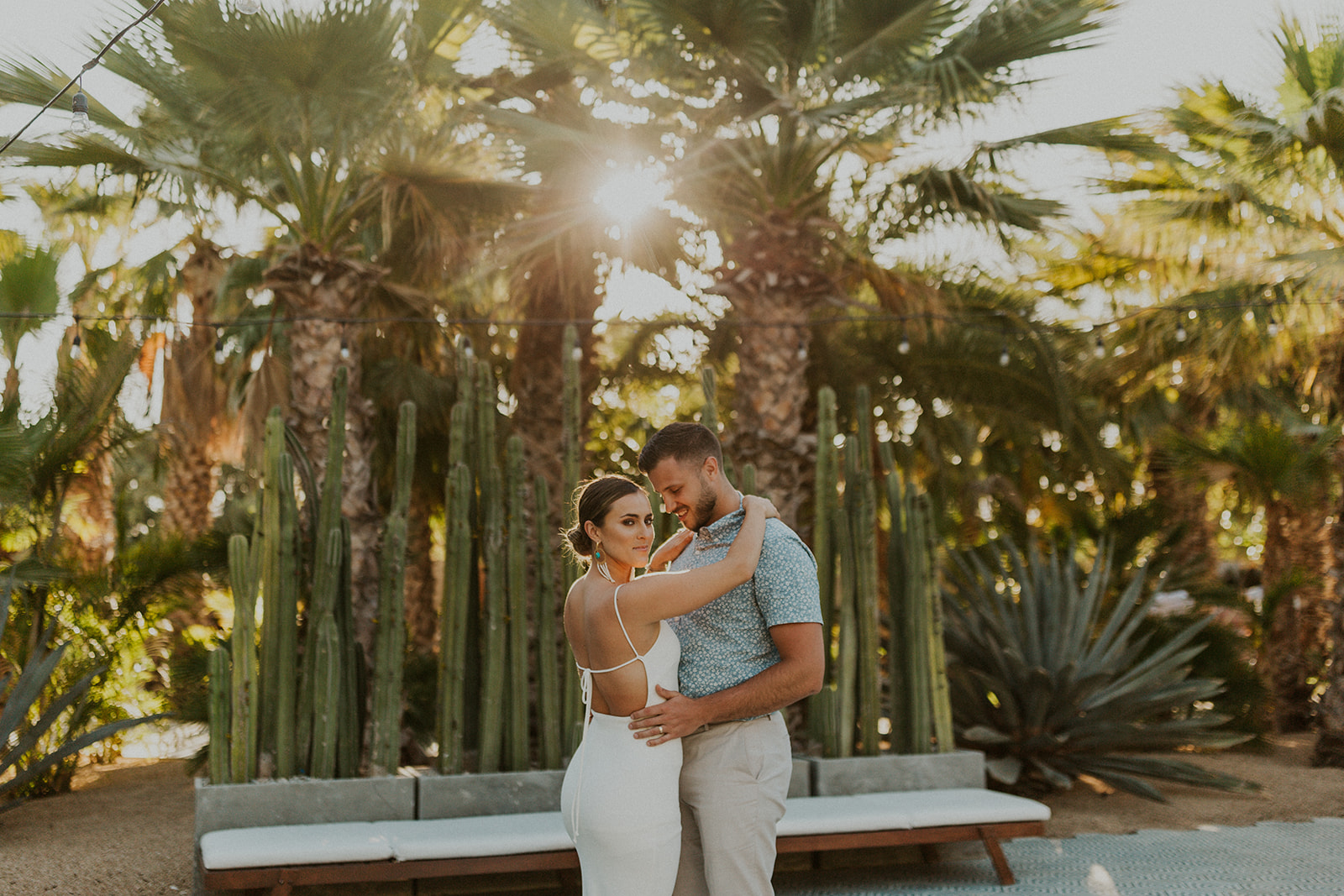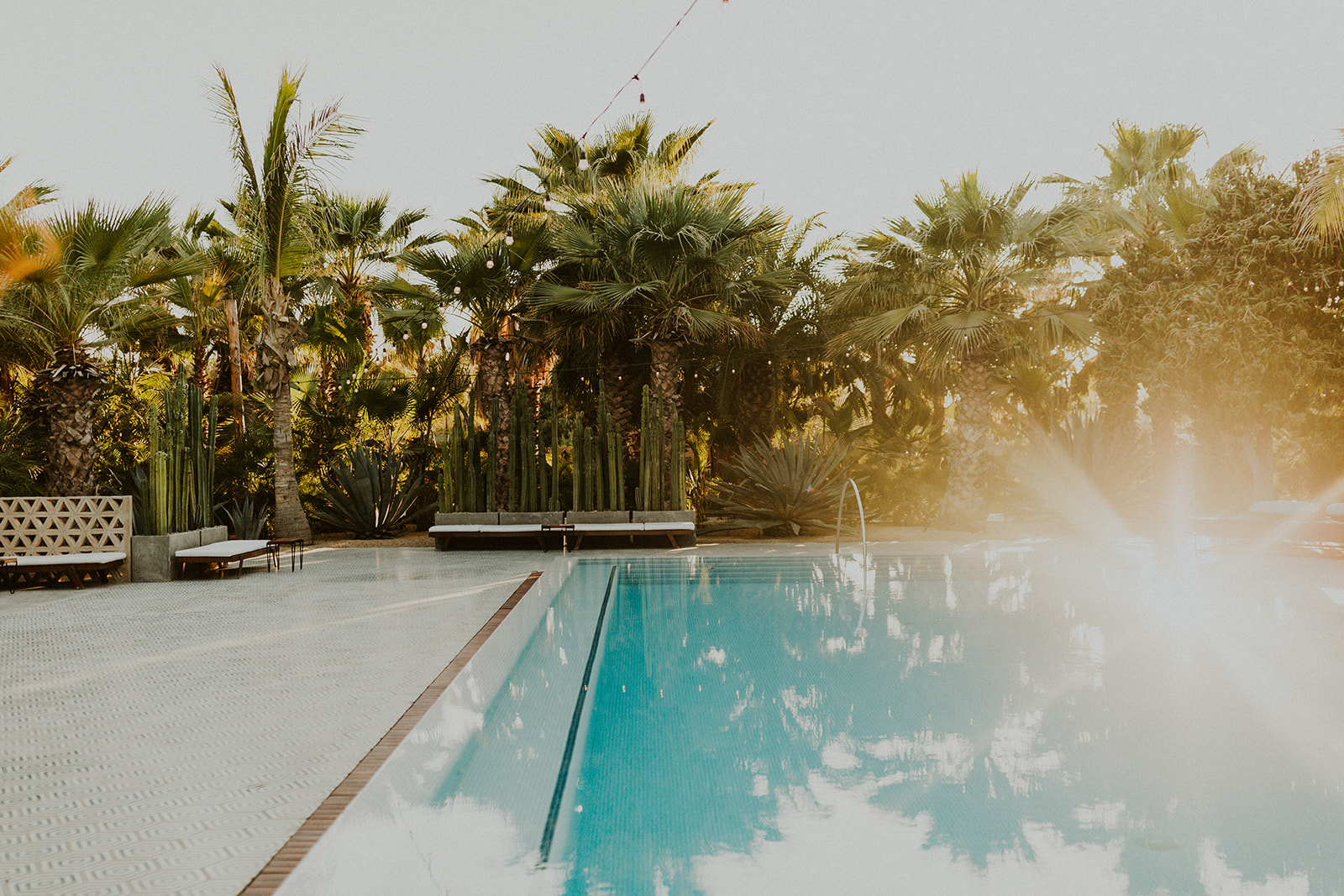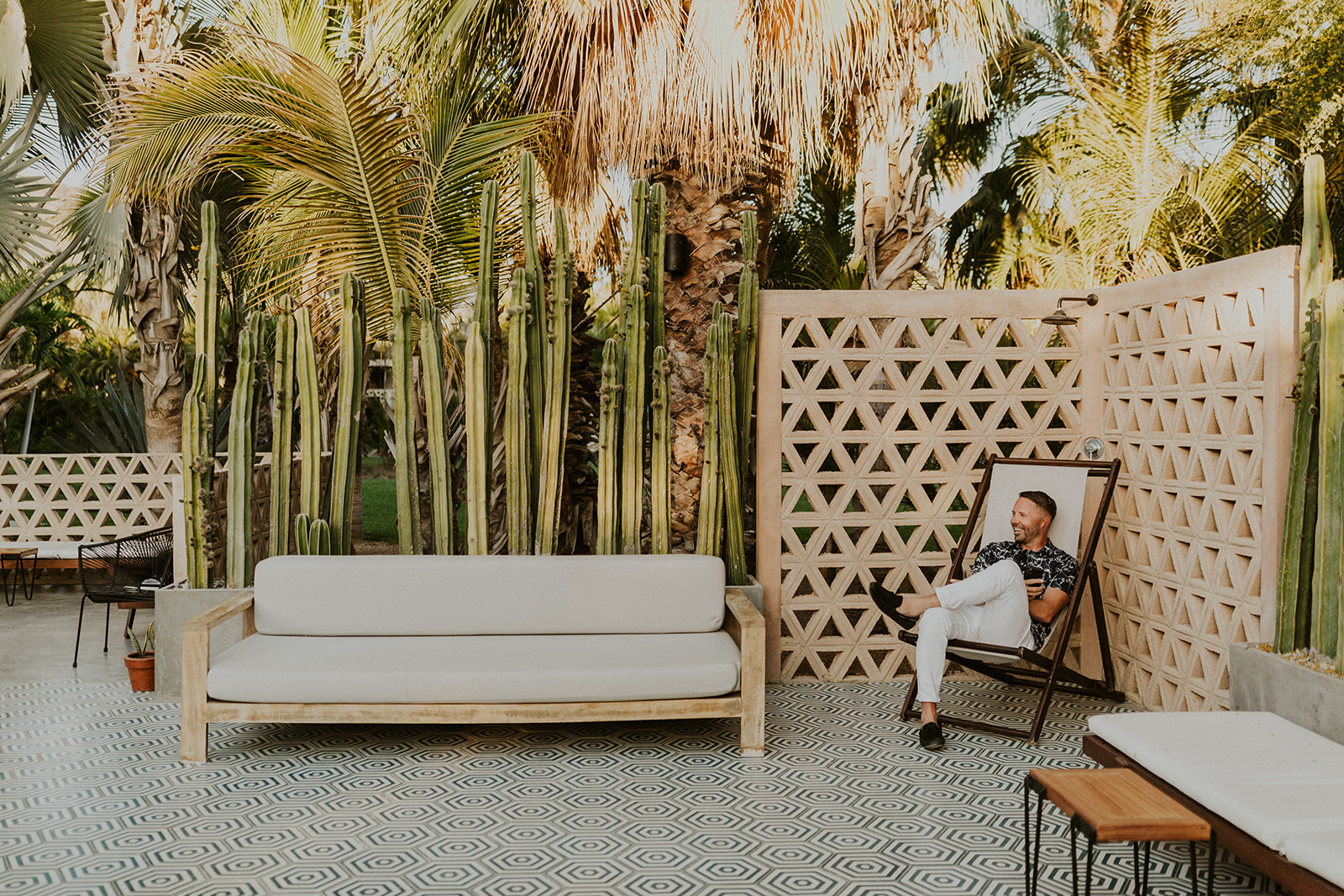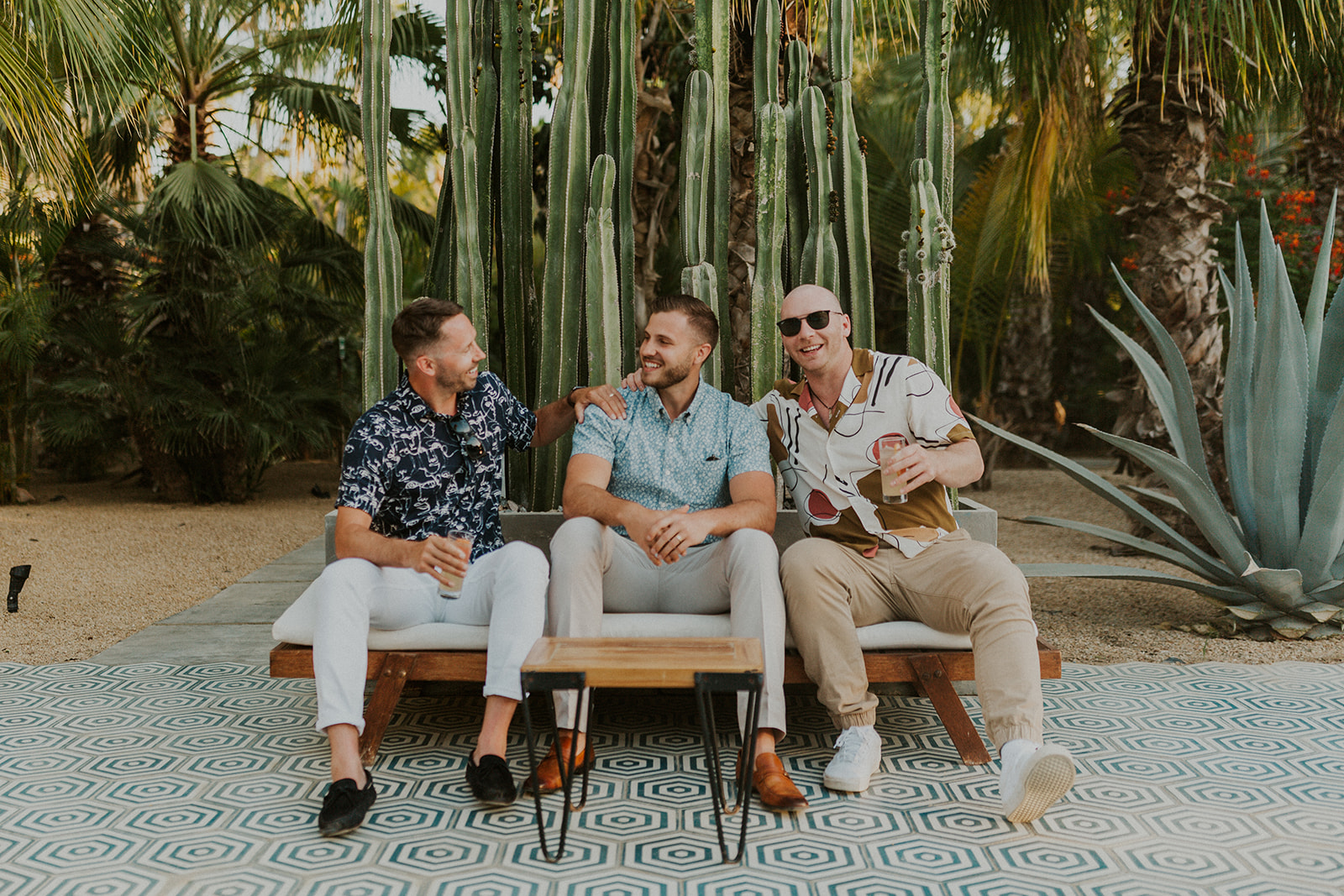 It was just shy of golden hour when cocktails started so the light was magic by the pool, shining through the palm trees and cacti. Our guests mingled with drinks, walked to see the animals (baby goats below!!), and passed our single long table set up in the mango orchard. Walking through everything felt like a movie, I swear. Bridge and I fell in love with Acre when we went to dinner for our honeymoon back in October 2020. I knew we had to have our rehearsal dinner there, I'm just so lucky they had availability.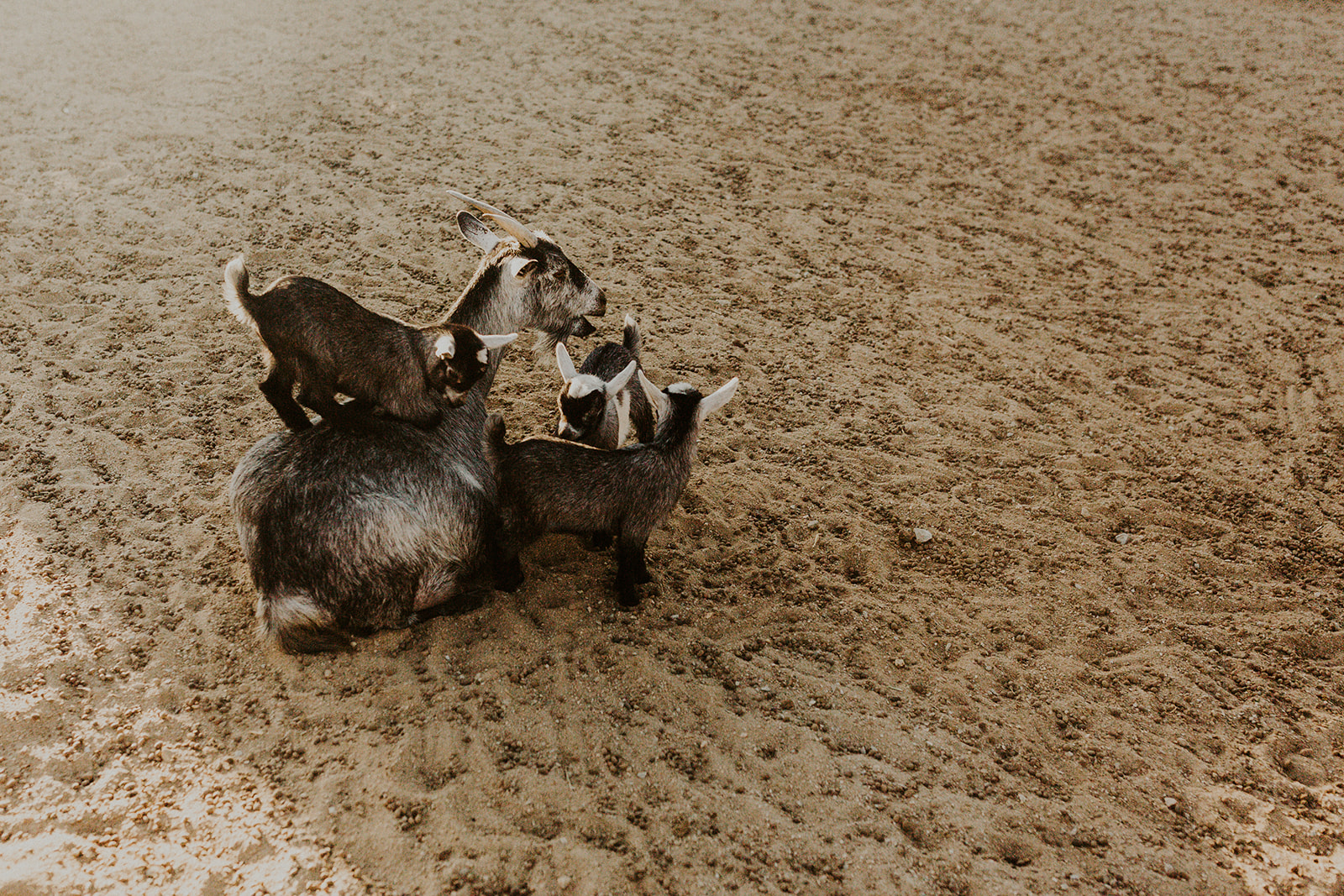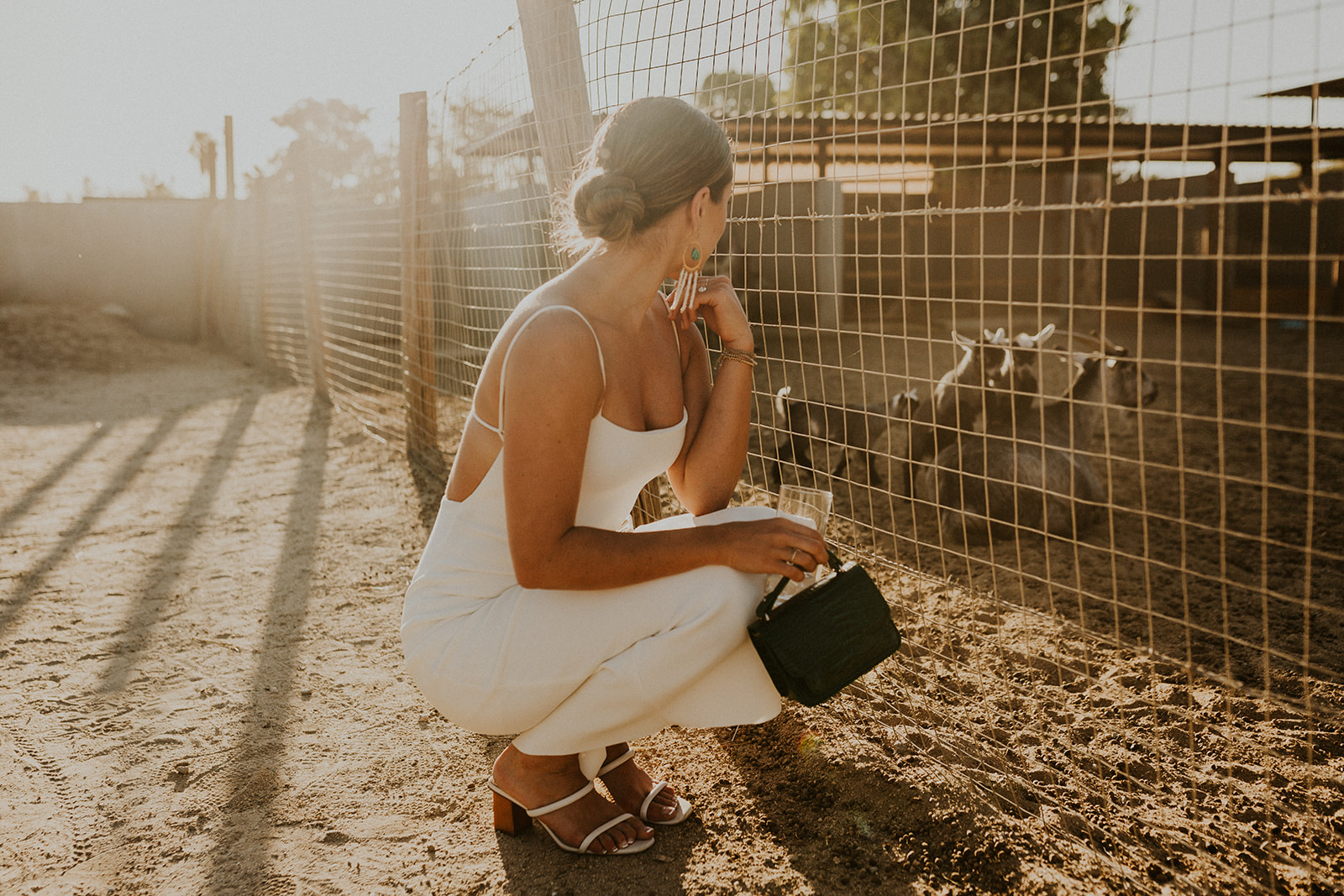 It's a 25-acre sanctuary with a farm, treehouses to stay in (which, by the way, next trip we're definitely staying a night or two here!), permanent residences, goats, donkeys, horses, bunnies, a dog rescue (@acredogs)… but feels like you're kind of in the middle of nowhere… or the jungle.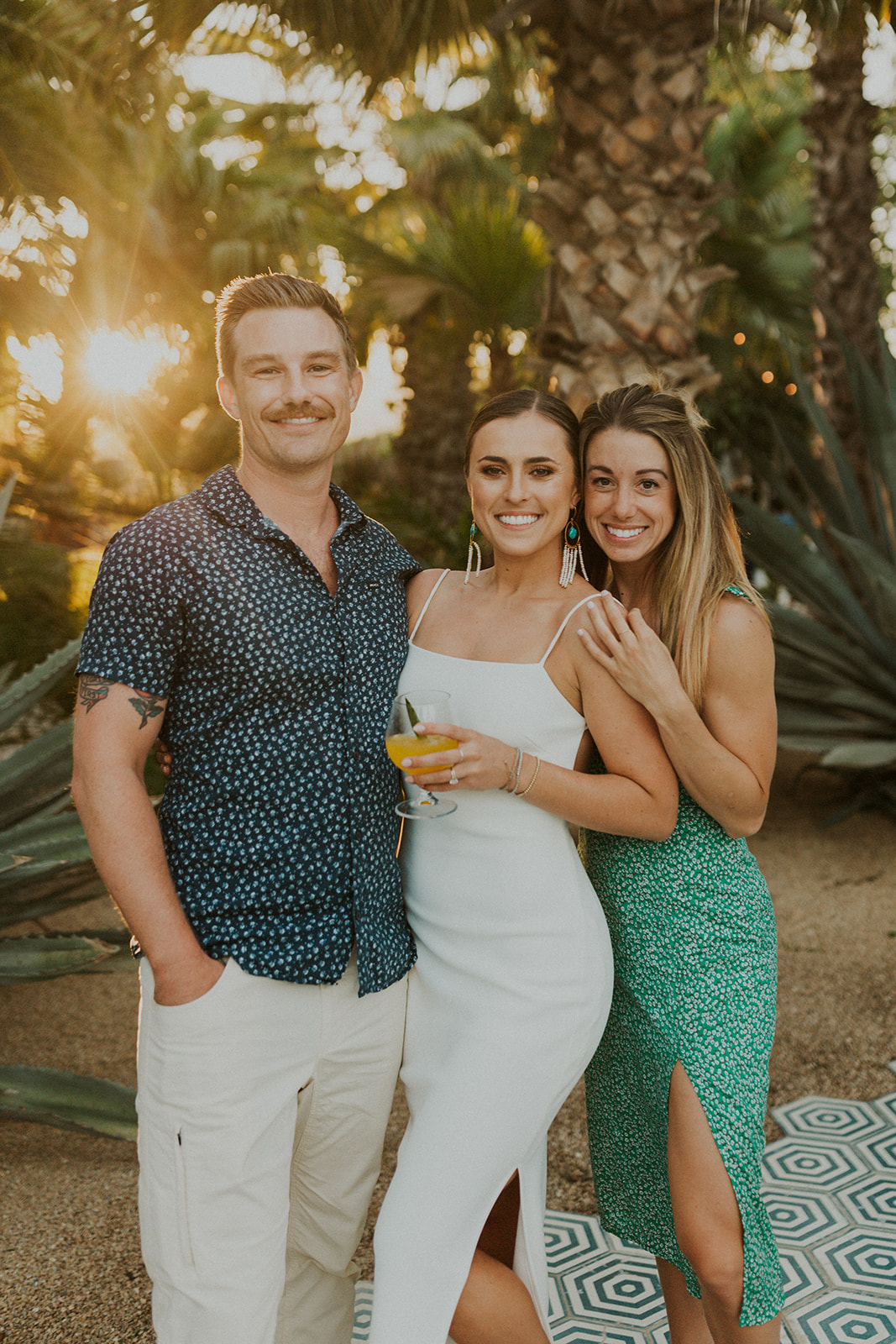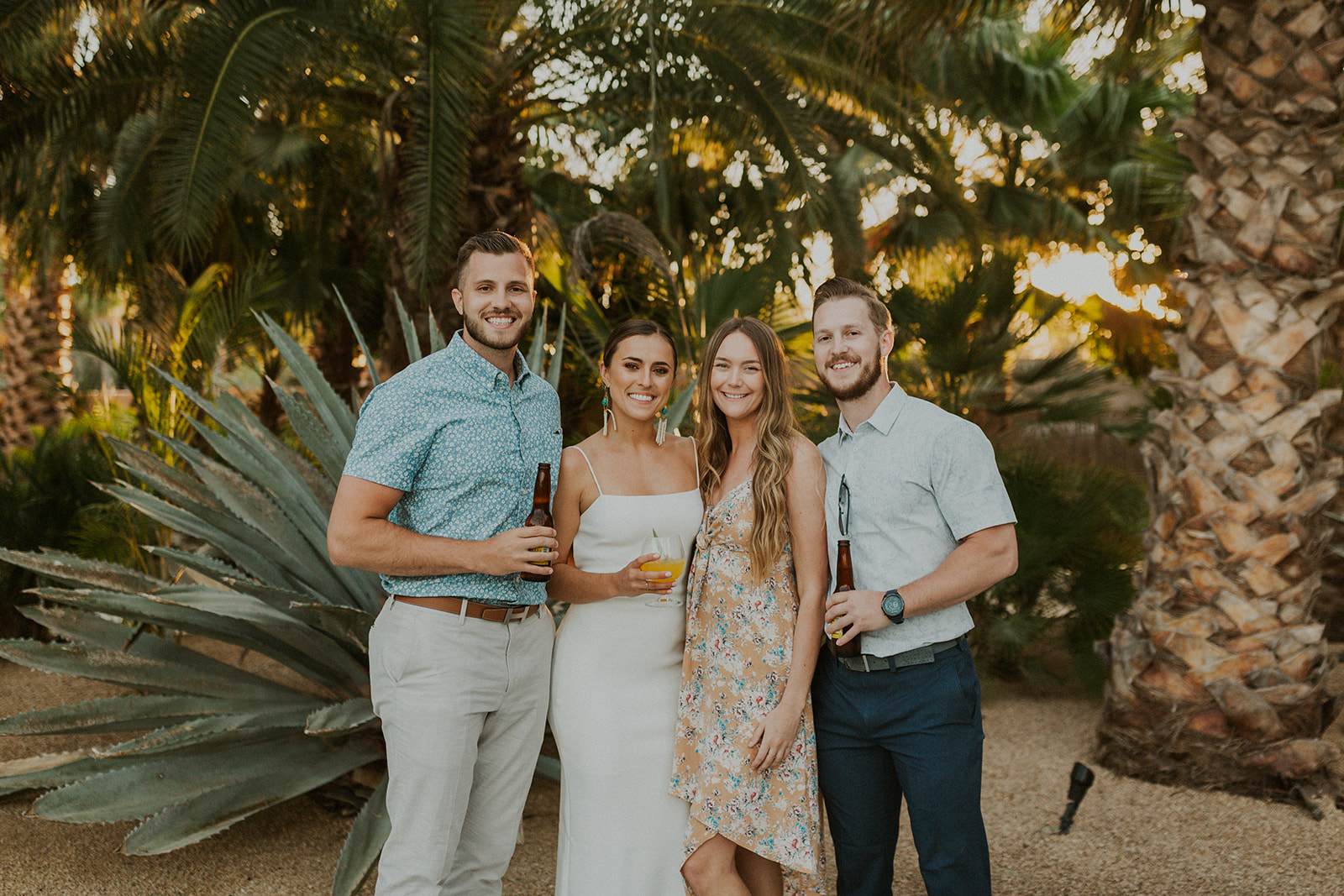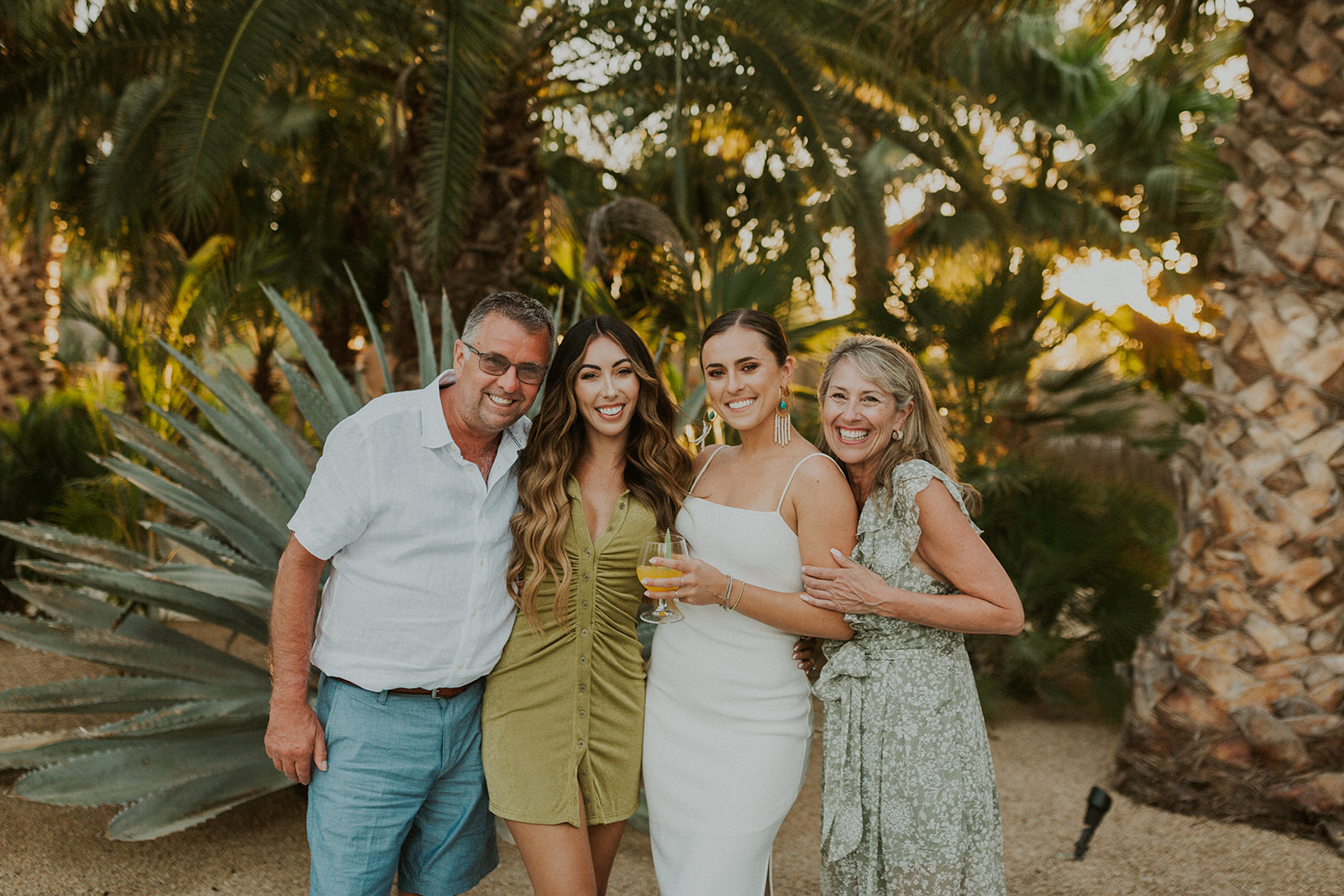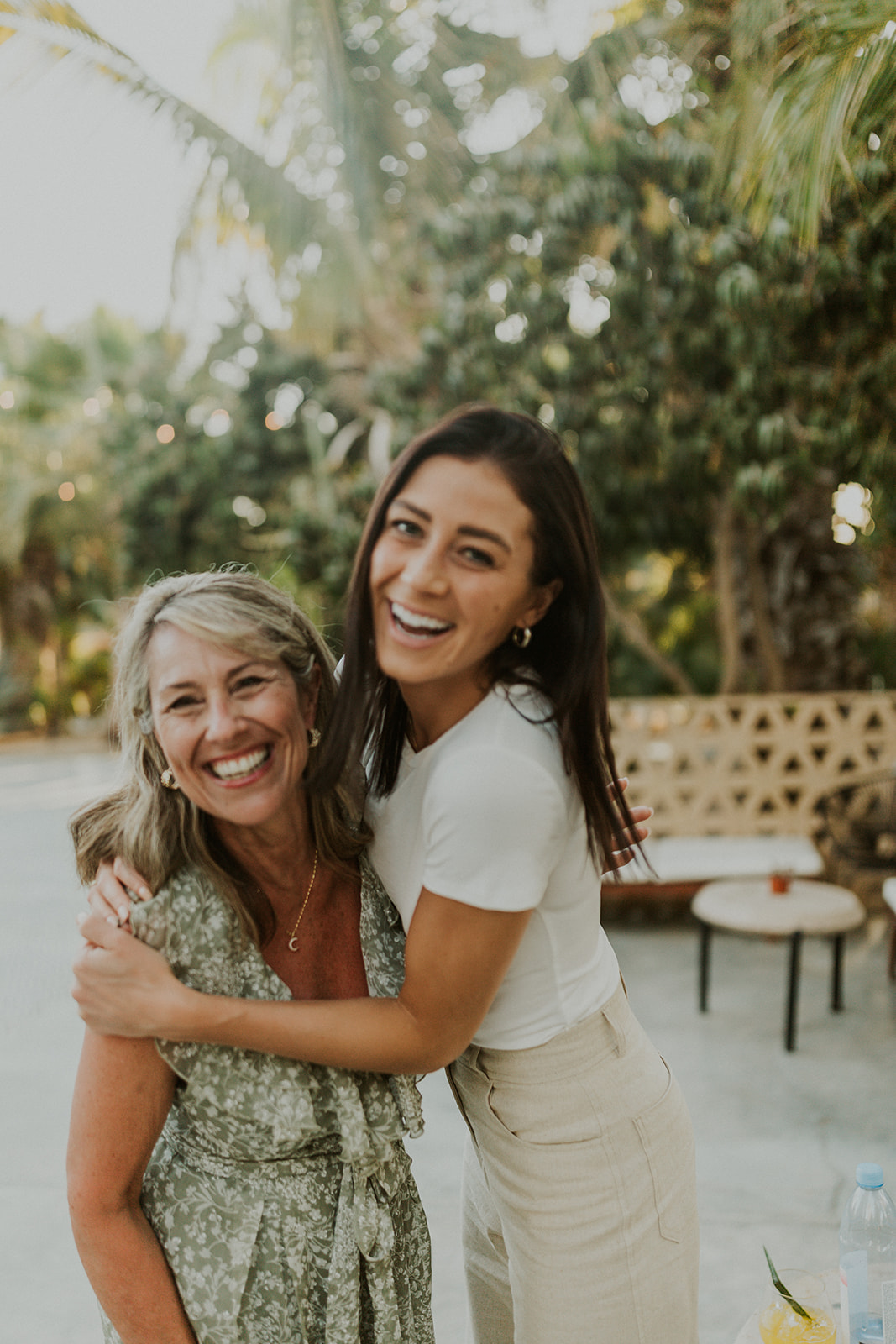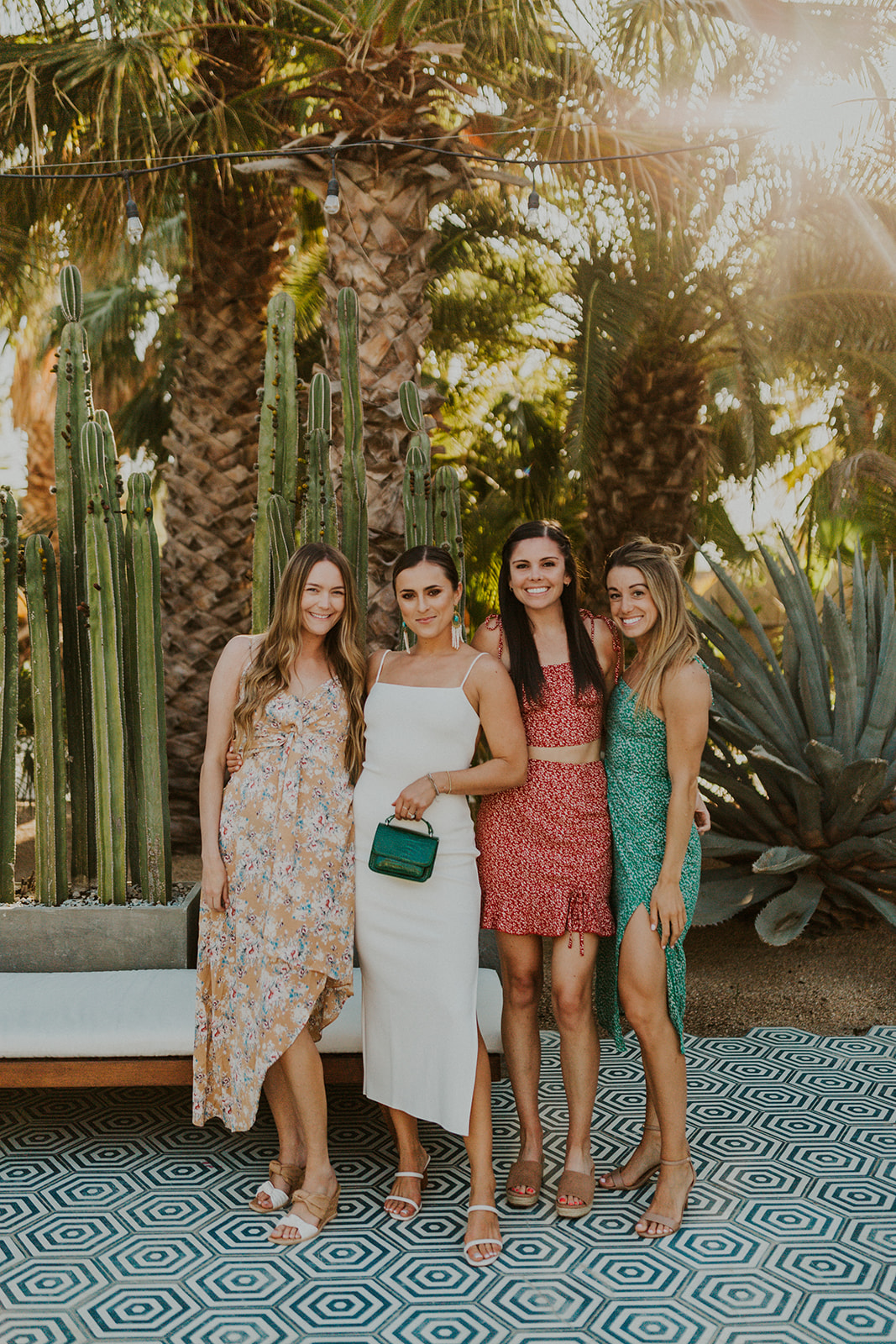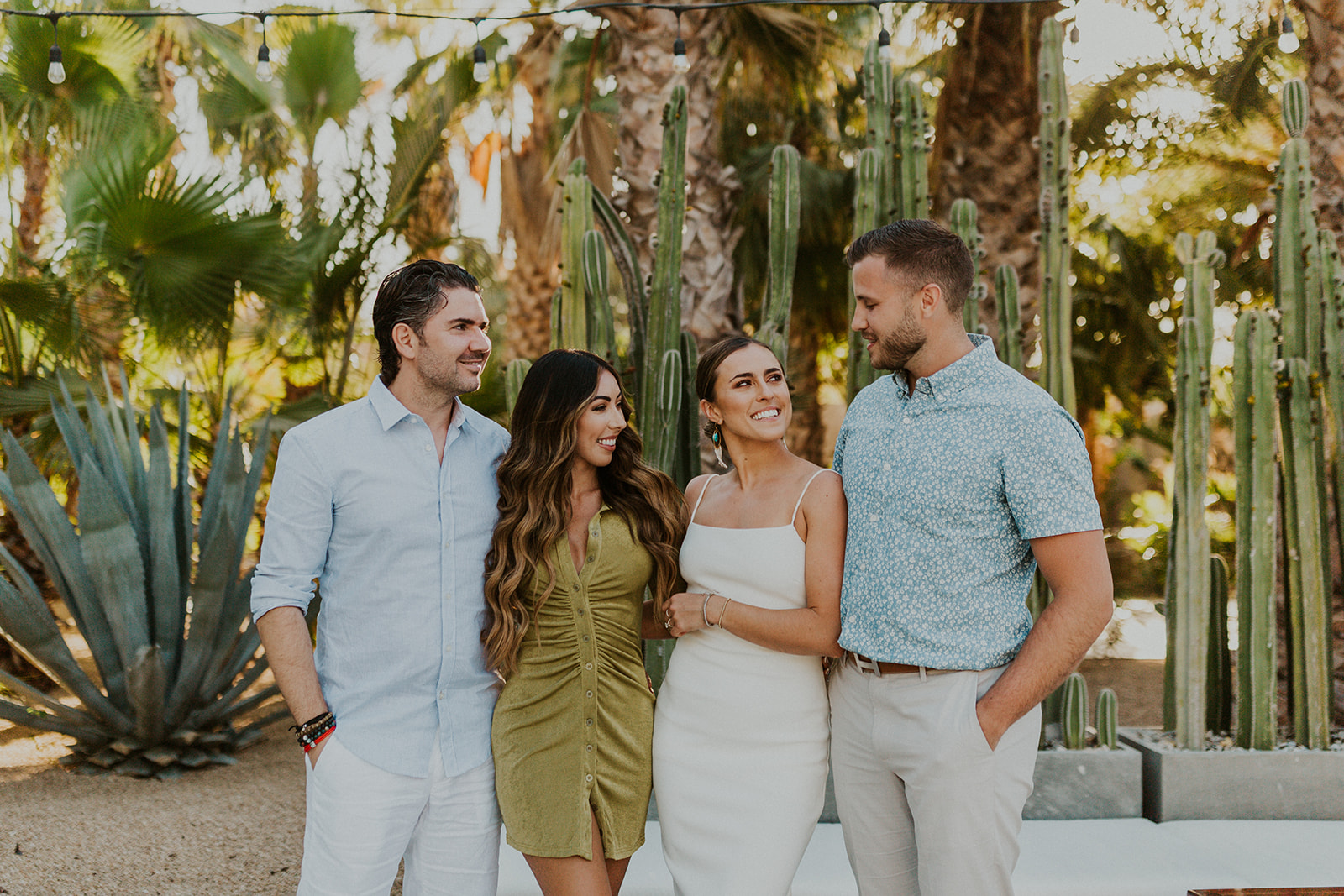 It was so fun seeing our friends & fam together all in one place. That has to be my favorite part of the whole weekend! We all got to finally socialize after being home in lockdown for a YEAR and having to postpone this weekend! I got a lot of questions if we were going through with our exact plans we had originally thought about, and yes! Same cocktail hour Friday night, rehearsal dinner at Acre Saturday night, and ceremony with my wedding dress + vows Sunday night 🙂 It was too good of a plan to leave anything out!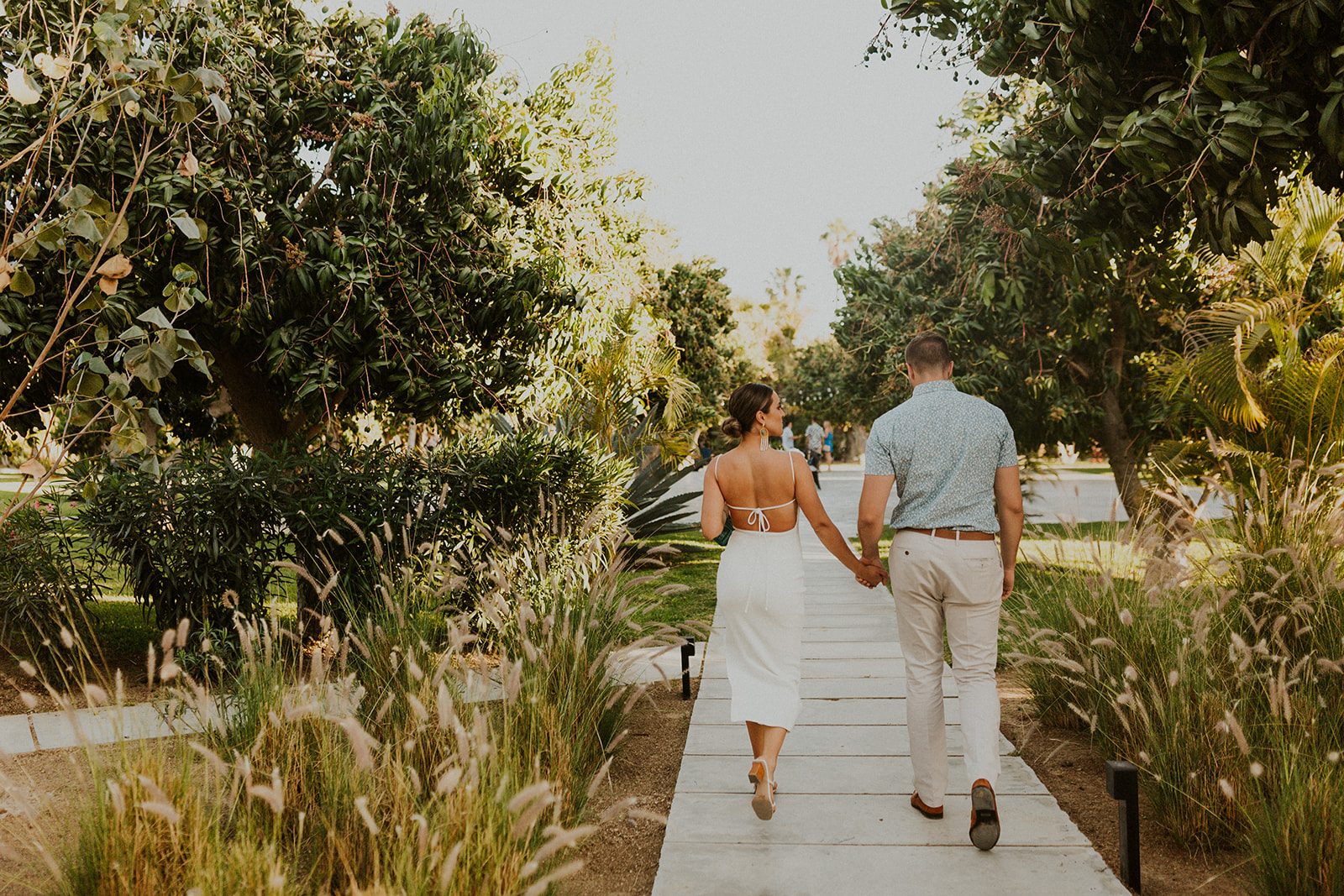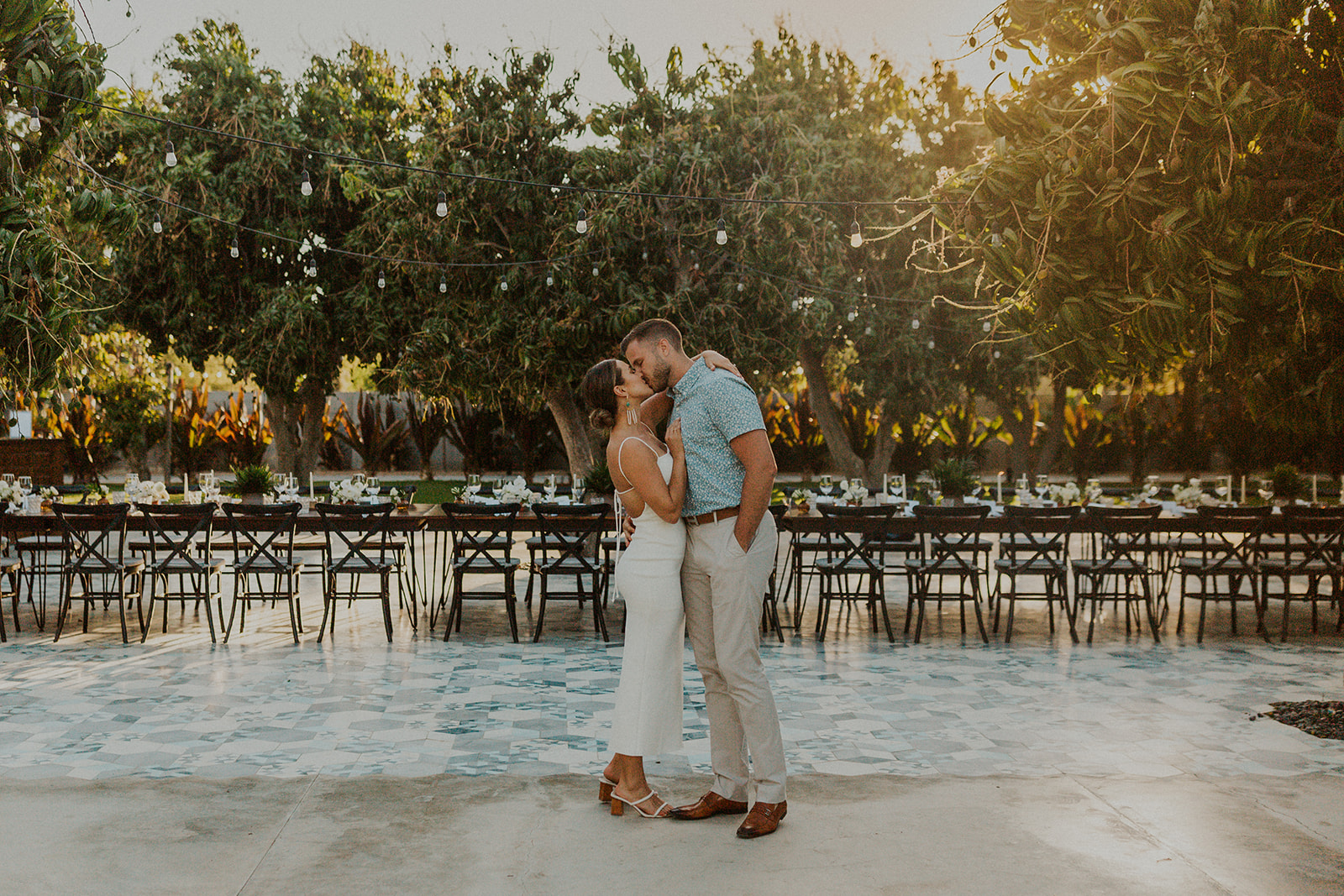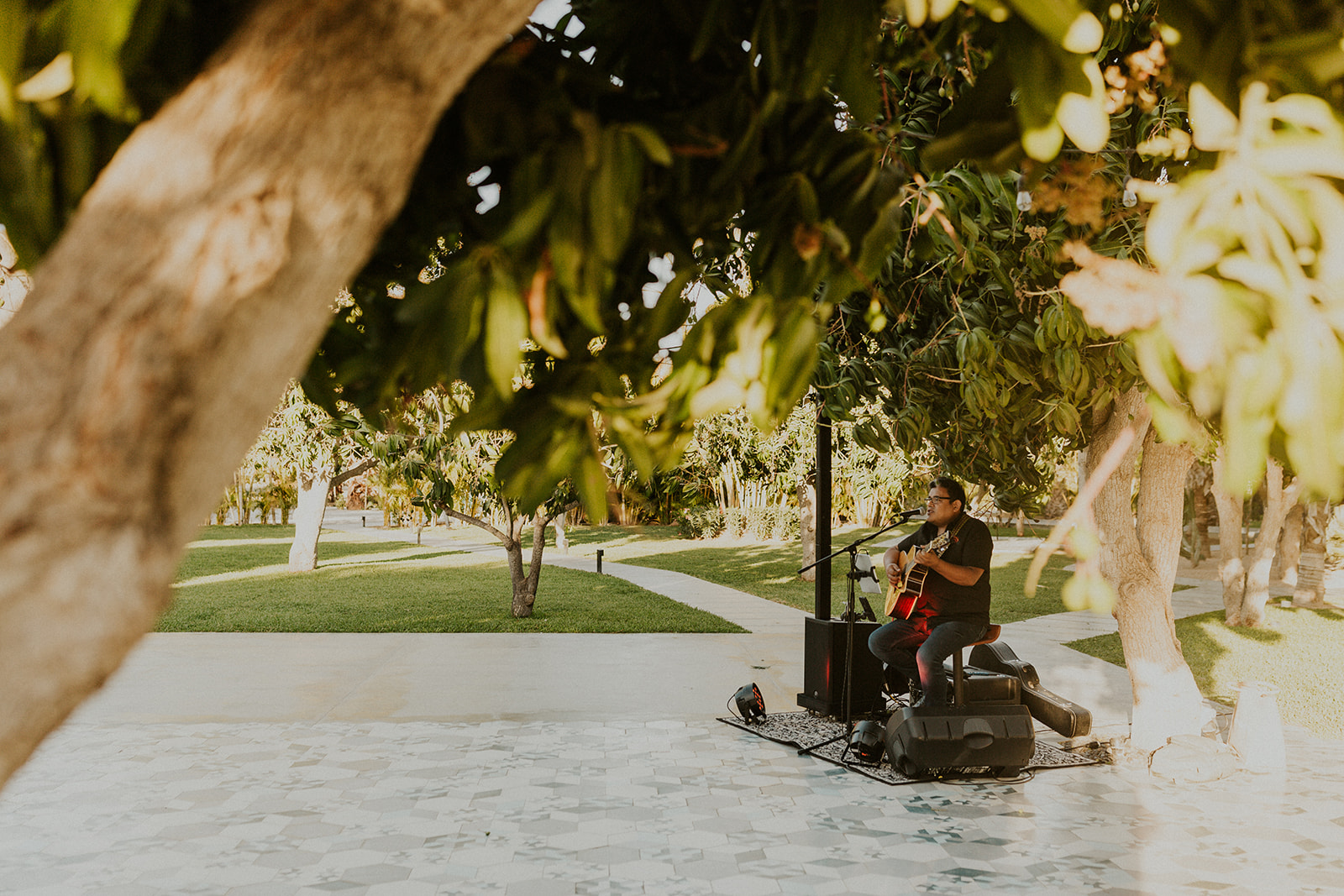 The attention to detail!!! I mean, our wedding planner and her team totally helped bring to life what I was envisioning. Simple & romantic with live music and good energy. Also, I saw the staff measuring the distance between each chair. EACH chair. That's the kind of precision we're talking about!
Gilberto from @cabobandlucas was incredible! We had him for our wedding ceremony as well and couldn't recommend him enough for anyone looking for a super talented guitarist who plays ALL the best songs! He used to be the lead guitarist at Cabo Wabo downtown… IYKYK.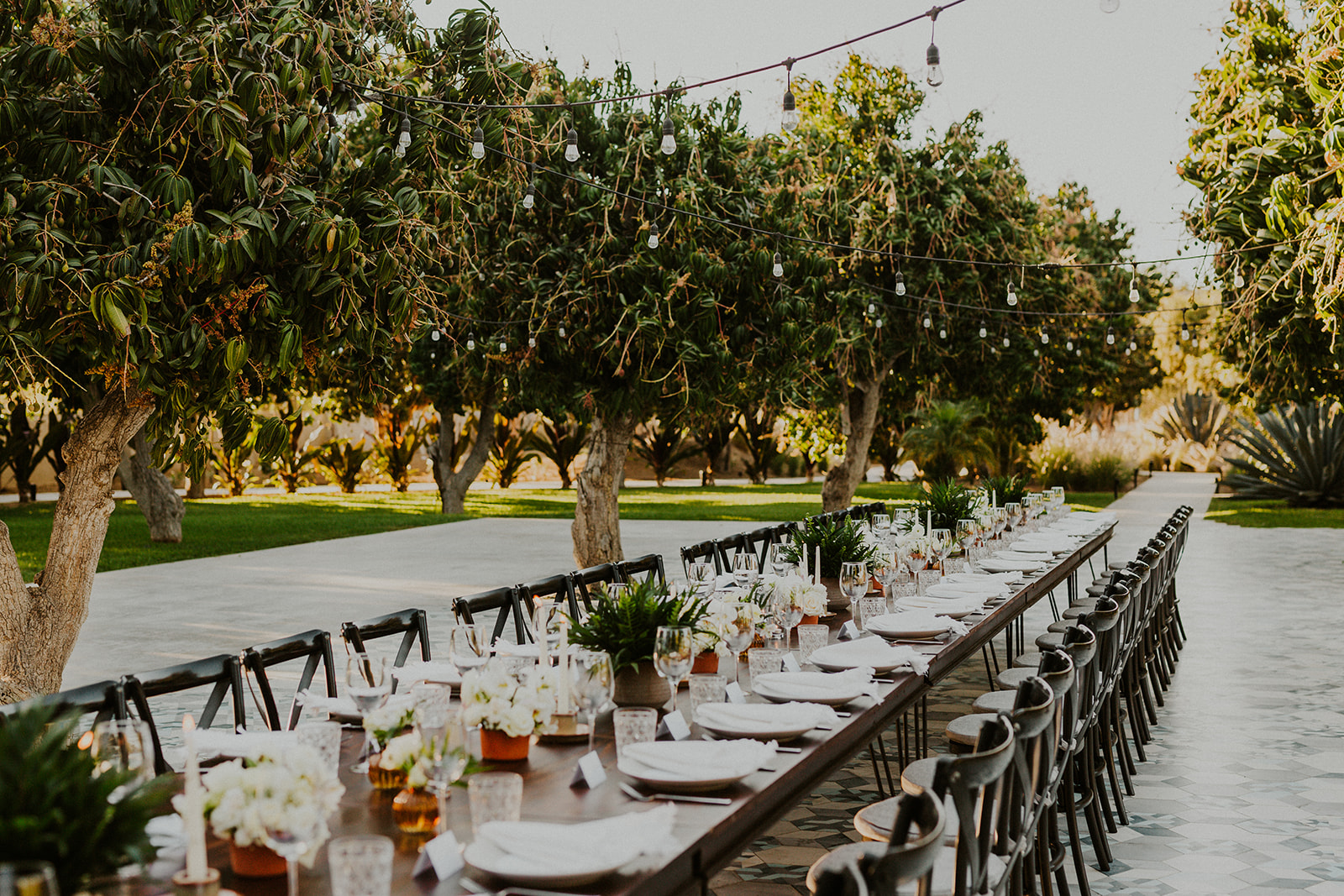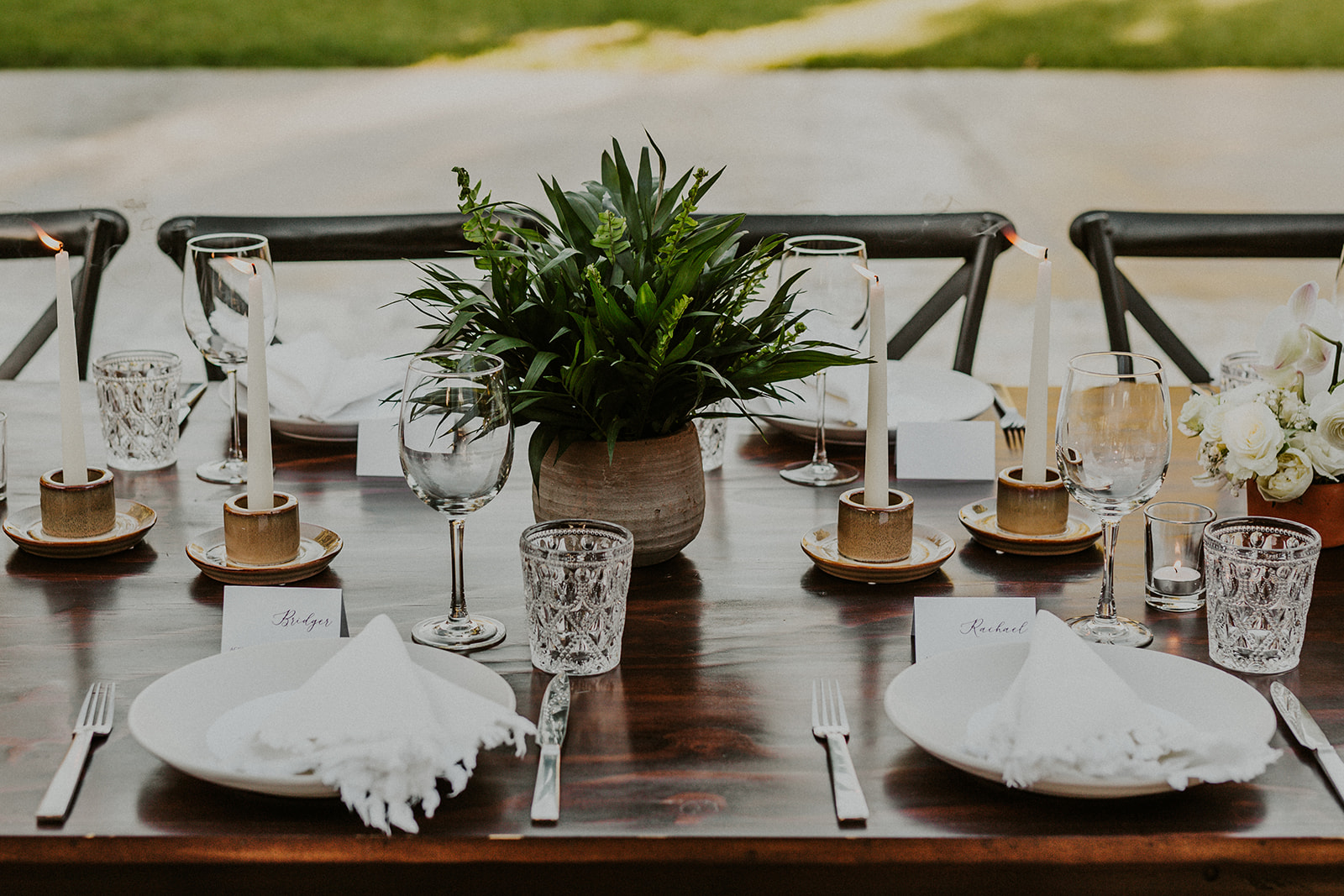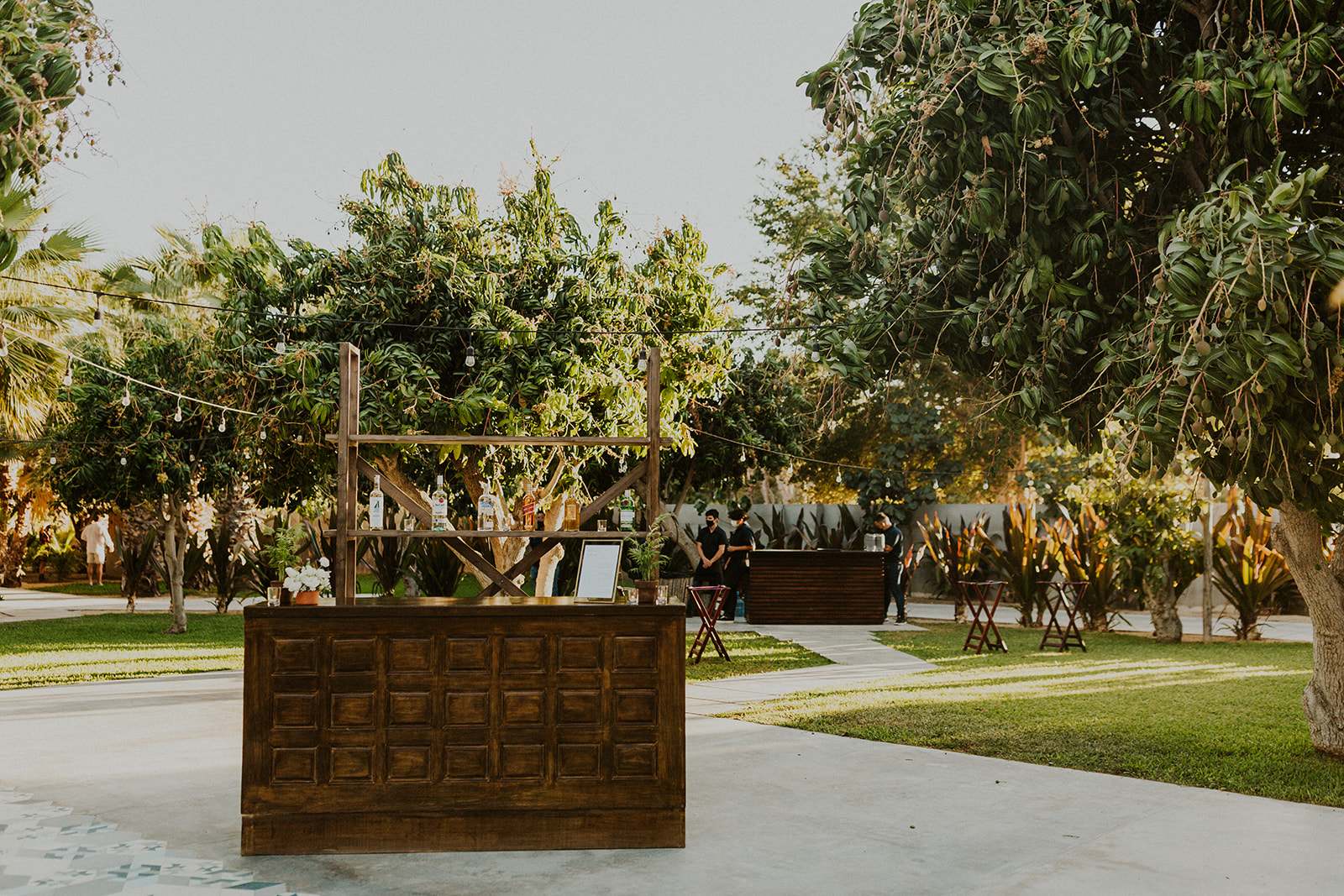 To be completely honest, having a rehearsal dinner separate from our wedding with all of our guests at a different venue was basically like paying for two weddings. So, to save some money, we opted for not hiring a florist and instead, our planner took care of the centerpieces, which included greenery (very affordable) and mini bouquets. We also didn't have any large decorations really, besides the open bar in the mango orchard. Using the venues silverware / plain table settings can also help keep a lower spend. The string lights were already part of the venue too, which was perfect! We didn't need to rent any other lighting.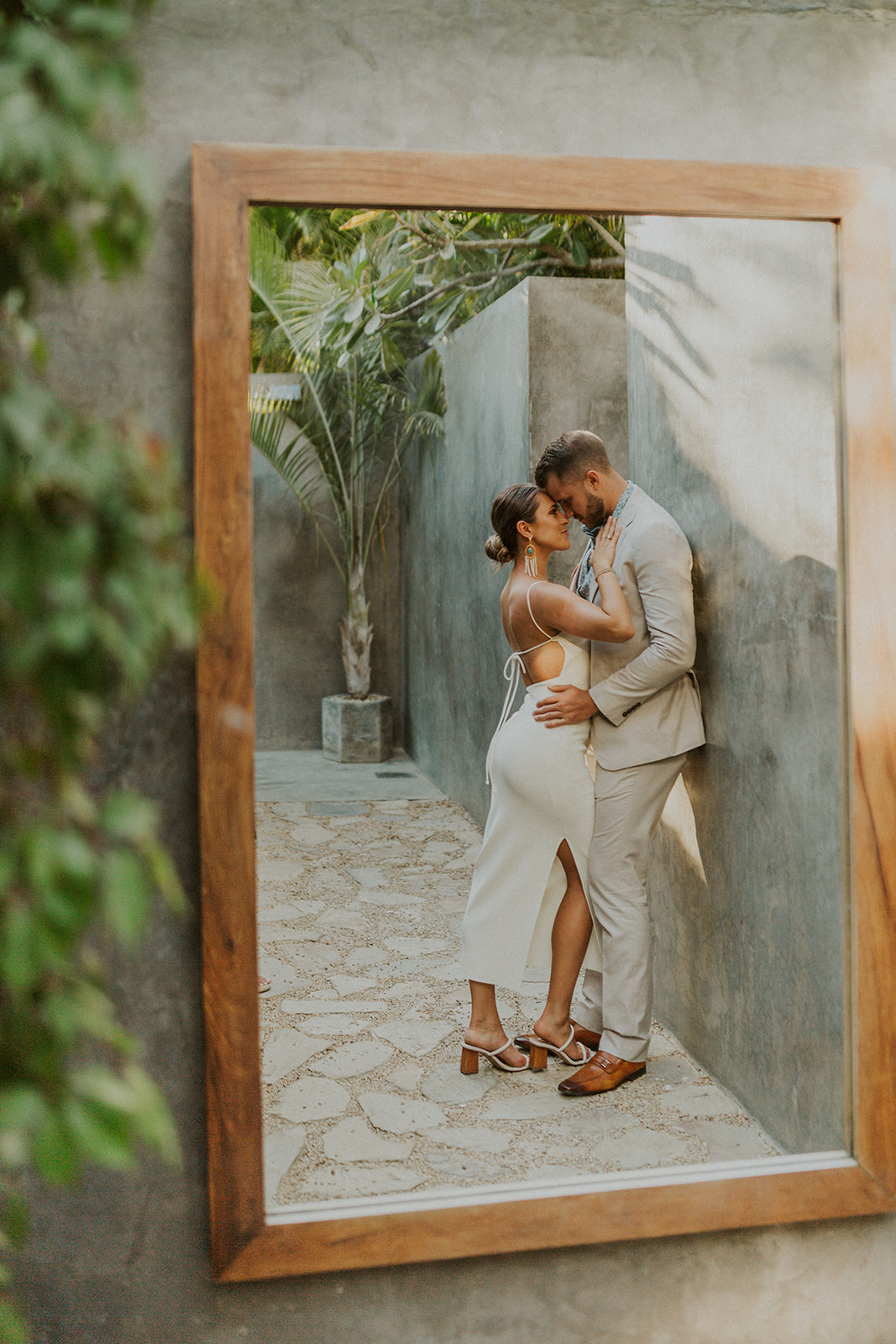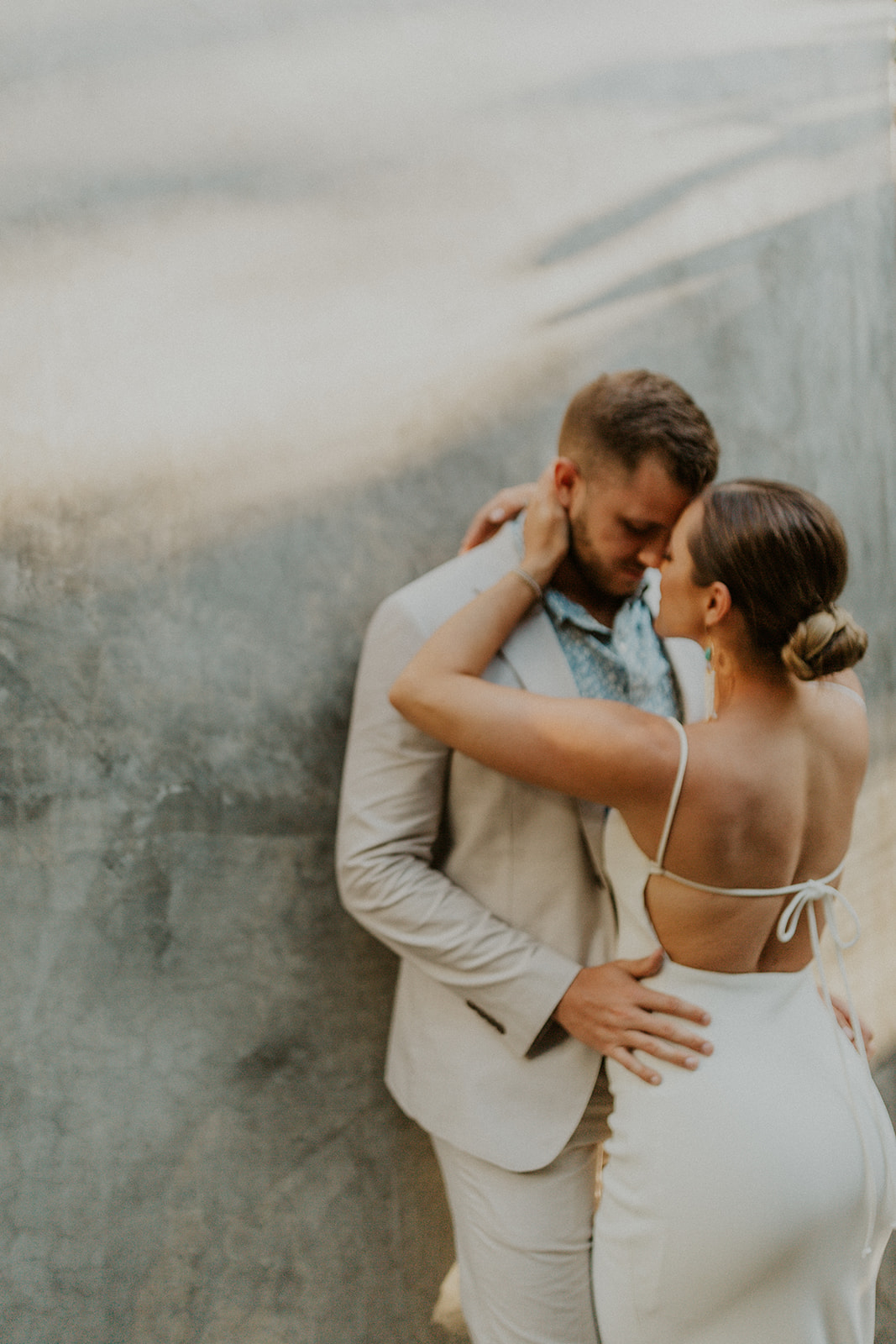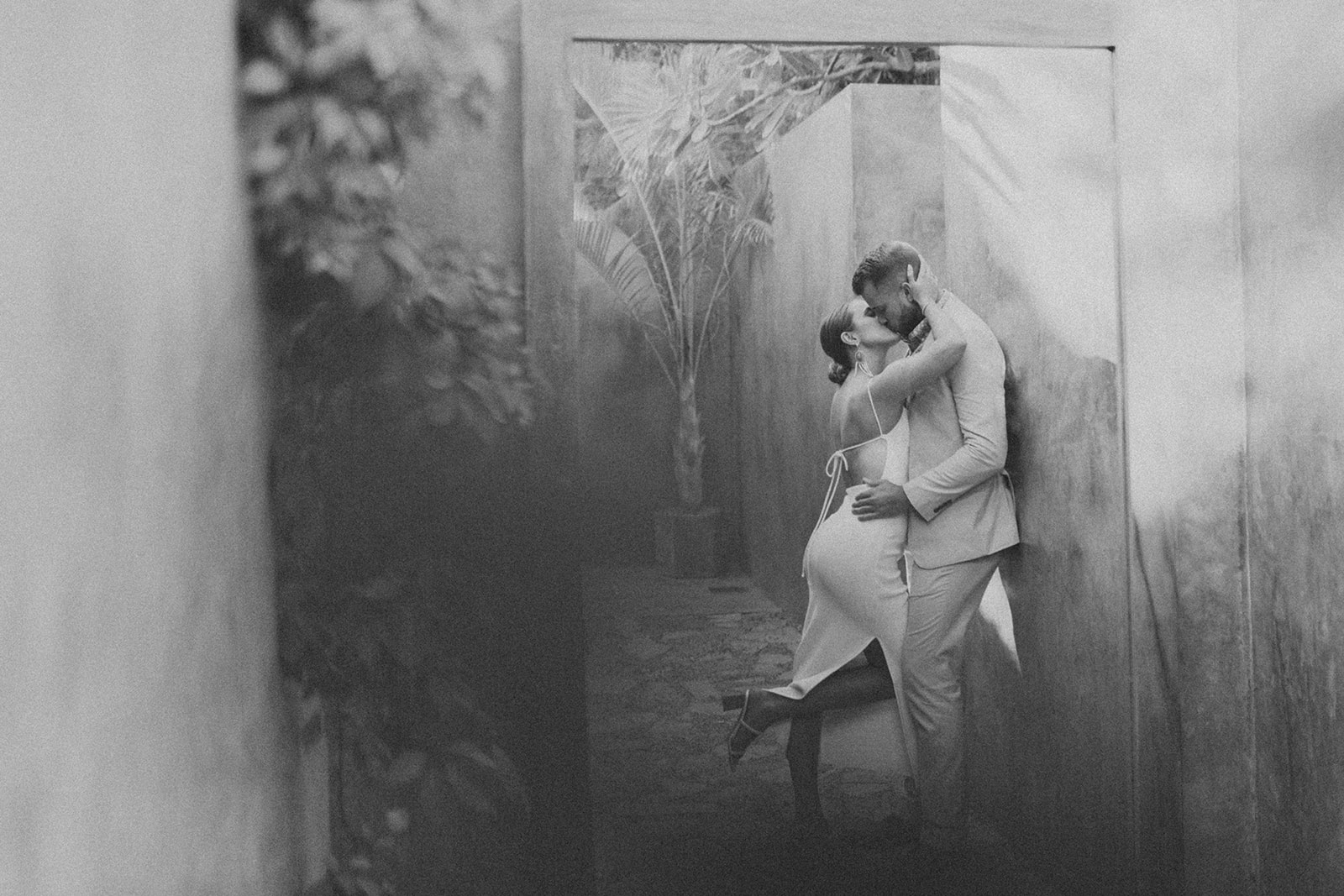 Did I mention there's like a million places to take photos here? The last time we went to Acre for our honeymoon we took one of my favorite photos by the bathroom.. kind of weird, maybe. But I'm telling you, it's a vibe. Feels very Bali-esque and has a massive-sized mirror for all the selfies.
By the way, our photographer, Marci (@marcellalaine) is a GEM. she was with us all weekend long and I'm so grateful she captured every minute from our rehearsal dinner to our wedding– we've shot with her multiple times now, like our engagement shoot, so I knew we had to have her for this weekend!
Sharing a list of all our vendors + links for this rehearsal dinner:
photography @marcellalaine
planning @eventsbybliss
venue @acrebaja
Rentals @bajaboutiquerentalcompany @delcaboeventdesign
Signage @uscreating
Guitarist @cabobandlucas
Dress Bec & Bridge
Earrings Grace Loves Lace (they no longer sell)
Shoes Steve Madden
Green purse Bought at The Cape Hotel
Bridger's shirt Bonobos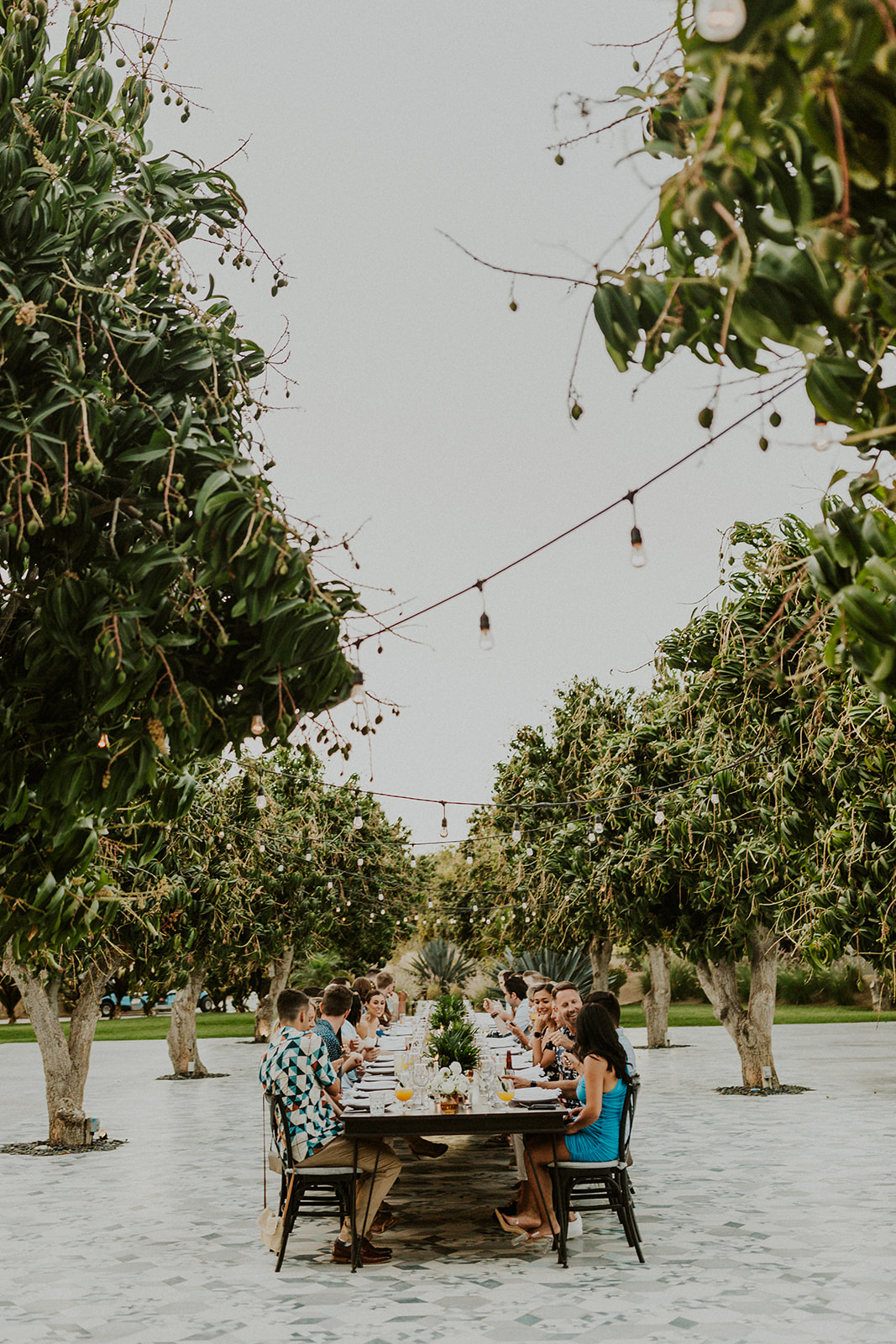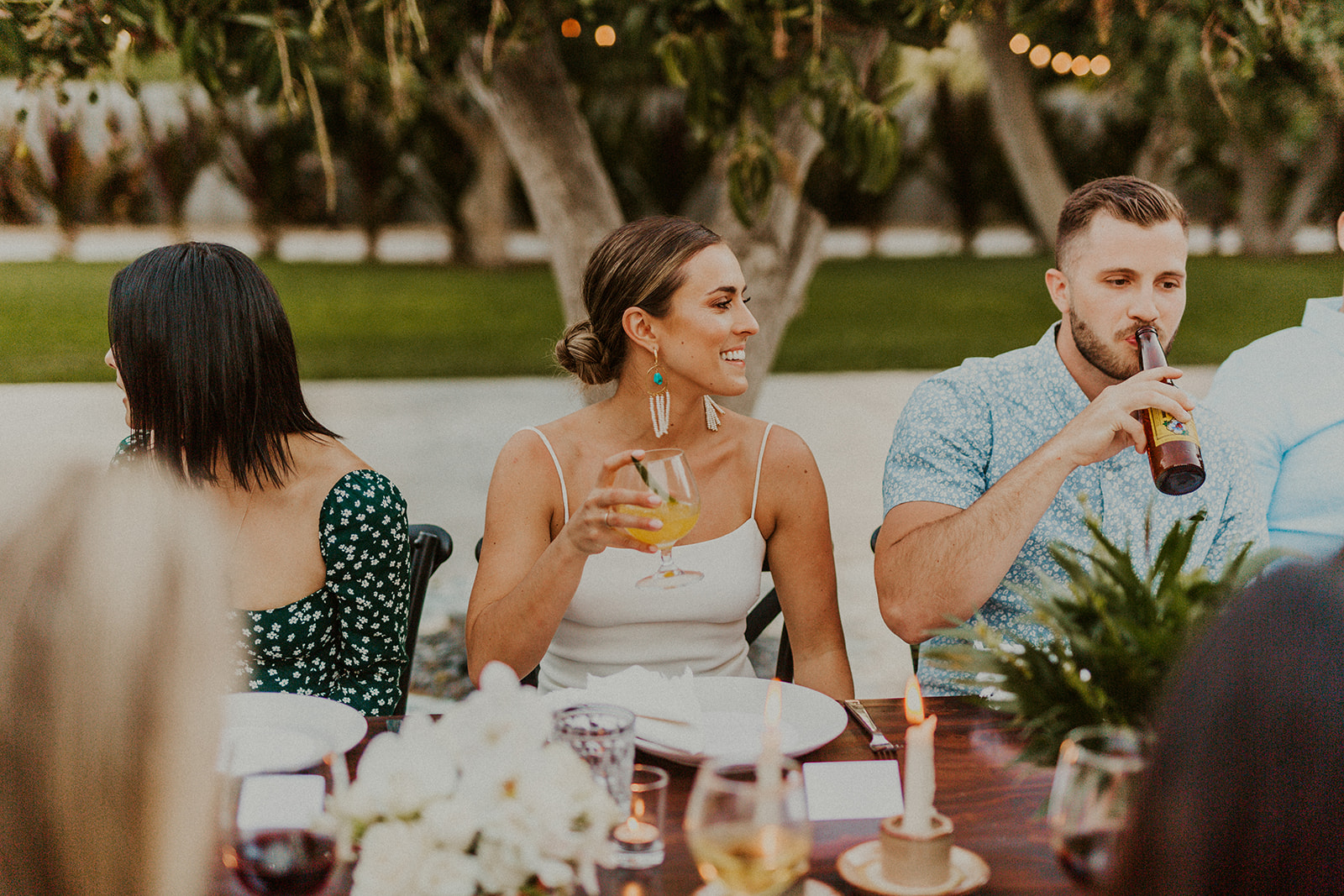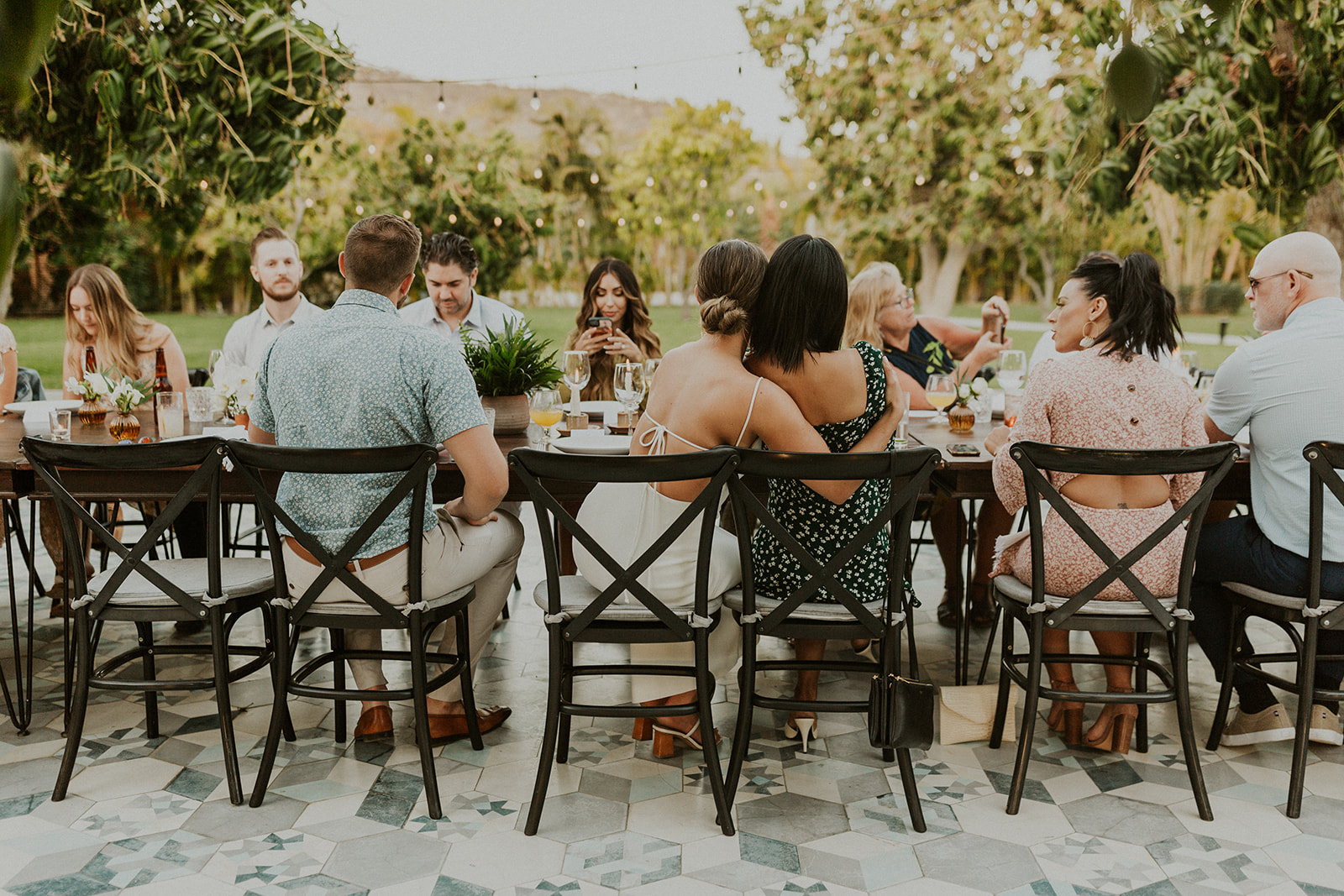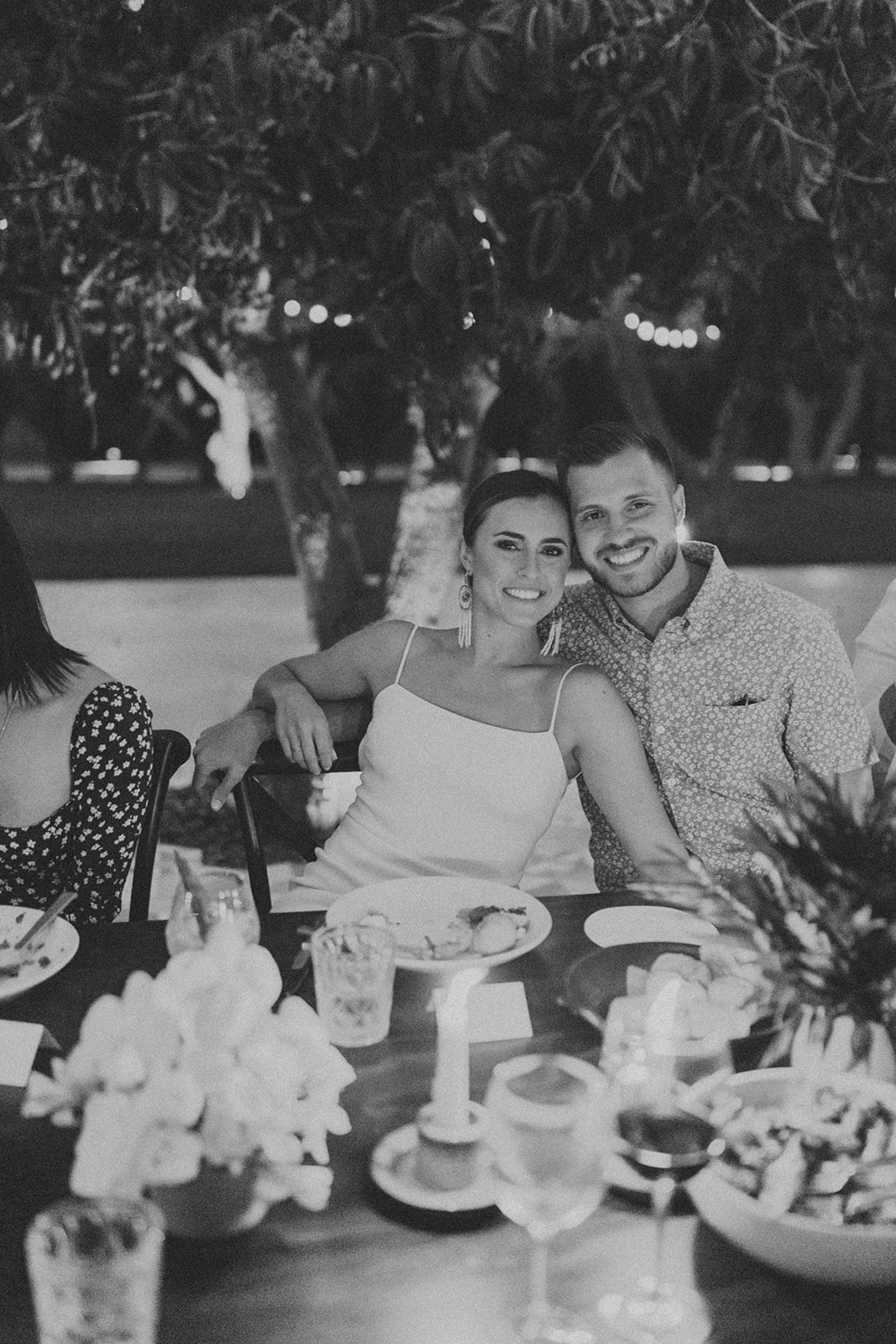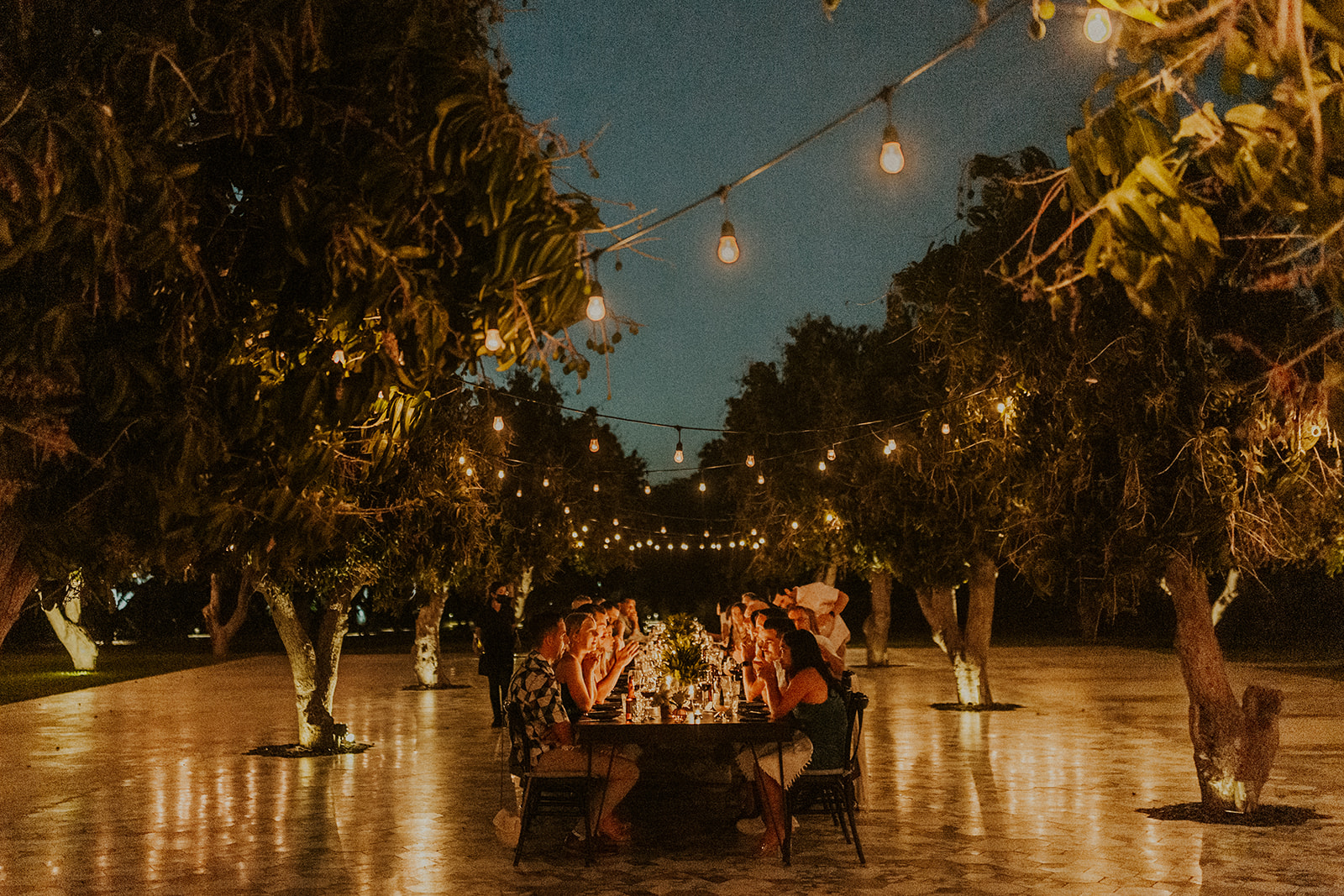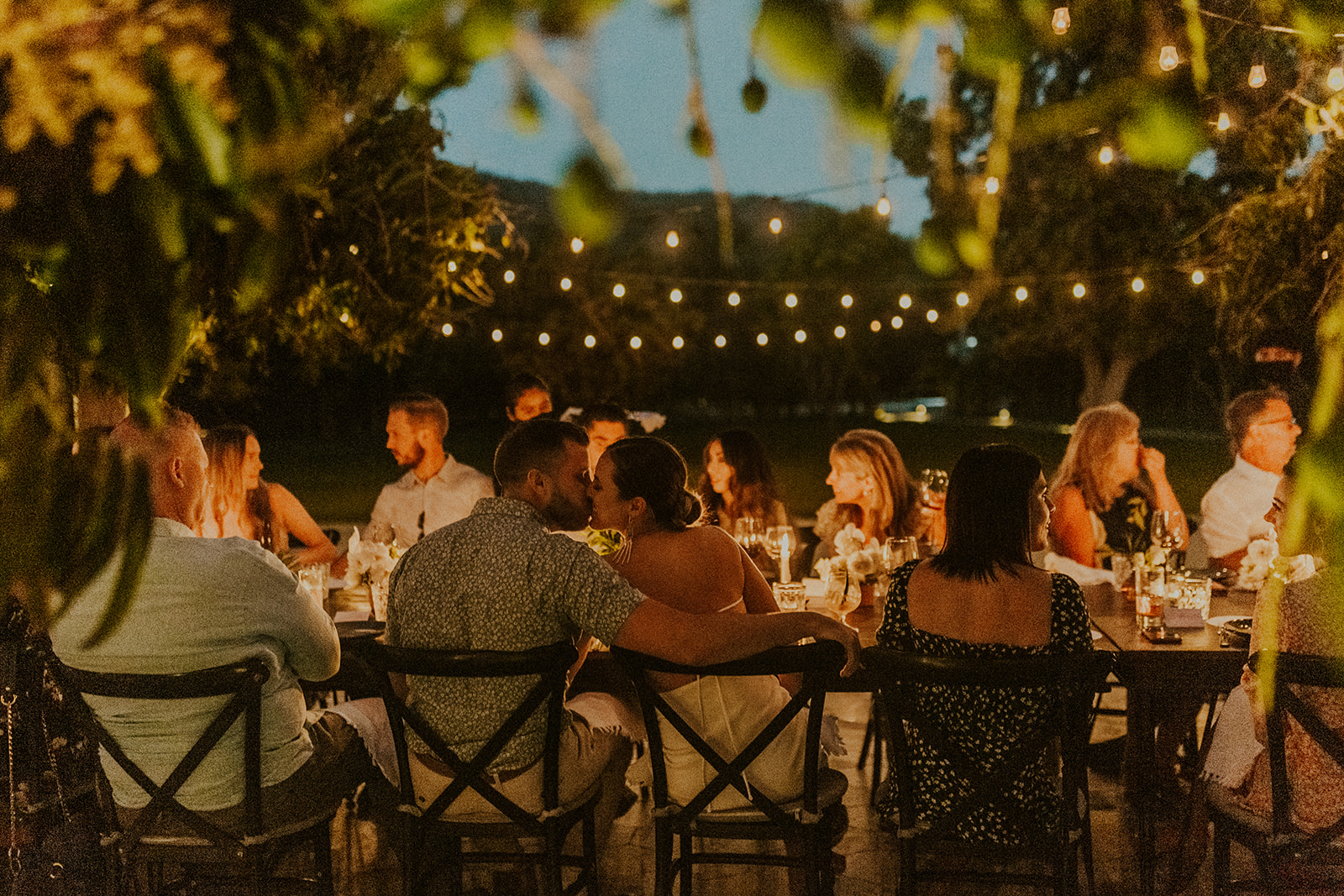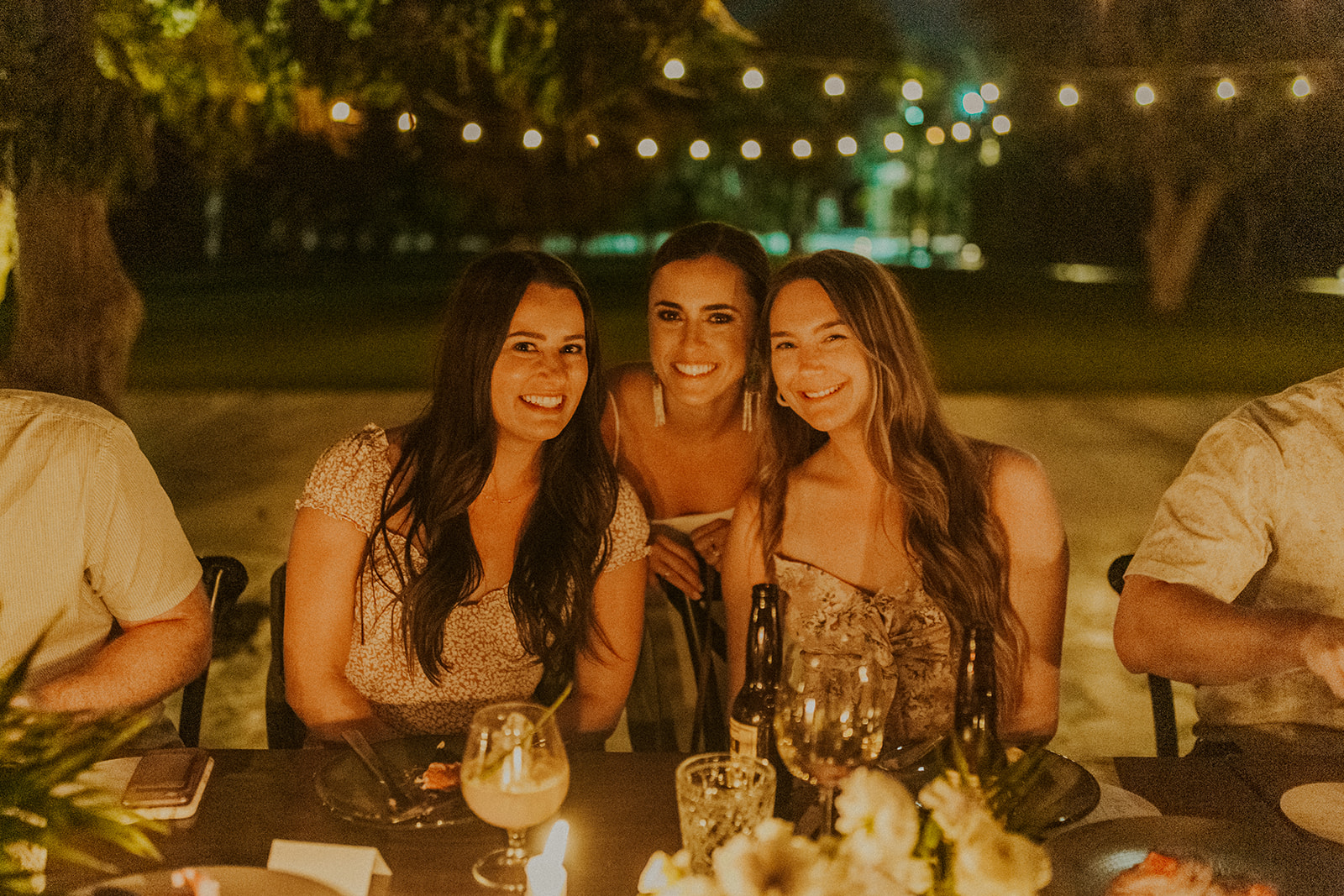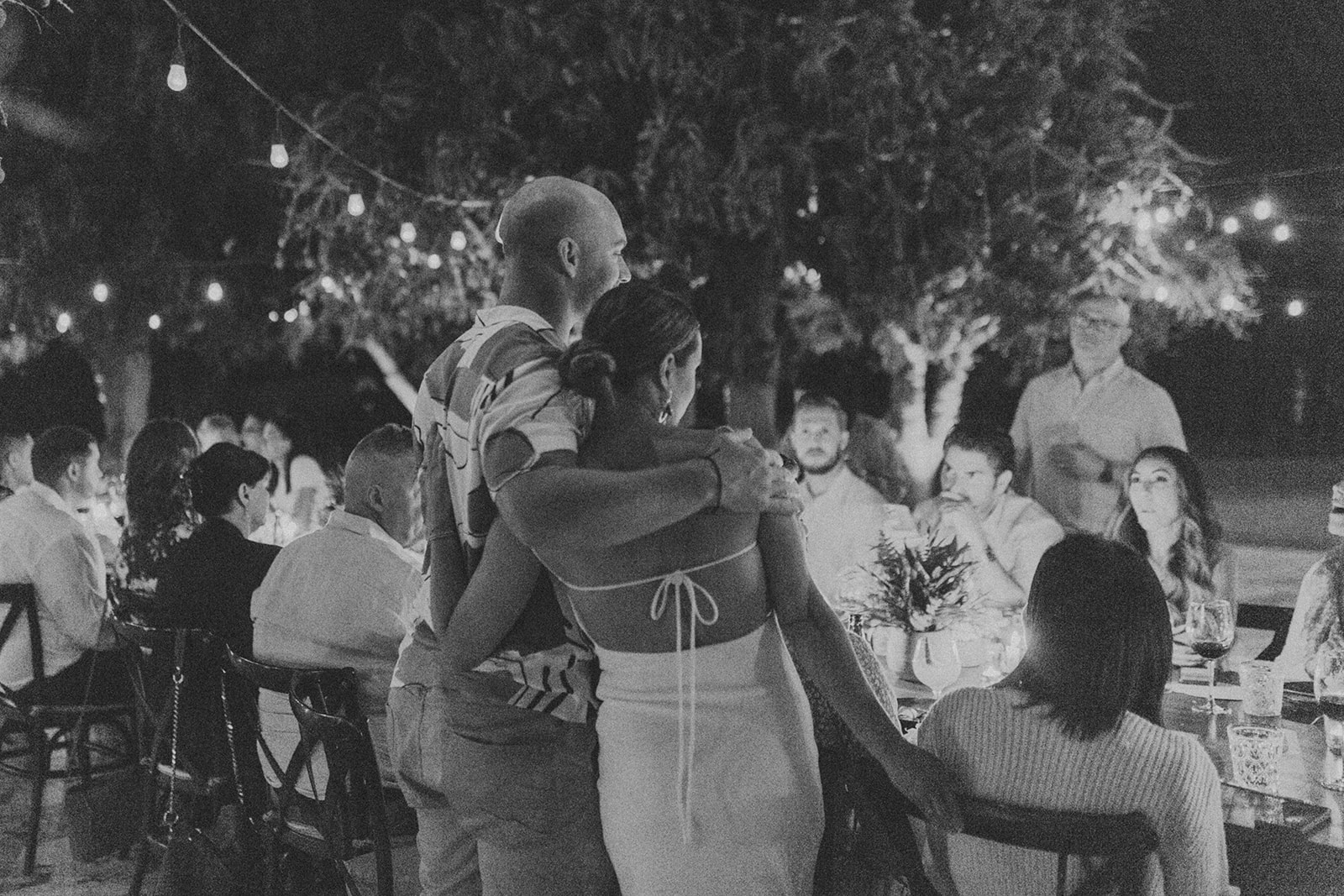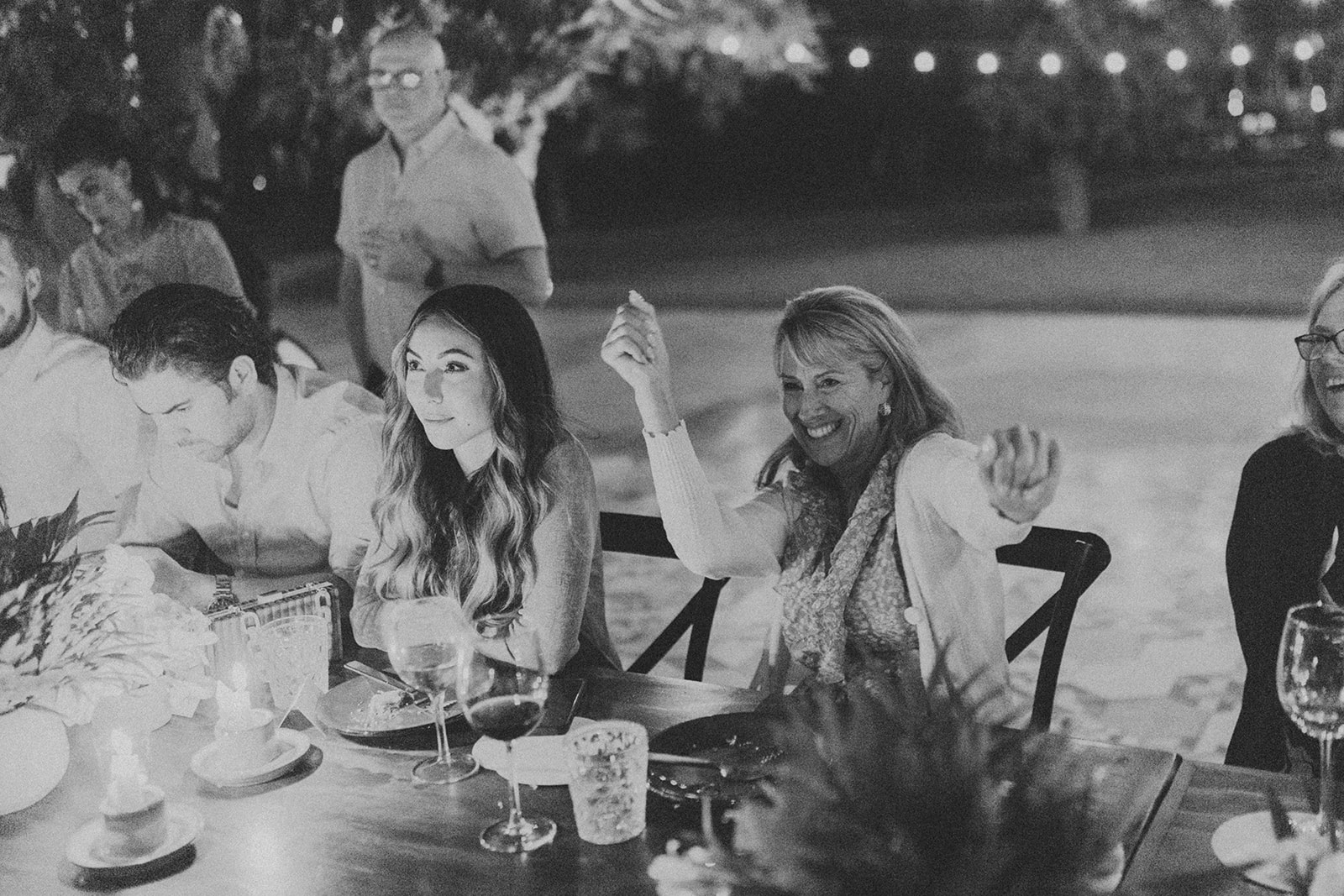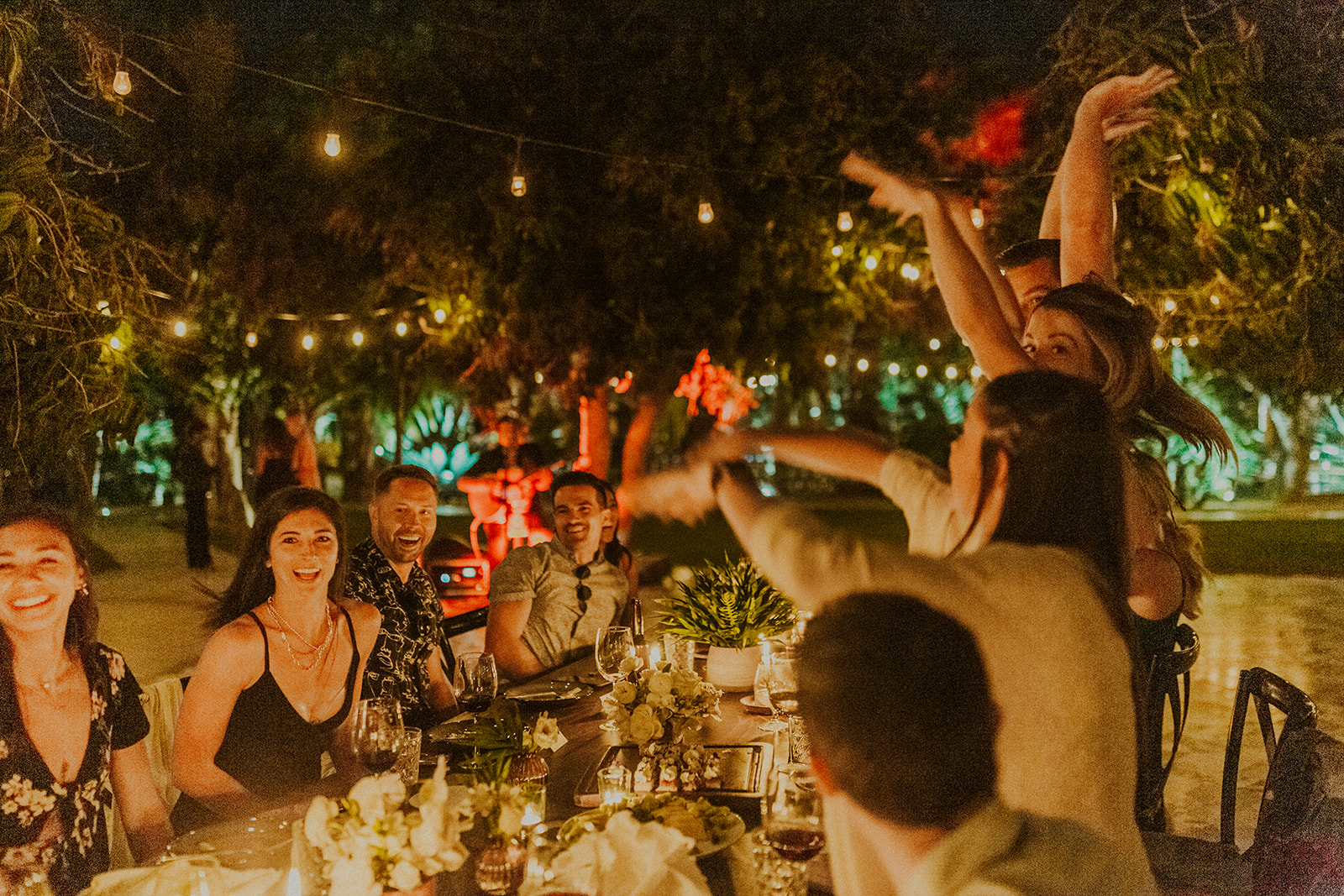 Dinner was so special. I never realized how big of a fan I am of one single long table before until this moment. Plus, it makes doing the wave 10x easier LOL. I feel so lucky we had the best group of friends with us!!!
The food was INCREDIBLE. They're so good at accommodating any food preferences too, so we were able to do gluten-free + dairy-free for most of the dishes. Cheddar biscuits, GF bread, avocado romaine salad and aguachile ceviche for the first course; family style, of course! Butternut squash tortellini, fresh catch with romesco sauce, and whole roasted organic chicken for the main. To finish it off, we all had seasonal fruit platters (my go-to dessert on vaca. It's always so fresh!), individual pineapple upside down cakes and alfajores (wedding cookies) for dessert.
Sharing our entire Rehearsal Dinner YouTube video below– make sure to watch! 🙂
xx Rachael