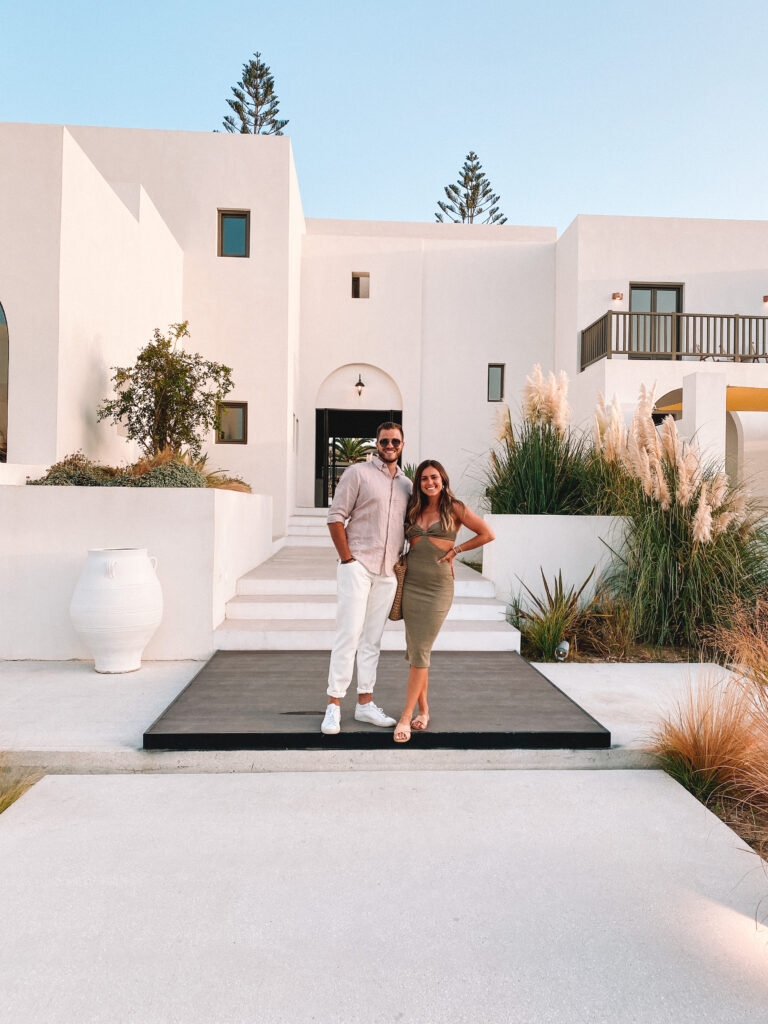 Three words: Take me back! I feel so lucky Bridge and I finally got to go on the honeymoon I've been planning for forever it seems like. It was truly the best trip we've EVER been on, and the longest we've ever been away from home. I wanted to attach our full itinerary below for anyone interested. I planned the entire trip on my own, without a travel agent, just out of preference. I love doing all the research and getting recommendations from people ahead of time. I made sure to add the majority of the recommendations you all gave me via my posts and DMs, but make sure to let me know in the comments if I missed anything! Overall, I wouldn't change a thing about our honeymoon. We absolutely loved each and every island we visited; they're all so different too. Amsterdam was our last stop on the trip and the last time Bridge and I visited was in 2018 and were only there for 48 hours. It's been on our minds ever since and continues to be one of our favorite cities.
Anyways, I hope you save this itinerary for when you plan your next trip to Greece. We made so many memories and can't wait to go back one day!
Random tips:
– Bridge and I each packed a full checked back, one small carry-on suitcase and one smaller bag for this trip. I was hesitant about bringing so much luggage, but honestly, it wasn't a hassle. Your drivers and hotels will help you carry everything to and from your hotels.
– I always get the question, "If you could only pick two islands from the four you went to, what would they be?" I think it all depends what you want to do. If you're deciding between Paros and Milos, Paros is more chill, you can rent a car and beach hop for days, go into the village for dinner every night and walk the shops. Milos is more adventure. So if you want to jump off cliffs, rent a dune buggy your entire trip, rent your own boat to cruise to Kleftiko, hike to the top of the castle for sunset, etc., then this is your island. In my opinion, I wouldn't skip Mykonos and Santorini, even though they're considered "touristy" islands, we both still loved them and so happy we went. Next time we'd like to pick a few new smaller islands to visit.
– My personal suggestion is to travel between the end of May to the end of September to guarantee good weather and businesses being open for the season. Anything outside of that, you're chancing colder nights, winds, etc. July and August are the most busy during tourist season, which is why traveling in June and September can be a great option for less crowds.
MYKONOS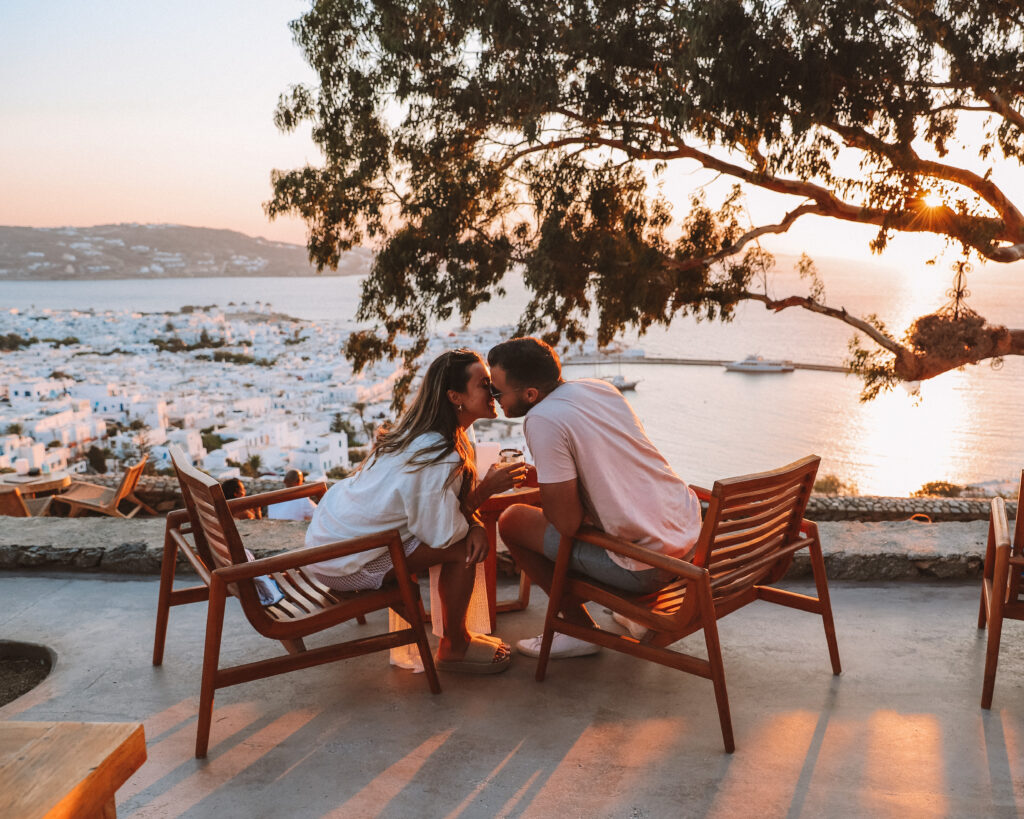 180-degree Sunset Bar
FLIGHTS: we flew from Seattle to Athens, then straight from Athens to Mykonos (30-min flight). You have the option to take a ferry to Mykonos instead (2.5 hours), but if you watched my stories of our trip, I would take a plane over a ferry any day because I get sea sick easily lol. Plus, it's hard to count on the ferries being on time anywhere in Greece. They're always delayed.
4 nights, 5 days – I felt like this was a great amount of time for Mykonos. It's known as the party island, which we didn't really fully dive into lol, but we got to experience a lot of the island while still being able to relax at our hotel.
HOTEL: Soho Roc House (members only hotel)
TRANSPORTATION: I recommend renting a car for 1-2 days of your trip to drive around the island. We asked one of our drivers about what he suggested and he said that scooters and ATVs there were pretty dangerous because the roads are so small and windy. We rented our car through our hotel. While we were in Greece it seemed like if you did it this way, you didn't need an international drivers license but if you rent transportation on your own, like if you stay at an airbnb, you'll need to get an international drivers license online.
(*) means places we went 🙂
FOOD/BARS
*180 degree sunset bar- 100% must go while in Mykonos! Book your exact seat on their website the day before. Incredible view of the city – highly recommend! Make a reservation on their website at least the day before. You can choose the exact table you sit at and there's a minimum $$ to pay, but whatever you get when you're there i.e. drinks, apps, go towards that minimum. P.s. We chose the main terrace (photo above).
Hippie fish
Kiki's tavern- far from town but worth it if you have a car or ATV. Fresh seafood. Always has a line, but there's a nice beach below you can swim in while you wait. Tons of recs for here, but we didn't have enough time!
*Jimmie's- best gyros
*Rhapsody bar- in Mykonos town. So cute for coffee/drinks and a view of the windmills!
Interni
Nikolas taverna
*Scorpios- may be difficult getting a reservation but great place to stay the whole day. They have day beds ($$), a beach, an amazing restaurant, and at night there's a live DJ with really cool music. I got a massage here during the day and it was amazing! Get the octopus btw.
*Spilia seaside restaurant- definitely out of the way but cute spot on the water for dinner. The cheesecake is amazing
Zuma
*Souvlaki Story
Lotus
Remezzo
Kastro's- in Mykonos town. Famous for their outdoor seating view of the water
Taverna Petra
Pepper
Sakis grill house- fast & good gyros
Buddha bar at Santa Marina hotel
I SCREAM and Vincy's- ice cream shops
Nice N Easy
Sea Satin
ACTIVITIES:
Petra Kouzina – cooking class
Mykonian Spiti- cooking class
Negrita or *Caprice in Little Venice – go early for sunset! You'll get the MOST incredible view of the windmills, water and sunset. Snag a good table in front and get some drinks before dinner – most of the restaurants on the water require a minimum $$ for sitting at a good table, but your drinks go towards that. It was a highlight for me!
Day trip to Syros
BEACHES/BEACH CLUBS:
Alemagou
Principote
Psarrou Beach: Nammos- bougie beach club and restaurant. Can get clubby at night, but in a great cove to swim during the day. Get some lounge chairs and chill
Agia anna beach- then get lunch at Spilia
Panormos
Solymar or Lohan Beach club for the day then get dinner at Spilia
SantaAnna Mykonos
Super Paradise beach club
PAROS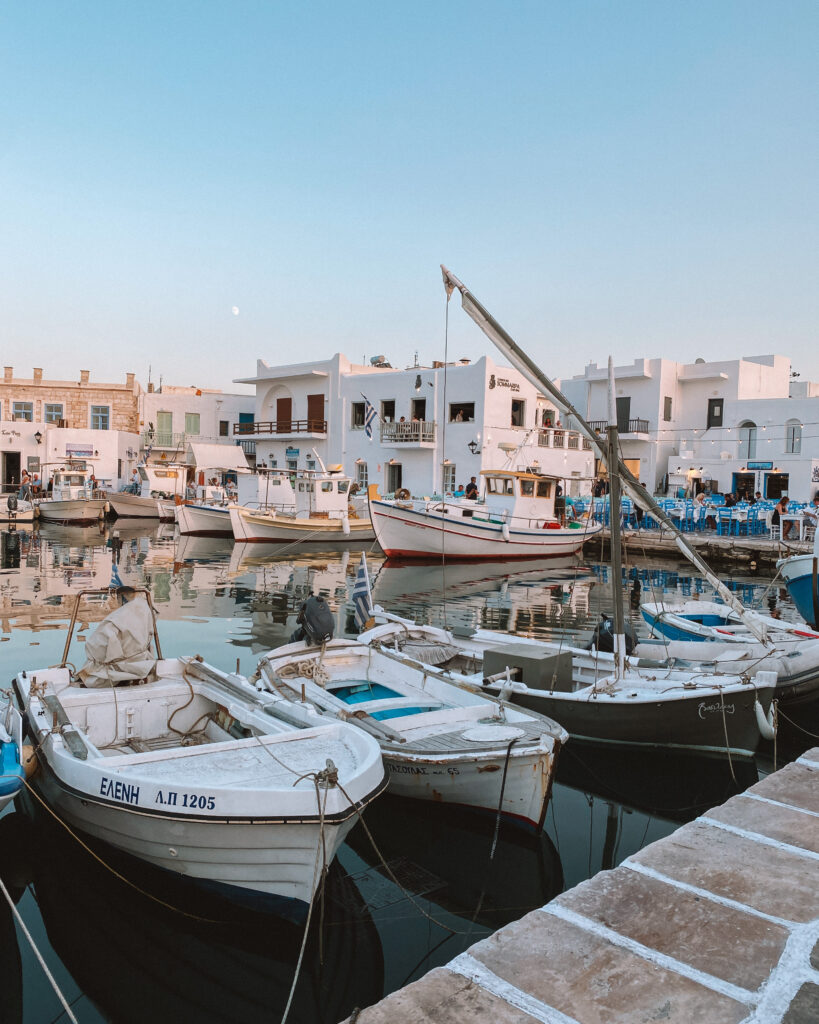 Town of Naousa
FERRY: this was the quickest and easiest ferry we took in Greece. Only 45 minutes from Mykonos to Paros.
3 nights, 4 days – since we arrived midday in Paros and left at the very end of our fourth day there, it was a great amount of time! Don't do anything less than 3 nights.
HOTEL: Parilio, A Member of Design Hotels (photo at the top of this page). It was stunning and I'd definitely recommend. I found it on Instagram a few years back and I knew we had to stay there. It's only a 5-minute drive into town and there are several beaches near.
TRANSPORTATION: We rented a car from start to finish while we were there and that's exactly what I'd recommend. You'll want to explore the whole island. We rented our car through our hotel.
FOOD/BARS:
*Stilvi- incredible food and drinks for dinner. Doesn't start filling up until later like all restaurants in Greece. Go at 7 for an open table
*Sigi Ikthios- the most amazing seafood and service in Naoussa
*Barbarossa- another must-go for dinner in Naoussa (right next to Sigi). Get the crispy zucchini
*Souvlakia Kargas- the best gyros we found in Paros!
*Vrohas Cafe- we found this spot on our road trip one day. Next to a cute little marina and small beach. Get the greek yogurt with fruit and granola
Agosti- for drinks before or after dinner
Siparos- make a reservation
Comeback Paros- for drinks
Mario
Tsachpinis Ouzeri
Captain Pipinos
Sousouro- great breakfast / avo toast
Come back- located in Naousa
Sativa Music Bar
ACTIVITIES:
Margarita studios- cooking class. We were going to do one but they are usually closed on the weekends & that was when we were there ([email protected])
Book a boat day with Michael Zeppos around Antiparos
Rent a car- definitely recommend having a car your entire stay and drive around the island + beach hop
*Take your car to Antiparos on the ferry for the afternoon! We did this and it was a highlight for us. You get on the ferry at the Port of Pounta and it's only about 8 euro for 2 people and a car. Drive through the town, shop, then go to Kedros beach for a couple hours. You have to pay the minimum for a lounge chair, but it's very affordable and it situated in the perfect little cove for swimming.
Antiparos: Dancing at Lionardi
BEACHES:
*Piperi Beach – close to Naousa
*Kolimpithres beach
Monastiri beach
*Παραλία Μικρή Σάντα Μαρία
Santa Maria
*Golden Beach
Punda Beach Club
Fanari Beach club
MILOS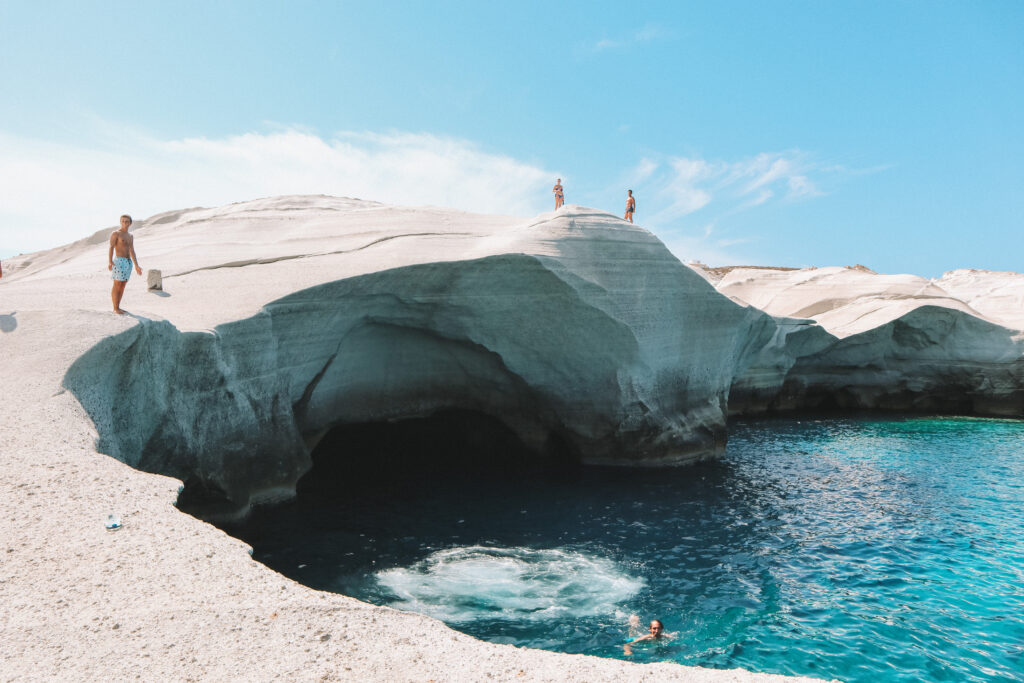 Sarakiniko Beach
FERRY: 1 hr and 45 min long. It was on a smaller boat so more sensitive to the waves. When we went, I figured out there's typically only one ferry that makes this route per day and it's later in the day like around 6pm. Also usually delayed so keep that in mind!
3 nights, 4 days – since we got in to Milos at 10pm on our first night due to a delayed ferry, I would have planned another night there. We only really got two full days of exploring, which we fully took advantage of but yeah, I wish we had another day to explore!
HOTEL/AIRBNB: Terra Mare Suites, the Holiday Home. I debated staying in a hotel for months, but decided for one airbnb during our entire trip. I found this place on Booking.com and it was absolutely perfect. We would stay there again in a heartbeat! Right on the water. Literally, you walk out the door the water is 6 feet away. It was also very centrally located on the island, about 12 minutes to Pollonia, 12 minutes to Sarakiniko Beach and 10-15 minutes to the port. Otherwise, White Coast Suites looked really nice and is located right next to this Airbnb.
TRANSPORTATION: 100% recommend renting a dune buggy! It was so much fun, Bridger and I loved it. We only noticed a few on the island while we were driving. Here's the email/company we used: [email protected] — you will need an international drivers license if you're staying in a rental or airbnb. Hotels usually take care of it otherwise.
FOOD/BARS:
Pollonia has quite a few great restaurants
*Deck- delicious breakfast. Get the yoga frutas (best Greek yogurt with fresh fruit and honey I've ever had)
Medusa- SO many recs for this restaurant on the water in Firopotamos. We were so bummed it was closed when we were there
Enalion in Pollonia
*De Milos- in Pollonia. Really good food
*Garden the Juice Bar- Bridge and I stopped here at least 4x for coffee/matchas, quick breakfast/snacks. Highly recommend!
Avli
*Archontoula
Ergina
O! Hammos- so many recs for this spot
*Gyros of Milos – incredible gyros
*Aggeliki- ice cream, breakfast foods
Astakas in Klima
Psaravolada- restaurant with a view
Aragosta
Akrotiri
Hanabi
Gialos
ACTIVITIES:
Drive to Klima, a little village on the water
*Definitely spent a couple hours at Sarakiniko Beach (looks like the moon)
*Hike to the top of the castle for sunset, it was incredible. Lots of stairs! I recommend getting there a little bit early to enjoy 80% of the sunset, then start walking down to dinner before the crowd so you can grab a table at Archontoula or Avli
*Rent a small boat through Blue Mile (Bridger was our skipper lol) and drive it to Kleftiko to hangout for 2 hours in the water- bring lunch, snacks and snorkels (snorkels are my one regret in Greece!) so you can use it swim through the cave
Go to Kimolos island for the day
Kostantakis- winery
Explore the caves of Papafragas
Visit the ancient theater
BEACHES:
*Sarakiniko- best spot on Milos to go cliff jumping and take photos! The rocks look like you're walking on the moon. The water is so clear and warm (just like everywhere in Greece), but be careful because that's where I got stung by a small clear jelly fish. I'm pretty sure they become more popular end of august/September, but I didn't hear of anyone else seeing them there, so I could have been the only one.
Tsigrado- incredible beach down south, but have to get to it via climbing down a ladder. Wish we had another day to go here.
Firiplaka
*Firopotamos- we tried going here right before dinner to get some photos but the sun was already gone in this little cove. I recommend going earlier in the day or before 4pm
Papafragas caves
*Paparodi Shore- close to our airbnb & cool caves you can jump off & swim under
 SANTORINI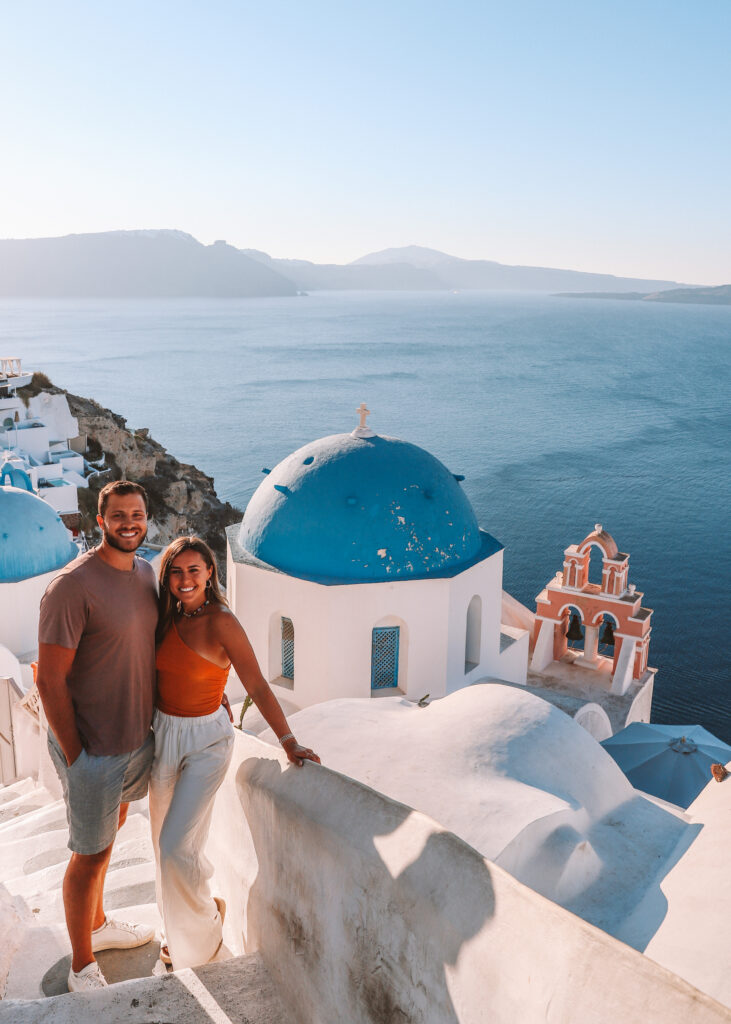 In the town of Oia
FERRY: if I could change just one thing from the trip it would be to fly from Milos to Santorini instead of taking the ferry. Of course, it was a rainy & cloudy morning when we had to catch the ferry in Milos, and it was supposed to only take one hour and 40 minutes to get there but instead, took 3 hours and a half hours because of the swells. It was not ok.
4 nights, 5 days – perfect amount of time for Santorini. We found that this island seemed quite a bit bigger than the previous islands so you definitely need at least 4 nights here to be able to explore.
HOTEL: Santo Maris– recommended by my sister and we loved it! Perfectly placed outside of the busy/touristy part of Oia, located just on the other side of the hill facing the sunset. It was much more spread out than other hotels on the other side of Oia and about a 7-10 minute walk into town. It's also closer to Ammoudi bay, which was great because we loved that area so much. The hotel had a great gym, huge pool, bar, restaurant and spa, and the view was amazing! Request room 302.

TRANSPORTATION: We stayed in Oia 90% of the time and loved it, but there we got so many recommendations for Thira/Fira. I would suggest renting an ATV for two days while you're in Santorini to be able to travel to the Black, Red and/or White beaches and to Fira. We booked our ATVs through our hotel.
FOOD/BARS:
Ammoudi bay- the coolest fishing village right under Oia on the water with a Handful of restaurants. There's only one road to get there (steep) driving and another steep walkway with switchbacks all the way up the hill, be careful! There's also donkeys that go up the hill too. We probably went 4 times total and walked every time… it was a trek but worth it. definitely go here for lunch or dinner a few times during your stay. I'd recommend Dimitri's for one of the best meals we had in Santorini. We went to Ammoudi taverna one night and it was 3x more expensive and the food and service was just OK.
Sunset Ammoudi
*Dimitri's in Ammoudi Bay- best menu of literally everything. Get the tomato fritters, tzatziki, pita, grilled seabass, hummus, etc.
*Pitogyro- in our opinion, it was the BEST gyro in Greece!! I still dream of it. Opens at noon and it's typically always busy. They do takeaway as well, which we did for our last night in Santorini— two chicken gyros and one Greek salad to-go so we could eat it on our balcony at Santo Maris watching the sunset 🌅
*Fanari restaurant- we are here twice because the view was insane at sunset and the food was amazing
*Apsithia Restaurant for Greek salad & fava spread while you're shopping in Oia
The Good Heart- far, but worth it
*Solo Gelato- build your own frozen yogurt. A must after sunset!!!
Oia Vineyart
The Athenian House
Ambrosia
Flogs restaurant
La Maison Restaurant
Mellitini- tapas
Nocturna- underrated view of the sunset. Baklava is supposed to be amaze
Passagio- has smoothies
Pyrgos restaurant
Rastoni- ask to sit on top
Skiza Café- good pizza
Pelekonos restaurant
Yogi gyros
Lucky gyros in Fira
Catch
Fino- no view but supposed to have incredible food
Metaxi Mas- lots of recs here. Apparently best cheesecake
PK cocktail bar in Fira
Volcan on the rocks – they also have a big screen thay plays Mamma Mia and My Big Fat Greek Wedding every night of the week!
Roka- for lunch or dinner
Pacman
Salt and Pepper in Fira
Theros Wave bar – on south side of the island
ACTIVITIES:
*Rent ATVs for 1-2 days and cruise the island. Go to the Black Sand beach/Kamari beach (about 45 minutes each way from Oia). If you get food at any of the restaurants you can sit on their corresponding beach chairs for free for the day. We did this and worth it! We ate at The Acropolis.
Archaeological museum
Museum of Prehistoric Thera
Sunset cruise- although I can confirm we did not do this because I get seasick easily, it was one of the most recommended things to do in Santorini. Sailboats and catamarans go out every night from Ammoudi bay to watch the sunset. In my opinion, you'd get a better view from up above in Oia or another town on the island, but again, so many of you recommended it!
Enjoy the view from Profit ilias, the highest point in Santorini
*Watch sunset in Oia – debatably the best sunset in the world
Hike from Fira to Oia – countless recs for this, but we just didn't have the time to fit this in. Takes 3-6 hours depending on if you get a ride to one end or not. Bring water!
Suites of the gods- you can pay to use their pool for the day & they'll bring you a fruit platter. Supposed to have an amazing view
Boat tour of the Caldera – can jump in the hot springs
BEACHES:
*Black sand beach – all of the restaurants on the street give you free access to their beach chairs if you eat at their spot. We ate at The Acropolis and it was great! Stayed for a few hours on the beach and then drove the ATVs back to Oia
Red sanch beach – a little walk down from the cliff. No restaurants close so bring snacks!
White sand beach
*Ammoudi cliff jumping spot – not necessarily a beach, but the best hidden gem in Santorini (IMO)! It was one of my favorite things we did there. Go down to Ammoudi bay and walk past all of the restaurants. Dimitris will be the last one on your left. Continue on the little path around the point and you'll get to such a cool spot to go swimming and jump off a ~20-25ft cliff/rock. I recommend going earlier around 11am, bringing towels & snacks and hanging out for a few hours before it gets busy. Then hit Dimitris Taverna on the way back for lunch.
AMSTERDAM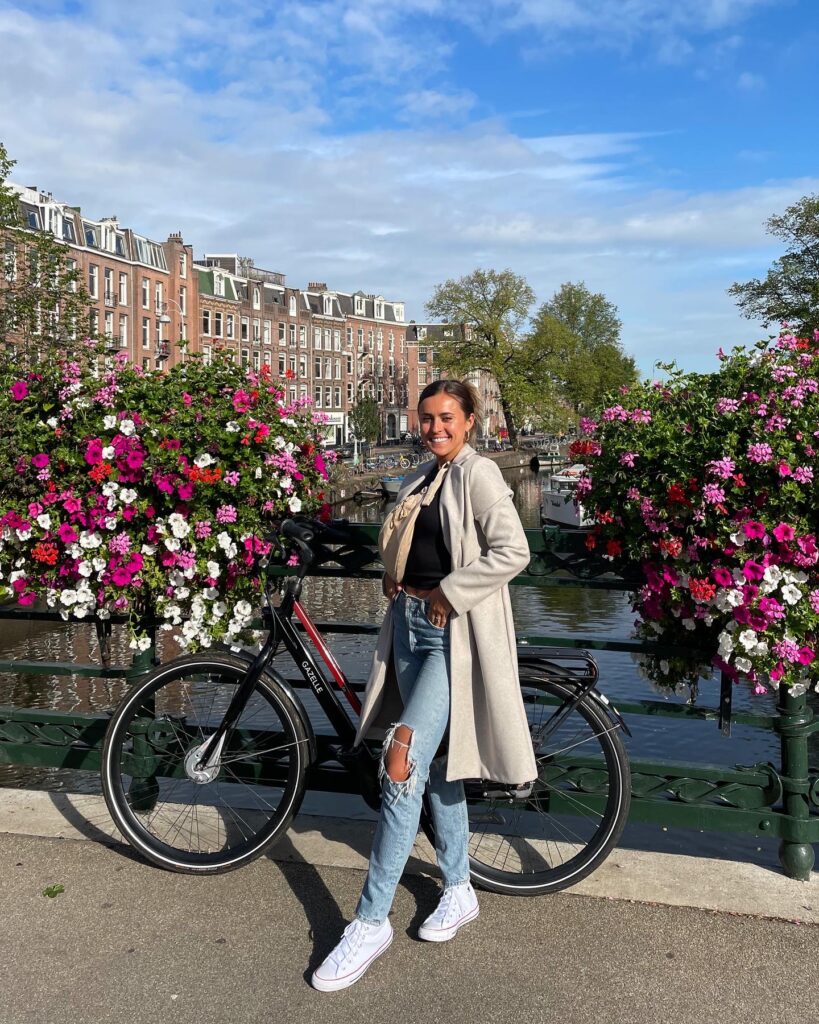 FLIGHT: We flew from Santorini straight to Amsterdam. It took about 3 1/2 hours. One of the reasons why we wanted to stop in Amsterdam on the way home is because it's such an easy and direct flight from AMS to Seattle .
HOTEL: Soho Amsterdam (members only hotel)
FOOD/BARS:
*Bakers and Roasters: breakfast
*CT + Coffee and Coconuts: breakfast/lunch
*Soup en Zo-Spiegel: the cutest and coziest soup spot. Bridge and I each grabbed a bowl of soup and sat on the bench outside their cafe to eat. It started to lightly sprinkle and it was one of my favorite moments in Amsterdam!
*Lavinia Good Food: matcha latté
*Winkel 43: famous Dutch apple pie. A MUST
*The Butcher: burgers + sweet potato fries
Food Hallen: people referred to it as the Chelsea Market of the city with lots of different restaurants. Not touristy
The Avocado Show: everything on the menu includes avocado
Omelegg
*Pluk: cute coffee shop with some breakfast/lunch items. Fresh bakery
Back to Black: coffee
MarQt: healthy grocery store
Dignita
*SLA: make your own salad
Cold pressed juice
Hummus bistro or Sir Hummus for hummus
Little Collins
Stroopwaffle: the best when made on the spot from a food cart/truck
Betty Blue: café near Waterlooplein
Café Walem: open-faced sandwiches
De Kas: massive glass building great tasting menu farm-to-table food
ACTIVITIES:
*Buy tickets at least a month in advance for the Anne Frank House tour – so worth it!
Buy tickets for the Van Gogh Museum (as of right now during covid, Americans are unable to get the QR code needed for most museums). We didn't go this trip, but went the first time we visited Amsterdam
*Rent bikes and ride through Vondelpark
Canal cruise
*Shop around De Negen Straatjes (The 9 Streets)