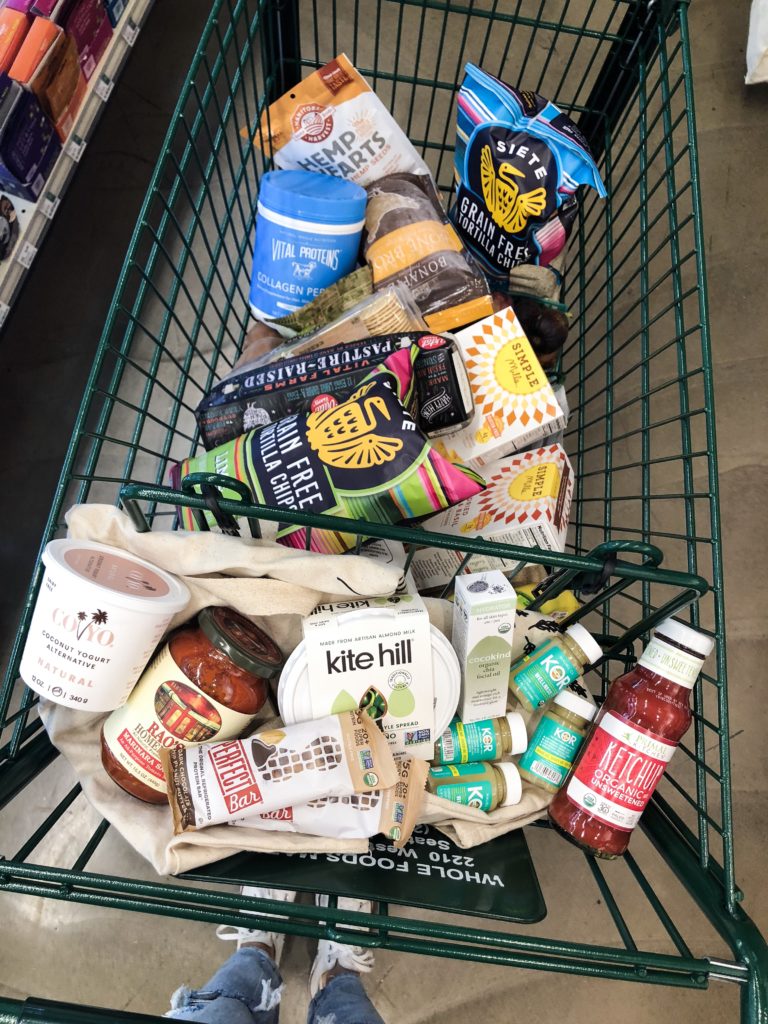 Whole Foods. Otherwise known as Whole paycheck. It's a magical place and I consider it my Disneyland, especially when traveling. To some, it may feel like torture purchasing items for the week, but for me, it's an activity I love doing and I ain't ashamed!
Whole Foods is hands down one of the best grocery chains as it offers tons of healthy options, including a variety of my favorite go-to items, eco-friendly / non-toxic makeup, home cleaning supplies and all sorts of staple items.
I made a Trader Joe's shopping guide not too long ago, but since I shop at both so often (I usually have to hit both stores in order to be fully stocked of my favorite items… in a perfect world, one store would have it all), I figured it may be beneficial to you if I made a Whole Foods guide as well.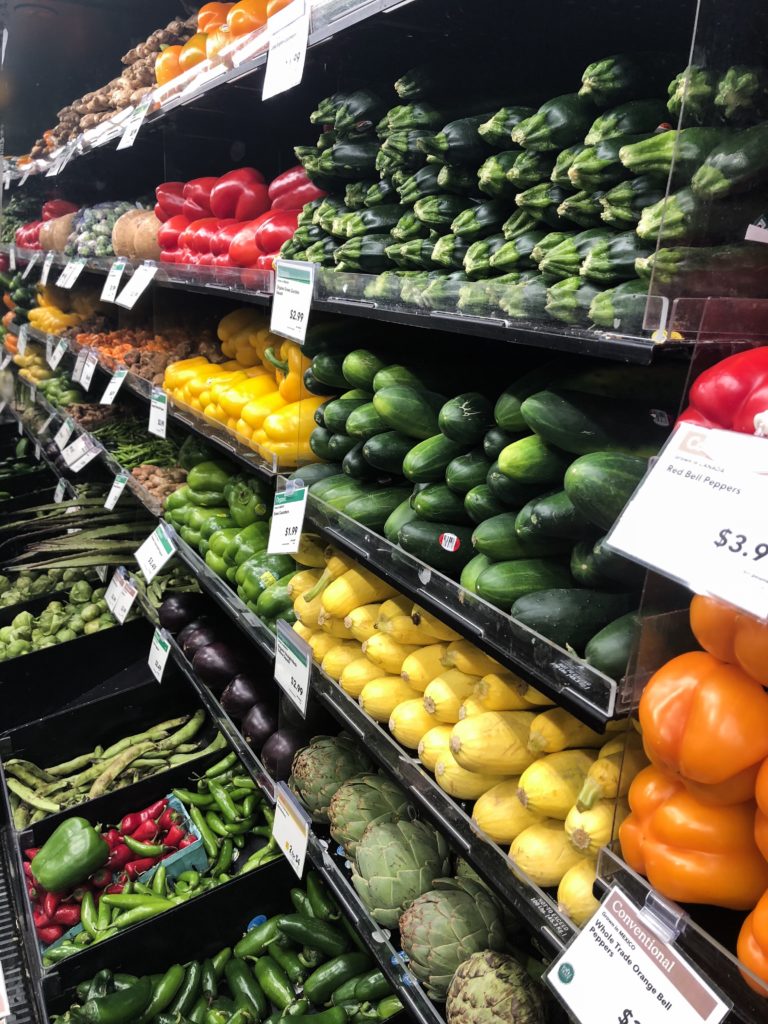 Produce:
Starting with the Whole Foods produce section, I like to follow the Dirty Dozen & Clean Fifteen. Knowing the foods that make up the Dirty Dozen make it easier to know which items I should be buying organic in order to reduce my pesticide consumption. If they don't offer a certain fruit or vegetable as organic, I'll usually opt for something else. *I always do my best to consume organic, grass-fed, ethically raised, sustainable whenever possible.
If you're new to visiting a Whole Foods or if you've never compared prices with other grocery stores like Trader Joe's, there's quite a difference in price for many items. For example, I'll buy my organic bell peppers, organic avocados, fresh organic berries, organic persian cucumbers, organic broccolini, organic zucchini, bok choy, organic bananas, and organic lemons at Trader Joe's, and will usually buy clover sprouts (unpredictable if they offer each week), organic mixed greens, organic oranges and organic sweet potatoes at Whole Foods to save some $$. Another way to save money is to shop seasonally and local! Choose produce in season– tastes fresher, less expensive, and contains more nutrients. Further, make sure you go to the Whole Foods website before you shop to score their daily coupons!!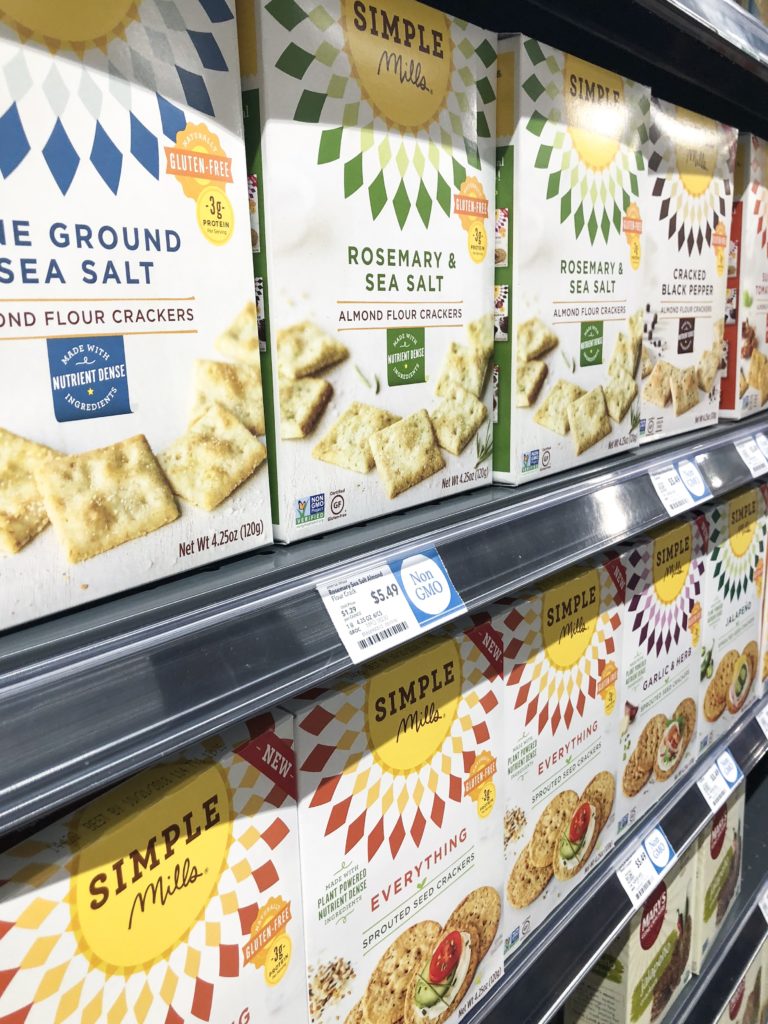 Snacks:
Whole Foods has the best snacks. Simple Mills (crackers– they now offer snack size portions!, baking mixes, pizza mix, cookies), Siete tortilla chips, Lesser Evil popcorn, brown rice crackers, bulk section for the raw (bonus if sprouted: easier to digest and increases bioavailability of nutrients) walnuts, pecans, etc., Eating Evolved chocolate, RXBAR, Purely Elizabeth granola, and Jilz Crackerz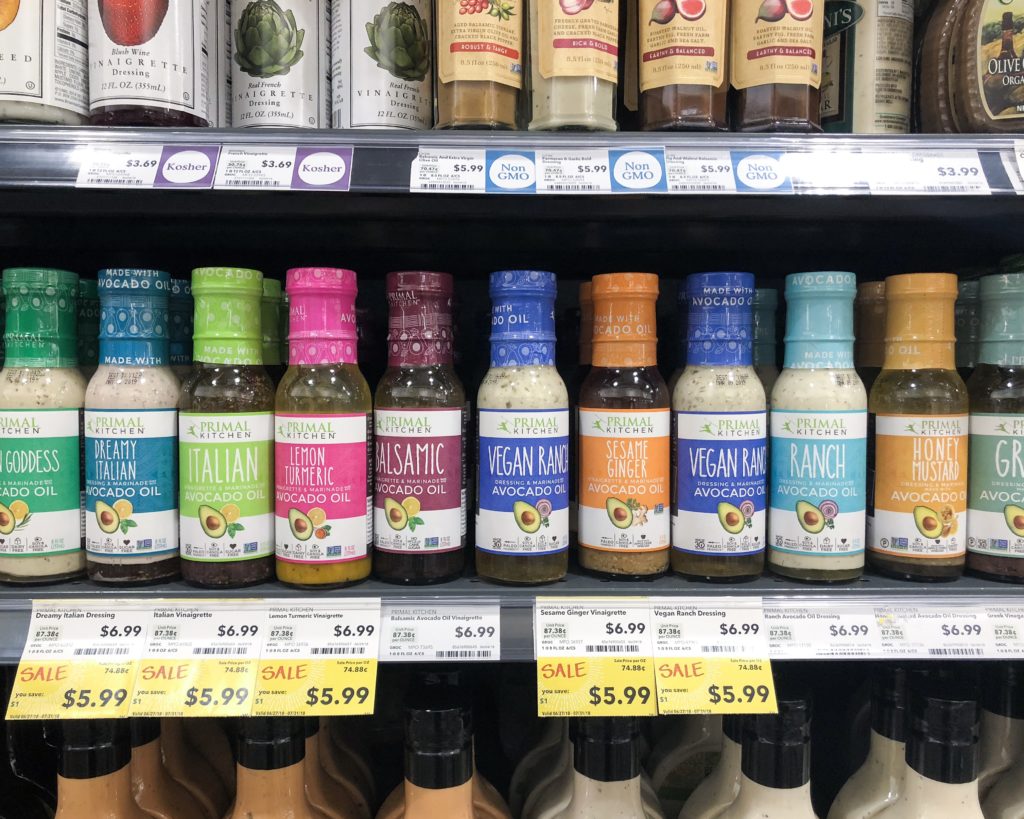 Condiments/Dry Goods:
Primal Kitchen Foods salad dressings, avocado mayo: favorites include their ranch, Green Goddess, avocado oil
Sir Kensington's ketchup and spicy ground mustard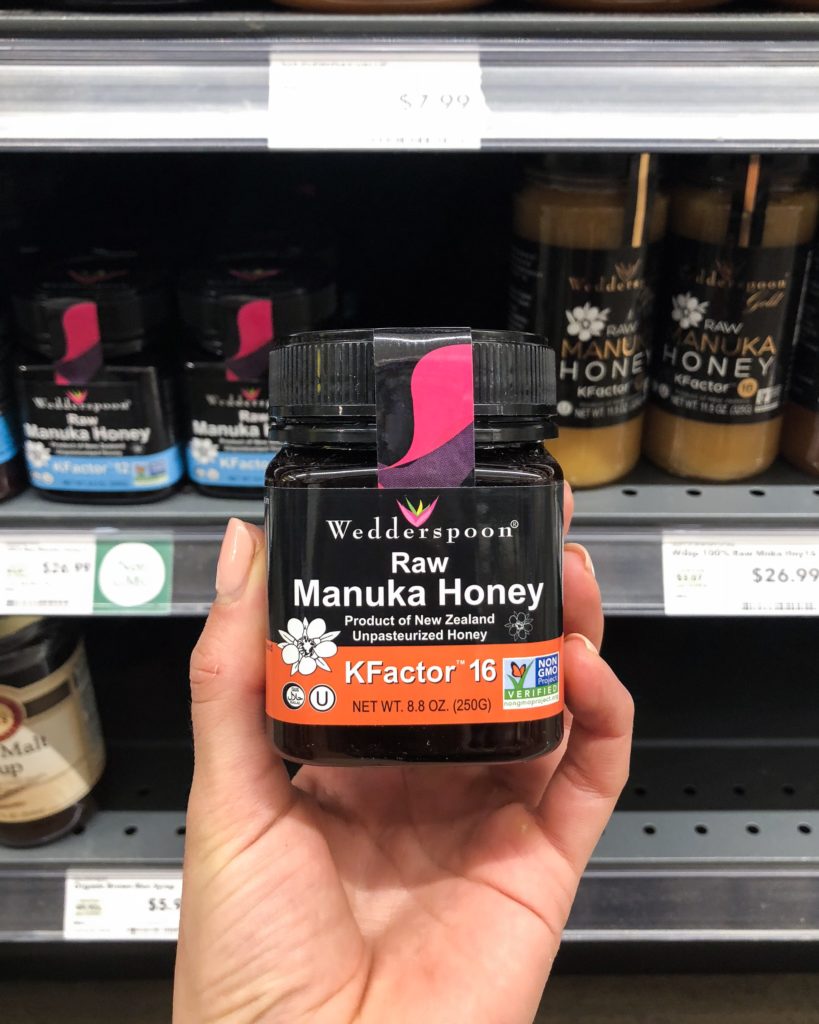 Wedderspoon Manuka honey, lozenges, to-go packs of Manuka honey
Bob's Red Mill finely ground almond flour (hellooooo RGE Cookie Skillet)
Simply Organic spices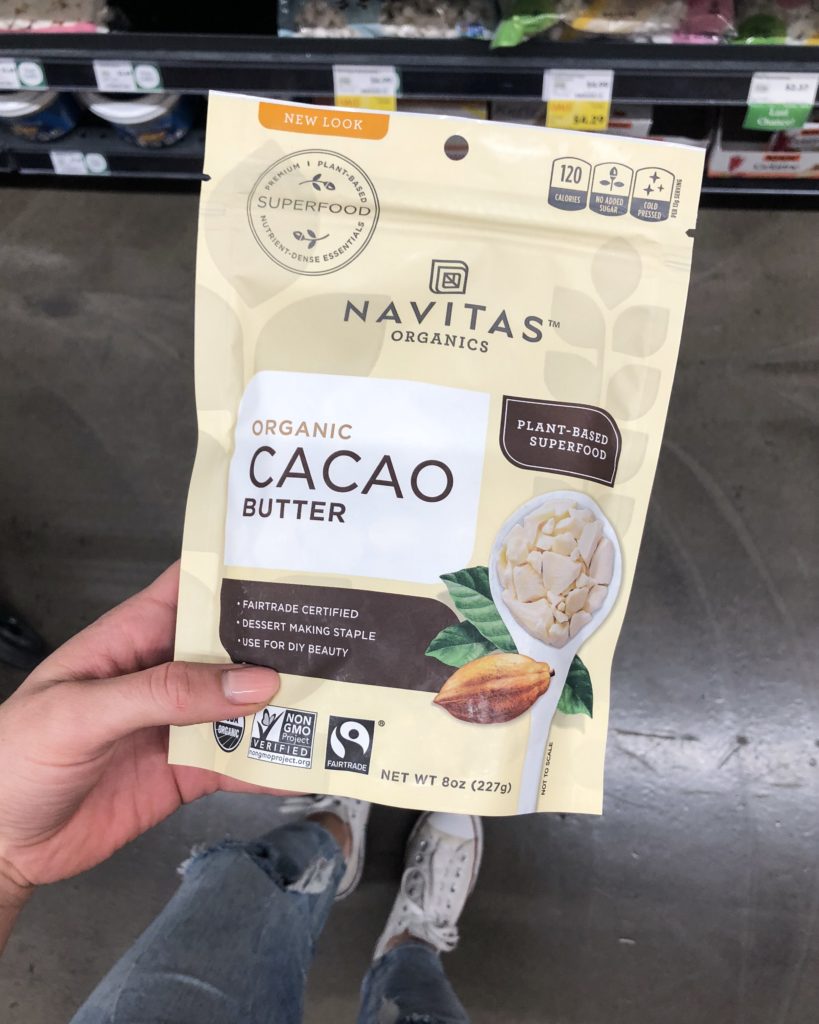 Navitas Organics Cacao Butter: I love adding about 1 tsp- 1 tbsp size chunk to my matcha lattes! It gives it a yummy white chocolate flavor with zero sugar. It blends & melts great with hot liquid.
Rao's homemade marinara sauce
Chosen Foods avocado oil spray
Nutiva coconut manna
Fourth & Heart ghee
Siete hot sauce
Wellness/Supplements:
I love stocking up on my favorite supplements & nutrition boosters from either Whole Foods, Amazon or Thrive Market.
At Whole Foods, they include:
Manitoba Harvest Hemp Seeds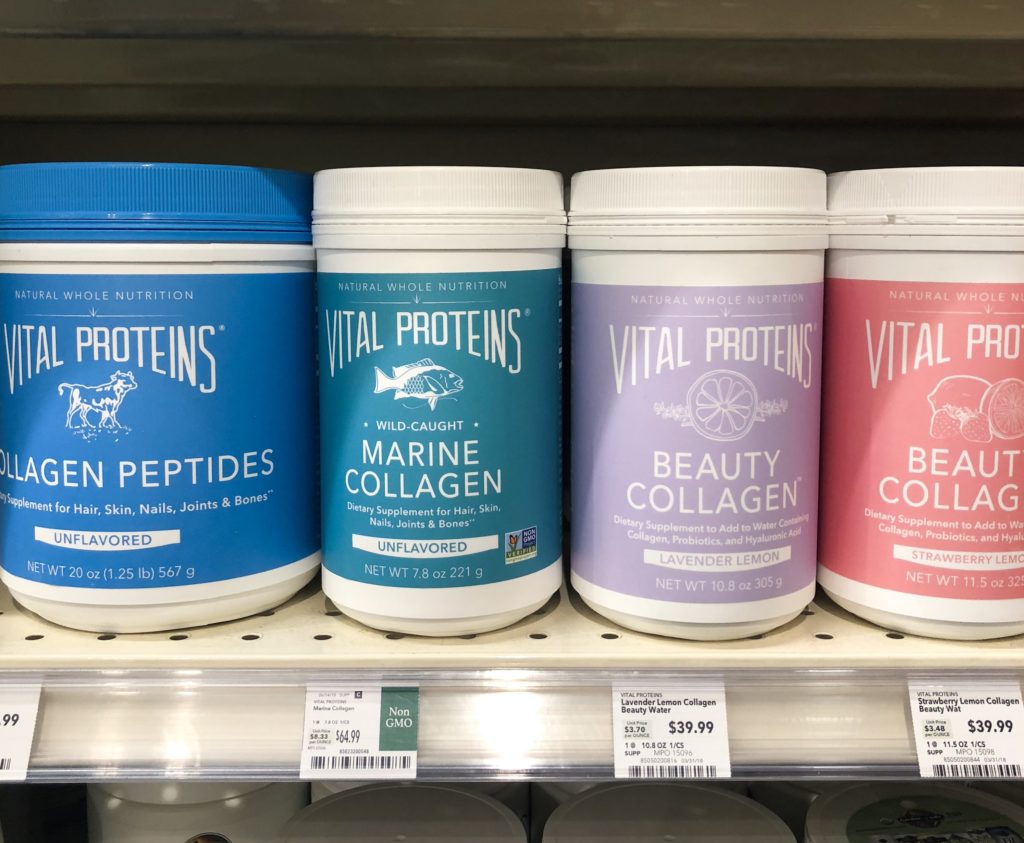 Vital Proteins Collagen Peptides: I've been using Vital Proteins collagen for about two and a half years now and have noticed the biggest difference in the way my skin looks, how quickly my nails and hair grow… it's great for the joints and very easily digestible. The unflavored peptides are great to add to anything! It dissolves in hot or cold liquid and I also use during baking.
Gaia Herbs black elderberry syrup, quick defense, oregano oil→ great for the immune system. I take when I sense my body is under high stress, when I'm traveling, or if I'm starting to feel symptoms of being sick.
Kor Wellness & Vitality shots
Flaxseed oil
Bulletproof brain octane, otherwise known as "MCT oil"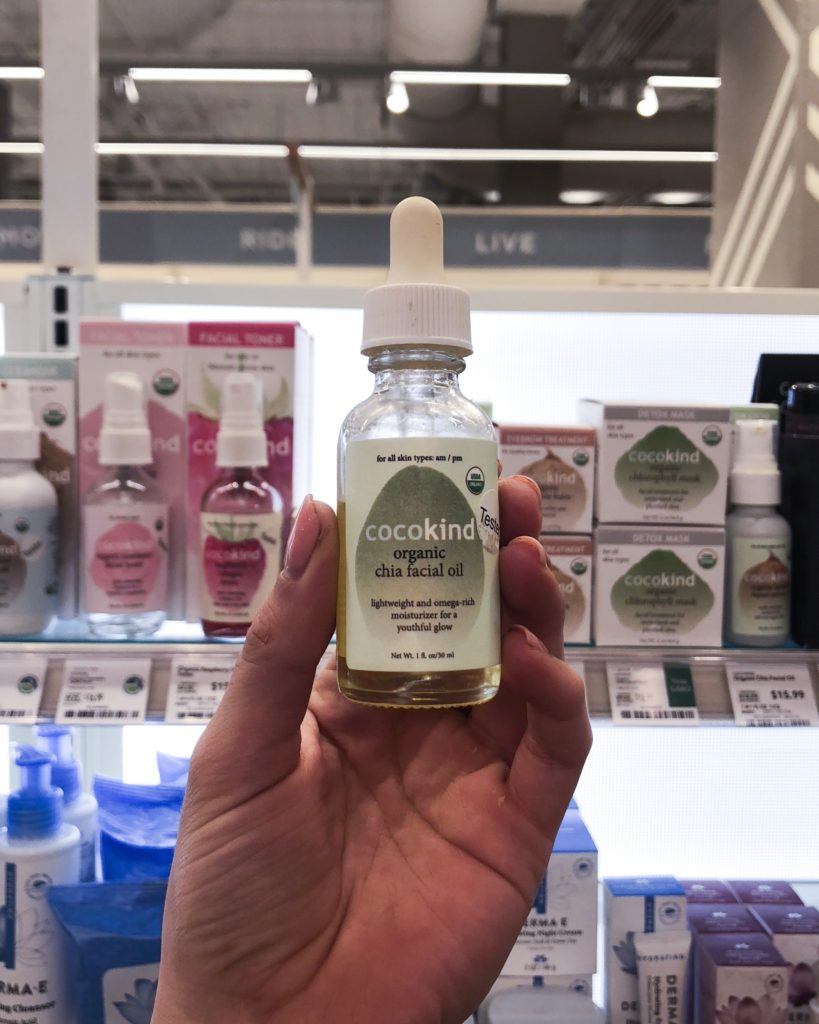 Cocokind Skincare: I get their matcha stick, chia facial oil, cleansing serum, and raspberry facial toner. But, my favorite has to be their chia facial oil. I use it 2x a day, in the morning and before bed and I'm obsessed!
Dr. Bronner's soap
Refrigerated/Frozen:
Vital Farms pasture-raised eggs
Bonafide Provisions bone broth
Coyo original yogurt: the most thick & creamy dairy-free yogurt you might ever have. I've only found in select WF
So Delicious unsweetened coconut yogurt
Kite Hill cream cheese, chive cream cheese, jalapeno cream cheese
Siete tortillas: grain free, gluten free. Always worth it!
Bragg's ACV ginger spice beverage
Perfect Bar: Bridger loves the Peanut Butter Chocolate
REBBL adaptogenic elixirs
Meat:
I find better price and quality with Trader Joe's wild caught salmon, organic chicken and even grass fed beef compared to Whole Foods.
Other:
Ecos laundry detergent
If You Care parchment paper
When it comes to Whole Foods's ready-to-eat salad bar section… I'm a fan, but also a bit hesitant when it comes to the inflammatory canola oil and other additives they use. Stick to the single-ingredient whole food items and always check ingredient lists before you brown box it. Avoid those with vegetable oils (canola oil, sunflower oil, safflower oil, corn oil, soybean oil), color dyes, and other additives.
—————————————————————————————————————
RGE Whole Foods Shopping Guide
Produce:
Organic mixed greens
Clover sprouts
Organic sweet potatoes
Jicama
Organic oranges
Snacks:
Siete tortilla chips (lime and their new ranch flavor are my personal favs)
Simple Mills crackers
Simple Mills baking mixes
Lesser Evil popcorn
Brown rice crackers
Sprouted nuts/seeds
Eating Evolved chocolate
RXBARS
Condiments/Dry Goods:
Primal Kitchen dressings, avocado mayonnaise, unsweetened ketchup
Sir Kensington's ketchup and spicy ground mustard
Wedderspoon Manuka honey
Bob's Red Mill finely ground almond flour
Simple Organic spices: ceylon cinnamon, vanilla extract
Wellness / Supplements:
Manitoba Harvest Hemp Seeds
Vital Proteins Collagen Peptides
Gaia Herbs black elderberry syrup, quick defense, oregano oil→ great for your immune system. I take when I sense my body is under high stress, when I'm traveling, or if I'm starting to feel symptoms of being sick.
Kor Wellness & Vitality shots
Flaxseed oil
Bulletproof brain octane, otherwise known as "MCT oil"
Cocokind Skincare matcha stick, chia facial oil, cleansing serum, raspberry facial toner
Dr. Bronner's soap
Tom's toothpaste
Refrigerated / Frozen:
Vital Farms pasture-raised eggs
Bonafide Provisions organic bone broth: great to use with cooking, broth for soups, to sip on with spices, etc. Incredibly nutritious for the gut
Coyo original yogurt: the most thick & creamy dairy-free yogurt you might ever have. I've only found in select WF
So Delicious unsweetened coconut yogurt
Kite Hill cream cheese, chive cream cheese, jalapeno cream cheese
Majestic sprouted hummus: only in select WF
Siete tortillas: grain free, gluten free. Always worth it!
Bragg's ACV ginger spice beverage
Perfect Bar: Bridger is obsessed with Peanut Butter Chocolate
REBBL adaptogenic elixirs
Harmless Harvest coconut water
Other:
Ecos laundry detergent
If You Care parchment paper